Pharmacokinetics of Sapropterin in Patients with Phenylketonuria
Original Research Article
Abstract
Background and objective: Untreated phenylketonuria is characterized by neurocognitive and neuromotor impairment, which result from elevated blood phenylalanine concentrations. To date, the recommended management of phenylketonuria has been the use of a protein-restricted diet and the inclusion of phenylalanine-free protein supplements; however, this approach is often associated with poor compliance and a suboptimal clinical outcome. Sapropterin dihydrochloride, herein referred to as sapropterin, a synthetic formulation of 6R-tetrahydrobiopterin (6R-BH4), has been shown to be effective in reducing blood phenylalanine concentrations in patients with phenylketonuria. The objective of the current study was to characterize the pharmacokinetics and pharmacokinetic variability of sapropterin and to identify the characteristics that influence this variability.
Patients and methods: This was a 12-week, fixed-dose phase of an open-label extension study. The study was conducted at 26 centres in North America and Europe.
Patients with phenylketonuria were eligible to participate if they were ≥8 years of age and had received ≥80% of the scheduled doses in a previous 6-week, randomized, placebo-controlled study or had been withdrawn from that study after exceeding a plasma phenylalanine concentration of ≥1500 μmol/L to ≥1800 μmol/L, depending on the subject's age and baseline plasma phenylalanine concentration. A total of 78 patients participated. Patients received oral once-daily doses of sapropterin (Kuvan®) 5, 10 or 20 mg/kg/day.
Blood samples for the pharmacokinetic analysis were obtained during weeks 6, 10 and 12. A D-optimal sparse sampling strategy was used, and data were analysed by population-based, nonlinear, mixed-effects modelling methods.
Main outcome measure: In a prospectively planned analysis, the apparent clearance, apparent volume of distribution, absorption rate constant and associated interindividual variabilities of each parameter were estimated by modelling observed BH4 plasma concentration-time data.
Results: The best structural model to describe the pharmacokinetics of sapropterin was a two-compartment model with first-order input, first-order elimination and a baseline endogenous BH4 concentration term. Total bodyweight was the only significant covariate identified, the inclusion of which on both the apparent clearance (mean = 2100 L/h/70 kg) and central volume of distribution (mean = 8350 L/70 kg) substantially improved the model's ability to describe the data. The mean (SD) terminal half-life of sapropterin was 6.69 (2.29) hours and there was little evidence of accumulation, even at the highest dose.
Conclusion: These findings, taken together with the observed therapeutic effect, support bodyweight-based, once-daily dosing of sapropterin 5–20 mg/kg/day.
Keywords
Interindividual Variability 
Phenylketonuria 
Visual Predictive Check 
Pharmacokinetic Variability 
Phenylalanine Concentration 
These keywords were added by machine and not by the authors. This process is experimental and the keywords may be updated as the learning algorithm improves.
Background
Phenylketonuria is caused by phenylalanine hydroxylase deficiency. Untreated phenylketonuria is characterized by elevated blood phenylalanine concentrations, which result in neurocognitive and neuromotor impairment.[1] Current management of patients with phenylketonuria focuses on reducing plasma phenylalanine concentrations by dietary restriction of natural proteins and replacement with phenylalanine-free protein supplements.[2] Although the most significant benefits of dietary management occur within infancy and early childhood, lifelong phenylalanine control is recommended to prevent neurological and behavioural manifestations in adulthood. An alternative approach to therapy is to increase the residual phenylalanine hydroxylase activity by treatment with the cofactor 6R-tetrahydrobiopterin (6R-BH4) or its synthetic, US FDA-approved formulation sapropterin dihydrochloride (herein referred to as sapropterin). Studies have shown that this approach can reduce or, in some cases, eliminate the need for dietary protein restriction and phenylalanine-free protein supplements.[3, 4, 5]
A recent phase III study[6] has investigated the efficacy and safety of prolonged (22 weeks) sapropterin treatment in patients with phenylketonuria who had previously responded to an 8-day course of treatment with sapropterin 10 mg/kg/day. This study included a population pharmacokinetic analysis in a subgroup of patients, designed to evaluate BH4 pharmacokinetics and pharmacokinetic variability after administration of sapropterin in individuals with phenylketonuria. The results of this analysis are presented here.
Methods
The parent trial was a phase III, open-label, extension study conducted at 26 centres in North America (Canada and the US) and Europe (France, Germany, Ireland, Italy, Poland and the UK). The study was approved by institutional review boards or ethics committees at all centres and was performed according to the principles of the International Conference on Harmonization Guideline for Good Clinical Practice, and the Declaration of Helsinki. The population pharmacokinetic substudy was performed in patients from the parent study.
Results
A total of 78 patients (45 males, 33 females) took part in this study. Of these, six (7.7%) received sapropterin 5 mg/kg/day, 37 (47.4%) received 10 mg/kg/day and 34 (43.6%) received 20 mg/kg/day; the dose was not recorded in one patient (data for this patient were not included in the reported analyses). The demographic characteristics of the patients are summarized in
table II
.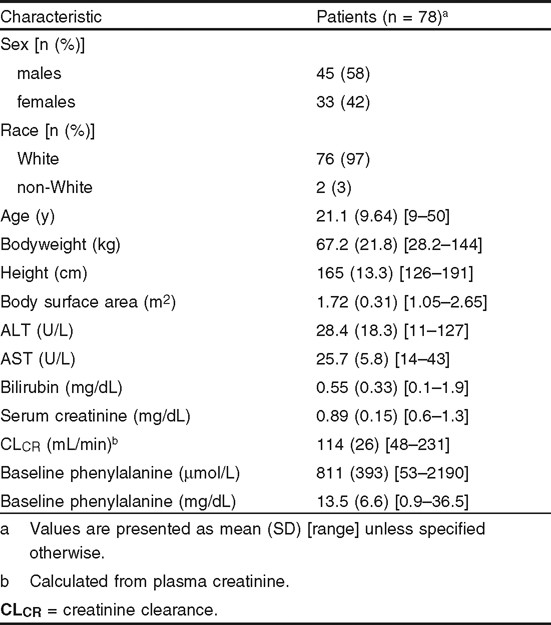 Pharmacokinetic Modelling
The final dataset consisted of 315 observations from 78 patients. Of these, 38 were below the limit of quantification of the assay and four concentration values were not reported; a further eight observations were considered unreliable and were therefore excluded from the evaluation. Hence the final database used for model building consisted of 265 observations (84.1% of the originals) from 76 patients (97.4%).
In general, this model showed good agreement between observed and typical predicted BH4 concentrations, although there was considerable interpatient variability. The typical model parameters showed that sapropterin is rapidly absorbed (ka = 0.552 h−1), with peak concentrations occurring approximately 2 hours after dosing. Clearance is also rapid (CL/F = 2030 L/h) and the drug has a large volume of distribution (V1/F = 7730 L).
Discussion
A D-optimal, sparsely sampled population pharmacokinetic approach was used in this study, for several reasons. First, D-optimal sampling was selected as the method for sample schedule design because this approach suggests windows of time where sampling will be most informative relative to a proposed model, without undue penalty against the identification of alternative models. This approach allows for patients to have fewer blood samples drawn than with traditional pharmacokinetic sample designs, which often require eight or more pharmacokinetic samples per patient. D-optimal sampling weighs various sample schemes based on the efficiency of a proposed design, the expected bias and precision of estimated parameters, and practical considerations. The fact that patients in this study received different dosing regimens of sapropterin further improved the information content of the data obtained in the present study.
The use of population pharmacokinetic methods for evaluation of data is not a new concept. Population methods allow pharmacokinetic parameters to be determined when data are sparse, and can be used to investigate the influence of covariates on pharmacokinetic variability. Population pharmacokinetic approaches are highly dependent on the quality and sufficiency of the data available for analysis. For example, poor compliance with taking medications can result in poor parameter estimation. In a related situation, loss of information can occur when a large fraction of samples are lost because of assay limitations. In the present evaluation, the loss of samples due to results below the limit of quantification may have resulted in an upwardly biased estimation of BASE, which is primarily informed via the lowest concentration data, although it should not have had a substantial impact on other parameters such as the CL/F.
The results of this study show that, following oral administration of sapropterin, BH4 concentrations increase in the peripheral circulation after a short lag period, with peak concentrations being attained after approximately 2 hours. The concentrations subsequently declined in a bi-exponential manner, which suggests that the pharmacokinetics of sapropterin can best be described by a two-compartment, first-order input model with first-order elimination. As biopterin is an endogenous substance, a term was included in the model to account for endogenous baseline concentrations. The validity of this model is supported by the narrow 95% confidence intervals obtained from nonparametric bootstrapping and the results of the visual predictive check.
The plots showing observed versus population-predicted and population concentration (figures 2 and 3) suggest that the model may slightly underpredict the data. However, the deviation in the plot of observed versus population-predicted concentrations is very small and not significant. Fitting a simple regression line to the data with the intercept fixed to zero gives an estimate of the slope of 1.068, which suggests that the data are generally evenly distributed around the line of identity. For the population concentration, individual predictions for data below the limit of quantification were not overlaid on this plot. There were several observations below the limit of quantification at approximately 25 hours post-dose. However, as the model only included a population estimate of the baseline concentration, all predictions would asymptotically approach this prediction of the baseline value, with no predictions falling below the 10th prediction interval, hence the values below the limit of quantification were not included in this figure. These values, taken together with the endogenous (baseline) component of the model, explain why the observations are only within or above the prediction interval. The overall model performance is acceptable over most of the dose interval. The only region where there appears to be some valid underestimation of concentrations is at, or near, the peak concentrations. However, the model did not include any variability in ka or lag time (tlag) which might explain the slight underprediction at approximately 2.5 hours post-dose.
The estimated elimination phase half-life of BH4 was approximately 6–7 hours, which is consistent with that reported in previous studies of single oral doses of BH4.[10] Given that it takes approximately 4–5 half-lives to clear >95% of a drug from the system, these findings support the once-daily dosing regimen for sapropterin in this population.[17] Furthermore, studies have indicated that the effect of a single dose of BH4 to suppress plasma phenylalanine concentrations in responsive patients with phenylketonuria is estimated to persist for at least 24 hours.[18,19] Importantly, stochastic simulations showed no evidence of accumulation with daily dosing, even at the highest dose evaluated (20 mg/kg/day).
Bodyweight was the only covariate found to significantly influence pharmacokinetic variability. When doses were adjusted for bodyweight, exposure was similar across a wide range of bodyweights. Serum creatinine had a small effect on BH4 pharmacokinetics, but this was not sufficiently large to warrant inclusion of serum creatinine as a covariate in the model. It should be noted, however, that only patients with normal renal function or mild renal impairment were included in this study.
Baseline phenylalanine concentrations were not found to be predictive of pharmacokinetic variability. However, caution is needed in interpreting this finding, as these concentrations can change rapidly in patients with phenylketonuria and are impacted upon by multiple factors. The timing of phenylalanine determinations relative to pharmacokinetic sampling was not known.
Conclusion
The results of this study show that BH4 concentrations in the peripheral circulation increase rapidly after oral administration of sapropterin and that the pharmacokinetics of sapropterin support once-daily administration at doses of 5–20 mg/kg.
Footnotes
1.

The use of trade names is for product identification purposes only and does not imply endorsement.
Notes
Acknowledgements
This study was sponsored by BioMarin Pharmaceutical Inc., which had a significant role in the study design; the collection, analysis and interpretation of data; and the writing of the report. The study protocol was drafted and developed by the study sponsor. Representatives or employees of the sponsor were responsible for the administration and monitoring of the study. Analysis of plasma samples for pharmacokinetic analysis was performed by Quest Pharmaceutical Services (Newark, DE, USA). Data management was undertaken by Pacific Data Designs, Inc. (San Francisco, CA, USA) and the population pharmacokinetic evaluations were conducted by Projections Research Inc. (Phoenixville, PA, USA).
François Feillet, assisted by Phillippa Curran, prepared the first draft of the manuscript, which was then modified based on comments and suggestions from all authors. Bruce Green and Diane Mould completed the population pharmacokinetic modelling and contributed towards the writing and interpretation of the data. The final manuscript was approved by all authors.
François Feillet has received honoraria from BioMarin Pharmaceutical Inc. Paul Harmatz has provided consultancy support to BioMarin Pharmaceutical Inc. and has received honoraria or travel support from BioMarin Pharmaceutical Inc. Diane Mould has provided paid consultancy support to BioMarin Pharmaceutical Inc. Bruce Green has provided paid consultancy support to BioMarin Pharmaceutical Inc. Alex Dorenbaum is an employee of BioMarin Pharmaceutical Inc. and owns stock and stock options in BioMarin Pharmaceutical Inc. Erik Foehr is an employee of BioMarin Pharmaceutical Inc. Lorne Clarke, Concetta Meli, Mark Lipson, Andrew Morris and Marcello Giovannini have no conflicts of interest that are directly relevant to the content of this study.
The authors would like to thank their fellow investigators of the Sapropterin Research Group: Canada: A. Feigenbaum, Hospital for Sick Children, Toronto, ON; France: V. Abadie, Hôpital Necker — Enfants Malades, Paris; D. Dobbelaere, CHRU de Lille Hôpital Jeanne de Flandres, Lille; Germany: J. Hennermann, Charité Campus Virchow Klinikum, Otto-Heubner-Centrum fur Kinder und Jugendmedizin, Berlin; F. Trefz, Klinik fur Kinder und Jugendmedizin Reutlingen, Reutlingen; U. Wendel, University Children's Hospital, Düsseldorf; Ireland: E. Treacy, National Centre for Inherited Metabolic Disorders, The Children's University Hospital, Dublin; Poland: A. Milanowski, Instytut Matki i Dziecka Apteka, Warsaw; UK: A. Chakrapani, Birmingham Children's Hospital, Birmingham; M. Cleary, Great Ormond Street Hospital, London; P. Lee, National Hospital for Neurology & Neurosurgery, London; USA: J. Baker, Kaiser Permanente San Jose Medical Center, Oakland, CA; J. Bergoffen, Genetics Department, Kaiser Permanente San Jose Medical Center, San Jose, CA; B.K. Burton, Children's Memorial Hospital, Chicago, IL; E. Crombez, David Geffen School of Medicine at UCLA, Los Angeles, CA; D. Grange, St Louis Children's Hospital, St Louis, MO; C. Harding, Oregon Health & Science University, Portland, OR; R. Koch, Children's Hospital Los Angeles, Los Angeles, CA; H. Levy, Metabolism Research, Children's Hospital of Boston, Boston, MA; N. Longo, Medical Genetics and Pediatrics, University of Utah, Salt Lake City, UT; L. Randolph, Children's Hospital Los Angeles, Los Angeles, CA; M. Seashore, Yale University, New Haven, CT; G. Vockley, Division of Medical Genetics, Children's Hospital of Pittsburgh, Pittsburgh, PA; L. Waber, Children's Medical Center of Dallas, Dallas, TX; M. Wasserstein, Mount Sinai School of Medicine, New York, NY; C. Whitley, Pharmaceutical Services, Fairview University Medical Center, Minneapolis, MN; J. Wolff, University of Wisconsin, Madison, WI.
The authors would also like to thank William Kramer for his contribution to the design and analysis of the pharmacokinetic trials.
Copyright information
© Adis Data Information BV 2008