Docetaxel Plus Cisplatin
In NSCLC
Abstract
▴ Docetaxel and cisplatin are well established antineoplastic agents with activity against NSCLC. The combination exhibited additive cytotoxic activity against human NSCLC cell lines in vitro.
▴ In a large phase III trial in chemotherapy-naive patients with advanced NSCLC, survival with docetaxel plus cisplatin was statistically noninferior to that with the control regimen of vinorelbine plus cisplatin. Overall response rate with docetaxelplus cisplatin was significantly higher than with the control.
▴ Median survival times, tumor response rates, and median time to progression for patients receiving docetaxel plus cisplatin were similar to those for patients receiving paclitaxel plus cisplatin in another large phase III trial.
▴ Neutropenia was the most common grade 3/4 adverse event in docetaxel/cisplatin recipients (≥69% of patients in the two large phase III trials); these proportions were not significantly different from those for patients receiving controls. Grade 3/4 vomiting, nausea, or anemia were significantly less common than with vinorelbine plus cisplatin, whereas hypersensitivity reactions were significantly more common than with paclitaxel plus cisplatin.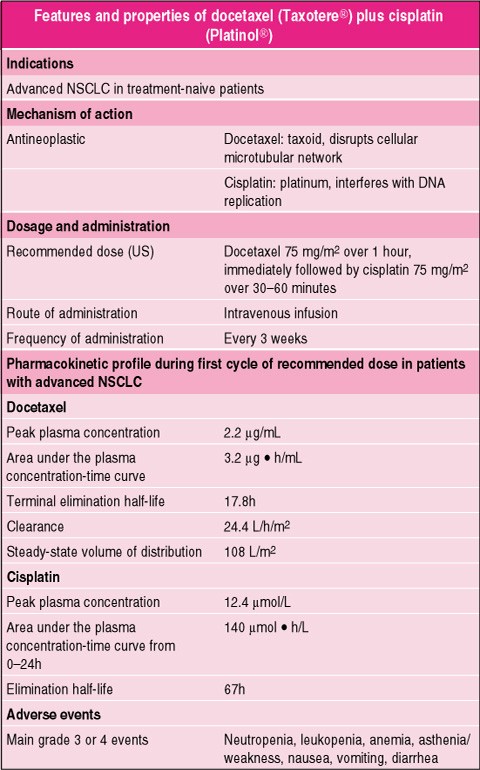 Keywords
Paclitaxel 
Docetaxel 
Gemcitabine 
Carboplatin 
Febrile Neutropenia 
These keywords were added by machine and not by the authors. This process is experimental and the keywords may be updated as the learning algorithm improves.
Copyright information
© Adis Data Information BV 2003