Abstract
▴ 90Yttrium (90Y) ibritumomab tiuxetan is a radiolabeled murine anti-CD20 monoclonal antibody that binds specifically to the CD20 antigen on normal and malignant B lymphocytes. It has antitumor activity as a result of emission of β particles. It is administered as part of a therapeutic regimen which includes rituximab, a monoclonal antibody which produces antibody-dependent cell-and complement-mediated cytotoxicity.
▴ 90Y ibritumomab tiuxetan, when given as part of the recommended regimen, produced significantly higher overall (80 vs 56%: p = 0.002) and complete response rates (30 vs 16%: p = 0.04) than rituximab alone in a randomized nonblind study in patients with relapsed or refractory low-grade, follicular or transformed non-Hodgkin's lymphoma (NHL). Quality of life, as measured by the Functional Assessment of Cancer Therapy-General survey, was also improved significantly (from baseline to week 12; p = 0.001) in recipients of ibritumomab tiuxetan but not in rituximab recipients.
▴ In a noncomparative trial in patients with follicular NHL refractory to rituximab, the ibritumomab tiuxetan therapeutic regimen produced overall and complete response rates of 74 and 15%, respectively.The Kaplan-Meier median estimates of the time to progression and duration of response were 6.8 and 6.4 months, respectively.
▴ The dose-limiting toxicity of ibritumomab tiuxetan is reversible myelosuppression which was seen in most patients. Most non-hematological toxicity was mild or moderate.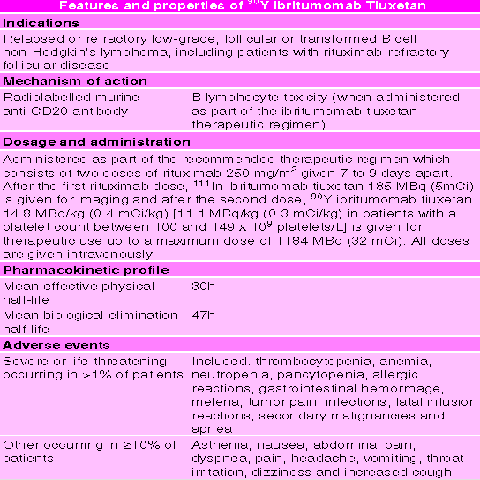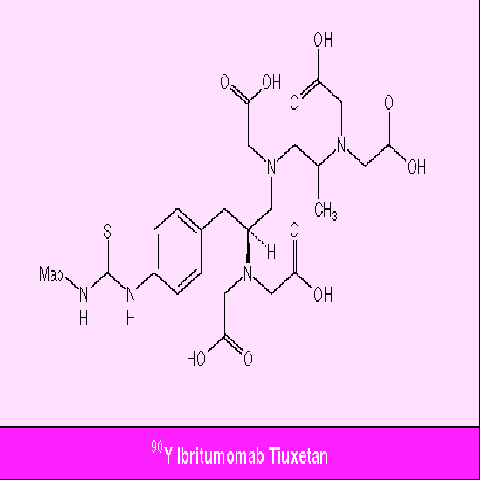 Keywords
Complete Response Rate 
Bone Marrow Involvement 
Nonhematological Toxicity 
Unlabeled Antibody 
Ibritumomab Tiuxetan 
These keywords were added by machine and not by the authors. This process is experimental and the keywords may be updated as the learning algorithm improves.
Copyright information
© Adis International Limited 2002