Abstract
Background
Stent thrombosis remains an important complication after stent implantation, despite the use of dual antiplatelet therapy with aspirin (acetylsalicylic acid) and clopidogrel. Several studies have shown an increased risk of thrombotic events in patients with resistance to clopidogrel. Some recent studies have suggested that a higher clopidogrel maintenance dosage could enhance ex vivo platelet inhibition and thereby overcome resistance to clopidogrel.
Objectives
To investigate whether a higher clopidogrel maintenance dosage is associated with a reduced risk of stent thrombosis after percutaneous coronary intervention (PCI) in clopidogrel-resistant patients and to evaluate the frequency of hemorrhagic accidents that could be associated with a high clopidogrel maintenance dosage.
Methods
An observational study was performed in 52 consecutive clopidogrel-resistant patients (resistance defined according to adenosine diphosphate-induced platelet aggregation assessment) who underwent a PCI with stenting at a tertiary referral center (Toulouse University Hospital, France). All patients received a clopidogrel loading dose of 300 mg, then 32 patients received a clopidogrel maintenance dosage of 75 mg/day (patients admitted between 2004 and 2005) and 20 patients received 150 mg/day (patients admitted in 2006). We compared the occurrence of definite stent thrombosis and hemorrhagic accidents between these two groups, using a regression model.
Results
Among the patients treated with clopidogrel 75 mg/day, 26 (81.3%) had definite stent thrombosis versus seven (35.0%) treated with 150 mg/day (adjusted relative risk [RR] 2.46; 95% CI 1.63, 2.76; p = 0.002). The risk of major adverse cardiac events (MACE) was also significantly lower in patients treated with 150 mg/day (adjusted RR 2.63; 95% CI 1.82, 2.82; p = 0.001). There was no significant difference between the two groups regarding hemorrhagic accidents.
Conclusion
Our data suggest that a high maintenance dosage of clopidogrel (150 mg/day) is associated with a reduced risk of definite stent thrombosis and MACE compared with a maintenance dosage of 75 mg/day. The frequency of hemorrhagic accidents was similar between the two groups, underlining a positive benefit-risk ratio of this strategy in clopidogrel-resistant patients. These findings deserve confirmation in a prospective, well conducted study.
This is a preview of subscription content, log in to check access.
Access options
Buy single article
Instant access to the full article PDF.
US$ 49.95
Price includes VAT for USA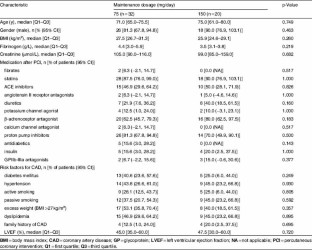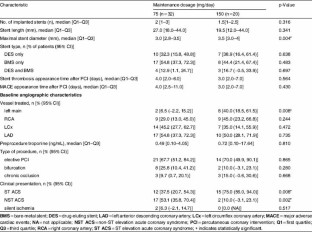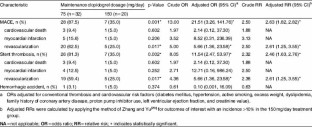 References
1.

Serruys PW, De Jaegere P, Kiemeneij F, et al. A comparison of balloon-expandable-stent implantation with balloon angioplasty in patients with coronary artery disease. N Engl J Med 1994; 331: 489–95.

2.

Fischman DL, Leon MB, Baim DS, et al. A randomized comparison of coronary-stent placement and balloon angioplasty in the treatment of coronary artery disease. N Engl J Med 1994; 331: 496–501.

3.

Moliterno DJ, Campbell CL. Unraveling questions surrounding clopidogrel resistance and stent thrombosis: one less snag. J Am Coll Cardiol 2007; 49: 2318–9.

4.

Mehta SR, Yusuf S, Peters RJ, et al., Clopidogrel in Unstable angina to prevent Recurrent Events trial (CURE) Investigators. Effects of pretreatment with clopidogrel and aspirin followed by long-term therapy in patients undergoing percutaneous coronary intervention: the PCI-CURE study. Lancet 2001; 358: 527–33.

5.

Buonamici P, Marcucci R, Migliorini A, et al. Impact of platelet reactivity after clopidogrel administration on drug-eluting stent thrombosis. J Am Coll Cardiol 2007; 49: 2312–7.

6.

Gurbel PA, Bliden KP, Guyer K, et al. Platelet reactivity in patients and recurrent events post-stenting: results of the Prepare Post-Stenting Study. J Am Coll Cardiol 2005; 46: 1820–6.

7.

Matetzky S, Shenkman B, Guetta V, et al. Clopidogrel resistance is associated with increased risk of recurrent atherothrombotic events in patients with acute myocardial infarction. Circulation 2004; 109: 3171–5.

8.

Ajzenberg N, Aubry P, Huisse MG, et al. Enhanced shear-induced platelet aggregation in patients who experience subacute stent thrombosis: a case-control study. J Am Coll Cardiol 2005; 45: 1753–6.

9.

Geisler T, Langer H, Wydymus M, et al. Low response to clopidogrel is associated with cardiovascular outcome after coronary stent implantation. Eur Heart J 2006; 27: 2420–5.

10.

Gurbel PA, Bliden KP, Samara W, et al. Clopidogrel effect on platelet reactivity in patients with stent thrombosis: results of the CREST Study. J Am Coll Cardiol 2005; 46: 1827–32.

11.

Snoep JD, Hovens MM, Eikenboom JC, et al. Clopidogrel nonresponsiveness in patients undergoing percutaneous coronary intervention with stenting: a systematic review and meta-analysis. Am Heart J 2007; 154: 221–31.

12.

Smith Jr SC, Feldman TE, Hirshfeld Jr JW, et al. ACC/AHA/SCAI 2005 guideline update for percutaneous coronary intervention: a report of the American College of Cardiology/American Heart Association Task Force on Practice Guidelines (ACC/AHA/SCAI Writing Committee to Update 2001 Guidelines for Percutaneous Coronary Intervention). Circulation 2006; 113: e166–286.

13.

Angiolillo DJ, Bernardo E, Palazuelos J, et al. Functional impact of high clopidogrel maintenance dosing in patients undergoing elective percutaneous coronary interventions: results of a randomized study. Thromb Haemost 2008; 99: 161–8.

14.

Von Beckerath N, Kastrati A, Wieczorek A, et al. A double-blind, randomized study on platelet aggregation in patients treated with a daily dose of 150 or 75 mg of clopidogrel for 30 days. Eur Heart J 2007; 28: 1814–9.

15.

Fontana P, Senouf D, Mach F. Biological effect of increased maintenance dose of clopidogrel in cardiovascular outpatients and influence of the cytochrome P450 2C19*2 allele on clopidogrel responsiveness. Thromb Res 2008; 121: 463–8.

16.

Angiolillo DJ, Shoemaker SB, Desai B, et al. Randomized comparison of a high clopidogrel maintenance dose in patients with diabetes mellitus and coronary artery disease: results of the Optimizing Antiplatelet Therapy in Diabetes Mellitus (OPTIMUS) study. Circulation 2007; 115: 708–16.

17.

Lemesle G, Delhaye C, Sudre A, et al. Impact of high loading and maintenance dose of clopidogrel within the first 15 days after percutaneous coronary intervention on patient outcome. Am Heart J 2009; 157: 375–82.

18.

Ruland S. Safety of clopidogrel and aspirin for stroke prevention: implications of the CHARISMA trial. Drug Saf 2008; 31: 449–58.

19.

MacWalter RS, Shirley CP. A benefit-risk assessment of agents used in the secondary prevention of stroke. Drug Saf 2002; 25: 943–63.

20.

Société Française de Cardiologie (SFC). Utilisation des stents actifs. Consensus d'experts de la Société Française de Cardiologie [online]. Available from URL: http://www.cardio-sfc.org/recommandations/sfc. [Accessed 2009 May 20].

21.

Mauri L, Hsieh WH, Massaro JM, et al. Stent thrombosis in randomized clinical trials of drug-eluting stents. N Engl J Med 2007; 356: 1020–9.

22.

Cuisset T, Frere C, Quilici J, et al. Benefit of a 600-mg loading dose of clopidogrel on platelet reactivity and clinical outcomes in patients with non-ST-segment elevation acute coronary syndrome undergoing coronary stenting. J Am Coll Cardiol 2006; 48: 1339–45.

23.

Zhang J, Yu KF. What's the relative risk? A method of correcting the odds ratio in cohort studies of common outcomes. JAMA 1998; 280: 1690–1.

24.

Tavassoli N, Duchayne E, Sadaba B, et al. Detection and incidence of drug-induced agranulocytosis in hospital: a prospective analysis from laboratory signals. Eur J Clin Pharmacol 2007; 63: 221–8.

25.

Cuisset T, Frere C, Quilici J, et al. High post-treatment platelet reactivity is associated with a high incidence of myonecrosis after stenting for non-ST elevation acute coronary syndromes. Thromb Haemost 2007; 97: 282–7.

26.

Hochholzer W, Trenk D, Bestehorn HP, et al. Impact of the degree of peri-interventional platelet inhibition after loading with clopidogrel on early clinical outcome of elective coronary stent placement. J Am Coll Cardiol 2006; 48: 1742–50.

27.

Bonello L, Paganelli F, Arpin-Bornet M, et al. Vasodilator-stimulated phos-phoprotein phosphorylation analysis prior to percutaneous coronary intervention for exclusion of postprocedural major adverse cardiovascular events. J Thromb Haemost 2007; 5: 1630–6.
Acknowledgments
This article is dedicated to the memory of Professor Jacques Puel. The authors have no conflicts of interest that are directly relevant to the content of this study. No sources of funding were used to assist in the preparation of this study.
About this article
Cite this article
Tavassoli, N., Voisin, S., Carrie, D. et al. High Maintenance Dosage of Clopidogrel is Associated with a Reduced Risk of Stent Thrombosis in Clopidogrel-Resistant Patients. Am J Cardiovasc Drugs 10, 29–35 (2010). https://doi.org/10.2165/11318260-000000000-00000
Keywords
Percutaneous Coronary Intervention

Clopidogrel

Stent Thrombosis

Major Adverse Cardiac Event

Dual Antiplatelet Therapy