Abstract
Objective: This study was performed to compare the efficacy and safety of tianeptine and paroxetine in the treatment of major depression. Anxiolytic drug use was systematically reported to provide an indirect evaluation of the anxiolytic activity of both treatments. Zopiclone use was assessed to provide an indirect evaluation of the possible hypnotic activity of both treatments.
Design and Setting: This was a 3-month controlled, randomised, double-blind clinical trial which involved 82 centres in France.
Patientsx: 277 outpatients who met DSM-IV criteria for major depression.
Interventions: Patients were treated with either tianeptine (12.5mg three times daily) or paroxetine (20mg once daily plus two placebo capsules). The drug dosages could be doubled after 3 weeks if required by the patient's medical state.
Main Outcome Measures and Results: There was a significant decrease in the Montgomery-Åsberg Depression Rating Scale score in both groups (from 28.9 at baseline to 11 at endpoint in the tianeptine group, and from 29.6 to 11.6 in the paroxetine group) after 3 months of treatment. No significant difference was evident between the groups. Secondary criteria confirmed the antidepressant efficacy of both medications, with no difference between tianeptine and paroxetine (Hamilton Depression Rating Scale global score at endpoint, Clinical Global Impression final scores, number of responders, delay-to-response, rate of dosage doubling at day 21). The anxiolytic and hypnotic consumption rates decreased in both groups, with no significant difference between the groups. There was no significant difference in clinical safety parameters.
Conclusion: Tianeptine appears to be as effective and as safe as paroxetine for the ambulatory treatment of major depression.
This is a preview of subscription content, log in to check access.
Access options
Buy single article
Instant access to the full article PDF.
US$ 49.95
Price includes VAT for USA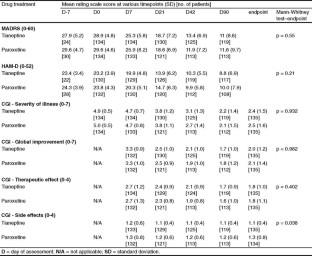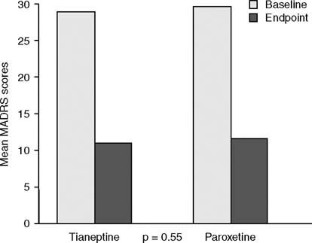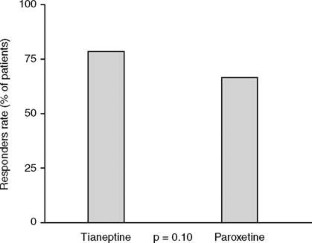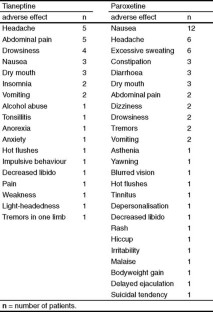 References
1.

Cassano GB, Heinze G, Lôo H, et al. A double-blind comparison of tianeptine, imipramine and placebo in the treatment of major depressive episodes. Eur Psychiatry 1996; 11: 254–9

2.

Guelfi JD, Pichot P, Dreyfus JF. Efficacy of tianeptine in anxious-depressed patients. Results of a controlled multicenter trial versus amitriptyline. Neuropsychobiology 1989; 22: 41–8

3.

Lôo H, Malka R, Defrance R, et al. Tianeptine and amitriptyline controlled double-blind trial in depressed alcoholic patients. Neuropsychobiology 1988; 19: 79–85

4.

Alby JM, Ferreri M, Cabane J, et al. Efficacité de la tianeptine dans le traitement des dépressions majeures et des dysthymies avec plaintes somatiques. Etude versus fluoxétine. Annal Psychiatr 1993; 8: 136–44

5.

Dalery J, Dagens-Lafont V, de Bodinat C. Intérêt de la tianeptine dans le traitement des dépressions majeures unipolaires récurrentes. Etude versus placebo sur 16 mois et 1/2 de traitement. Encéphale 1997; 23: 56–64

6.

Ansseau M, Bataille M, Briole G, et al. Controlled comparison of tianeptine, alprazolam and mianserine in the treatment of adjustment disorder with anxiety and depression. Human Psychopharmacol 1996; 11: 293–8

7.

Wilde ME, Benfield P. Tianeptine: a review of its pharmacodynamic and pharmacokinetic properties, and therapeutic efficacy in depression and coexisting anxiety and depression. Drugs 1995; 49: 411–39

8.

Malberg JE, Eisch AJ, Nestler EJ, et al. Chronic antidepressant treatment increases neurogenesis in adult rat hippocampus. J Neurosci 2000; 20(24): 1904–10

9.

Andrews G. Placebo response in depression: bane of research, boon to therapy. Br J Psychiatry 2001; 178: 192–4

10.

Dunbar GC, Fuell DL. The anti-anxiety and anti-agitation effects of paroxetine in depressed patients. Int Clin Psychopharmacol 1992; 6: 81–90

11.

Montgomery SA. The advantages of paroxetine in different subgroups of depression. Int Clin Psychopharmacol 1992; 6: 91–100

12.

American Psychiatric Association. Diagnostic and statistical manual of mental disorders. 4th ed. Washington, DC: American Psychiatric Association, 1994

13.

International Conference on Harmonization Topic E9 — Statistical Principles for Clinical Trials — Step 4 Feb. 1998, adopted by CPMP, March 1998, issued as CPMP/ICH/363/96

14.

Work Group on Major Depressive Disorder. Practice guideline for the treatment of patients with major depressive disorder (revision). Am J Psychiatry 2000; 157(4 Suppl.): 1–45

15.

Lôo H, Saiz-Ruiz J, Costa e Silva JA, et al. Efficacy and safety of tianeptine in the treatment of depressive disorders in comparison with fluoxetine. J Affect Disord 1999; 56: 109–18

16.

Myers ED, Branthwaite A. Out patients compliance with anti-depressant medication. Br J Psychiatry 1992; 160: 83–6

17.

Watson D, Clark LA, Weber K, et al. Testing a tripartite model: I. Evaluating the convergent and discriminant validity of anxiety and depression symptom scales. J Abnorm Psychol 1995; 104: 3–14

18.

Kornstein SG, Schatzberg AF, Thase ME, et al. Gender differences in treatment response to sertraline versus imipramine in chronic depression. Am J Psychiatry 2000; 157: 1445–52

19.

Waintraub L. La dépression du sujet âgé: reconnaissance et traitement. Presse Med 1999; 27: 2129–44
Acknowledgements
The authors would like to thank N. Tudor (biostatistician) and F. Khalfi (medical writer) from MDS Pharma Services. The study was supported by a grant from Ardix Medical.
About this article
Cite this article
Waintraub, L., Septien, L. & Azoulay, P. Efficacy and Safety of Tianeptine in Major Depression. Mol Diag Ther 16, 65–75 (2002). https://doi.org/10.2165/00023210-200216010-00005
Keywords
Major Depressive Disorder

Paroxetine

Anxiety Symptom

Zopiclone

Tianeptine