Restoring the Balance of the Autonomic Nervous System as an Innovative Approach to the Treatment of Rheumatoid Arthritis
Open Access
Review Article
Abstract
The immunomodulatory effect of the autonomic nervous system has raised considerable interest over the last decades. Studying the influence on the immune system and the role in inflammation of the sympathetic as well as the parasympathetic nervous system not only will increase our understanding of the mechanism of disease, but also could lead to the identification of potential new therapeutic targets for chronic immune-mediated inflammatory diseases, such as rheumatoid arthritis (RA). An imbalanced autonomic nervous system, with a reduced parasympathetic and increased sympathetic tone, has been a consistent finding in RA patients. Studies in animal models of arthritis have shown that influencing the sympathetic (via α- and β-adrenergic receptors) and the parasympathetic (via the nicotinic acetylcholine receptor α7nAChR or by electrically stimulating the vagus nerve) nervous system can have a beneficial effect on inflammation markers and arthritis. The immunosuppressive effect of the parasympathetic nervous system appears less ambiguous than the immunomodulatory effect of the sympathetic nervous system, where activation can lead to increased or decreased inflammation depending on timing, doses and kind of adrenergic agent used. In this review we will discuss the current knowledge of the role of both the sympathetic (SNS) and parasympathetic nervous system (PNS) in inflammation with a special focus on the role in RA. In addition, potential antirheumatic strategies that could be developed by targeting these autonomic pathways are discussed.
Introduction
Rheumatoid arthritis (RA) is a common, immune-mediated inflammatory disease affecting about 1% of the adult population worldwide. RA is characterized by inflammation of the synovium leading to progressive destruction of cartilage and bone (1,2). Although its exact etiology currently remains unknown, advances in understanding the pathogenesis and underlying mechanisms have led to the development of new and more effective antirheumatic drugs. Despite these improvements, a significant number of RA patients do not respond to the current therapies, and a need for identification of new pathways involved in modulation of inflammation to develop new antiinflammatory treatments still remains.
One such approach could be via manipulation of the autonomic nervous system. The nervous system is divided into the peripheral nervous system, with the sensory, somatic (voluntary) and autonomic (involuntary) sections, and the central nervous system. Classically, the autonomic nervous system is further divided into the sympathetic (SNS) and parasympathetic nervous system (PNS), which are in tight equilibrium. These systems typically act in opposition to each other, but are able to function in synergy, making it difficult to predict the effects of autonomic nervous system activation. In general, stimulation of the SNS brings the body to a state of raised activity and attention, usually called the fight or flight response: heart rate and blood pressure increase, liver glycogen is converted into glucose and peristalsis of the gastrointestinal tract is temporarily inhibited. In contrast, stimulation of the PNS can be summarized as the rest and digest response, as this returns the body functions back to normal: blood pressure lowers, heart rate slows down, gastrointestinal peristalsis is turned on again and the liver starts producing new glycogen (3).
It has become apparent that the nervous system has multiple anatomical and physiological connections with the immune system. Through these pathways, the nervous and immune systems have extensive communications using neurotransmitters, cytokines and endocrine hormones (
4
). Consequently, the nervous system is able to detect and regulate inflammation in peripheral tissues and is involved in maintaining immune homeostasis. An overview of the role of the autonomic nervous system in inflammation is shown in Figure
1
.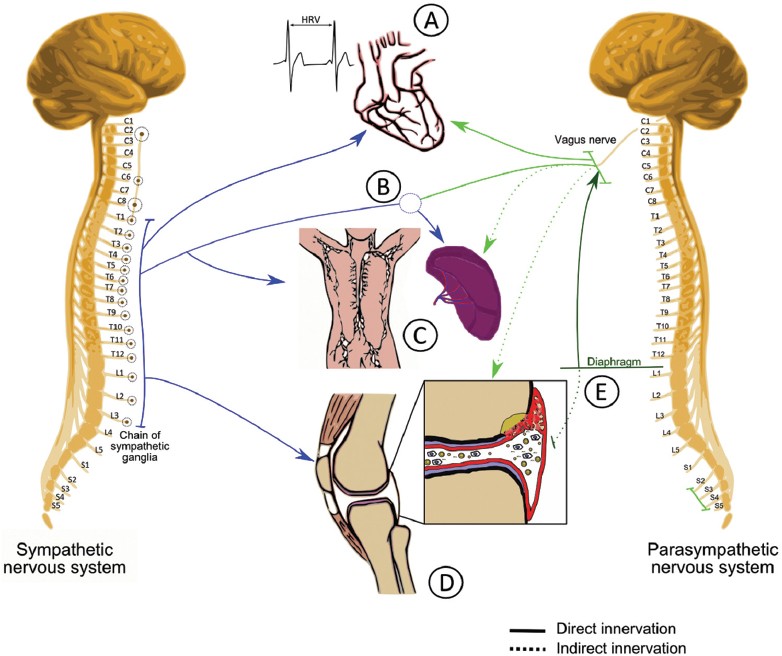 Several observations have supported the notion that there may be an interaction between the nervous system and inflammation in RA. For instance, it has been reported that hemiplegic patients who develop RA do not develop arthritis on their hemiplegic (denervated) side (5). This eventually led to the hypothesis that experimental modulation of the body's neural pathways involved in regulating inflammation could potentially lead to the development of new treatment options for different inflammatory diseases, including RA.
Sympathetic Nervous System
Parasympathetic Nervous System
Dysregulation of Autonomic Nervous System in Rheumatoid Arthritis
As discussed, both the SNS and PNS, and also the HPA axis, influence immune homeostasis. Inflammatory mediators signal to the brain via the circulation or via afferent fibers of the vagus nerve, thereby activating the SNS and/or PNS (Figure 1E). Efferent SNS and vagal nerve fibers then induce local catecholamine and ACh production by neurons or nonneuronal cells. The final effects are difficult to predict, as there are many different signaling molecules and receptors involved depending on the disease phase.
The autonomic dysfunction in RA patients is characterized by an increased overall sympathetic tone and decreased activity of the vagus nerve. This indicates that the normal equilibrium, where the SNS and PNS act oppositely and have contrary effects, is in imbalance and this disturbance might contribute to the induction and/or persistence of the disease (19,91, 92, 93, 94, 95). When immune homeostasis is disturbed, both the SNS and HPA axis are activated to restore this. In RA patients, however, inadequately low levels of cortisol were seen in relationship to inflammation and controlled physiological stress (96). These findings led to the assumption that the HPA axis and SNS have been uncoupled in these patients, resulting in a strong proinflammatory situation (30,96). Other changes also take place, for example, density of sympathetic nerve fibers in arthritic patients are decreased (14), while SNS fibers in the spleen redistribute toward the red pulp where the immune cells reside, suggesting there is an altered sympathetic-to-immune system signaling in RA.
Simultaneously, low tone of the vagus nerve means low activity of the cholinergic antiinflammatory pathway, which also can lead to higher cytokine levels, thereby contributing to this proinflammatory status. Of note, surgical unilateral vagotomy for gastric disease in humans had no effect on the risk of developing RA, but vagotomy at a different anatomical level might have resulted in a different result (97). When considering the parasympathetic-to-immune system signaling, our data show that the cholinergic antiinflammatory pathway contributes to control of disease activity in experimental arthritis, since interruption of this pathway can lead to aggravation of arthritis. Our findings support and extend the pioneering work by KJ Tracey, suggesting that tonic activity of the vagus nerve is essential to maintain immune homeostasis (62). Impairment of this activity could lead to unrestrained cytokine responses and damage to the host.
It is unknown whether the dysregulation of the autonomic nervous system is initiated by an increase in SNS activity (for example, stress) followed by decrease in vagus nerve activity, or if it is the other way around. Regardless, based on experimental results stated above, it seems likely that the autonomic imbalance observed in experimental arthritis and RA patients is, at least partially, responsible for sustaining the inflammatory status. Further insight into this autonomic dysregulation in RA is essential to determine how and to what extent it contributes to the development, persistence and exacerbation of arthritis.
Potential Clinical Implications For Modulation of the Nerve System in Inflammatory Diseases
The immunoregulatory potential of the SNS has led to the proposition of new antiinflammatory therapeutic approaches for RA. Based on animal models discussed above, it can be envisaged that intervening with SNS activity can influence inflammation in RA. Until now, no clinical testing of AR agents as a treatment option for RA patients has been performed. Since data targeting AR receptors obtained from animal models are somewhat variable, it is difficult to draw definitive conclusions as to which treatment would be beneficial in arthritis patients.
The PNS can exert its antiinflammatory effects via the vagal cholinergic antiinflammatory pathway in which the neurotransmitter acetylcholine plays an important role. The discovery of the cholinergic antiinflammatory pathway has paved the way for new therapeutic strategies for inflammation-mediated diseases like RA. The two major treatment options are pharmacological intervention or electric stimulation of the vagus nerve (VNS). The cholinergic antiinflammatory pathway can be stimulated by pharmacologic activation of the nAChRs. The observation that specific nAChRα7 agonists diminish disease in several animal models of inflammation, including animal models for arthritis (78,79) and experimental colitis (98), suggests that therapeutic agents that can modify cholinergic signaling might be beneficial in humans. Nicotine, a potent nAChRα7 agonist, has been used extensively to examine the cholinergic antiinflammatory pathway in animal models. However, the therapeutic value of nicotine is limited, because of its lack of specificity and toxicity. To avoid side effects caused by nicotine, more specific nAChR agonists have been designed. The most extensively characterized nAChR specific agonist is GTS-21, a nAChRα7 agonist that also affects 42 nAChR. GTS-21 is well tolerated in healthy volunteers as well as in patients with schizophrenia and Alzheimer's disease (99). In addition, there is evidence indicating that centrally acting cholinergic drugs used in treatment of Alzheimer's patients can modulate peripheral immune responses, which make this group of drugs interesting to explore in inflammatory disorders (100).
A novel antiinflammatory strategy also could be developed by means of optimal VNS generated by a special device. VNS has recently been shown to inhibit development of CIA in rats using a constant voltage stimulus (5 V, 2 ms, 1 Hz) starting at day 10 after the second immunization (101). Vagus nerve stimulation already is used in patients with drug-resistant epilepsy and depression. The left vagus nerve is stimulated via an implantable electrode. Vagus nerve stimulation had beneficial effects in both disorders without major side effects (99). A recent study investigating in more detail the effect of VNS on the immune system in 11 patients with refractory epilepsy demonstrated that VNS causes a rebalancing of the immune system compared with a control group (102). The effects of VNS on pro- and antiinflammatory cytokines in peripheral blood observed in this study in combination with the results found in the rat model of arthritis suggest that VNS could be a promising strategy in the treatment of RA patients.
Overall, data obtained from a large number of in vitro and in vivo studies imply that therapeutic agents targeting the PNS via the cholinergic antiinflammatory pathway or targeting the SNS via AR receptors can be an important future treatment option in a variety of conditions. However, further preclinical and clinical studies are needed to further explore the potential and safety of these approaches in patients with inflammatory disorders.
Disclosure
PP Tak recieved research support from SetPoint and Critical Therapeutics.
Notes
Acknowledgments
Supported by Dutch Arthritis Association grant NR 09-1-307. In addition, the authors would like to thank Beatrijs M Lodde for editorial assistance.
Copyright information
© The Feinstein Institute for Medical Research 2011
www.feinsteininstitute.org