Molecular Mediators of Liver Ischemia and Reperfusion Injury: A Brief Review
Open Access
Review Article
Abstract
Ischemia and reperfusion injury is a dynamic process that involves multiple organ systems in various clinical states including transplantation, trauma, and surgery. Research into this field has identified key molecular and signaling players that mediate, modulate, or augment cellular, tissue, and organ injury during this disease process. Further elucidation of the molecular mechanisms should provide the rationale to identify much-needed novel therapeutic options to prevent or ameliorate organ damage due to ischemia and reperfusion in clinics.
Introduction
Ischemia and reperfusion injury (IRI) represents a complex series of events that result in cellular and tissue damage. It involves the transient deprivation of blood flow and oxygen, and the return of blood flow during reperfusion with concomitant release of oxygen-free radicals (OFR), cytokines/chemokines, and upregulation of adhesion molecules with consequent cellular and organ dysfunction (Figure
1
). Although organ IRI occurs in many clinical settings, including trauma, organ transplantation, myocardial infarction, and stroke, its outcomes remain controversial. Some argue against the significance of lethal reperfusion distinct from ischemic injury, stating that reperfusion merely worsens the initial injury caused by blood deprivation, rather than independently mediating tissue and cellular damage (
1
). Other data, using therapeutics initiated at time of reperfusion, suggest changes in cell and tissue survival attributed to mitigating lethal reperfusion. Nevertheless, the process of ischemia and reperfusion and the subsequent cellular and organ damage are important to many fields of modern medicine. The following describes the current understanding of molecular mechanisms involved in IRI, primarily in the liver, and their putative therapeutic implications.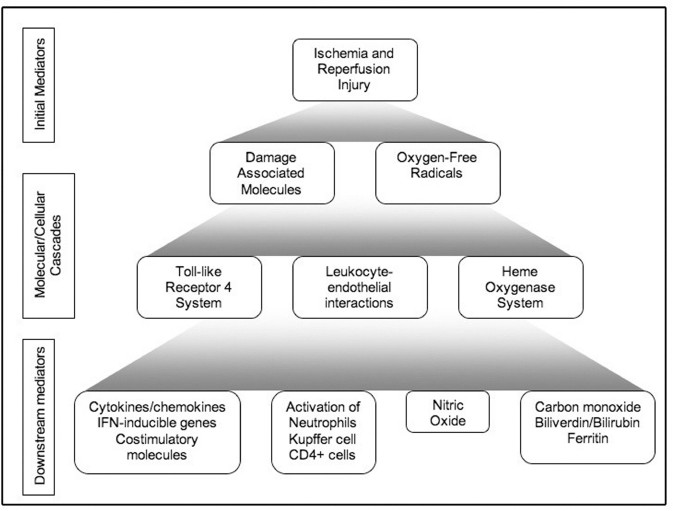 IRI and the Liver
Liver IRI occurs in the absence of exogenous antigens in various clinical settings, such as transplantation, hepatectomy for cancer, and shock. In transplantation, the modified "injury hypothesis" (2,3) states that IRI to the organ activates a cascade of innate-dominated pro-inflammatory immune responses, which then trigger the adaptive immune response that culminates in transplant rejection. The outcome of the transplanted organ is significantly affected by its initial exposure to reactive oxygen species (ROS), damage-associated molecules, and local chemical milieu. Indeed, liver IRI has been reported to cause up to 10% of early organ dysfunction, leading to the higher episodes of both acute and chronic rejection (4). The following review outlines key events in the pathophysiology of liver IRI, including the toll-like receptor (TLR) system, OFRs, the heme oxygenase (HO) system, and leukocyte cascades. Other mechanisms highly involved in liver IRI include tissue anoxia with depletion of adenosine triphosphate and mitochondrial dysfunction (5,6).
Clinical Applications
Basic research using animal models has elucidated dominant molecular pathways important in the pathogenesis of liver IRI. Application of this knowledge is underway through clinical trials that investigate therapeutic modalities to reduce IRI (Table
2
). As described above, animal models that increase NO availability have reduced liver IRI. A small (
n
= 10) prospective randomized controlled trial was conducted to evaluate the use of inhaled NO on liver function and patient outcome after liver transplantation (
106
). In this study, liver transplant patients were treated with placebo (nitrogen) or inhaled NO (80 parts per million) during the perioperative period. The NO treatment group had earlier improved graft function, reduced hepatocyte apoptosis, and shorter length of hospital stay. Limitations to the study included small sample size and use of a single liver biopsy at one hour after reperfusion to evaluate inflammatory changes and hepatocyte apoptosis.
Table 2
Collected series of clinical trials to mitigate liver IRI
| Reference | Study type | n | Model | Treatment | Outcome |
| --- | --- | --- | --- | --- | --- |
| Lang et al. (106) reduced | Single-center prospective RCT | 10 | OLT | Inhaled NO, perioperative | Improved recovery; decreased LOS, liver cell apoptosis |
| Baskin-Bey et al. (107) | Multicenter prospective RCT | 23–27 | OLT | Pan-caspase inhibitor (IDN-6556), during cold storage/flush and IV after OLT | Reduced early liver cell apoptosis |
| Aldrighetti et al. (108) | Single-center prospective RCT | 36 | Liver resection; intermittent WI | Methylprednisolone, preoperative | Reduced IRI |
| Bogetti et al. (113) | Single-center prospective RCT | 12 | OLT | Thymoglobulin, intraoperative and postoperative | Reduced IRI and improved function |
| St Peter et al. (110) | Single-center prospective RCT | 10 | OLT | Tacrolimus in allograft flush | Improved early graft function and decreased injury |
| Kim et al. (122) | Single-center prospective RCT | 16–25 | Liver resection; continuous WI | Protease inhibitor (gabexate mesilate); preoperative or intraoperative | Reduced IRI with preoperative treatment |
Apoptosis and hepatocellular damage are significant end points in the pathogenesis of liver IRI. Indeed, multiple signaling pathways in IRI culminate with apoptosis and organ dysfunction. Recently, IDN-6556, a pan-caspase inhibitor (PCI), was applied in liver transplant patients to evaluate its efficacy to mitigate liver injury during cold and warm IR (107). PCI was administered locally to the donor organ during cold storage and systemically to the transplant recipient for 24–48 h posttransplant. Organ storage with PCI resulted in both reduced early liver IR-mediated apoptosis and decreased injury. Rates of acute cellular rejection were similar between groups. Systemic PCI delivery, however, reduced the beneficial effects of PCI administered during cold storage alone. This was attributed to neutrophil accumulation and local inflammation due to decreased neutrophil apoptosis with systemic intravenous PCI delivery (107).
In addition to therapies aimed at preventing hepatocyte apoptosis, anti-inflammatory agents have been investigated for protection against liver IRI. A recent prospective clinical trial assessed the use of preoperative steroid administration on outcome after hepatectomy (108). Patients (n = 36) treated with preoperative methylprednisolone (500 mg) before induction of anesthesia had lower serum transaminases, coagulation parameters, and inflammatory cytokines (TNF-α and IL-6). Of interest, the protective role of preoperative steroid treatment was more significant in patients with larger liver resection and greater ischemic time. A second study (n = 25) that used methylprednisolone (30 mg/kg) 30 min before liver resection resulted in reduced IL-6 levels without significant improvement in short-term outcomes (109).
The efficacy of other immunosuppressive agents to reduce liver IRI has been examined. Tacrolimus administered to livers in a flush-solution before transplantation resulted in improved early organ function and decreased hepatocellular damage (110). Various molecular pathways may have contributed to the beneficial effects, including anti-inflammation and preservation of mitochondrial function (110). Other studies have investigated the use of antioxidants, such as N-acetyl cysteine (NAC) used in a small randomized study (n = 9) during donor hepatectomy (111). There was no protective effect on acute cellular rejection or the extent of liver IRI, though the study was limited by small sample size.
Thymoglobulin (TG), a polyclonal antibody induction agent used in kidney, pancreas, and liver transplantation, was recently shown to reduce renal IRI and to improve allograft function after cadaveric renal transplantation (112). TG reduced renal delayed graft function and decreased length of hospital stay in renal transplantation when given intraoperatively before reperfusion (112). Given these beneficial effects in the kidney, a prospective trial was conducted to evaluate the efficacy of TG to reduce liver IRI during transplantation. TG was shown to reduce liver IRI and to improve allograft function (113). The mechanism of action for this therapeutic effect is not completely known, but may involve blockade of adhesion molecules that activate downstream signaling integral to IRI or depletion of T lymphocytes.
In summary, recent clinical trials have tested the ability of immunomodulatory agents to improve patient outcomes after IRI. Knowledge of the molecular and signaling pathways established through basic research has enabled initial application of these novel therapeutic options to minimize IRI and improve medical treatments. Considerable work remains to address this complex problem in clinical practice.
Conclusion
Liver IRI represents a continuum of complex processes that involve multiple cellular and molecular pathways. This review focused on liver IRI, primarily in the context of transplantation. Given the scope of IRI and its wide applicability to many fields in medicine, continued efforts are necessary to understand the pathophysiology of this disease process and minimize its detrimental effects. Indeed, translation of this knowledge to the clinical setting will allow much-needed improvements in patient survival and outcomes in many disease states, including trauma and transplantation.
Copyright information
© Feinstein Institute for Medical Research 2008