Mechanism and Regulation of Cellular Zinc Transport
Abstract
Zinc is an essential cofactor for the activity and folding of up to ten percent of mammalian proteins and can modulate the function of many others. Because of the pleiotropic effects of zinc on every aspect of cell physiology, deficits of cellular zinc content, resulting from zinc deficiency or excessive rise in its cellular concentration, can have catastrophic consequences and are linked to major patho-physiologies including diabetes and stroke. Thus, the concentration of cellular zinc requires establishment of discrete, active cellular gradients. The cellular distribution of zinc into organelles is precisely managed to provide the zinc concentration required by each cell compartment. The complexity of zinc homeostasis is reflected by the surprisingly large variety and number of zinc homeostatic proteins found in virtually every cell compartment. Given their ubiquity and importance, it is surprising that many aspects of the function, regulation, and crosstalk by which zinc transporters operate are poorly understood. In this mini-review, we will focus on the mechanisms and players required for generating physiologically appropriate zinc gradients across the plasma membrane and vesicular compartments. We will also highlight some of the unsolved issues regarding their role in cellular zinc homeostasis.
Introduction
The uniqueness of zinc, in contrast to other abundant transition metals in the body, e.g., Fe
3+
and Cu
2+
, is that it lacks redox activity. It has been suggested that early in evolution, Fe
3+
fulfilled the roles of Zn
2+
as a cofactor in domains that were predecessors to Zn-fingers (
1
). The emergence of oxygen and oxidative phosphorylation led to the rapid extinction of this form of heavy metal biochemistry. Importantly, between three and ten percent of all proteins in mammalian genomes are considered to bind zinc (
2
). In these proteins, zinc is essential for folding, conformational change, or activity. It is, therefore, not surprising that zinc deficiency has catastrophic consequences, reflected in, among other syndromes, erosion of the gastrointestinal tract, skin lesions, cardiac failure, and malformations of brain and the male reproductive system (
3
,
4
). Zinc, particularly the "free" or loosely-bound form of the ion, is nevertheless profoundly toxic to mammalian cells (
5
). Numerous studies have shown that a rise in cellular free Zn
2+
resulting from permeation of synaptic zinc or from release of this ion from intracellular stores in neurons (
6
,
7
,
8
,
9
), is a key factor in neuronal death following seizure or an ischemic episode (
10
,
11
). Dysregulation of free zinc has also been implicated in the formation of β-amyloid plaques associated with Alzheimer's disease (
12
). Permeation of zinc that is co-released with insulin from pancreatic β -cells is emerging as an important factor in the degeneration of these cells (
13
,
14
,
15
). These paradoxical aspects of cellular zinc dictate that it be distributed in highly regulated gradients with respect to the plasma membrane and intracellular compartments. It also demands that an adequate supply of this ion be available to the numerous zinc-binding proteins, while preventing its accumulation and the potentially devastating effects it can readily initiate. The magnitude of the zinc gradient present at the plasma membrane rivals even that of calcium (
16
). Zinc concentrations in the synaptic cleft, for example, are estimated to rise to micomolar concentrations, while the intracellular free-Zn
2+
concentration is estimated to be in the picomolar range (
17
). Similarly steep zinc gradients are also formed within the cells, with millimolar concentrations of Zn
2+
existing in the synaptic and secretory vesicles (
18
,
19
,
20
). The complexity and importance of zinc homeostasis is reflected by the large number of proteins that are potentially dedicated to Zn
2+
transport and buffering (Figure
1
), among them, at least ten members of the ZnT (Zn
2+
Transporter) family (
21
), 15 members of the ZIP (i.e., Zn
2+
-regulated metal transporter, Iron-regulated metal transporter-like protein) family (
22
), and 3 distinct isoforms of metallothionein (
23
).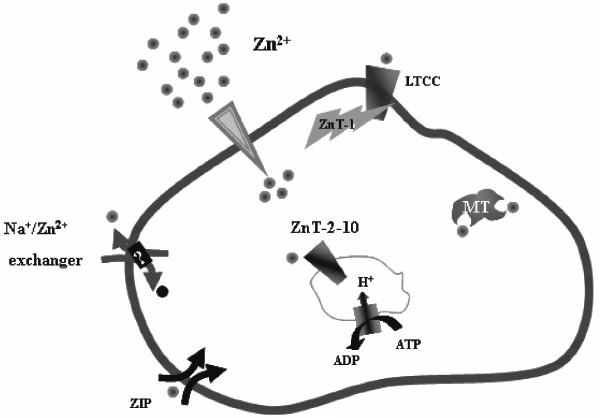 Active Zinc Transport Across the Cell Membrane
Ion gradients are generated by two main mechanisms: 1) A primary pump, utilizing the energy of ATP-hydrolysis; or 2) a secondary active mechanism that uses an ion gradient, such as Na+, for generating Zn2+ gradients. A Zn2+ pump has been demonstrated in bacteria, where several forms of p-type ATPases have been shown to catalyze active Zn2+ transport (24). Recently, a similar ATPase, which transports Zn2+ and Cd2+ and to a lesser extent other heavy metals, has been discovered in Arabidopsis (25,26). Surprisingly, there is still no evidence for a Zn2+ pump in either yeast or mammalian cells, though a Cu pump has been identified that is linked to heavy metal ion transport (27).
A Na+-dependent secondary active mechanism has, however, been suggested to facilitate formation of the transmembrane Zn2+ gradient in neurons. Early studies suggested that the neuronal Na+/Ca2+ exchanger mediates Zn2+ extrusion (28), but more recent findings seem to support the existence of a distinct Na+/Zn2+ exchanger. These studies have indicated that a putative Na+/Zn2+ exchanger, probably a member of the Na+/Ca2+ exchanger superfamily, operates with a stoichiometry of 3Na+/1Zn2+, promoting Zn2+ efflux against a 500-fold transmembrane gradient (29). This mechanism is pharmacologically and molecularly distinct from the classical Na+/Ca2+ exchangers. Whether this exchanger is the principle plasma membrane extruder of Zn2+ or is accompanied by an as yet unidentified Zn2+ pump, is an open and intriguing question.
The Role of ZnT Proteins in Cellular Zinc Homeostasis
To date, human CDF, also known as SLC30, genes, code for ten zinc transporters (ZnTs), i.e., ZnT-1-10 (
30
). The expression and cellular distribution of the ZnTs is highly regulated by changes in zinc (
31
,
32
,
33
). The rapid changes occurring in extracellular Zn
2+
, and the existence of numerous pathways for permeation of this ion, suggest an important role for the ZnT proteins in physiology and pathology (Table
1
), though relatively little is known about their mechanism of activity or their regulation. Studies of yeast CDF proteins and the bacterial ZitB protein, which is a distantly related homologue of the ZnT proteins, have suggested mechanisms by which these proteins control Zn
2+
transport (
34
,
35
). Functional analyses of their bacterial and yeast homologues have suggested that these proteins might catalyze H
+
/Zn
2+
exchange (
35
). If a similar mechanism underlies the activity of mammalian Zn
2+
transporters, it may have important physiological implications. For instance, metabolic acidosis or a change in pH triggered by inflammation, might attenuate ZnT-dependent Zn
2+
transport. Glial cells, normally more resistant to zinc toxicity than neurons, are indeed rendered more susceptible by reduction in pHi (
36
), possibly as a result of lower ZnT-dependent transport.
Table 1
ZnT proteins- expression and physiological roles.
|   | Expression pattern | Cellular distribution | Disease model | Altered expression phenotype | Ref |
| --- | --- | --- | --- | --- | --- |
| ZnT-1 | Ubiquitous | Plasma membrane |   | Overexpression: reduced [Zn2+] i and enhanced resistance against Zn2+ toxicity, KO: Lethal at embryonic stage, | |
| ZnT-2 | small intestine, kidney, placenta, pancreas, testis, seminal vesicles, and mammary gland | Vesicles, lysosomes |   | Overexpression: enhanced lysosomal and vesicular Zn2+ accumulation | |
| ZnT-3 | brain | Synaptic vesicles (Glutamatergic and GABAergic) |   | KO: synaptic Zn2+ deficiency, enhanced susceptibility to seizure, loss of gender specific Alzheimer's disease plaque formation in a mouse model, decreased susceptibility to amyloid angiopathy | |
| ZnT-4 | mammary gland, brain, small intestine and mast cells | Intracellular compartments | Lethal milk syndrome in mice, Asthma (mice), Alzheimer's disease |   | |
| ZnT-5 | Pancreatic β-cells, intestine, heart brain, liver, kidney | Insulin secretory vesicles, Golgi Spliced isoform: plasma membrane Complexed with ZnT-6 |   | KO: poor growth, osteopenia, male specific fatal arrhythmias. Essential for folding and secretion of Zn2+ -binding enzymes. | |
| ZnT-6 | liver, brain, and small Intestine | Complexed with ZnT-5 | Alzheimer's disease (mice) |   | |
| ZnT-7 | small intestine, liver, retina, spleen, kidney, and lung | Golgi |   | Essential for folding and secretion of Zn2+ -binding enzymes, | |
| ZnT-8 | Pancreatic β-cells | Insulin secretory vesicles | Polymorphism marker in diabetes type II | Overexpression: enhances glucose dependent insulin secretion | |
Although the ZnTs are increasingly recognized as critical players in cellular zinc homeostasis, for the sake of brevity, only a few examples will be discussed.
Additional Questions and Challenges for Future Research
As seen by the brief discussion above, the characterization of multiple ZnT proteins has not yet led to elucidation of a mechanism of action for most of them. Many fundamental questions remain about their activity and regulation, as well as their interaction with other ion transporters. Of particular interest is the question of how these proteins are capable of transporting zinc against the vanishingly low intracellular concentration existing in mammalian cells. One possible mechanism is direct buffering of Zn2+ by the ZnTs. Alternatively, the transporters may interact with metallothioneins (MT) which will transfer zinc to the ZnTs. A similar mechanism has been shown for the shuttling of Fe3+ and Cu2+ (63). Finally, release of zinc from metallothioneins, in response to specific intracellular signals (e.g., NO) or ischemia, may also provide free Zn2+ to the ZnTs.
Another question regards the existence of functional crosstalk between the Zn2+ transporters and other ion transport mechanisms, particularly proteins involved in maintaining cellular pH homeostasis, such as the Na+/H+ exchangers. This is especially relevant considering the putative mechanism of H+/Zn2+ exchange, which may underlie the activity of the intracellular ZnTs.
The structural organization of the ZnTs also is poorly understood at this time. Hetero-oligomerization, has been suggested to underlie the activity of at least some of the transporters. Is this phenomenon exclusive to ZnT5 and ZnT6, or is it shared by other ZnT members? Such interactions would increase significantly the functional repertoire of zinc transport proteins. The functional interaction between ZnT-3 and the vesicular glutamate transporter, Vglut1, would support such a mechanism (64).
Finally, at the dawn of the era of proteomics and cellular networking, is it possible to begin drawing the network map of the zinc transport proteins? Powerful tools to address these issues, e.g., fluorescent zinc sensors targeted to specific organelles, have been developed and are being constantly refined (65, 66, 67, 68, 69). The advantage of such an approach has been demonstrated previously for H+ and Ca2+ using GFP-based chameleon and pHluorin constructs. Based on seminal studies performed on yeast and mammalian cells, the feasibility of studying zinc in organelles using such an approach is promising, (65,70). The results will have an impact far beyond cellular zinc homeostasis.
Notes
Acknowledgments
Thanks to the many members in the zinc community for their invaluable insight and discussions. This work was supported in part by Binational Science Foundation Grant 2001101 (to M. H.), Israel Science Foundation Grant 456/02.1 (to I. S.), German Israel Foundation (GIF, project nr. I-588-99.1/1998 to I.S.), and Israel Science Foundation equipment Grant 456/02.2 (to I. S.).
Copyright information
© Feinstein Institute for Medical Research 2007