Abstract
Rheology has been widely used to describe the flow properties of fresh cement-based suspensions. Nevertheless, the characterization and understanding of the rheological behavior of cement-based materials have become essential with the recent introduction of novel applications like digital construction in the field of civil engineering, among others. It has been well documented that concrete and mortar may suffer stability problems (i.e. the ability of the mixture to maintain homogeneous). At the scale of cement paste, this phenomenon can still arise and affect the rheological properties of the measured paste. Therefore, inaccuracies during the measurements and incorrect interpretation may occur, resulting in erroneous conclusions. This study explores the impact of sedimentation of cement particles when characterizing the rheological properties of cement paste. The w/c employed in the pastes were 0.45 and 0.35 with the addition of superplasticizer to obtain a dispersed system. The rheological properties were measured using a coaxial cylinder configuration and followed up to 180 min after the contact between cement and water. Repeated measurements were executed with and without a homogenization procedure after each application of a measuring procedure. Comparing the results shows a clear influence of sedimentation on the evolution of rheological properties with time, and the effect is more pronounced for the mixtures with high w/c and for the procedure with the larger shear rate. Therefore, it is strongly recommended to keep a measuring procedure sufficiently short in duration.
Access options
Buy single article
Instant access to the full article PDF.
US$ 39.95
Tax calculation will be finalised during checkout.
Subscribe to journal
Immediate online access to all issues from 2019. Subscription will auto renew annually.
US$ 399
Tax calculation will be finalised during checkout.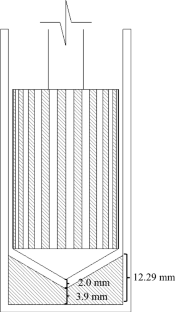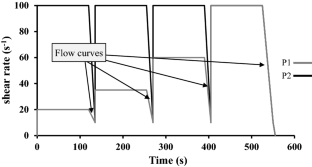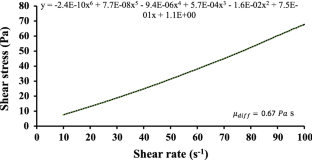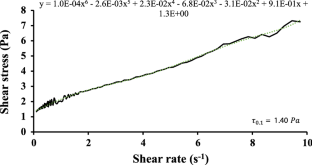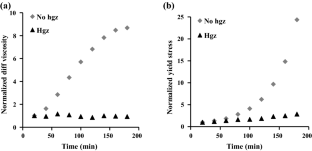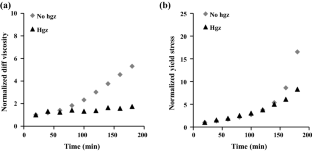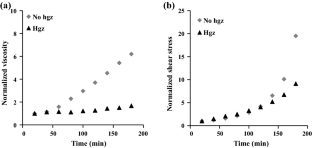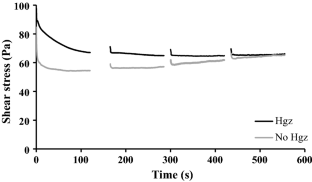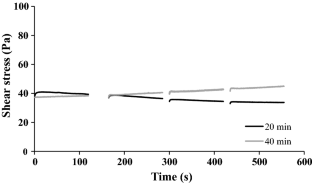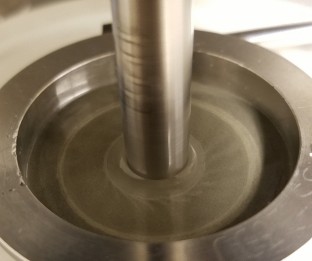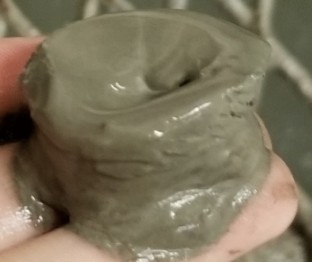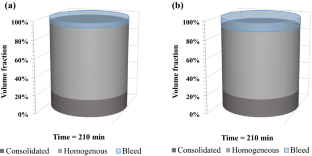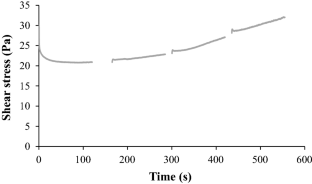 Data availability
Data will be made available on request.
References
1.

Mueller S, Llewellin EW, Mader HM (2010) The rheology of suspensions of solid particles. Proc R Soc A Math Phys Eng Sci 466(2116):1201–1228

2.

El-Chabib H, Nehdi M (2006) Effect of mixture design parameters on segregation of self-consolidating concrete. ACI Mater J 103(5):374

3.

Assaad J, Khayat KH, Daczko J (2004) Evaluation of static stability of self-consolidating concrete. Mater J 101(3):207–215

4.

Khayat KH, Assaad J, Daczko J (2004) Comparison of field-oriented test methods to assess dynamic stability of self-consolidating concrete. Mater J 101(2):168–176

5.

Shen L, Struble L, Lange D (2007) New method for measuring static segregation of self-consolidating concrete. J Test Eval 35(3):303–309

6.

Ley-Hernández AM, Feys D (2019) How rheology governs dynamic segregation of self-consolidating concrete. ACI Mater J 116(3):131–140

7.

Massoussi N, Keita E, Roussel N (2017) The heterogeneous nature of bleeding in cement pastes. Cem Concr Res 95:108–116

8.

Beris AN, Tsamopoulos JA, Armstrong RC, Brown RA (1985) Creeping motion of a sphere through a Bingham plastic. J Fluid Mech 158:219–244

9.

Roussel N (2006) A theoretical frame to study stability of fresh concrete. Mater Struct 39(1):81–91

10.

Petrou MF, Wan B, Gadala-Maria F, Kolli VG, Harries KA (2000) Influence of mortar rheology on aggregate settlement. ACI Mater J 97:479–485

11.

Wallevik OH (2003) Rheology—a scientific approach to develop self-compacting concrete. In: Proceedings of of the 3rd international symposium on self-compacting concrete, Reykjavik, pp 23–31

12.

Mueller FV, Wallevik OH, Khayat KH (2014) Linking solid particle packing of Eco-SCC to material performance. Cem Concr Compos 54:117–125

13.

Esmaeilkhanian B, Diederich P, Khayat KH, Yahia A, Wallevik OH (2017) Influence of particle lattice effect on stability of suspensions: application to self-consolidating concrete. Mater Struct 50(1):39

14.

Tregger N, Gregori A, Ferrara L, Shah S (2012) Correlating dynamic segregation of self-consolidating concrete to the slump-flow test. Constr Build Mater 28(1):499–505

15.

Coussot P (2005) Rheometry of pastes, suspensions, and granular materials: applications in industry and environment. Wiley, New York

16.

Josserand L, Coussy O, de Larrard F (2006) Bleeding of concrete as an ageing consolidation process. Cem Concr Res 36(9):1603–1608

17.

Clear CA, Bonner DG (1988) Settlement of fresh concrete—an effective stress model. Mag Concr Res 40(142):3–12

18.

Tan TS, Wee TH, Tan SA, Tam CT, Lee SL (1987) A consolidation model for bleeding of cement paste. Adv Cem Res 1(1):18–26

19.

Perrot A, Lecompte T, Khelifi H, Brumaud C, Hot J, Roussel N (2012) Yield stress and bleeding of fresh cement pastes. Cem Concr Res 42(7):937–944

20.

Hoang QG, Kaci A, Kadri EH, Gallias JL (2015) A new methodology for characterizing segregation of cement grouts during rheological tests. Constr Build Mater 96:119–126

21.

Von Bronk T, Haist M, Lohaus L (2020) Micro-sedimentation behavior of cement suspensions. Materials 13:1609

22.

Struble LJ, Ji X (2001) Chapter 9: rheology. In: Handbook of analytical techniques in concrete science and technology. William Andrew Publishing, pp 333–367

23.

Einstein A (1906) A new determination of molecular dimensions. Ann Phys 19(2):289–306

24.

Krieger IM (1972) Rheology of monodisperse lattices. Adv Colloid Interface Sci 3(2):111–136

25.

Ovarlez G, Bertrand F, Coussot P, Chateau X (2012) Shear-induced sedimentation in yield stress fluids. J Non-Newton Fluid Mech 177:19–28

26.

Ley-Hernández AM, Feys D, Kumar A (2020) How do different testing procedures affect the rheological properties of cement paste? Cem Concr Res 137:106189

27.

Wallevik OH, Feys D, Wallevik JE, Khayat KH (2015) Avoiding inaccurate interpretations of rheological measurements for cement-based materials. Cem Concr Res 78:100–109

28.

Tattersall GH, Banfill PF (1983) The rheology of fresh concrete. Pitman Books Limited, London

29.

Feys D, Asghari A (2019) Influence of maximum applied shear rate on the measured rheological properties of flowable cement pastes. Cem Concr Res 117:69–81

30.

Yang M, Neubauer CM, Jennings HM (1997) Interparticle potential and sedimentation behavior of cement suspensions: review and results from paste. Adv Cem Based Mater 5(1):1–7

31.

Chen JJ, Kwan AKH (2012) Superfine cement for improving packing density, rheology and strength of cement paste. Cem Concr Compos 34(1):1–10

32.

Jarny S, Roussel N, Le Roy R, Coussot P (2008) Modelling thixotropic behavior of fresh cement pastes from MRI measurements. Cem Concr Res 38(5):616–623
Funding
The research team would like to acknowledge the University of Missouri Research Board (UMRB) and the Center for Infrastructure Studies (CIES) at Missouri S&T for the financial support and the use of the equipment.
Ethics declarations
Conflict of interest
The authors declare they have no conflicts of interest.
Additional information
Publisher's Note
Springer Nature remains neutral with regard to jurisdictional claims in published maps and institutional affiliations.
About this article
Cite this article
Ley-Hernández, A.M., Feys, D. Effect of sedimentation on the rheological properties of cement pastes. Mater Struct 54, 47 (2021). https://doi.org/10.1617/s11527-021-01619-8
Received:

Accepted:

Published:
Keywords
Cement-based materials

Rheology

Testing procedure

Sedimentation

Time

Workability loss