Abstract
The emerging planar subwavelength microlens has attracted wide attention recently. There exists a trade-off in the selection of phase shifter materials for the lens designed with linearly polarized incidence. In this work, we have discovered that it is possible to utilize tapered nanostructure to increase the transmission of phase shifters built with high refractive index materials. A typical grating microlens is demonstrated to examine the effectiveness of taper-enhancement effect—the focus efficiency is increased from 9% to 28% with the properly designed tapered sidewalk Our work will provide a novel method to enhance performance using high refractive index materials in the emerging microlens field.
Access options
Buy single article
Instant access to the full article PDF.
US$ 39.95
Tax calculation will be finalised during checkout.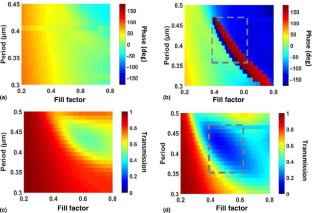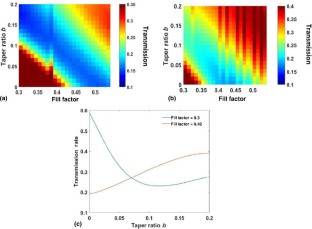 References
1.

S. Jahani and Z. Jacob: All dielectric metamaterials. Nat. Nanotechnol. 11, 23–36 (2016).

2.

C.J. Chang-Hasnain: High-contrast gratings as a new platform for integrated optoelectronics. Semicond. Sci. Technol. 26, 014043 (2011).

3.

S. He, Z. Wang, Q. Liu, and W. Wang: Study of focal shift effect in planar GaN high contrast grating lenses. Opt. Express 23, 29360–29368 (2015).

4.

P.R. West, J.L. Stewart, A.V. Kildishev, V.M. Shalaev, V.V. Shkunov, F. Strohkendl, Y.A. Zakharenkov, R.K. Dodds, and R. Byren: All-dielectric subwavelength metasurface focusing lens. Opt. Express 22, 26212–26221 (2014).

5.

X. Duan, G. Zhou, Y. Huang, Y. Shang, and X. Ren: Theoretical analysis and design guideline for focusing subwavelength gratings. Opt. Express 23, 2639–2646 (2015).

6.

D. Fattal, J. Li, Z. Peng, M. Fiorentino, and R.G. Beausoleil: Flat dielectric grating reflectors with focusing abilities. Nat. Photonics 4, 466–470 (2010).

7.

F. Lu, F.G. Sedgwick, V. Karagodsky, C. Chase, and C.J. Chang-Hasnain: Planar high-numerical-aperture low-loss focusing reflectors and lenses using subwavelength high contrast gratings. Opt. Express 18, 12606–12614 (2010).

8.

M. Ye and Y. Yi: Influence of grating thickness in low-contrast subwavelength grating concentrating lens. Opt Eng. 55, 075102 (2016).

9.

Y. Wang, J. Miao, Y. Tian, C. Guo, J. Zhang, T. Ren, and Q. Liu: TiO2 micro-devices fabricated by laser direct writing. Opt. Express 19, 17390–17395 (2011).

10.

A. Asadollahbaik, S.A. Boden, M.D.B. Charlton, D.N.R. Payne, S. Cox, and D.M. Bagnall: Reflectance properties of silicon moth-eyes in response to variations in angle of incidence, polarization and azimuth orientation. Opt. Express, 22 A402–A415 (2014).

11.

P. Pignalosa, B. Liu, H. Chen, and Y. Yi: Giant light extraction enhancement of medical imaging scintillation materials using bio inspired integrated nano structures. Opt. Lett. 37, 2808 (2012).

12.

F. Saffih, C. Con, A. Alshammari, M. Yavuz, and B. Cui: Fabrication of silicon nano structures with large taperangle by reactive ion etching. J. Vac. Sci. Technol. B 32, 06FI104-1 (2014).

13.

M. Ye and Y.S. Yi: Subwavelength grating microlens with taper-resistant characteristics. Opt. Lett. 42, 1031–1034 (2017).
About this article
Cite this article
Ye, M., Guo, X. & Yi, Y. Transmission enhancement of subwavelength grating microlens by tapered nanostructure. MRS Communications 8, 509–513 (2018). https://doi.org/10.1557/mrc.2018.69
Received:

Accepted:

Published:

Issue Date: