Abstract
End-stage renal disease (ESRD) is a life-threatening illness that presents significant healthcare challenges. About 90% of ESRD patients receive hemodialysis treatment, but the currently available hemodialysis systems are bulky and prone to complications. We report the design of a microfluidic hemodialysis device composed of two polydimethylsiloxane (PDMS) chambers separated by a cellulose ester (CE) membrane. The polyethylene glycol-passivated PDMS and CE surfaces reduced platelet adhesion by 74% and 86%, respectively. Moreover, the device exhibited a higher urea clearance rate per unit area than a healthy kidney. The reported design sets the foundation for a next-generation biomimetic portable hemodialysis device.
Access options
Buy single article
Instant access to the full article PDF.
US$ 39.95
Tax calculation will be finalised during checkout.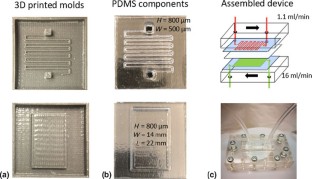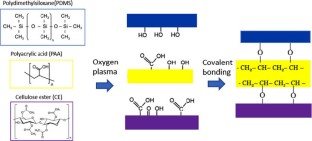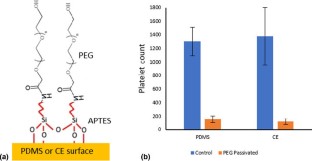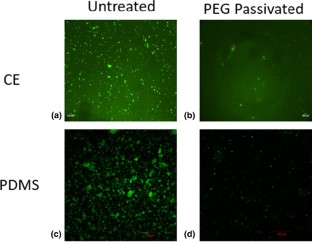 References
1.

C. Clase: Renal failure (chronic). Clin. Evid 2011, 1–26 (2011).

2.

R. Thomas, A. Kanso, and J. R. Sedor: Chronic kidney disease and its complications. Prim. Care, 35, 329–344 (2008) vii. https://doi.org/10.1016/j.pop.2008.01.008.

3.

2017 USRDS annual data report: Epidemiology of kidney disease in the United States. (Bethesda, MD, 2017). https://doi.org/10.1053/j.ajkd.2017.01.020.

4.

K.C. Eames, P. Holder, and E. Zambrano: Solving the kidney shortage via the creation of kidney donation co-operatives. J. Health Econ. 54, 91–97 (2017). https://doi.org/10.1016/jjhealeco.2017.04.001.

5.

F. Javed, A. V. Savkin, G. S. H. Chan, J. D. MacKie, and N. H. Lovell: Recent advances in the monitoring and control of haemodynamic variables during haemodialysis: a review. Physiol. Meas. 33, R1–R31 (2012). https://doi.org/10.1088/0967-3334/33/1/R1.

6.

H.D. Polaschegg: Hemodialysis machine technology: a global overview. Expert. Rev. Med. Devices!, 793–810 (2010). https://doi.org/10.1586/erd.10.54.

7.

A.A. Bernardo, T.C. Marbury, P.A. McFarlane, R.P. Pauly, M. Amdahl, J. Demers, A.M. Hutchcraft, J.K. Leypoldt, M. Minkus, M. Muller, R. Stallard, and B.F. Culleton: Clinical safety and performance of VIVIA: a novel home hemodialysis system. NDT 32, 685–692 (2017). https:// doi.org/10.1093/ndt/gfw044.

8.

M. Kraemer: Physiological monitoring and control in hemodialysis: State of the art and outlook. Expert Rev. Med. Device 3, 617–634 (2006). https://doi.org/10.1586/17434440.3.5.617.

9.

R.A. Wolfe, V.B. Ashby, E.L. Milford, A.O. Ojo, R.E. Ettenger, L.Y. C. Agodoa, P.J. Held, and F.K. Port: Comparison of mortality in all patients on dialysis, patients on dialysis awaiting transplantation, and recipients of a first cadaveric transplant. N. Engl. J. Med. 341, 1725–1730 (1999).

10.

M.A. Kraus, S. Kansal, M. Copland, P. Komenda, E.D. Weinhandl, G. L Bakris, C.T. Chan, R.J. Fluck, and J.M. Burkart: Intensive hemodialysis and potential risks with increasing treatment. Am. J. Kidney Dis. 68, S51–S58 (2016). https://doi.org/10.1053/j.ajkd.2016.05.020.

11.

D. Tharmaraj and P.G. Kerr: Haemolysis in haemodialysis. Nephrology, 11 838–847 (2017). https://doi.org/10.1111/nep.13119.

12.

V. Sunkara and Y.K. Cho: Investigation on the mechanism of aminosilane-mediated bonding of thermoplastics and poly(dimethylsiloxane). ACS Appl. Mater. Interfaces 4, 6537–6544 (2012). https://doi.org/10.1021/am3015923.

13.

D. Maji, S.K. Lahiri, and S. Das: Study of hydrophilicity and stability of chemically modified PDMS surface using piranha and KOH solution. Surf. Interface Anal. 44, 62–69 (2012). https://doi.org/10.1002/sia.3770.

14.

J.A. Howarter and J.P. Youngblood: Optimization of silica silanization by 3-aminopropyltriethoxysilane. Langmuir 22, 11142–11147 (2006). https://doi.org/10.1021/la061240g.

15.

G. T. Hermanson: Bioconjugate Techniques (Academic Press, San Diego, California, 1996).

16.

C.H. Jo, Y.H. Roh, J.E. Kim, S. Shin, and K.S. Yoon: Optimizing platelet-rich plasma gel formation by varying time and gravitational forces during centrifugation. J. Oral Implantol. 39, 525–532 (2013). https://doi.org/10.1563/AAID-JOI-D-10-00155.

17.

M. Heger, I.I. Salles, W. Van Vuure, H. Deckmyn, and J.F. Beek: Fluorescent labeling of platelets with polyanionic fluorescein derivatives. Anal. Quant. Cytol. Histol. 31, 227–232 (2009).

18.

N.U. Amin, R.T. Mahmood, M.J. Asad, M. Zafar, and A.M. Raja: Evaluating urea and creatinine levels in chronic renal failure pre and post dialysis: a prospective study. J. Cardiovasc. Dis. 2, 2330–4596 (2014).

19.

R.N. Foley, P.S. Parfrey, J.D. Harnett, G.M. Kent, C.J. Martin, D.C. Murray, and P.E. Barre: Clinical and echocardiographic disease in patients starting end-stage renal disease therapy. Kidney Int. 47, 186–192 (1995). https://doi.org/10.1038/ki.1995.22.

20.

L.B. Leverett, J.D. Heliums, C.P. Alfrey, and E.C. Lynch: Red blood cell damage by shear stress. Biophys. J. 12, 257–273 (1972). https://doi.org/10.1016/S0006-3495(72)86085-5.

21.

I. Banerjee, R.C. Pangule, and R.S. Kane: Antifouling coatings: recent developments in the design of surfaces that prevent fouling by proteins, bacteria, and marine organisms. Adv. Mater. 23, 690–718 (2011). https://doi.org/10.1002/adma.201001215.

22.

C. Blaszykowski, S. Sheikh, and M. Thompson: Biocompatibilityand antifouling: is there really a link? Trends Biotechnol. 32, 61–62 (2014). https://doi.org/10.1016/j.tibtech.2013.11.002.

23.

P. Harder, M. Grunze, R. Dahint, G.M. Whitesides, and P.E. Laibinis: Molecular conformation in oligo(ethylene glycol)-terminated self-assembled monolayers on gold and silver surfaces determines their ability to resist protein adsorption. J. Phys. Chem. B 102, 426–436 (1998). https://doi.org/10.1021/jp972635z.

24.

R. A. McPherson, and M. R. Pincus: Henry's Clinical Diagnosis and Management by Laboratory Methods E-Book, 23rd ed. (Elsevier, St. Louis, Missouri, 2017).

25.

A. Bohle, B. Aeikens, A. Eenboom, L. Fronholt, W.R. Plate, J.C. Xiao, A. Greschniok, and M. Wehrmann: Human glomerular structure under normal conditions and in isolated glomerular disease. Kidney Int. Suppl. 67, S186–S188 (1998). https://doi.org/10.1046/j.1523-1755.1998.06742.x.

26.

A. Alayoud, A. Bahadi, T. Aatif, M. Benyahia, D. Montassir, A. Hamzi, Y. Zajjari, De. Kabbaj, O. Maoujoud, K. Hassani, and Z. Oualim: The Kt/V by ionic dialysance: Interpretation limits. Indian. J. Nephrol. 22, 333 (2012). https://doi.org/10.4103/0971-4065.103906.

27.

D. C. Eaton, and J. P. Pooler: Renal blood flow and glomerular filtration. In Vander's Renal Physiology 8e (McGraw-Hill Education, NewYork, NY, 2017).
About this article
Cite this article
Ausri, I.R., Feygin, E.M., Cheng, C.Q. et al. A highly efficient and antifouling microfluidic platform for portable hemodialysis devices. MRS Communications 8, 474–479 (2018). https://doi.org/10.1557/mrc.2018.43
Received:

Accepted:

Published:

Issue Date: