Abstract
Among the commercially common transparent conducting oxides (TCOs) are fluorine-doped tin oxide (FTO) and indium-doped tin oxide (ITO), neither of which meets all criteria for the optimal TCO. Despite its superior chemical stability and being composed of abundant elements, FTO suffers from high surface roughness compared to ITO. Here, we introduce a path to substantially decrease the surface roughness of FTO, while preserving most of its original advantages, by depositing an SnO2 coating on top of the FTO layer using pulsed laser deposition. Such an enhancement may allow future use of FTO in devices that use now the more expensive, less stable ITO, which contains relatively rare indium.
Access options
Buy single article
Instant access to the full article PDF.
US$ 39.95
Tax calculation will be finalised during checkout.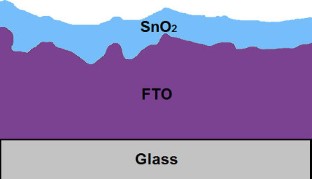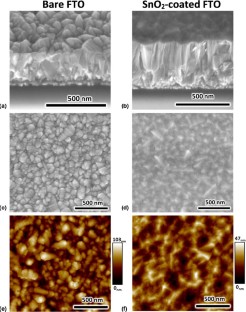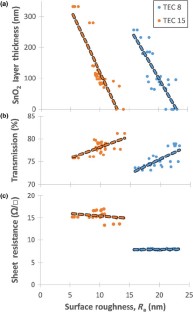 References
1.

D.S. Ginley and C. Bright: Transparent conducting oxides. MRS Bull. 25, 15 (2000).

2.

P. Barquinha, R. Martins, L. Pereira, and E. Fortunato: Transparent Oxide Electronics: From Materials to Devices (Wiley, West Sussex, United Kingdom, 2012).

3.

H. Hosono and K. Ueda: 449aaaTransparent conductive oxides. In Springer Handbook of Electronic and Photonic Materials, edited by S. Kasap and P. Capper (Springer International Publishing, Cham, 2017), pp. 1.

4.

P. Löbmann: Transparent conducting oxides, in chemical solution deposition of functional oxide thin films, edited by T. Schneller, R. Waser, M. Kosec and D. Payne (Springer Vienna, Vienna, 2013), pp. 655.

5.

B.J. Ingram, G.B. Gonzalez, D.R. Kammler, M.I. Bertoni, and T.O. Mason: Chemical and structural factors governing transparent conductivity in oxides. J. Electroceram. 13, 167 (2004).

6.

R.M. Pasquarelli, D.S. Ginley, and R. O'Hayre: Solution processing of transparent conductors: from flask to film. Chem. Soc. Rev. 40, 5406 (2011).

7.

C.C. Wu, C.I. Wu, J.C. Sturm, and A. Kahn: Surface modification of indium tin oxide by plasma treatment: An effective method to improve the efficiency, brightness, and reliability of organic light emitting devices. Appl. Phys. Lett. 70, 1348 (1997).

8.

M.H. Sohn, D. Kim, S.J. Kim, N.W. Paik, and S. Gupta: Super-smooth indium-tin oxide thin films by negative sputter ion beam technology. J. Vac. Sci. Technol A 21, 1347 (2003).

9.

G. Rey, C. Ternon, M. Modreanu, X. Mescot, V. Consonni, and D. Bellet: Electron scattering mechanisms in fluorine-doped SnO2 thin films. J. Appl. Phys. 114, 183713 (2013).

10.

Z. Hongli, K. John, P. Cesar, and Y. Jingkai: Oxygen distribution of fluorine-doped tin oxide films coated on float glass along depth before and after heat treatment. Int. J. Appl. Glass. Sci. 4, 242 (2013).

11.

Y.-N. Kim, H.-G. Shin, J.-K. Song, D.-H. Cho, H.-S. Lee, and Y.-G. Jung: Thermal degradation behavior of indium tin oxide thin films deposited by radio frequency magnetron sputtering. J. Mater. Res. 20, 1574 (2005).

12.

P.D.C. King and T.D. Veal: Conductivity in transparent oxide semiconductors. J. Phys.: Condens. Matter 23, 334214 (2011).

13.

J.T. Wang, X.H. Zhong, and J.N. Wang: Significant roughness enhancement of fluorine-doped tin oxide films with low resistivity and high transparency by using HNO3 addition. RSC Adv. 5, 52174 (2015).

14.

X.L. Shi, J.T. Wang, and J.N. Wang: Roughness improvement of fluorine-doped tin oxide thin films by using different alcohol solvents. J. Alloys Compd. 611, 297 (2014).

15.

K. Shimanovich, Y. Bouhadana, D.A. Keller, S. Rühle, A.Y. Anderson, and A. Zaban: Four-point probe electrical resistivity scanning system for large area conductivity and activation energy mapping. Rev. Sci. Instrum. 85, 055103 (2014).

16.

A.Y. Anderson, Y. Bouhadana, H.-N. Barad, B. Kupfer, E. Rosh-Hodesh, H. Aviv, Y.R. Tischler, S. Rühle, and A. Zaban: Quantum efficiency and bandgap analysis for combinatorial photovoltaics: sorting activity of Cu-O compounds in all-oxide device libraries. ACS Comb. Sci. 16, 53 (2014).

17.

D.A. Keller, A. Ginsburg, H.-N. Barad, K. Shimanovich, Y. Bouhadana, E. Rosh-Hodesh, I. Takeuchi, H. Aviv, Y.R. Tischler, A.Y. Anderson, and A. Zaban: Utilizing pulsed laser deposition lateral inhomogeneity as a tool in combinatorial material science. ACS Comb. Sci. 17, 209 (2015).

18.

D.A. Keller, H.-N. Barad, K.J. Rietwyk, A. Ginsburg, E. Borvick, M. Priel, A.Y. Anderson, S. Meir, and A. Zaban: Oxygen concentration as a combinatorial parameter: the effect of continuous oxygen vacancy variation on SnO2 layer conductivity. Mater. Chem. Phys. 208, 289 (2018).

19.

T. Fukano and T. Motohiro: Low-temperature growth of highly crystallized transparent conductive fluorine-doped tin oxide films by intermittent spray pyrolysis deposition. Sol. Energy Mater. Sol. Cells 82, 567 (2004).

20.

D. Raoufi, A. Kiasatpour, H.R. Fallah, and A.S.H. Rozatian: Surface characterization and microstructure of ITO thin films at different annealing temperatures. Appl. Surf. Sci. 253, 9085 (2007).
Acknowledgments
The authors thank Dr. Olga Girshevitz and Dr. Eti Teblum for their kind assistance with the AFM measurements and analyses, and Ben Kayser for his help with the resistivity measurements.
Appendices
Funding Sources
D.A.K acknowledges the Israeli Ministry of Science, Technology, and Space for their financial support (project 204428). This project has received funding from the Israel Science Foundation (grant 1729/15) and the Israeli National Nanotechnology Initiative (INNI, FTA project).
Conflicts of Interest
There are no conflicts of interest to declare.
About this article
Cite this article
Keller, D.A., Barad, HN., Rosh-Hodesh, E. et al. Can fluorine-doped tin Oxide, FTO, be more like indium-doped tin oxide, ITO? Reducing FTO surface roughness by introducing additional SnO2 coating. MRS Communications 8, 1358–1362 (2018). https://doi.org/10.1557/mrc.2018.179
Received:

Accepted:

Published:

Issue Date: