Abstract
Herein, we present a method for introducing β-cyclodextrin (β-CD) and Ferrocene (Fc) into the main chain of poly(acrylic acid) (PAA) to fabricate a novel supramolecular polymer, which was investigated by Fourier transform infrared spectroscopy and 1H Nuclear Magnetic Resonance (1H NMR). This polymer can self-assemble into interesting nanoparticles in aqueous solution. The redox-responsive Fc–CD host–guest interactions endow these nanoparticles with unique self-degradable and self-healable features under redox potential control. This redox behavior of the supramolecular polymer would open up an approach for redox-controlled biological materials with great application potential.
Access options
Buy single article
Instant access to the full article PDF.
US$ 39.95
Tax calculation will be finalised during checkout.
Subscribe to journal
Immediate online access to all issues from 2019. Subscription will auto renew annually.
US$ 399
Tax calculation will be finalised during checkout.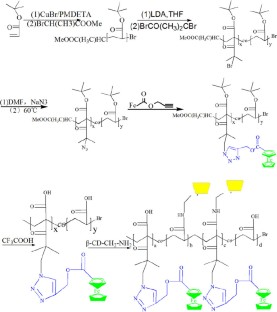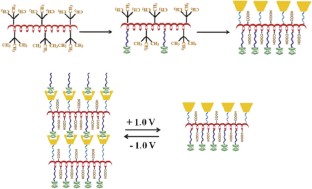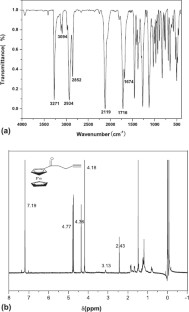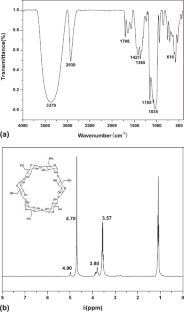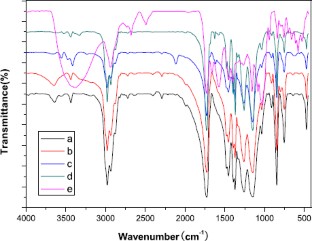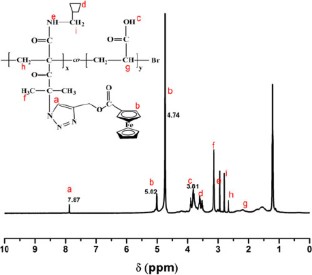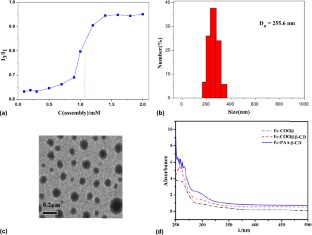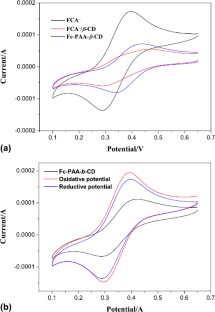 References
1.

S.Y. Dong, Y. Luo, X.Z. Yan, B. Zheng, X. Ding, Y.H. Yu, Z. Ma, Q.L. Zhao, and F.H. Huang: A dual-responsive supramolecular polymer gel formed by crown ether based molecular recognition. Angew. Chem., Int. Ed. 50, 1905 (2011).

2.

Q. Yan, J.B. Wang, Y.W. Yin, and J.Y. Yuan: Breathing polymersomes: CO2-tuning membrane permeability for size-selective release, separation, and reaction. Angew. Chem., Int. Ed. 52, 5070 (2013).

3.

M. Nakahata, Y. Takashima, H. Yamaguchi, and A. Harada: Redox-responsive self-healing materials formed from host-guest polymers. Nat. Commun. 2, 511 (2011).

4.

Q. Yan, J. Hu, R. Zhou, Y. Ju, Y.W. Yin, and J.Y. Yuan: Visible light-responsive micelles formed from dialkoxyanthracene-containing block copolymers. Chem. Commun. 48, 1913 (2012).

5.

S. Kumar, X. Tong, Y.L. Dory, M. Lepage, and Y. Zhao: A CO2-switchable polymer brush for reversible capture and release of proteins. Chem. Commun. 49, 90 (2013).

6.

A.O. Moughton and R.K. O'Reilly: Thermally induced micelle to vesicle morphology transition for a charged chain end diblock copolymer. Chem. Commun. 46, 1091 (2010).

7.

J. Rodriguez-Hernandez and S. Lecommandoux: Reversible inside-out micellization of pH-responsive and water-soluble vesicles based on polypeptide diblock copolymers. J. Am. Chem. Soc. 127, 2026 (2005).

8.

X.Z. Yan, F. Wang, B. Zheng, and F.H. Huang: Stimuli-responsive supramolecular polymeric materials. Chem. Soc. Rev. 41, 6042 (2012).

9.

S. Mura, J. Nicolas, and P. Couvreur: Stimuli-responsive nanocarriers for drug delivery. Nat. Mater. 12, 991 (2013).

10.

R.L. Sun, L. Wang, H.J. Yu, Y.S. Chen, J. Huang, and R.B. Tong: Molecular recognition and sensing based on ferrocene derivatives and ferrocene-based polymers. Organometallics 33, 4560 (2014).

11.

S.k. Ahn, R.M. Kasi, S.C. Kim, N. Sharma, and Y.X. Zhou: Stimli-responsive polymer gels. Soft Matter 4, 1151 (2008).

12.

R. Shankar, T.K. Ghosh, and R.J. Spontak: Dielectric elastomers as next-generation polymeric actuators. Soft Matter 3, 1116 (2007).

13.

L. Peng, A.C. Feng, M. Huo, and J.Y. Yuan: Ferrocene-based supramolecular structures and their applications in electrochemical responsive systems. Chem. Commun. 50, 13005 (2014).

14.

H.J. Schneider and A.K. Yatsimirsky: Selectivity in supramolecular host-guest complexes. Chem. Soc. Rev. 37, 263 (2008).

15.

E.M. Seward, R.B. Hopkins, W. Sauerer, S.W. Tam, and F. Diederich: Redox-dependent binding ability of a flavin cyclophane in aqueous solution: Hydrophobic stacking versus cavity-inclusion complexation. J. Am. Chem. Soc. 112, 1783 (1990).

16.

Y. Wang, S. Mendoza, and A.E. Kaifer: Electrochemical reduction of cobaltocenium in the presence of β-cyclodextrin. Inorg. Chem. 37, 7 (1998).

17.

C.E. Chan-Thaw, A. Villa, L. Prati, and A. Thomas: Triazine-based polymers as nanostructured supports for the liquid-phase oxidation of alcohols. Chem. Eur. J. 3, 1052 (1997).

18.

G.R. Whittell, M.D. Hager, U.S. Schubert, and I. Manners: Functional soft materials from metallopolymers and metallosupramolecular polymers. Nat. Mater. 10, 176 (2011).

19.

T. Matsue, D.H. Evans, T. Osa, and N. Kobayashi: Electron-transfer reactions associated with host-guest complexation. Oxidation of ferrocenecarboxylic acid in the presence of beta-cyclodextrin. J. Am. Chem. Soc. 107, 3411 (1985).

20.

M.C. Jones and J.C. Leroux: Polymeric micelles-a new generation of colloidal drug carriers. Eur. J. Pharm. Biopharm. 48, 101 (1999).

21.

V.P. Torchilin: Structure and design of polymeric surfactant-based drug delivery systems. J. Controlled Release 3, 137 (2001).

22.

X.Z. Yan, D.H. Xu, X.D. Chi, J.Z. Chen, S.Y. Dong, X. Ding, Y.H. Yu, and F.H. Huang: A multiresponsive, shape-persistent, and elastic supramolecular polymer network gel constructed by orthogonal self-assembly. Adv. Mater. 24, 362 (2012).

23.

G. Groger, W. Meyer-Zaika, C. Bottcher, F. Grohn, C. Ruthard, and C. Schmuck: Switchable supramolecular polymers from the self-assembly of a small monomer with two orthogonal binding interactions. J. Am. Chem. Soc. 133, 8961 (2011).

24.

J.R. Kumpfer and S.J. Rowan: Thermo-, photo-, and chemo-responsive shape-memory properties from photo-cross-linked metallo-supramolecular polymers. J. Am. Chem. Soc. 133, 12866 (2011).

25.

Q. Yan, J.Y. Yuan, Z.N. Cai, Y. Xin, Y. Kang, and Y.W. Yin: Voltage-responsive vesicles based on orthogonal assembly of two homopolymers. J. Am. Chem. Soc. 132, 9268 (2010).

26.

L.C. Liu, L.L. Rui, Y. Gao, and W.A. Zhang: Self-assembly and disassembly of a redox-responsive ferrocene-containing amphiphilic block copolymer for controlled release. Polym. Chem. 6, 1817 (2015).

27.

Y.L. Liu and T.W. Chuo: Self-healing polymers based on thermally reversible Diels–Alder chemistry. Polym. Chem. 4, 2194 (2013).

28.

J. Elbert, M. Gallei, C. Rvttiger, A. Brunsen, H. Didzoleit, B. Stvhn, and M. Rehahn: Ferrocene polymers for switchable surface wettability. Organometallics 32, 5873 (2013).

29.

B.V. Schmidt, M. Hetzer, H. Ritter, and C. Barner-Kowollik: Complex macromolecular architecture design via cyclodextrin host/guest complexes. Prog. Polym. Sci. 39, 235 (2014).

30.

K.C. Wei, J. Li, G.S. Chen, and M. Jiang: Dual molecular recognition leading to a protein-polymer conjugate and further self-assembly. ACS Macro Lett. 2, 278 (2013).

31.

F. Zuo, C. Luo, X.B. Ding, Z. Zheng, X. Cheng, and Y. Peng: Redox-responsive inclusion complexation between β-cyclodextrin and ferrocene-functionalized poly(N-isopropylacrylamide) and its effect on the solution properties of this polymer. Supramol. Chem. 20, 559 (2008).

32.

Z.C. Tian, C. Chen, and H.R. Allcock: Synthesis and assembly of novel poly(organophosphazene) structures based on noncovalent "host-guest" inclusion complexation. Macromolecules 47, 1065 (2014).
About this article
Cite this article
Guo, W., Lei, Z. Redox-responsive supramolecular polymer based on β-cyclodextrin and ferrocene-decorated main chain of PAA. Journal of Materials Research 30, 3201–3210 (2015). https://doi.org/10.1557/jmr.2015.284
Received:

Accepted:

Published:

Issue Date: