Abstract
Background
Cognitive interventions have the potential to enhance cognition among healthy older adults. However, little attention has been paid to the effect of cognitive training (CT) on mood and activities of daily living (ADL).
Objectives
To assess the effectiveness of a multicomponent CT using a training program of executive functions, attention, memory and visuospatial functions (TEAM-V Program) on cognition, mood and instrumental ADL.
Design
A randomized, single-blinded, treatment-as-usual controlled trial.
Setting
Geriatric clinic in Bangkok, Thailand.
Participants
77 nondemented community-dwelling older adults (mean age 65.7±4.3 years).
Intervention
The CT (TEAM-V) program or the treatmentas- usual controlled group. The TEAM-V intervention was conducted over 5 sessions, with a 2-week interval between each session. Of 77 participants randomized (n=40 the TEAM-V program; n=37 the control group).
Measurements
The Thai version of Montreal Cognitive Assessment (MoCA), The Alzheimer's Disease Assessment Scale-Cognitive Subscale (ADAS-cog), Thai version of Hospital Anxiety and Depression Scale (HADS) and The Chula ADL were used to assess at baseline, 6 months and 1 year.
Results
Compared with the control arm, the TEAM-V Program was associated with reducing anxiety (P = 0.004). Compared with the baseline, participants receiving the TEAM-V Program were associated with significantly improved general cognition (MoCA, P < 0.001), immediate recall (word recall task, P = 0.01), retrieval and retention of memory process (word recognition task, P = 0.01), attention (number cancellation part A, P < 0.001) and executive function (maze test, P = 0.02) at 1 year. No training effects on depression (P = 0.097) and IADL (P = 0.27) were detected.
Conclusions
The TEAM-V Program was effective in reducing anxiety. Even though, the program did not significantly improve cognition, depression and ADL compared with the control group, global cognition, memory, attention and executive function improved in the intervention group compared with baseline. Further studies incorporating a larger sample size, longitudinal follow-up and higher-intensity CT should be conducted.
Access options
Buy single article
Instant access to the full article PDF.
US$ 39.95
Tax calculation will be finalised during checkout.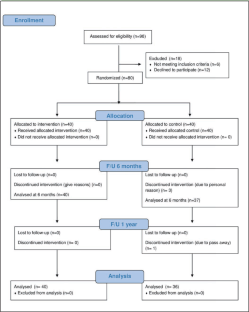 References
1.

Martin M, Clare L, Altgassen AM, Cameron MH, Zehnder F. Cognitivebased interventions for healthy older people and people with mild cognitive impairment. Cochrane Database of Systematic Reviews. 2011, Issue 1. Art. No.: CD006220. https://doi.org/10.1002/14651858.CD006220.pub2

2.

Li Ting, Yao Ye, Cheng Y, Xu B, Cao Xinyi, Waxman D, et al. Cognitive training can reduce the rate of cognitive aging; a neuroimaging cohort study. BMC Geriatrics 2016;16:12.

3.

Smith GE. Healthy cognitive aging and dementia prevention. Am Psychol 2016; 71(4):268–75.

4.

Bahar-Fuchs A, Clare L, Woods B. Cognitive training and cognitive rehabilitation for persons with mild to moderate dementia of the Alzheimer's or vascular type: a review. Alzheimers Res Ther 2013; 5(4):35.

5.

Lenze EJ, Bowie CR. Cognitive training for older adults: what works?. J Am Geriatr Soc 2018; 66(4):645–7.

6.

Rebok GW, Ball K, Guey LT, Jones RN, Kim HY, King JW, et al. Ten-year effects of the advanced cognitive training for independent and vital elderly cognitive training trial on cognition and everyday functioning in older adults. J Am Geriatr Soc 2014; 62(1):16–24.

7.

Chiu HL, Chu H, Tsai JC, Liu D, Chen YR, Yang HL, et al. The effect of cognitive-based training for the healthy older people: a meta-analysis of randomized controlled trials. PLoS One 2017; 12(5);e0176742.

8.

Mah L, Szabuniewicz C, Fiocco AJ. Can anxiety damage the brain?. Curr Opin Psychiatry 2016; 29:56–63.

9.

Diamond K, Mowszowski L, Cockayne N, Norrie L, Paradise M, Hermens DF, et al. Randomized controlled trial of a healthy brain ageing cognitive training program: effects on memory, mood, and sleep. J Alzheimers Dis 2015; 44(4):1181–91.

10.

Belleville S, Hudon C, Bier N, Brodeur C, Gilbert B, Grenier S. et al. MEMO+: Efficacy, Durability and Effect of Cognitive Training and Psychosocial Intervention in Individuals with Mild Cognitive Impairment. J Am Geriatr Soc 2018; 66(4):655–63.

11.

Butler M, McCreedy E, Nelson VA, Desai P, Ratner E, Fink HA, et al. Does Cognitive Training Prevent Cognitive Decline?: A Systematic Review. Ann Intern Med 2018; 168(1):63–8.

12.

Chaiwong P, Rattakorn P, Mumkhetvit P. Effect of cognitive training program on cognitive abilities and quality of life in elderly with suspected dementia. Bull Chiang Mai Assoc Med Sci 2015; 48(3): 182–91.

13.

Chaikham A, Putthinoi S, Lersilp S, Bunpun A, Chakpitak N. Cognitive training program for Thai older people with mild cognitive impairment. Procedia Environmental Sciences 2016; 36:42–5.

14.

Nakawiro D, Chansirikarnjana S, Srisuwan P, Aebthaisong O, Sudsakorn P, Vidhyachak C, et al. Group-based training of executive function, attention, memory and visuospatial function (Team-V) in patient with mild neurocognitive disorder. J Psychiatr Assoc Thailand 2017; 62(4):337–48.

15.

Sukontapol C, Kemsen S, Chansirikarn S, Nakawiro D, Kuha O, Taemeeyapradit U. The effectiveness of a cogntivie training program in people with mild cognitive impairment: A study in urban community. Asian J Psychiatr 2018; 35:18–23.

16.

Jirayucharoensak S1,2, Israsena P1, Pan-Ngum S2, Hemrungrojn S3, Maes M3. A game-based neurofeedback training system to enhance cognitive performance in healthy elderly subjects and in patients with amnestic mild cognitive impairment. Clin Interv Aging 2019; 14:347–60.

17.

Srisuwan P, Nakawiro D, Chansirikarnjana S, Kuha O, Janbumrung S, Thammachot T. Effects of group-based multicomponent cognitive training on cognition, mood and instrumental activities of daily living among older people living in the community. Int J Med Biomed Sci 2019; 3(2):102–13.

18.

Nilchaikovit T, Lortrakul M, Phisansuthideth U. Development of Thai version of Hospital Anxiety and Depression Scale in cancer patients. J Psychiatr Assoc Thailand 1996; 41(1):18–30.

19.

Julayanont P, Tangwongchai S, Hemrungrojn S, Tunvirachaisakul C, Panthumchinda K, Hongsawat J, et al. The montreal cognitive assessmentbasic; as creening tool for mild cognitive impairment in illiterate and loweducated elderly adults. J Am Geriatr Soc 2015; 63(12):2550–4.

20.

Moher D, Hopewell S, Schulz KF, Montori V, Gøtzsche PC, Devereaux PJ, et al. CONSORT 2010 explanation and elaboration: updated guidelines for reporting parallel group randomised trials. BMJ 2010; 340:c869.

21.

Rosen WG, Mohs RC, Davis KL. A new rating scale for Alzheimer's disease. Am J Psychiatry 1984; 141:1356–64.

22.

Mohs RC, Knopman D, Petersen RC, Ferris SH, Ernesto C, Grundman M, et al. Development of cognitive instruments for use in clinical trials of antidementia drugs: additions to Alzheimer's Disease assessment scale that broaden its scope. Alzheimer Dis Assoc Disord 1997; 11(Suppl 2):S13–21.

23.

Jitapunkul S, Kamolratanakul P, Ebrahim S. The meaning of activities of daily living in a Thai elderly population; development of a new index. Age Ageing 1994; 23(2):332–6.

24.

Kim H, Yang Y, Oh J, Oh S, Choi H, Kim KH, et al. Effectiveness of a community-based multidomain cognitive intervention program in patients with Alzheimer's disease. Geriatr Gerontol Int 2016;16:191–199.

25.

ten Brinke LF, Davis JC, Barha CK, Liu-Ambrose T. Effects of computerized cognitive training on neuroimaging outcomes in older adults: a systematic review. BMC Geriatrics 2017; 17:139.

26.

Chapman SB, Aslan S, Spence JS, Hart JJ, Bartz EK, Didehbani N, et al. Neural mechnisms of brain plasticity with complex cognitive training in healthy seniors. Cerebral Cortex 2015; 25:396–405.

27.

Wixted JT. Conditions and consequences of maintenance rehearsal. J Exp Psychol Learn Mem Cogn 1991;17(5):963–73

28.

Camos V, Portrat S. The impact of cognitive load on delayed recall. Psychon Bull Rev 2015; 22(4):1029–34.

29.

Wang M, Chang C, Su S. What's cooking?- Cognitive training of executive function in the elderly. Front Psychol 2011; 2:228.

30.

Wennberg A, Kueider A, Spira A, Adams G, Rager R, Rebok G. Online Attention Training for Older Adults. Int J Cogn Technol 2014; 19(2):13–21.

31.

Cooley SA, Heaps JM, Bolzenius JD, Salminen LE, Baker LM, Scott SE, et al. Longitudinal change in performance on the Montreal Cognitive Assessment in older adults. Clin Neuropsychol 2015; 29(6):824–835.

32.

Trés ES, Brucki SM. Visuospatial processing: A review from basic to current concepts. Dement Neuropsychol 2014; 8(2): 175–81.

33.

Tippett WJ, Rizkalla MN. Brain training: rationale, methods, and pilot data for a specific visuomotor/visuospatial activity program to change progressive cognitive decline. Brain Behav 2014; 4(2):171–9.

34.

Smith M, Jones MP, Dotson MM, Wolinsky FD. Computerized cognitive training to improve mood in senior living settings: design of a randomized controlled trial. Open Access Journal of Clinical Trials 2018; 10:29–41.

35.

Kim HJ, Yang Y, Oh JG, Oh S, Choi H, Kim KH, et al. Effectiveness of a community-based multidomain cognitive intervention program in patients with Alzheimer's disease. Geriatr Gerontol Int 2016; 16(2):191–9.

36.

Liu J, Rozelle S, Xu Q, Yu N, Zhou T. Social Engagement and Elderly Health in China: Evidence from the China Health and Retirement Longitudinal Survey (CHARLS). Int. J. Environ. Res. Public Health 2019; 16(2):278.

37.

Ball K, Berch DB, Helmers KF, Jobe JB, Leveck MD, Marsiske M, et al. Effects of cognitive training interventions with older adults; a randomized controlled trial JAMA 2002; 288(18):2271–81.

38.

Jones RN. Cognitive training improves cognitive performances, but what else?. J Am Geriatr Soc 2018; 66:648–9.

39.

Giuli C, Fattoretti P, Gagliardi C, Mocchegiani E, Venarucci D, Balietti M, et al. My Mind Project: the effects of cognitive training for elderly-the study protocol of a prospective randomized intervention study. Aging Clin Exp Res 2017; 29(3):353–360.

40.

Sanders LMJ, Hortobágyi T, la Bastide-van Gemert S, van der Zee EA, van Heuvelen MJG. Dose-response relationship between exercise and cognitive function in older adults with and without cognitive impairment: A systematic review and meta-analysis. PLoS One 2019; 14(1):e0210036.

41.

Evans IEM, Llewellyn DJ, Matthews FE, Woods RT, Brayne C, Clare L, et al. Social isolation, cognitive reserve, and cognition in healthy older people. PLoS One 2018; 13(8):e0201008.

42.

Baumgart M, Snyder HM, Carrillo MC, Fazio S, Kim H, Johns H. Summary of the evidence on modifiable risk factors for cognitive decline and dementia: a population-based perspective. Alzheimer's & Dementia 2015; 11:718–26.
Acknowledgement
The authors would like to express our gratitude to the participants and PMK aging team in Geriatric Clinic, Phramongkutklao Hospital. We also would like to thank the Institute of Geriatric Medicine for allowing the research team to be a part of the larger study and conducted project activities in the Central region of Thailand. We also thank Ms. Worarachanee Imjaijitt for statistical analysis.
Funding
The research project was partially supported by The Thai Health Promotion Foundation. The sponsors had no role in the design and conduct of the study; in the collection, analysis, and interpretation of data; in the preparation of the manuscript; or in the review or approval of the manuscript.
Ethics declarations
Conflict of interest disclosure: There is no conflict of interest.
Ethical standards: The TEAM-V study was approved by the Institutional Review Board of the Royal Thai Army Medical Department Ethics Committee as instituted by the Declaration of Helsinski.
Electronic supplementary material
About this article
Cite this article
Srisuwan, P., Nakawiro, D., Chansirikarnjana, S. et al. Effects of a Group-Based 8-Week Multicomponent Cognitive Training on Cognition, Mood and Activities of Daily Living among Healthy Older Adults: A One-Year Follow-Up of a Randomized Controlled Trial. J Prev Alzheimers Dis 7, 112–121 (2020). https://doi.org/10.14283/jpad.2019.42
Received:

Accepted:

Published:

Issue Date:
Key words
Key words

Activities of daily livings

cognitive training

mood

older adults