Abstract
Background
Frailty is a biological syndrome that causes adverse events in the health of older adults. However, the Clinical Frailty Scale has not yet been culturally adapted and validated into Brazilian Portuguese language.
Objectives
Our aim was to translate, reproduce and validate the Clinical Frailty Scale (CFS) for the Brazilian Portuguese language.
Design
An observational cross-sectional study with senior patients was conducted between Jan 2018 and Nov 2018.
Setting and Participants
Volunteers aged >60 and living in Brazil. The translation and cultural adaptation of the CFS into the Portuguese language, the principles and good practices were followed.
Measurements
To conduct the validation and determine the reproducibility of an inter-observer evaluation, the patients answered the scale questions in Portuguese on two occasions, delivered by two separate examiners and separated by a 10-minute interval, on their first visit; the 36-item Short Form Survey quality-of-life questionnaire (SF-36) was also applied. Seven days later, a second visit was undertaken to perform an intra-observer reproducibility assessment.
Results
A total of 66 older individuals were enrolled (72 ± 8 years), the majority of which did not present frailty (63.6%) and reported a low physical limitation level in the SF-36. The CFS showed a significant correlation with the SF-36 quality-of-life questionnaire (r= −0.663; p<0.0001) and no statistical difference was observed between intra-rater (p=0.641) and inter-rater (p=0.350) applications, demonstrating the reproducibility and applicability of the instrument. The standard error estimate (SEE) was evaluated and there were no differences between the CFS and the SF-36 (SEE= 1.13 points).
Conclusion
The Brazilian Portuguese language version of the CFS is a valid, reproducible and reliable instrument for evaluating the impact of frailty on the lives of senior patients.
Access options
Buy single article
Instant access to the full article PDF.
US$ 39.95
Tax calculation will be finalised during checkout.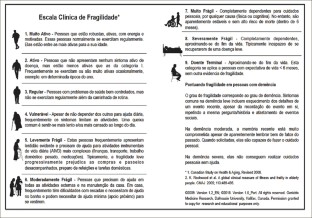 References
1.

Lloyd-Sherlock P, McKee M, Ebrahim S, Gorman M, Greengross S, Prince M, et al. Population ageing and health. Lancet. 2012 Apr 7;379(9823):1295–6.

2.

World economic and social survey 2007: development in an ageing world. New York: United Nations. http://www.un.org/en/development/desa/policy/wess/wess_archive/2007wess.pdf, (accessed 04 December 2019). 2007.

3.

Cesari M, Vellas B, Hsu FC, Newman AB, Doss H, King AC, et al. A physical activity intervention to treat the frailty syndrome in older persons-results from the LIFE-P study. J Gerontol A Biol Sci Med Sci. 2015 Feb;70(2):216–22.

4.

Hartley P, Adamson J, Cunningham C, Embleton G, Romero-Ortuno R. Clinical frailty and functional trajectories in hospitalized older adults: A retrospective observational study. Geriatr Gerontol Int. 2017 Jul;17(7):1063–8.

5.

Angulo J, El Assar M, Rodriguez-Mañas L. Frailty and sarcopenia as the basis for the phenotypic manifestation of chronic diseases in older adults. Mol Aspects Med. 2016 08;50:1–32.

6.

Chong E, Ho E, Baldevarona-Llego J, Chan M, Wu L, Tay L, et al. Frailty in Hospitalized Older Adults: Comparing Different Frailty Measures in Predicting Short-and Long-term Patient Outcomes. J Am Med Dir Assoc. 2018 May;19(5):450–7 e3.

7.

Chong E, Ho E, Baldevarona-Llego J, Chan M, Wu L, Tay L. Frailty and Risk of Adverse Outcomes in Hospitalized Older Adults: A Comparison of Different Frailty Measures. J Am Med Dir Assoc. 2017 Jul 1;18(7):638 e7–e11.

8.

Collard RM, Boter H, Schoevers RA, Oude Voshaar RC. Prevalence of frailty in community-dwelling older persons: a systematic review. J Am Geriatr Soc. 2012 Aug;60(8):1487–92.

9.

Darvall JN, Greentree K, Braat MS, Story DA, Lim WK. Contributors to frailty in critical illness: Multi-dimensional analysis of the Clinical Frailty Scale. J Crit Care. 2019 Aug;52:193–9.

10.

Han B, Li Q, Chen X. Effects of the frailty phenotype on post-operative complications in older surgical patients: a systematic review and meta-analysis. BMC Geriatr. 2019 May 24;19(1):141.

11.

Chong E, Ho E, Baldevarona-Llego J, Chan M, Wu L, Tay L. Frailty and Risk of Adverse Outcomes in Hospitalized Older Adults: A Comparison of Different Frailty Measures. J Am Med Dir Assoc. 2017 Jul;18(7):638.e7–.e11.

12.

Tandon P, Tangri N, Thomas L, Zenith L, Shaikh T, Carbonneau M, et al. A Rapid Bedside Screen to Predict Unplanned Hospitalization and Death in Outpatients With Cirrhosis: A Prospective Evaluation of the Clinical Frailty Scale. Am J Gastroenterol. 2016 12;111(12):1759–67.

13.

Barili F, Pacini D, Capo A, Rasovic O, Grossi C, Alamanni F, et al. Does EuroSCORE II perform better than its original versions? A multicentre validation study. Eur Heart J. 2013 Jan;34(1):22–9.

14.

Sundermann S, Dademasch A, Praetorius J, Kempfert J, Dewey T, Falk V, et al. Comprehensive assessment of frailty for elderly high-risk patients undergoing cardiac surgery. Eur J Cardiothorac Surg. 2011 Jan;39(1):33–7.

15.

R. G, Mehta M. Frailty and anaesthesia: what we need to know. Continuing Education In Anaesthesia. Critical Care & Pain. 2014:5.

16.

Sergi G, Veronese N, Fontana L, De Rui M, Bolzetta F, Zambon S, et al. Pre-frailty and risk of cardiovascular disease in elderly men and women: the Pro.V.A. study. J Am Coll Cardiol. 2015 Mar;65(10):976–83.

17.

Wild D, Grove A, Martin M, Eremenco S, McElroy S, Verjee-Lorenz A, et al. Principles of Good Practice for the Translation and Cultural Adaptation Process for Patient-Reported Outcomes (PRO) Measures: report of the ISPOR Task Force for Translation and Cultural Adaptation. Value Health. 2005 2005 Mar–Apr;8(2):94–104.

18.

Rockwood K, Song X, MacKnight C, Bergman H, Hogan DB, McDowell I, et al. A global clinical measure of fitness and frailty in elderly people. CMAJ. 2005 Aug;173(5):489–95.

19.

Ciconelli RM, Ferraz MB, Santos W, Meinão I. Tradução para a lingua portuguesa e validação do questionário genérico de avaliação de qualidade de vida SF-36 (Brasil SF-36). Revista Brasileira de Reumatlogia. 1999:7.

20.

Clegg A, Young J, Iliffe S, Rikkert MO, Rockwood K. Frailty in elderly people. Lancet. 2013 Mar 2;381(9868):752–62.

21.

Joseph B, Pandit V, Zangbar B, Kulvatunyou N, Tang A, O'Keeffe T, et al. Validating trauma-specific frailty index for geriatric trauma patients: a prospective analysis. J Am Coll Surg. 2014 Jul;219(1):10–7.e1.

22.

Farhat JS, Velanovich V, Falvo AJ, Horst HM, Swartz A, Patton JH, et al. Are the frail destined to fail? Frailty index as predictor of surgical morbidity and mortality in the elderly. J Trauma Acute Care Surg. 2012 Jun;72(6):1526–30; discussion 30–1.

23.

Chan DC, Tsou HH, Chen CY. Validation of the Chinese-Canadian study of health and aging clinical frailty scale (CSHA-CFS) telephone version. Arch Gerontol Geriatr. 2010 2010 May–Jun;50(3):e74–80.

24.

Lin CC, Li CI, Chang CK, Liu CS, Lin CH, Meng NH, et al. Reduced health-related quality of life in elders with frailty: a cross-sectional study of community-dwelling elders in Taiwan. PLoS One. 2011;6(7):e21841.

25.

Curtis E, Romanowski K, Sen S, Hill A, Cocanour C. Frailty score on admission predicts mortality and discharge disposition in elderly trauma patients over the age of 65 y. J Surg Res. 2018 Oct;230:13–9.

26.

Martinez-Velilla N, Herce PA, Herrero AC, Gutierrez-Valencia M, Saez de Asteasu ML, Mateos AS, et al. Heterogeneity of Different Tools for Detecting the Prevalence of Frailty in Nursing Homes: Feasibility and Meaning of Different Approaches. J Am Med Dir Assoc. 2017 Oct 1;18(10):898 e1–e8.

27.

Rodrigues MK, Marques A, Lobo DML, Umeda IIK, Oliveira MF. Pre-Frailty Increases the Risk of Adverse Events in Older Patients Undergoing Cardiovascular Surgery. Arq Bras Cardiol. 2017 Oct;109(4):299–306.

28.

Eamer GJ, Clement F, Holroyd-Leduc J, Wagg A, Padwal R, Khadaroo RG. Frailty predicts increased costs in emergent general surgery patients: A prospective cohort cost analysis. Surgery. 2019 Jul;166(1):82–7.
Acknowledgements/Funding
We would like to thank the University of Fortaleza and the Brazilian National Council for Scientific and Technological Development (CNPq/PROBIC) for providing the necessary financial support for this study (Grant No. 2756).
Ethics declarations
Conflict of interest: The Author(s) declare(s) that there is no conflict of interest.
Ethical standards: Informed consent was obtained from all individual participants involved in the study. All procedures performed in studies involving human participants were in accordance with the ethical standards of the institutional and/or national research committee and with the 1964 Helsinki Declaration and its later amendments or comparable ethical standards.
About this article
Cite this article
Rodrigues, M.K., Nunes Rodrigues, I., Vasconcelos Gomes da Silva, D.J. et al. Clinical Frailty Scale: Translation and Cultural Adaptation Into the Brazilian Portuguese Language. J Frailty Aging 10, 38–43 (2021). https://doi.org/10.14283/jfa.2020.7
Received:

Accepted:

Published:

Issue Date:
Key words
Clinical frailty scale

ageing

frailty

translation

validation study