Mahindra Navistar — Growing in Stature, Acceptance
Shopfloor Mahindra Navistar
The past few months haven't been kind to the Indian automotive industry, with retail sales slowing across all vehicle segments. Even as many struggle to keep stocks rolling, one company in particular isn't complaining. Mahindra Navistar Automotive Limited (MNAL), now a wholly-owned M&M group company, is banking big on its current crop of products, and those in its pipeline. Auto Tech Review recently visited the company's Chakan plant in Maharashtra for a first-hand experience of what is one of the country's most modern CV manufacturing plants.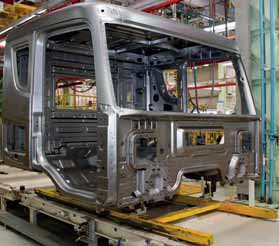 Keywords
Aluminium Foam 
Heavy Duty Truck 
Large Player 
Product Development Team 
Press Shop 
These keywords were added by machine and not by the authors. This process is experimental and the keywords may be updated as the learning algorithm improves.