European Centre for Dispersion Technologies Opens
After a construction phase of just nine months, the European Centre for Dispersion Technologies (EZD) has been officially opened by Bavaria's State Minister of Economic Affairs. It is seen as a unique project throughout Europe and has been established by SKZ in close cooperation with industry and with considerable support by the Free State of Bavaria.
Improving dispersion technologies in a targeted manner — this vision is now becoming a reality with the opening of the EZD in the Upper Franconia region of Bavaria. In her welcome address, the minister, Ilse Aigner, spoke of a "flagship" that would act as a role model far beyond the borders of Upper Franconia.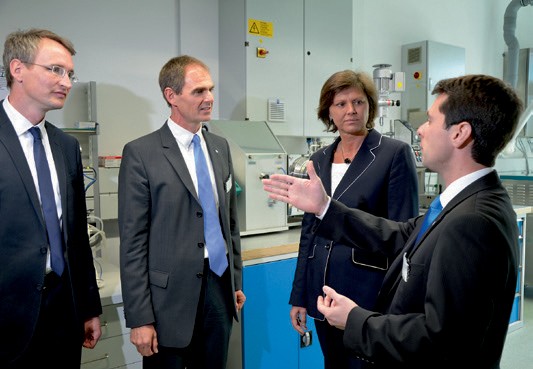 The building, with a floor space of approximately 650 m2, offers all the key development activities in the production and characterisation of dispersions as well as providing corresponding services for industry.
The variety of issues relating to the optimum dispersion of materials from a wide range of different areas is extremely high and will be one of the challenges facing Dr.-Ing. Felipe Wolff-Fabris, the manager of the new centre. "This is the first time that this increasingly important sector has had such a centre as a meeting place with close contacts to industry. It acts as the first port of call in particular for small and medium-sized companies without development capacity of their own, in which new ideas can be tested, employees can be trained and company processes can be optimised," Wolff-Fabris explained.
The Bavarian Ministry of Economic Affairs is supporting the EZD with funding amounting to € 5.2 million.
Interdisciplinary Institution
The EZD is operated by SKZ in consultation with the Bavarian Ministry of Economic Affairs and local industry. "For SKZ, it is a consistent expansion of its activities in the fields of R&D, analysis, the further training of expert staff and also the certification of companies," said Prof. Dr. Bastian, Chief Executive Officer of SKZ. He said that, with the EZD, an interdisciplinary institution had been created that offered the possibility to provide support for small and medium-sized companies and therefore to sustainably secure their competitiveness. The EZD currently employs six full-time members of staff. By 2017, it is expected to employ a total of twelve researchers as well as several interns and students, who can, for example, write to their exam thesis at the EZD.
Copyright information
© Springer Fachmedien Wiesbaden 2014