Measuring surface tension on site
The advantages of the BP50 measuring device supplied by Krüss include the fact that it does not need a network connection and is easy to use. Potential applications include measuring the concentration of cleaning agents on site.
Concentrations above the critical micelle concentration (CMC), which are typical of cleaning baths, cannot be distinguished using static measurements of the surface tension. In contrast, the dynamic bubble pressure method used by the mobile measuring device is sensitive to changes in concentration above the CMC. For high-speed processes, such as printing, spraying or coating, it is the dynamic surface tension in the short-term that is the decisive factor. The dynamic bubble pressure technique of the instrument detects the surface tension which occurs just after surface formation at surface ages between 15 and 16,000 ms.
The measuring system, which consists of capillaries, an air supply, a pressure sensor and a temperature sensor, is contained in a mobile hand-held instrument. Disposable plastic capillaries mean that the hydrophobising process needed for glass capillaries can be dispensed with. The instrument works almost independently of the capillary immersion depth, which is an obvious benefit in the case of rapid tests. Water or other solvents can be used for calibration at different temperatures.
The measurements are defined and the instrument controlled by the BP50 add-in for LabDesk, the tensiometer software package. Various measuring programmes can be used to record timedependent surface tension or the measurements at a constant surface age. In addition, it is possible to determine whether a measurement is valid or invalid for the rapid quality test.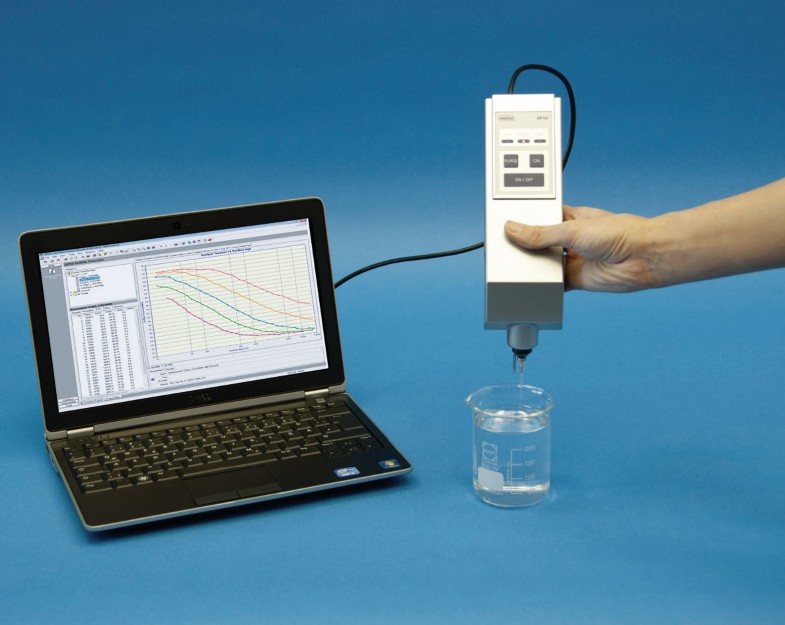 Copyright information
© Springer Fachmedien Wiesbaden 2012