New glue gun processes a wide variety of hot-melts
A mechanical hot glue gun, which can be used to process hot-melt adhesives in almost all their available forms, including granules, pillows and sticks, without compressed air, was presented for the first time at the Drupa trade fair.
Hot-melt adhesives are used in a wide range of industries to bond many different materials, for example in prepress for producing samples, in the automotive industry for bonding interior components and in the packaging industry for fastening cardboard boxes. The benefits of these adhesives include their versatility, lack of solvents, affordable price and short setting time. This is particularly important in the manufacture of samples where different materials have to be bonded quickly and cleanly.
In an industrial context, hot-melts are generally applied with tank systems, which have the advantage that they can process all the common forms of the adhesive. However, tank systems have a high purchase cost and are also expensive to maintain. In contrast, for DIY purposes hot-melts can be applied with simple stick devices which are low in cost and easy to use. However, only a very limited range of hot-melt adhesives is available in stick form. For this reason, Reka Klebetechnik has developed the new MS 200 mechanical hot glue gun. It is a cost-effective and flexible solution for applying almost all the industrial forms of hot-melt adhesive, such as granules, pillows and 43 mm sticks, without compressed air. The ergonomic design and the large tank containing the melted adhesive enable the user to apply the adhesive without become tired and without the need for interruptions. A number of useful accessories also make the work easier, even in complicated applications. The comprehensive range of nozzles available meets almost every requirement.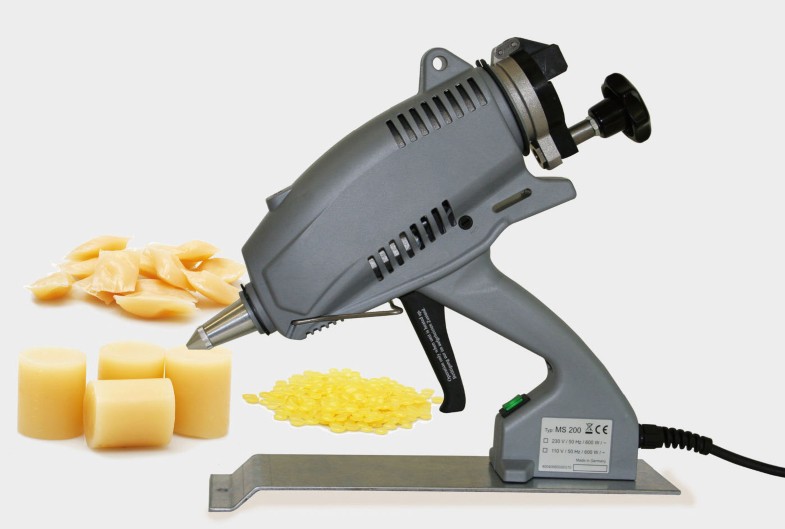 Copyright information
© Springer Fachmedien Wiesbaden 2012