Weathering Tests for Wind Turbines
Measuring & Testing Simulation of Offshore and Onshore Conditions
Components for offshore and onshore wind power plants have to meet special requirements with regard to corrosion protection. The highly corrosive conditions that prevail can be reproduced and simulated in an accelerated manner by using modern testing systems.
175,000 hours or twenty years of maintenance-free operation under the most arduous conditions: these are the requirements that have to be met by components supplied for wind turbines, and they apply not only to the entire mechanical transmission components but also to the electrical components. For onshore power plants, corrosion resistance under the prevailing weather conditions is vitally important. And for offshore wind turbines, additional measures need to be taken in order to ensure their resistance to sea water.
Corrosion speeded up
In the past, there were cases in which individual components, for example transmission components, were unable to withstand these conditions, with the result that they failed prematurely and had to be replaced at considerable cost. To ensure that this does not happen in the first place, it is advisable to use corrosion testing equipment in advance that can simulate the corrosive conditions in such a way as to create the impression of "corrosion speeded up".
For components of wind turbines, it makes sense in particular to perform salt spray tests according to DIN EN ISO 9227 or other standards. As a specialist for corrosion testing equipment, Liebisch can provide equipment that enables salt spray tests to be carried out completely automatically with pre-programmed or even freely programmable cycles. Temperature-related stresses can also be quickly and reproducibly tested in alternating climate tests from −20 °C to 80 °C with varying humidity.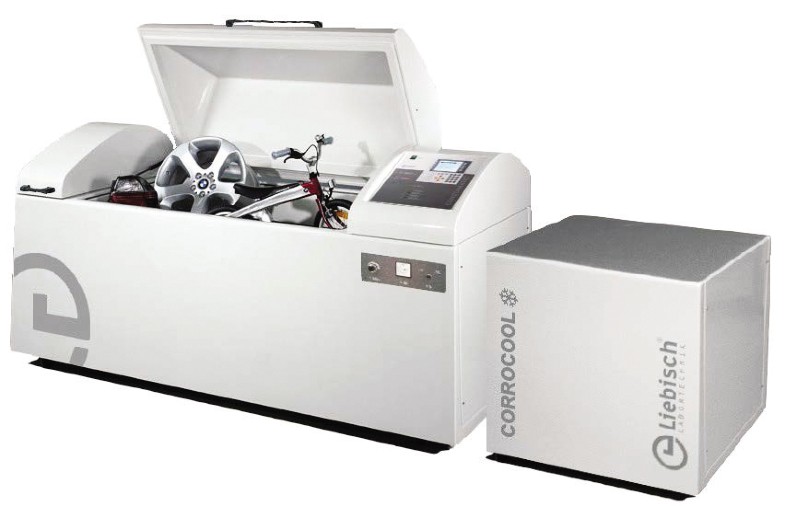 These tests allow the component manufacturer to ensure and to document to his customers that his products fulfil the defined requirements with regard to corrosion protection even under extreme conditions, such as the offshore use of wind turbines or on ships or drilling platforms.
Tests also suitable for reinforced concrete
In the meantime, such tests are being carried out more and more frequently not only for metal components but also for the reinforced concrete that is used for building the towers of wind turbines. The reason is that the reinforcing steel in the concrete normally forms an oxide layer as a natural protective coating. However, saline air can destroy this layer — with the result that corrosion forms on the steel and seriously impairs its material strength. These proc-esses can also be simulated at an accelerated speed in corrosion testing systems.
Copyright information
© Springer Fachmedien Wiesbaden 2013