"Lower CO2 emission efficiently"
ATZautotechnology spoke with Seita Kanai, Director and Executive Vice President of Mazda Motor Corporation, about the company's new Skyactiv technologies and automotive future perspectives. To lower CO2 emission efficiently is a crucial point for him.
Seita Kanai is Director and Vice Executive President of Mazda Motor Corporation since April 2011. In this position, he is in charge of Oversight of Technical Domain and Quality. After graduating in Mechanical Engineering at Tokyo Institute of Technology he joined Mazda in 1974. Within the Mazda Motor Corporation, Kanai always worked in the sector of vehicle engineering. Since 2005, Seita Kanai is in charge of R&D. Thus, he was closely involved in the development of Mazda's latest Skyactiv technologies which encompass a diesel and gasoline powertrain, transmissions, body and chassis. All those components are designed for lower emissions as well as improved performance and fuel consumption.
ATZautotechnology _ The new Skyactiv-G 2.0 l petrol engine is said to consume 15 % less fuel than its predecessor and to have 15 % more torque. That sounds good, but it is not revolutionary in times of downsizing and engines with 1.2 to 1.6 l. What vehicle classes are you targeting with this engine?
Kanai _ The concept of downsized engines is popular today, we know that. However, we have 2.0 l engines or engines over 2.0 l. We don't cover 1.2 or 1.6 l turbocharged engines. But nevertheless, we will be able to achieve the same results compared to downsized 1.2 and 1.6 l engines. With a high compression ratio and reductions in friction, we believe that our engine's efficiency is equal to, or even better than, that of downsized engines.
Will we see smaller engines like 0.8 l engines or three-cylinder engines from Mazda in the near future?
We are not considering that at the moment.
Friction reduction is one of the issues. Possibilities for reducing friction include high-tech coatings and bearings. What solution did you choose?
Regarding friction reduction, we are pursuing various approaches. For example, we use high-tech coatings and bearings. The smaller the diameter is, the less friction is caused. Therefore, we reduced the size to avoid unnecessary space.
Mazda expects the internal combustion engine to remain at the heart of the car for the near future. Is the development of the Mazda 2 electric vehicle for the Japanese market the starting signal for a global electrification strategy?
With new restrictions in the US market starting from 2018, we have to provide electric vehicles and we need to prepare for that kind of regulation. Until then, we need to learn and we will benefit from the experience we are gaining with our current technology and by further developing this technology over the next few years.
"We will benefit from the experience we are gaining with our current technology."
Mazda's Skyactiv-D diesel engine is said to consume 20 % less fuel than the current 2.2 l diesel engine. That is around 4 l in a Mazda 6. Electric vehicles in Japan, diesels for Europe – when will we see a combination of both?
To combine the diesel engine with an electric motor to create a diesel hybrid system is a little difficult. For the diesel engine, we use turbocharging and the engines operate at a high pressure. For diesel hybrids, the development costs are quite high. Therefore, it is highly unlikely that the diesel hybrid will establish itself as a stand-alone concept in the market.
Why do you think PSA Citroën is developing a diesel hybrid engine?
They want to test the price in top-end technology. But at the end of the day, it depends on how widespread it is in the market, how popular it is in the market.
In terms of CO2, where do you see the ideal figure for an internal combustion engine for a midsize car with a weight of up to 1500 kg in 2020?
I wouldn't like to identify a concrete figure for CO2 emissions in 2020. For one of our new midsize vehicles combined with the new Skyaktiv-D engine, we have a plan to achieve a CO2 emission of only 105 g/km in the near future. Thus, with the Skyactiv-D, we will make a big leap forward with regard to reducing CO2 emissions. At the moment, we are looking for the best idea on how to repeat this success. We are aiming at a further improvement of more than 15 to 20 % CO2 reduction by 2020.
Your current diesel engine is a turbo with variable turbine geometry (VTG). Do you expect the current trend towards two-stage or multiple-stage turbocharging to continue?
Generally speaking, for our new Skyaktiv-D engine we will use two-stage turbocharging, and we think that this will cover most applications for normal vehicles and for the ordinary customer. A further step in turbocharging could be interesting, but is probably useful only for motor racing.
Electric mobility needs renewable energies as a power source. An alternative source of energy is the fuel cell. What is the status of this technology in your company?
Our development work on the fuel cell has been suspended for the time being, because it seems highly unlikely that the fuel cell will become very popular on the market in the near future.
What do you mean by "in the near future"?
In the next ten or twenty years. Even if fuel cell vehicles might be introduced by others, the market is going to reject them, as the cost and infrastructure are always critical factors.
Mazda and rotary engines – a story that lasted a long time and seems to be over today. Are you currently working on further improvements to the legendary rotary engine or is this topic completely out of consideration?
We are still working on that and developing it, but it is too early to talk about market introduction timing. However, we are working on that kind of technology right now and we shouldn't let others forget about rotary engines. We will introduce it as soon as possible, or at least we will soon be able to talk about the technologies we are working on.
"The market is going to reject the fuel cell vehicle."
Can you imagine rotary engines being used as range extenders?
It could be one of the possibilities, but that is not the entire usage of a rotary engine. We are developing and doing research to enhance the efficiency of the rotary engine up to the level of Skyactiv-G. Probably, we will be able to raise the capability of the rotary engine to speeds of up to more than 8000 rpm, since there is a possibility that the displacement of the next-generation rotary engine increases. I think it surely has the potential to be used as an engine for sports cars. Fuel economy will be equivalent to that of our Skyactiv-G, so it will be a very nice car to drive.
Ford has sold a majority of its 11 % share to Mazda. Does this have any consequences regarding the engines or platforms that Mazda received from Ford in the past?
This has no effect at all. The cooperation was beneficial for both parties and we will continue to cooperate in several areas in the future. For example, we are jointly building a pick-up truck with Ford in Thailand right now. We announced our agreement on the model change programme of this product last year. Additionally, we are working together with other OEMs such as Suzuki and Toyota in different areas. For example, we are tying up with Toyota regarding hybrid technology.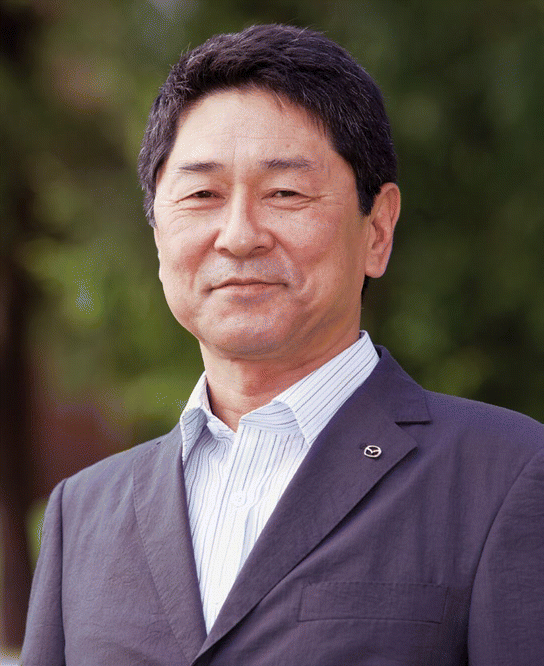 In Europe, we are now starting to talk about what will come after 2020 and about the new emission regulations. What is the current state of the discussion in Japan?
The Japanese government is pushing electric vehicles by a kind of incentive. By contributing just under 10,000 euros for each electric vehicle, the government is currently trying to increase the number of electric vehicle buyers. Of course, this strategy cannot be a long-term concept because the Japanese government cannot afford this even if the amount of the incentive is reduced. What we really need are long-term solutions, so an alternative must be found. In general, the most important question should be how we can lower CO2 emission efficiently.
"The most important question should be how we can lower CO2 emission efficiently."
Mr. Kanai, thank you very much for this interview.
Interview: Roland Schedel and Johannes Winterhagen
Photos: Mazda
Copyright information
© Springer Automotive Media Wiesbaden GmbH 2011