Abstract
A simple and specific hydrophilic interaction liquid chromatography (HILIC) procedure for the quantification of metformin hydrochloride (MFH) and its impurities in bulk pharmaceuticals and finished dosage forms has been developed. The method is based on hydrophilic interaction of the analytes with silica. The influence of the weaker solvent, acetonitrile, pH and the nature and ionic strength of the buffer was studied. Linearity range and percent recoveries for MFH were 100–400 μg mL−1 and 100.62%, respectively. Good validation data were obtained for all compounds. The method separates impurities cyanoguanidine (CGD), melamine (MLN) and other degradation products with a run time of less than 13 min. Degradation studies involved thermal stress, hydrolysis at various pHs and chemical and photolytic oxidation.
Access options
Buy single article
Instant access to the full article PDF.
US$ 39.95
Tax calculation will be finalised during checkout.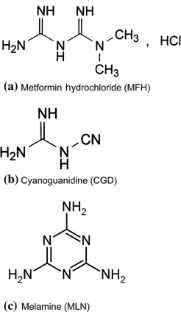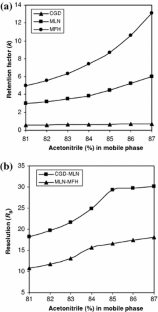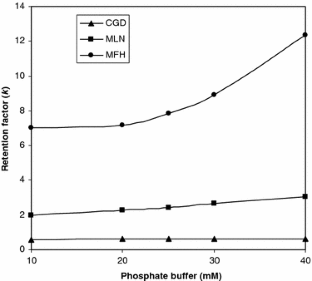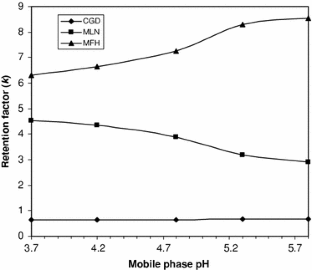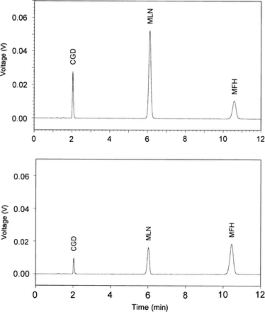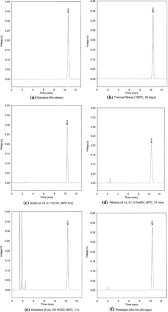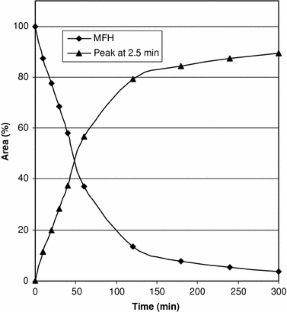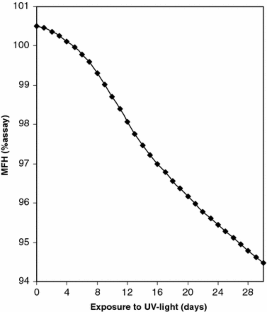 References
1.

USP 29 NF 24, United States Pharmacopoeia (2005) United States Pharmacopeial Convention, Inc., Rockville

2.

James Reynolds EF, Part I, Martindale, The Extra Pharmacopoeia (1996) 31st edn. Royal Pharmaceutical Society of Great Britain, London

3.

BP' 2005, British Pharmacopoeia (2005) The Stationary Office on behalf of the Medicines and Healthcare products Regulatory Agency (MHRA), vol I–II

4.

Arayne MS, Sultana N, Zuberi MH (2006) Pak J Pharm Sci 19:231–235

5.

Madhira BS, Vaibhav DM, Dimal AS, Kashyap KB, Rajendra SM, Madhira G, Binita JP (2005) J AOAC Int 88:1167–1172

6.

Kolte BL, Raut BB, Deo AA, Bagool MA, Shinde DB (2004) J Chromatogr Sci 42:27–31

7.

Ceren Y, Nuran Ö (2005) Anal Chim Acta 549:88–95

8.

Kolte BL, Raut BB, Deo AA, Bagool MA, Shinde DB (2004) J Chromatogr Sci 42:70–73

9.

Vasudevan M, Ravi J, Ravisankar S, Suresh B (2001) J Pharm Biomed Anal 25:77–84

10.

Ghassempour A, Ahmadi M, Ebrahimi SN, Aboul-Enein HY (2006) Chromatographia 64:101–104

11.

Kolte BL, Raut BB, Deo AA, Bagool MA, Shinde DB (2006) Encyclopedia of Chromatography, Taylor & Francis, London

12.

El-Khateeb SZ, Assaad HN, El-Bardicy MG, Ahmad AS (1998) Anal Chim Acta 208:321–324

13.

Habib IHI, Kamel MS (2003) Talanta 60:185–190

14.

Saad SMH, Wagiha HM, Mohamed AFE, Abdel Hammeed MO (1999) Anal Chim Acta 378:299–311

15.

Ashour S, Kabbani R (2003) Anal Lett 36:361–370

16.

El-bardicy MG, El-khateeb SZ, Abdelkader SA, Hoda NA (1989) Spectrosc Lett 22:1173–1181

17.

Wang LR, Huang MZ, Zhu SH (2005) Zhejiang Da Xue Xue Bao Yi Xue Ban 34:368–371

18.

Victor D, Andrei M, Florin A (2005) J Liq Chromatogr Relat Technol 28:81–95

19.

ICH Harmonized Tripartite Guideline, International Conference on Harmonization on Technical Requirements for Registration of Pharmaceuticals for Human Use, Q2A, Text on Validation of Analytical Procedures, Step 4 of the ICH process (1994) and Q2B, Validation of Analytical Procedures: Methodology, Step 4 of the ICH process (1996) ICH Steering Committee

20.

Alpert AJ (1990) J Chromatogr 499:177–196

21.

Naidong W (2003) J Chromatogr B 796:209–224

22.

Neue UD, Grumbach ES, Mazzeo JR, Tran K, Wagrowski-Diehl DM (2003) In: Wilson ID (ed) Bioanalytical separations, handbook of analytical separations, Elsevier Science B. V., New York, pp 185–214

23.

Neue UD, Pheobe CH, Tran K, Cheng YF, Lu Z (2001) J Chromatogr A 925:49–67

24.

Ali MS, Ghori M, Rafiuddin S, Khatri AR (2007) J Pharm Biomed Anal 43:158–167

25.

Van de Merbel NC, Wilkens G, Fowles S, Oosterhuis B, Jonkman JHG (1998) Chromatographia 47:542–546

26.

Hirt RC, Schmitt RG (1958) Spectrochim Acta 12:127–138
Acknowledgments
Authors wish to thank Mr. Anwar Saeed, Mr. Mahmoud Yusuf Jamjoom and Mr. Noor Sheriff for encouraging this work and providing required support in accomplishing the proposed HILIC method.
About this article
Cite this article
Ali, M.S., Rafiuddin, S., Ghori, M. et al. Simultaneous Determination of Metformin Hydrochloride, Cyanoguanidine and Melamine in Tablets by Mixed-Mode HILIC. Chroma 67, 517–525 (2008). https://doi.org/10.1365/s10337-008-0542-5
Received:

Revised:

Accepted:

Published:

Issue Date:
Keywords
Column liquid chromatography

HILIC

Metformin hydrochloride

Melamine

Cyanoguanidine

Degradation studies