Abstract
A specific and sensitive liquid chromatography-electrospray ionization tandem mass spectrometry method was developed for the determination of zolmitriptan and N-desmethylzolmitriptan in human plasma. The analytes and the internal standard (IS) paroxetine were extracted by liquid–liquid extraction with a mixture of saturated ethyl acetate:dichloromethane (4:1) and were separated using an isocratic mobile phase on a XTerra RP18 column. The mobile phase used was acetonitrile: 5 mM ammonium acetate: formic acid (50:50:0.053, v/v/v). Zolmitriptan and N-desmethylzolmitriptan in a range of 0.25–20 ng mL−1 were easily quantified. The validated method can be applied to pharmacokinetic and bioequivalence studies.
Access options
Buy single article
Instant access to the full article PDF.
US$ 39.95
Tax calculation will be finalised during checkout.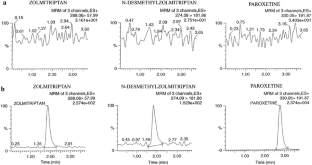 References
1.

Rapoport AM, Cady RK, Mathew NT (1995) Cephalalgia 15:221–226

2.

Seaber E, On N, Dixon RM (1997) Br J Clin Pharmacol 43:579–587

3.

Chen J, Jiang XG, Jiang WM, Mei N, Gao XL, Zhang QZ (2004) J Pharm Biomed Anal 35:639–645

4.

Clement EM, Franklin M (2002) J Chromatogr B 766:339–343

5.

Vishwanathan K, Barlett MG, Stewart JT (2000) Rapid Commun Mass Spectrom 14:168–172

6.

Zhang Z, Xu F, Tian Y, Li W, Mao G (2004) J Chromatogr B 813:227–233

7.

Chen X, Liu D, Luan Y, Jin F, Zhong D (2006) J Chromatogr B 832:30–35

8.

Karnes HT, Shiu G, Shah VP (1991) Pharm Res 8:421–426
Additional information
Application of Separation Techniques in Turkey
About this article
Cite this article
Kılıç, B., Özden, T., Toptan, S. et al. Simultaneous LC–MS–MS Determination of Zolmitriptan and Its Active Metabolite N-Desmethylzolmitriptan in Human Plasma. Chroma 66, 129–133 (2007). https://doi.org/10.1365/s10337-007-0293-8
Received:

Revised:

Accepted:

Published:

Issue Date:
Keywords
Column liquid chromatography–mass spectrometry

LC–MS–MS

Pharmacokinetics

Human plasma

Zolmitriptan

N-Desmethylzolmitriptan