Abstract
Background
Angiosarcoma of the breast is rare and aggressive. It can occur as a de novo tumor or secondary to breast cancer treatment. The purpose of this study is to analyze differences between patients with primary and secondary angiosarcoma of the breast and investigate potential risk factors for its development.
Patients and Methods
The Surveillance, Epidemiology, and End Results program of the National Cancer Institute database was queried to identify patients with angiosarcoma of the breast, trunk, shoulder, and upper arm. The population-based incidence was analyzed. Primary and secondary angiosarcoma cases were identified and compared. Breast cancer characteristics of secondary angiosarcoma patients were compared with all breast cancer patients in the database who did not develop angiosarcoma.
Results
Overall, 904 patients were included, and 65.4% were secondary angiosarcomas. These patients had worse survival, were older, more likely to be White, more likely to have regionally advanced disease, and had angiosarcoma tumors of higher pathologic grade. Independent factors associated with development of secondary angiosarcoma among breast cancer patients included White race, older age, invasive tumor, lymph node removal, lumpectomy, radiation treatment, and left-sided tumor. Although the mean time to develop angiosarcoma after breast cancer diagnosis was 8.2 years, the risk continues to increase up to 30 years after breast cancer treatment.
Conclusion
Angiosarcoma is rare but increasing in incidence. Secondary angiosarcomas are more common and exhibit more aggressive behavior. Several factors for angiosarcoma after breast cancer treatment could be identified, which may help us counsel and identify patients at risk.
Access options
Buy single article
Instant access to the full article PDF.
US$ 39.95
Tax calculation will be finalised during checkout.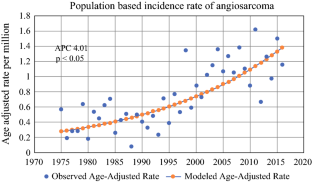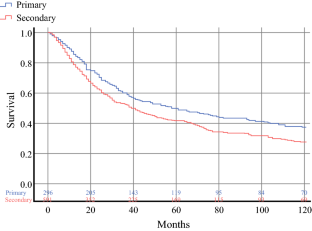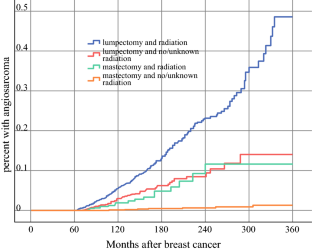 References
1.

Wang XY, Jakowski J, Tawfik OW, Thomas PA, Fan F. Angiosarcoma of the breast: a clinicopathologic analysis of cases from the last 10 years. Ann Diagn Pathol. Jun ;13(3):147–50.

2.

Mery CM, George S, Bertagnolli MM, Raut CP. Secondary sarcomas after radiotherapy for breast cancer: sustained risk and poor survival. Cancer. 2009;115(18):4055–63.

3.

da Silva BB, Eulálio Filho WMN, Costa PVL, et al. A rare case of primary breast angiosarcoma in a male: a case report. BMC Cancer. 2018;18(1):978.

4.

Kunkiel M, Maczkiewicz M, Jagiełło-Gruszfeld A, Nowecki Z. Primary angiosarcoma of the breast-series of 11 consecutive cases-a single-centre experience. Curr Oncol. 2018;25(1):e50–3.

5.

Huang J, Mackillop WJ. Increased risk of soft tissue sarcoma after radiotherapy in women with breast carcinoma. Cancer. 2001;92(1):172–80.

6.

Harvey EB, Brinton LA. Second cancer following cancer of the breast in Connecticut, 1935–82. Natl Cancer Inst Monogr. 1985;68:99–112.

7.

Board WCoTE. Breast tumours, vol. 2. 5th edn. Lyon: International Agency for Research on Cancer; 2019.

8.

Stewart FW, Treves N. Lymphangiosarcoma in postmastectomy lymphedema; a report of six cases in elephantiasis chirurgica. Cancer. 1948;1(1):64–81.

9.

Woodward AH, Ivins JC, Soule EH. Lymphangiosarcoma arising in chronic lymphedematous extremities. Cancer. 1972;30(2):562–72.

10.

Cozen W, Bernstein L, Wang F, Press MF, Mack TM. The risk of angiosarcoma following primary breast cancer. Br J Cancer. 1999;81(3):532–6.

11.

Janse AJ, van Coevorden F, Peterse H, Keus RB, van Dongen JA. Lymphedema-induced lymphangiosarcoma. Eur J Surg Oncol. 1995;21(2):155–8.

12.

Chuba PJ, Simon MS. Trends in primary surgical and radiation therapy for localized breast cancer in the Detroit Metropolitan area 1973–1992. Int J Radiat Oncol Biol Phys. 1997;38(1):103–7.

13.

Yap J, Chuba PJ, Thomas R, et al. Sarcoma as a second malignancy after treatment for breast cancer. Int J Radiat Oncol Biol Phys. 2002;52(5):1231–7.

14.

Noone AM, Lund JL, Mariotto A, et al. Comparison of SEER treatment data with medicare claims. Med Care. 2016;54(9):e55-64.

15.

Majeski J, Austin RM, Fitzgerald RH. Cutaneous angiosarcoma in an irradiated breast after breast conservation therapy for cancer: association with chronic breast lymphedema. J Surg Oncol. 2000;74(3):208–12 (Discussion 212–203).

16.

Monroe AT, Feigenberg SJ, Mendenhall NP. Angiosarcoma after breast-conserving therapy. Cancer. 2003;97(8):1832–40.

17.

Meek AG. Breast radiotherapy and lymphedema. Cancer. 1998;83(12 Suppl American):2788–97.

18.

Onibokun O, Killelea BK, Chagpar AB, Horowitz NR, Lannin DR. The left sided predominance of breast cancer is decreasing. Breast J. 2015;21(2):213–5.

19.

Senie RT, Rosen PP, Lesser ML, Snyder RE, Schottenfeld D, Duthie K. Epidemiology of breast carcinoma II: factors related to the predominance of left-sided disease. Cancer. 1980;46(7):1705–13.

20.

Luini A, Gatti G, Diaz J, et al. Angiosarcoma of the breast: the experience of the european institute of oncology and a review of the literature. Breast Cancer Res Treat. 2007;105(1):81–5.

21.

Uryvaev A, Moskovitz M, Abdach-Bortnyak R, Hershkovitz D, Fried G. Post-irradiation angiosarcoma of the breast: clinical presentation and outcome in a series of six cases. Breast Cancer Res Treat. 2015;153(1):3–8.

22.

Scow JS, Reynolds CA, Degnim AC, Petersen IA, Jakub JW, Boughey JC. Primary and secondary angiosarcoma of the breast: the Mayo Clinic experience. J Surg Oncol. 2010;101(5):401–7.

23.

Vorburger SA, Xing Y, Hunt KK, et al. Angiosarcoma of the breast. Cancer. 2005;104(12):2682–8.

24.

Masai K, Kinoshita T, Jimbo K, Asaga S, Hojo T. Clinicopathological features of breast angiosarcoma. Breast Cancer. 2016;23(5):718–23.

25.

Hasan S, Metzger A, Wegner R, et al. Management trends and outcomes of breast angiosarcoma: Is breast conservation feasible? Breast J. 2019;25(6):1230–4.

26.

McClelland S 3rd, Hatfield J, Degnin C, Chen Y, Mitin T. Extent of resection and role of adjuvant treatment in resected localized breast angiosarcoma. Breast Cancer Res Treat. 2019;175(2):409–18.
Ethics declarations
Disclosure
Brigid Killelea—Consultant for Genetech.
Additional information
Publisher's Note
Springer Nature remains neutral with regard to jurisdictional claims in published maps and institutional affiliations.
About this article
Cite this article
Friedrich, AK.U., Reisenbichler, E.S., Heller, D.R. et al. Characteristics and Long-Term Risk of Breast Angiosarcoma. Ann Surg Oncol (2021). https://doi.org/10.1245/s10434-021-09689-2
Received:

Accepted:

Published: