Abstract
Background
Approximately 10% of patients with nasopharyngeal carcinoma (NPC) develop lung-only metastases. Data regarding the potential role of lung metastasectomy are limited.
Objective
The aim of this case-control study was to determine whether lung metastasectomy prolongs survival in patients with NPC with lung-only metastases.
Methods
The resectability of 215 consecutive patients diagnosed with lung-only metastases from 2001 to 2018 was reviewed by doctors blinded to the patient groups. The propensity score matching method was used to balance the potential probability of being assigned to treatment groups based on pretherapeutic information. Postmetastatic survival (PMS) and cumulative incidence of local failure were compared between the surgical and nonsurgical arms.
Results
Overall, 120 potentially resectable cases were enrolled, and 45 and 22 patients who underwent and did not undergo metastasectomy, respectively, were included in the propensity-matched cohort. Patients who underwent pulmonary resection had better PMS and a lower cumulative incidence of local failure than those who did not undergo surgery. The 5-year PMS rates were 75.53% and 47.81% in the surgical and nonsurgical arms, respectively (difference 27.72%; 95% confidence interval 3.95–51.49%). Younger patients (≤ 45 years), and those with a lower primary N stage (N0-1), longer disease-free interval (> 2 years), smaller total diameter of the metastatic lesions (≤ 3 cm), unilateral distribution of metastases, no mediastinal/hilar lymph node involvement, and adjuvant chemotherapy showed a significantly longer PMS after metastasectomy by multivariable analysis.
Conclusions
Lung metastasectomy may improve PMS and decrease the chance of local treatment failure in NPC patients with potentially resectable lung-only metastases.
We're sorry, something doesn't seem to be working properly.
Please try refreshing the page. If that doesn't work, please contact support so we can address the problem.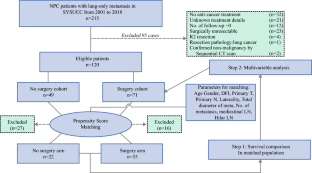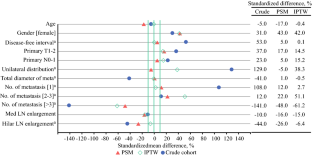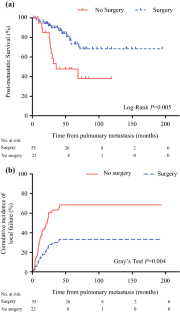 References
1.

Siegel RL, Miller KD, Jemal A. Cancer statistics, 2019. CA Cancer J Clin. 2019;69:7–34.

2.

Zhang L, Huang Y, Hong S, et al. Gemcitabine plus cisplatin versus fluorouracil plus cisplatin in recurrent or metastatic nasopharyngeal carcinoma: a multicentre, randomised, open-label, phase 3 trial. Lancet. 2016;388:1883–92.

3.

Shen LJ, Wang SY, Xie GF, et al. Subdivision of M category for nasopharyngeal carcinoma with synchronous metastasis: time to expand the M categorization system. Chin J Cancer. 2015;34:450–8.

4.

Huang CJ, Leung SW, Lian SL, Wang CJ, Fang FM, Ho YH. Patterns of distant metastases in nasopharyngeal carcinoma. Kaohsiung J Med Sci. 1996;12:229–34.

5.

Ashworth A, Rodrigues G, Boldt G, Palma D. Is there an oligometastatic state in non-small cell lung cancer? A systematic review of the literature. Lung Cancer. 2013;82:197–203.

6.

Hui EP, Leung SF, Au JS, et al. Lung metastasis alone in nasopharyngeal carcinoma: a relatively favorable prognostic group: a study by the Hong Kong Nasopharyngeal Carcinoma Study Group. Cancer. 2004;101:300–6.

7.

Wu Y, Takkenberg JJ, Grunkemeier GL. Measuring follow-up completeness. Ann Thorac Surg. 2008;85:1155–7.

8.

Austin PC. The use of propensity score methods with survival or time-to-event outcomes: reporting measures of effect similar to those used in randomized experiments. Stat Med. 2014;33:1242–58.

9.

Xu S, Ross C, Raebel MA, Shetterly S, Blanchette C, Smith D. Use of stabilized inverse propensity scores as weights to directly estimate relative risk and its confidence intervals. Value Health. 2010;13:273–7.

10.

Rosenbaum PR, Rubin DB. Constructing a control group using multivariate matched sampling methods that incorporate the propensity score. Am Stat. 1985;39:33–8.

11.

Austin PC. Optimal caliper widths for propensity-score matching when estimating differences in means and differences in proportions in observational studies. Pharm Stat. 2011;10:150–61.

12.

Ma J, Wen ZS, Lin P, Wang X, Xie FY. The results and prognosis of different treatment modalities for solitary metastatic lung tumor from nasopharyngeal carcinoma: a retrospective study of 105 cases. Chin J Cancer. 2010;29:787–95.

13.

Fine JP, Gray RJ. A proportional hazards model for the subdistribution of a competing risk. J Am Stat Assoc. 1999;94:496–509.

14.

Pastorino U, Buyse M, Friedel G, et al. Long-term results of lung metastasectomy: prognostic analyses based on 5206 cases. J Thorac Cardiovasc Surg. 1997;113:37–49.

15.

Bartlett EK, Simmons KD, Wachtel H, et al. The rise in metastasectomy across cancer types over the past decade. Cancer. 2015;121:747–57.

16.

Treasure T, Farewell V, Macbeth F, et al. Pulmonary metastasectomy versus continued active monitoring in colorectal cancer (PulMiCC): a multicentre randomised clinical trial. Trials. 2019;20:718.

17.

Milosevic M, Edwards J, Tsang D, et al. Pulmonary Metastasectomy in Colorectal Cancer: updated analysis of 93 randomized patients: control survival is much better than previously assumed. Colorectal Dis. 2020;22:1314–24.

18.

Brew-Graves C, Farewell V, Monson K, et al. Pulmonary metastasectomy in colorectal cancer: health utility scores by EQ-5D-3L in a randomised controlled trial show no benefit from lung metastasectomy. Colorectal Dis. 2020. https://doi.org/10.1111/codi.15386.

19.

Handy JR, Bremner RM, Crocenzi TS, et al. Expert consensus document on pulmonary metastasectomy. Ann Thorac Surg. 2019;107:631–49.

20.

Oki T, Hishida T, Yoshida J, et al. Survival and prognostic factors after pulmonary metastasectomy of head and neck cancer: What are the clinically informative prognostic indicators? Eur J Cardiothorac Surg. 2019;55:942–7.

21.

Lim SJ, Iyer NG, Ooi LL, et al. Metastasectomy for metachronous pulmonary and hepatic metastases from nasopharyngeal carcinoma: report of 6 cases and review of the literature. Head Neck. 2016;38:E37-40.

22.

Cheng LC, Sham JS, Chiu CS, Fu KH, Lee JW, Mok CK. Surgical resection of pulmonary metastases from nasopharyngeal carcinoma. Aust N Z J Surg. 1996;66:71–3.

23.

Cao X, He LR, Xie FY, Chen YF, Wen ZS. Factors determining the survival of nasopharyngeal carcinoma with lung metastasis alone: does combined modality treatment benefit? BMC Cancer. 2011;11:370.

24.

Matsutani N, Okumura S, Yoshino I, et al. Pneumonectomy in pulmonary metastasis. J Thorac Dis. 2017;9:4523–30.

25.

Gafencu DA, Welter S, Cheufou DH, et al. Pulmonary metastasectomy for sarcoma-Essen experience. J Thorac Dis. 2017;9:S1278-1281.

26.

Long H, Tan Q, Luo Q, et al. Thoracoscopic surgery versus thoracotomy for lung cancer: short-term outcomes of a randomized trial. Ann Thorac Surg. 2018;105:386–92.

27.

Long H, Zheng Y, Situ D, Ma G, Lin Z, Wang J. Hand-assisted thoracoscopic surgery for bilateral lung metastasectomy through sternocostal triangle access. Ann Thorac Surg. 2011;91:852–8.

28.

Cakmak H, Tokat AO, Karasu S. Is open surgery necessary for metastatic pulmonary tumors evaluated with thorax tomography? Turk Gogus Kalp Damar Cerrahisi Derg. 2018;26:254–9.

29.

Long H, Jiang L, Lin Y, et al. Hand-assisted thoracoscopic surgery for pulmonary metastasectomy through sternocostal triangle access: superiority in detection of non-imaged pulmonary nodules. Sci Rep. 2014;4:4539.

30.

Macherey S, Doerr F, Heldwein M, Hekmat K. Is manual palpation of the lung necessary in patients undergoing pulmonary metastasectomy? Interact Cardiovasc Thorac Surg. 2016;22:351–9.

31.

Shiomi K, Naito M, Sato T, et al. Effect of adjuvant chemotherapy after pulmonary metastasectomy on the prognosis of colorectal cancer. Ann Med Surg. 2017;20:19–25.

32.

Londero F, Morelli A, Parise O, et al. Lymphadenectomy during pulmonary metastasectomy: impact on survival and recurrence. J Surg Oncol. 2019;120:768–78.

33.

Austin PC. Balance diagnostics for comparing the distribution of baseline covariates between treatment groups in propensity-score matched samples. Stat Med. 2009;28:3083–107.
Funding
This work was supported by the Foundation for Sci & Tech Research Project of Guangdong [2017A020215138].
Ethics declarations
Disclosures
The authors declare that they have no conflict of interest.
Additional information
Publisher's Note
Springer Nature remains neutral with regard to jurisdictional claims in published maps and institutional affiliations.
Electronic supplementary material
Below is the link to the electronic supplementary material.
About this article
Cite this article
Zhao, ZR., Liu, DH., Wang, YZ. et al. Pulmonary Metastasectomy in Patients with Lung Metastases from Nasopharyngeal Carcinoma. Ann Surg Oncol (2021). https://doi.org/10.1245/s10434-021-09597-5
Received:

Accepted:

Published: