Abstract
Background
Studies have shown that radioactive iodine therapy (RAIT) affects the development of second cancer in thyroid cancer patients. The impact of other factors, such as dyslipidemia are not clear.
Methods
A retrospective analysis of thyroid cancer patients with a 1,251,913 person-year follow-up was conducted using data from the Health Insurance Review and Assessment database in South Korea from January 2008 to December 2018. We investigated factors related to second cancer development using a nested case-control analysis to avoid length bias.
Results
The overall risk of developing second cancer was higher in thyroid cancer patients than in the general population [standardized incidence ratio, 3.34; 95% confidence interval (CI) 3.30–3.39]. Second cancer incidence was higher in patients who received RAIT than in those who did not [odds ratio (OR) 1.130; 95% CI 1.094–1.169]. Moreover, the risk of second cancer was higher in patients with dyslipidemia than in those without dyslipidemia (OR 1.265; 95% CI 1.223–1.309). After adjustment for RAIT, the incidence of a second cancer was higher in patients with dyslipidemia than in those without dyslipidemia (OR 1.262; 95% CI 1.221–1.306).
Conclusions
The risk of second cancer development in patients with thyroid cancer appears to be high. Dyslipidemia may be associated with an increased risk of several types of second cancers.
We're sorry, something doesn't seem to be working properly.
Please try refreshing the page. If that doesn't work, please contact support so we can address the problem.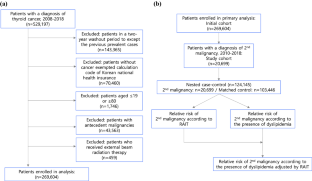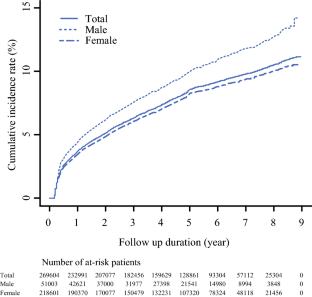 References
1.

Jung KW, Won YJ, Kong HJ, Oh CM, Seo HG, Lee JS. Cancer statistics in Korea: incidence, mortality, survival and prevalence in 2010. Cancer Res Treat. 2013;45(1):1–14.

2.

Davies L, Welch HG. Increasing incidence of thyroid cancer in the United States, 1973–2002. JAMA. 2006;295(18):2164–7.

3.

Kilfoy BA, Zheng T, Holford TR, et al. International patterns and trends in thyroid cancer incidence, 1973–2002. Cancer Causes Control. 2009;20(5):525–31.

4.

Colonna M, Grosclaude P, Remontet L, et al. Incidence of thyroid cancer in adults recorded by French cancer registries (1978–1997). Eur J Cancer. 2002;38(13):1762–8.

5.

Burgess JR. Temporal trends for thyroid carcinoma in Australia: an increasing incidence of papillary thyroid carcinoma (1982–1997). Thyroid. 2002;12(2):141–9.

6.

Liu S, Semenciw R, Ugnat AM, Mao Y. Increasing thyroid cancer incidence in Canada, 1970–1996: time trends and age-period-cohort effects. Br J Cancer. 2001;85(9):1335–9.

7.

Jung KW, Won YJ, Oh CM, Kong HJ, Lee DH, Lee KH. Prediction of cancer incidence and mortality in Korea, 2017. Cancer Res Treat. 2017;49(2):306–12.

8.

Jung KW, Won YJ, Oh CM, et al. Cancer statistics in Korea: incidence, mortality, survival, and prevalence in 2014. Cancer Res Treat. 2017;49(2):292–305.

9.

Burki TK. Unnecessary thyroid cancer screening in South Korea. Lancet Oncol. 2017;18(1):e6.

10.

Jegerlehner S, Bulliard JL, Aujesky D, et al. Overdiagnosis and overtreatment of thyroid cancer: a population-based temporal trend study. PLoS One. 2017;12(6):e0179387.

11.

Haymart MR, Esfandiari NH, Stang MT, Sosa JA. Controversies in the management of low-risk differentiated thyroid cancer. Endocr Rev. 2017;38(4):351–78.

12.

Molenaar RJ, Sidana S, Radivoyevitch T, et al. Risk of hematologic malignancies after radioiodine treatment of well-differentiated thyroid cancer. J Clin Oncol. 2018;36(18):1831–9.

13.

Iyer NG, Morris LG, Tuttle RM, Shaha AR, Ganly I. Rising incidence of second cancers in patients with low-risk (T1N0) thyroid cancer who receive radioactive iodine therapy. Cancer. 2011;117(19):4439–46.

14.

Seo GH, Cho YY, Chung JH, Kim SW. Increased risk of leukemia after radioactive iodine therapy in patients with thyroid cancer: a nationwide, population-based study in Korea. Thyroid. 2015;25(8):927–34.

15.

Cho YY, Lim J, Oh CM, et al. Elevated risks of subsequent primary malignancies in patients with thyroid cancer: a nationwide, population-based study in Korea. Cancer. 2015;121(2):259–68.

16.

Teng CJ, Hu YW, Chen SC, et al. Use of radioactive iodine for thyroid cancer and risk of second primary malignancy: a nationwide population-based study. J Natl Cancer Inst. 2016;108(2).

17.

Hay ID, Gonzalez-Losada T, Reinalda MS, Honetschlager JA, Richards ML, Thompson GB. Long-term outcome in 215 children and adolescents with papillary thyroid cancer treated during 1940 through 2008. World J Surg. 2010;34(6):1192–202.

18.

Renehan AG, Tyson M, Egger M, Heller RF, Zwahlen M. Body-mass index and incidence of cancer: a systematic review and meta-analysis of prospective observational studies. Lancet. 2008;371(9612):569–78.

19.

Arnold M, Pandeya N, Byrnes G, et al. Global burden of cancer attributable to high body-mass index in 2012: a population-based study. Lancet Oncol. 2015;16(1):36–46.

20.

Kyrgiou M, Kalliala I, Markozannes G, et al. Adiposity and cancer at major anatomical sites: umbrella review of the literature. BMJ. 2017;356:j477.

21.

Lauby-Secretan B, Scoccianti C, Loomis D, Grosse Y, Bianchini F, Straif K. Body fatness and cancer–viewpoint of the IARC Working Group. N Engl J Med. 2016;375(8):794–8.

22.

Shin HR, Won YJ, Jung KW, et al. Nationwide cancer incidence in Korea, 1999–2001; first result using the national cancer incidence database. Cancer Res Treat. 2005;37(6):325–31.

23.

Kim JA, Yoon S, Kim LY, Kim DS. Towards actualizing the value potential of Korea Health Insurance Review and Assessment (HIRA) data as a resource for health research: strengths, limitations, applications, and strategies for Optimal Use of HIRA Data. J Korean Med Sci. 2017;32(5):718–28.

24.

Shin JY, Roughead EE, Park BJ, Pratt NL. Cardiovascular safety of methylphenidate among children and young people with attention-deficit/hyperactivity disorder (ADHD): nationwide self controlled case series study. BMJ. 2016;353:i2550.

25.

Park B, Sung J, Park K, Seo S, Kim S. Report of the evaluation for validity of discharged diagnoses in Korean Health Insurance database. 2003.

26.

Cho J, Choi YJ, Suh M, et al. Air pollution as a risk factor for depressive episode in patients with cardiovascular disease, diabetes mellitus, or asthma. J Affective Disorders. 2014;157:45–51.

27.

Kimm H, Yun JE, Lee SH, Jang Y, Jee SH. Validity of the diagnosis of acute myocardial infarction in korean national medical health insurance claims data: the korean heart study (1). Korean Circ J. 2012;42(1):10–5.

28.

Kim C, Jung SH, Kang DR, et al. Ambient particulate matter as a risk factor for suicide. Am J Psychiatry. 2010;167(9):1100–7.

29.

Oh H, Boo S. Burns in South Korea: an analysis of nationwide data from the health insurance review and assessment Service. Burns. 2016;42(3):675–81.

30.

Kim HS, Shin DW, Lee WC, Kim YT, Cho B. National Screening Program for Transitional Ages in Korea: a new screening for strengthening primary prevention and follow-up care. J Korean Med Sci. 2012;27:S70–5.

31.

Kim C, Bi X, Pan D, et al. The risk of second cancers after diagnosis of primary thyroid cancer is elevated in thyroid microcarcinomas. Thyroid. 2013;23(5):575–82.

32.

Tomasetti C, Li L, Vogelstein B. Stem cell divisions, somatic mutations, cancer etiology, and cancer prevention. Science. 2017;355(6331):1330–4.

33.

Mehta N, Hordines J, Volpe C, Doerr R, Cohen SA. Cellular effects of hypercholesterolemia in modulation of cancer growth and metastasis: a review of the evidence. Surgical oncology. 1997;6(3):179–85.

34.

Arliss RM, Biermann CA. Do soy isoflavones lower cholesterol, inhibit atherosclerosis, and play a role in cancer prevention? Holistic Nursing Practice. 2002;17(1):40–8.

35.

Mutoh M, Akasu T, Takahashi M, et al. Possible involvement of hyperlipidemia in increasing risk of colorectal tumor development in human familial adenomatous polyposis. Jpn J Clin Oncol. 2006;36(3):166–71.

36.

Swinnen JV, Heemers H, van de Sande T, et al. Androgens, lipogenesis and prostate cancer. J Steroid Biochem Mol Biol. 2004;92(4):273–9.

37.

Kimura Y, Sumiyoshi M. High-fat, high-sucrose, and high-cholesterol diets accelerate tumor growth and metastasis in tumor-bearing mice. Nutr Cancer. 2007;59(2):207–16.

38.

Brown M, Hart C, Tawadros T, et al. The differential effects of statins on the metastatic behaviour of prostate cancer. Br J Cancer. 2012;106(10):1689–96.

39.

Yasuda Y, Shimizu M, Shirakami Y, et al. Pitavastatin inhibits azoxymethane-induced colonic preneoplastic lesions in C57BL/KsJ-db/db obese mice. Cancer Sci. 2010;101(7):1701–7.

40.

Cruz P, Torres C, Ramirez ME, Epunan MJ, Valladares LE, Sierralta WD. Proliferation of human mammary cancer cells exposed to 27-hydroxycholesterol. Exp Ther Med. 2010;1(3):531–6.

41.

Mondul AM, Weinstein SJ, Virtamo J, Albanes D. Serum total and HDL cholesterol and risk of prostate cancer. Cancer Causes Control. 2011;22(11):1545–52.

42.

Oh HY, Lee EJ, Yoon S, Chung BH, Cho KS, Hong SJ. Cholesterol level of lipid raft microdomains regulates apoptotic cell death in prostate cancer cells through EGFR-mediated Akt and ERK signal transduction. Prostate. 2007;67(10):1061–9.

43.

Rubino C, de Vathaire F, Dottorini ME, et al. Second primary malignancies in thyroid cancer patients. Br J Cancer. 2003;89(9):1638–44.

44.

Subramanian S, Goldstein DP, Parlea L, et al. Second primary malignancy risk in thyroid cancer survivors: a systematic review and meta-analysis. Thyroid. 2007;17(12):1277–88.

45.

Czene K, Lichtenstein P, Hemminki K. Environmental and heritable causes of cancer among 9.6 million individuals in the Swedish Family‐Cancer Database. Int J Ccancer. 2002;99(2):260-6.

46.

Zhang F, Xu L, Wei Q, Song X, Sturgis EM, Li G. Significance of MDM2 and P14 ARF polymorphisms in susceptibility to differentiated thyroid carcinoma. Surgery. 2013;153(5):711–7.

47.

Duan X, Li J. Association between MDM2 SNP309, p53 Arg72Pro, and hepatocellular carcinoma risk: A MOOSE-compliant meta-analysis. Medicine. 2017;96(36).

48.

Do TN, Ucisik-Akkaya E, Davis CF, Morrison BA, Dorak MT. TP53 R72P and MDM2 SNP309 polymorphisms in modification of childhood acute lymphoblastic leukemia susceptibility. Cancer Genet Cytogenet. 2009;195(1):31–6.

49.

Cybulski C, Gorski B, Huzarski T, et al. CHEK2 is a multiorgan cancer susceptibility gene. Am J Hum Gen. 2004;75(6):1131–5.
Acknowledgments
Y.S.J. was supported by National Research Foundation of Korea (NRF) grants funded by the Korean government (MEST) (NRF-2018R1A2B6004179); by the Korea Health Technology R&D Project through the Korea Health Industry Development Institute (KHIDI), funded by the Ministry of Health & Welfare, Republic of Korea (HI14C1324); and by the "Dongwha" Faculty Research Assistance Program of Yonsei University College of Medicine (6-2019-0-123). J.L. was supported by a National Research Foundation of Korea (NRF) Grant funded by the Korea government (MEST) (NRF-2020R1A2C1006047) and by the Korean Foundation for Cancer Research (2020).
Ethics declarations
Disclosure
The authors declare that there is no conflict of interest.
Additional information
Publisher's Note
Springer Nature remains neutral with regard to jurisdictional claims in published maps and institutional affiliations.
Supplementary information
About this article
Cite this article
Ho, J., Kim, E., Han, M. et al. Impact of Dyslipidemia on the Risk of Second Cancer in Thyroid Cancer Patients: A Korean National Cohort Study. Ann Surg Oncol (2021). https://doi.org/10.1245/s10434-020-09570-8
Received:

Accepted:

Published: