Abstract
Background
While surgery is a mainstay of curative-intent treatment for patients with intrahepatic cholangiocarcinoma (IHC), the role of neoadjuvant therapy (NT) has not been well-established. We sought to describe trends in NT utilization, characterize associated factors, and evaluate association with overall survival (OS).
Methods
Retrospective cohort study of 4456 surgically resected IHC patients within National Cancer Data Base (2006–2016). NT included chemotherapy alone and/or (chemo)radiation. Descriptive statistics used to describe the cohort. Multivariable hierarchical logistic regression models were used to examine factors associated with NT administration. Analyses conducted comparing OS among upfront surgery patients and NT patients using propensity matching using nearest-neighbor methodology and adjustment using inverse probability of treatment weighting (IPTW). Association between NT and risk of death evaluated using multivariable Cox shared frailty modeling.
Results
Utilization of NT did not significantly increase over time (11%-2006 to 16%-2016, trend test p = 0.07) but did increase among patients with clinical nodal involvement (cN+, 13% to 36%, p = 0.002). Factors associated with NT use include cN+ disease (odds ratio [OR] 1.68, 95% confidence interval [CI] 1.31–2.15) and advanced clinical T stage: T2 (OR 1.65, 95% CI 1.33–2.06); T3 (OR 1.51, 95% CI 1.13–2.02). After propensity matching, NT associated with a 23% decreased risk of death relative to upfront surgery (hazard ratio [HR] 0.77, 95% CI 0.61–0.97). Findings were similar after IPTW (HR 0.83, 95% CI 0.78–0.88).
Conclusions
NT is increasingly used for the management of IHC patients with characteristics indicating aggressive tumor biology and is associated with decreased risk of death. These data suggest need for prospective studies of NT in management of patients with potentially resectable IHC.
Access options
Buy single article
Instant access to the full article PDF.
US$ 39.95
Tax calculation will be finalised during checkout.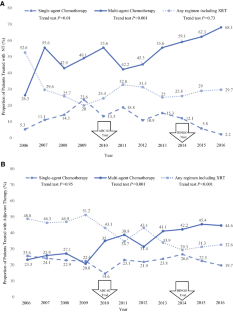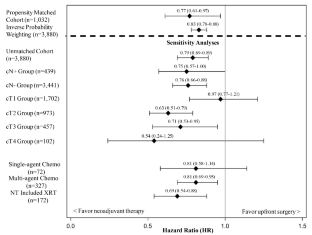 References
1.

Shaib YH, Davila JA, McGlynn K, El-Serag HB. Rising incidence of intrahepatic cholangiocarcinoma in the United States: a true increase? J Hepatol. 2004;40(3):472–7.

2.

Khan SA, Thomas HC, Davidson BR, Taylor-Robinson SD. Cholangiocarcinoma. Lancet. 2005;366(9493):1303–14.

3.

Khan SA, Toledano MB, Taylor-Robinson SD. Epidemiology, risk factors, and pathogenesis of cholangiocarcinoma. HPB (Oxford). 2008;10(2):77–82.

4.

https://www.cancer.org/cancer/bile-duct-cancer/detection-diagnosis-staging/survival-by-stage.html.

5.

Nathan H, Pawlik TM, Wolfgang CL, Choti MA, Cameron JL, Schulick RD. Trends in survival after surgery for cholangiocarcinoma: a 30-year population-based SEER database analysis. J Gastrointest Surg. 2007;11(11):1488–96 (discussion 1496-7).

6.

DeOliveira ML, Cunningham SC, Cameron JL, et al. Cholangiocarcinoma: thirty-one-year experience with 564 patients at a single institution. Ann Surg. 2007;245(5):755–62.

7.

Bridgewater J, Galle PR, Khan SA, et al. Guidelines for the diagnosis and management of intrahepatic cholangiocarcinoma. J Hepatol. 2014;60(6):1268–89.

8.

Mavros MN, Economopoulos KP, Alexiou VG, Pawlik TM. Treatment and prognosis for patients with intrahepatic cholangiocarcinoma: systematic review and meta-analysis. JAMA Surg. 2014;149(6):565–74.

9.

Tsilimigras DI, Sahara K, Wu L, et al. Very early recurrence after liver resection for intrahepatic cholangiocarcinoma: considering alternative treatment approaches. JAMA Surg. 2020;155:823–831.

10.

Miura JT, Johnston FM, Tsai S, et al. Chemotherapy for surgically resected intrahepatic cholangiocarcinoma. Ann Surg Oncol. 2015;22(11):3716–23.

11.

Sur MD, In H, Sharpe SM, et al. Defining the benefit of adjuvant therapy following resection for intrahepatic cholangiocarcinoma. Ann Surg Oncol. 2015;22(7):2209–17.

12.

van Hagen P, Hulshof MC, van Lanschot JJ, et al. Preoperative chemoradiotherapy for esophageal or junctional cancer. N Engl J Med. 2012;366(22):2074–84.

13.

Cunningham D, Allum WH, Stenning SP, et al. Perioperative chemotherapy versus surgery alone for resectable gastroesophageal cancer. N Engl J Med. 2006;355(1):11–20.

14.

Sauer R, Becker H, Hohenberger W, et al. Preoperative versus postoperative chemoradiotherapy for rectal cancer. N Engl J Med. 2004;351(17):1731–40.

15.

Motoi F, Kosuge T, Ueno H, et al. Randomized phase II/III trial of neoadjuvant chemotherapy with gemcitabine and S-1 versus upfront surgery for resectable pancreatic cancer (Prep-02/JSAP05). Jpn J Clin Oncol. 2019;49(2):190–4.

16.

Kato A, Shimizu H, Ohtsuka M, et al. Surgical resection after downsizing chemotherapy for initially unresectable locally advanced biliary tract cancer: a retrospective single-center study. Ann Surg Oncol. 2013;20(1):318–24.

17.

Le Roy B, Gelli M, Pittau G, et al. Neoadjuvant chemotherapy for initially unresectable intrahepatic cholangiocarcinoma. Br J Surg. 2018;105(7):839–47.

18.

Yadav SXH, Bin-Riaz I, Sharma P, Durani U, Goyal G, Borah B, Borad MJ, Smoot RL, Roberts LR, Go RS, McWilliams RR, Mahipal A. Neoadjuvant vs. adjuvant chemotherapy for cholangiocarcinoma: a propensity score matched analysis. Eur J Surg Oncol. 2019;45(8):1432–8.

19.

NCCN Clinical Practice Guidelines—Hepatobiliary Cancers. https://www.nccn.org/professionals/physician_gls/pdf/hepatobiliary.pdf. Accessed 11 Mar 2020.

20.

Bilimoria KY, Stewart AK, Winchester DP, Ko CY. The National Cancer Data Base: a powerful initiative to improve cancer care in the United States. Ann Surg Oncol. 2008;15(3):683–90.

21.

Winchester DP, Stewart AK, Phillips JL, Ward EE. The national cancer data base: past, present, and future. Ann Surg Oncol. 2010;17(1):4–7.

22.

Valle J, Wasan H, Palmer DH, et al. Cisplatin plus gemcitabine versus gemcitabine for biliary tract cancer. N Engl J Med. 2010;362(14):1273–81.

23.

Malka D, Cervera P, Foulon S, et al. Gemcitabine and oxaliplatin with or without cetuximab in advanced biliary-tract cancer (BINGO): a randomised, open-label, non-comparative phase 2 trial. Lancet Oncol. 2014;15(8):819–28.

24.

Ercolani G, Vetrone G, Grazi GL, et al. Intrahepatic cholangiocarcinoma: primary liver resection and aggressive multimodal treatment of recurrence significantly prolong survival. Ann Surg. 2010;252(1):107–14.

25.

. Chun YS, Javle M. Systemic and adjuvant therapies for intrahepatic cholangiocarcinoma. Cancer Control. 2017;24(3):1073274817729241.

26.

Primrose JN, Fox RP, Palmer DH, et al. Capecitabine compared with observation in resected biliary tract cancer (BILCAP): a randomised, controlled, multicentre, phase 3 study. Lancet Oncol. 2019;20(5):663–73.

27.

Amin MB, Edge S, Greene F, et al. American joint committee on cancer. 8th ed. Chicago: American Cancer Society; 2017.

28.

Datta J, Lewis RS Jr, Mamtani R, et al. Implications of inadequate lymph node staging in resectable gastric cancer: a contemporary analysis using the National Cancer Data Base. Cancer. 2014;120(18):2855–65.

29.

Wang W, Shen Z, Shi Y, et al. Accuracy of nodal positivity in inadequate lymphadenectomy in pancreaticoduodenectomy for pancreatic ductal adenocarcinoma: a population study using the US SEER database. Front Oncol. 2019;9:1386.

30.

Janssen QP, Buettner S, Suker M, et al. Neoadjuvant FOLFIRINOX in patients with borderline resectable pancreatic cancer: a systematic review and patient-level meta-analysis. J Natl Cancer Inst. 2019;111(8):782–94.

31.

Shroff RT, Javle MM, Xiao L, et al. Gemcitabine, cisplatin, and nab-paclitaxel for the treatment of advanced biliary tract cancers: a phase 2 clinical trial. JAMA Oncol. 2019;5(6):824–30.
Acknowledgment
The CoC's NCDB and the hospitals participating in the CoC's NCDB are the source of the deidentified data used herein; they have not verified and are not responsible for the statistical validity of the data analysis or the conclusions derived by the authors.
Funding
Coauthor Dr. Massarweh is supported in part by the Department of Veterans Affairs, Veterans Health Administration, Office of Research and Development, and the Center for Innovations in Quality, Effectiveness and Safety (CIN 13-413).
Ethics declarations
Disclosures
None of the authors has any conflicts of interest to disclose.
Additional information
Publisher's Note
Springer Nature remains neutral with regard to jurisdictional claims in published maps and institutional affiliations.
About this article
Cite this article
Mason, M.C., Massarweh, N.N., Tzeng, CW.D. et al. Time to Rethink Upfront Surgery for Resectable Intrahepatic Cholangiocarcinoma? Implications from the Neoadjuvant Experience. Ann Surg Oncol (2021). https://doi.org/10.1245/s10434-020-09536-w
Received:

Accepted:

Published: