Abstract
Pulmonary metastasectomy for sarcoma is surgery without proven benefit, and in the light of a randomized controlled trial examining pulmonary metastasectomy in colorectal cancer, it should be questioned.
Access options
Buy single article
Instant access to the full article PDF.
US$ 39.95
Tax calculation will be finalised during checkout.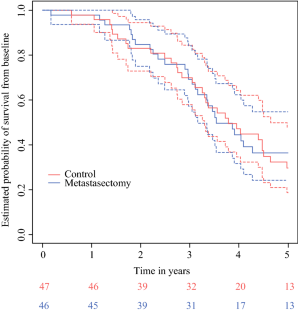 References
1.

Yamamoto H, Yamamoto H, Soh J. A Simple prognostic benefit scoring system for sarcoma patients with pulmonary metastases: sarcoma lung metastasis score. Ann Surg Oncol. 2020. https://doi.org/10.1245/s10434-020-09272-1.

2.

Milosevic M, Edwards J, Tsang D, Dunning J, Shackcloth M, Batchelor T, et al. Pulmonary metastasectomy in colorectal cancer: updated analysis of 93 randomized patients: control survival is much better than previously assumed. Colorect Dis. 2020;22:1314–24.

3.

Treasure T, Farewell V, Macbeth F, Monson K, Williams NR, Brew-Graves C, et al. Pulmonary Metastasectomy versus Continued Active Monitoring in Colorectal Cancer (PulMiCC): a multicentre randomised clinical trial. Trials. 2019;20:718.

4.

Brew-Graves C, Farewell V, Monson K, Milosevic M, Williams N, Morris E, et al. Pulmonary metastasectomy in colorectal cancer: health utility scores by EQ-5D-3L in a randomised controlled trial show no benefit from lung metastasectomy. Colorect Dis. 2021;23:200–205.

5.

Handy JR, Bremner RM, Crocenzi TS, Detterbeck FC, Fernando HC, Fidias PM, et al. Expert consensus document on pulmonary metastasectomy. Ann Thorac Surg. 2019;107:631–49.

6.

Macbeth F, Fallowfield L. The myth of pulmonary metastasectomy. Br J Cancer. 2020;123:499–500.

7.

Macbeth F, Treasure T. Metastasectomy for sarcoma. Clin Oncol R Coll Radiol. 2015;27:428–9.

8.

Treasure T, Macbeth F. Doubt about effectiveness of lung metastasectomy for sarcoma. J Thorac Cardiovasc Surg. 2015;149:93–4.

9.

Treasure T, Moller H, Fiorentino F, Utley M. Forty years on: pulmonary metastasectomy for sarcoma. Eur J Cardiothorac Surg. 2013;43:799–800.

10.

Treasure T, Baum M. An approach to randomization into surgical clinical trials. Br J Surg. 2017;104:11–2.
Ethics declarations
Disclosure
Timothy Batchelor received Honoraria from Medtronic, J&J, and Medela. Jurjees Hassan, Fergus Macbeth, Michael Shackcloth and Tom Treasure have no conflicts of interests.
Additional information
Publisher's Note
Springer Nature remains neutral with regard to jurisdictional claims in published maps and institutional affiliations.
About this article
Cite this article
Batchelor, T., Hasan, J., Macbeth, F. et al. Randomised Controlled Trial Evidence Questions the Assumption that Pulmonary Metastasectomy Benefits Patients with Colorectal Cancer. Ann Surg Oncol (2021). https://doi.org/10.1245/s10434-020-09521-3
Received:

Accepted:

Published: