Abstract
Purpose
We hypothesized that initial biopsy may understage acral lentiginous melanoma (ALM) and lead to undertreatment or incomplete staging. Understanding this possibility can potentially aid surgical planning and improve primary tumor staging.
Methods
A retrospective review of primary ALMs treated from 2000 to 2017 in the US Melanoma Consortium database was performed. We reviewed pathology characteristics of initial biopsy, final excision specimens, surgical margins, and sentinel lymph node biopsy (SLNB).
Results
We identified 418 primary ALMs (321 plantar, 34 palmar, 63 subungual) with initial biopsy and final pathology results. Median final thickness was 1.8 mm (range 0.0–19.0). There was a discrepancy between initial biopsy and final pathology thickness in 180 (43%) patients with a median difference of 1.6 mm (range 0.1–16.4). Final T category was increased in 132 patients (32%), including 47% of initially in situ, 32% of T1, 39% of T2, and 28% of T3 lesions. T category was more likely to be increased in subungual (46%) and palmar (38%) melanomas than plantar (28%, p = 0.01). Among patients upstaged to T2 or higher, 71% had ≤ 1-cm margins taken. Among the 27 patients upstaged to T1b or higher, 8 (30%) did not have a SLNB performed, resulting in incomplete initial staging.
Conclusions
In this large series of ALMs, final T category was frequently increased on final pathology. A high index of suspicion is necessary for lesions initially in situ or T1 and consideration should be given to performing additional punch biopsies, wider margin excisions, and/or SLNB.
This is a preview of subscription content, log in to check access.
Access options
Buy single article
Instant access to the full article PDF.
US$ 39.95
Price includes VAT for USA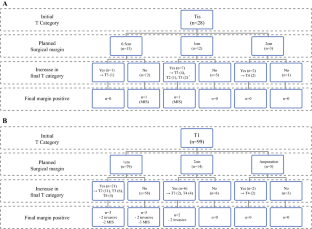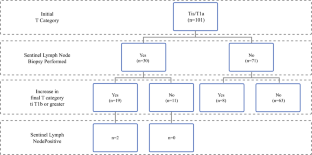 References
1.

Bradford PT, Goldstein AM, McMaster ML, Tucker MA. Acral lentiginous melanoma: incidence and survival patterns in the United States, 1986-2005. Arch Dermatol. 2009;145(4):427–34.

2.

Ng JC, Swain S, Dowling JP, Wolfe R, Simpson P, Kelly JW. The impact of partial biopsy on histopathologic diagnosis of cutaneous melanoma: experience of an Australian tertiary referral service. Arch Dermatol. 2010;146(3):234-239.

3.

Doolan BJ, Robinson AJ, Wolfe R, et al. Accuracy of partial biopsies in the management of cutaneous melanoma. Australasian J Dermatol. 2019.

4.

NCCN Clinical Practice Guidelines in Oncology: Melanoma, Version 2.2019. http://www.nccn.org/professionals/physician_gls/pdf/cutaneous_melanoma.pdf. Published 2019. Updated 3/12/19. Accessed.

5.

Etzkorn JR, Sharkey JM, Grunyk JW, Shin TM, Sobanko JF, Miller CJ. Frequency of and risk factors for tumor upstaging after wide local excision of primary cutaneous melanoma. J Am Acad Dermatol. 2017;77(2):341-348.

6.

Miller CJ, Shin TM, Sobanko JF, et al. Risk factors for positive or equivocal margins after wide local excision of 1345 cutaneous melanomas. J Am Acad Dermatol. 2017;77(2):333-340 e331.

7.

Merkel EA, Gerami P. Malignant melanoma of sun-protected sites: a review of clinical, histological, and molecular features. Lab Invest. 2017;97(6):630-635.

8.

North JP, Kageshita T, Pinkel D, LeBoit PE, Bastian BC. Distribution and significance of occult intraepidermal tumor cells surrounding primary melanoma. J Inves Dermatol. 2008;128(8):2024-2030.

9.

Hudson LE, Maithel SK, Carlson GW, et al. 1 or 2 cm margins of excision for T2 melanomas: do they impact recurrence or survival? Ann Surg Oncol. 2013;20(1):346-351.

10.

Doepker MP, Thompson ZJ, Fisher KJ, et al. Is a Wider Margin (2 cm vs. 1 cm) for a 1.01-2.0 mm Melanoma Necessary? Ann Surg Oncol. 2016;23(7):2336-2342.

11.

Karakousis CP, Balch CM, Urist MM, Ross MM, Smith TJ, Bartolucci AA. Local recurrence in malignant melanoma: long-term results of the multiinstitutional randomized surgical trial. Ann Surg Oncol. 1996;3(5):446-452.

12.

Cohn-Cedermark G, Rutqvist LE, Andersson R, et al. Long term results of a randomized study by the Swedish Melanoma Study Group on 2-cm versus 5-cm resection margins for patients with cutaneous melanoma with a tumor thickness of 0.8-2.0 mm. Cancer. 2000;89(7):1495-1501.

13.

Khayat D, Rixe O, Martin G, et al. Surgical margins in cutaneous melanoma (2 cm versus 5 cm for lesions measuring less than 2.1-mm thick). Cancer. 2003;97(8):1941-1946.

14.

Hayes AJ, Maynard L, Coombes G, et al. Wide versus narrow excision margins for high-risk, primary cutaneous melanomas: long-term follow-up of survival in a randomised trial. Lancet Oncol. 2016;17(2):184-192.

15.

Utjes D, Malmstedt J, Teras J, et al. 2-cm versus 4-cm surgical excision margins for primary cutaneous melanoma thicker than 2 mm: long-term follow-up of a multicentre, randomised trial. Lancet. 2019;394(10197):471-477.

16.

Veronesi U, Cascinelli N. Narrow excision (1-cm margin). A safe procedure for thin cutaneous melanoma. Arch Surg. 1991;126(4):438-441.

17.

Angeles CV, Wong SL, Karakousis G. The Landmark Series: Randomized Trials Examining Surgical Margins for Cutaneous Melanoma. Ann Surg Oncol. 2020;27(1):3-12.

18.

Nunes LF, Mendes GLQ, Koifman RJ. Sentinel Lymph Node Biopsy in Patients With Acral Melanoma: Analysis of 201 Cases From the Brazilian National Cancer Institute. Dermatol Surg. 2019;45(8):1026-1034.

19.

Pavri SN, Han G, Khan S, Han D. Does sentinel lymph node status have prognostic significance in patients with acral lentiginous melanoma? J Surg Oncol.. 2019;119(8):1060-1069.

20.

Balch CM, Thompson JF, Gershenwald JE, et al. Age as a predictor of sentinel node metastasis among patients with localized melanoma: an inverse correlation of melanoma mortality and incidence of sentinel node metastasis among young and old patients. Ann Surg Oncol. 2014;21(4):1075-1081.

21.

White RL, Jr., Ayers GD, Stell VH, et al. Factors predictive of the status of sentinel lymph nodes in melanoma patients from a large multicenter database. Ann Surg Oncol. 2011;18(13):3593-3600.

22.

Berk DR, Johnson DL, Uzieblo A, Kiernan M, Swetter SM. Sentinel lymph node biopsy for cutaneous melanoma: the Stanford experience, 1997-2004. Arch Dermatol. 2005;141(8):1016-1022.

23.

Wagner JD, Corbett L, Park HM, et al. Sentinel lymph node biopsy for melanoma: experience with 234 consecutive procedures. Plast Reconstr Surg. 2000;105(6):1956-1966.

24.

Gyorki DE, Sanelli A, Herschtal A, et al. Sentinel Lymph Node Biopsy in T4 Melanoma: An Important Risk-Stratification Tool. Ann Surg Oncol. 2016;23(2):579-584.

25.

Warycha MA, Zakrzewski J, Ni Q, et al. Meta-analysis of sentinel lymph node positivity in thin melanoma (< or = 1 mm). Cancer. 2009;115(4):869-879.

26.

Han D, Zager JS, Shyr Y, et al. Clinicopathologic predictors of sentinel lymph node metastasis in thin melanoma. J Clin Oncol. 2013;31(35):4387-4393.

27.

Mills JK, White I, Diggs B, Fortino J, Vetto JT. Effect of biopsy type on outcomes in the treatment of primary cutaneous melanoma. Am J Surg. 2013;205(5):585-590; discussion 590.

28.

Saida T, Miyazaki A, Oguchi S, et al. Significance of dermoscopic patterns in detecting malignant melanoma on acral volar skin: results of a multicenter study in Japan. Arch Dermatol. 2004;140(10):1233-1238.

29.

Madankumar R, Gumaste PV, Martires K, et al. Acral melanocytic lesions in the United States: prevalence, awareness, and dermoscopic patterns in skin-of-color and non-Hispanic white patients. J Am Acad Dermatol. 2016;74(4):724-730 e721.

30.

Gannon CJ, Rousseau DL, Jr., Ross MI, et al. Accuracy of lymphatic mapping and sentinel lymph node biopsy after previous wide local excision in patients with primary melanoma. Cancer. 2006;107(11):2647-2652.

31.

Trifiro G, Verrecchia F, Soteldo J, et al. Modification of lymphoscintigraphic sentinel node identification before and after excisional biopsy of primary cutaneous melanoma. Melanoma research. 2008;18(6):373-377.

32.

Sirvan SS, Demir IA, Irmak F, Kafi M, Budak K, Karsidag S. Does Wide Excisional Biopsy in Skin Cancer Prevent Finding The Real Sentinel Lymph Node? J Invest Surg. 2019:1-7.

33.

Solari N, Bertoglio S, Boscaneanu A, et al. Sentinel lymph node biopsy in patients with malignant melanoma: analysis of post-operative complications. ANZ J Surg. 2019.

34.

Faries MB, Thompson JF, Cochran AJ, et al. Completion Dissection or Observation for Sentinel-Node Metastasis in Melanoma. New Engl J Med. 2017;376(23):2211-2222.
Funding
The authors have no relevant financial disclosures.
Additional information
Publisher's Note
Springer Nature remains neutral with regard to jurisdictional claims in published maps and institutional affiliations.
About this article
Cite this article
Lee, A.Y., Friedman, E.B., Sun, J. et al. The Devil's in the Details: Discrepancy Between Biopsy Thickness and Final Pathology in Acral Melanoma. Ann Surg Oncol (2020). https://doi.org/10.1245/s10434-020-08708-y