Abstract
Background
Carbonic anhydrase IX (CAIX), a transmembrane glycoprotein, seems to play a key role in the adaption of tumor cells to hypoxia. This study was designed to investigate the clinical role of CAIX and its association with Her-2 in a large cohort of adeno- (AC) and squamous cell carcinomas (SCC) of the esophagus and their metastases.
Methods
Expression of CAIX and Her-2 was investigated immunohistochemically in formalin fixed, paraffin-embedded tissue from 330 esophageal cancers (182 ACS, 148 SCCs). Corresponding lymph node metastases in 137 cases, distant metastases in 34 cases, and local recurrences in 14 cases were analyzed for CAIX expression.
Results
A total of 147 cases (44.5%) showed strong CAIX expression (AC: 46.7%; ACC: 41.9%). CAIX status of the primary tumor influenced CAIX expression in corresponding lymph node metastases (P < 0.001, linear regression). High CAIX-expression was an independent prognostic factor for shorter overall and disease-free survival (P ≤ 0.05, Cox regression). Twenty-nine ACs (15.9%) and 6 SCCs (4.1%) showed Her-2 overexpression. In AC, a significant positive correlation between the Her-2 status and CAIX expression was found (P = 0.009, chi-square test).
Conclusions
High CAIX expression is associated with shorter survival in esophageal cancer, and the hypoxic phenotype seems to be preserved at least during formation of lymph node metastases. Inhibition of CAIX might reduce the ability of tumor cells to establish disseminated disease. In Her-2 overexpressing ACs, blocking of this tyrosine kinase, e.g., by monoclonal antibodies, might induce this effect.
Access options
Buy single article
Instant access to the full article PDF.
USD 39.95
Price includes VAT (USA)
Tax calculation will be finalised during checkout.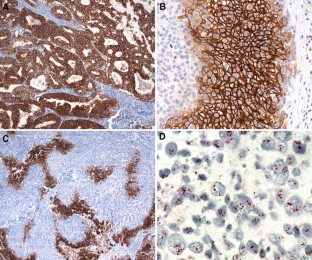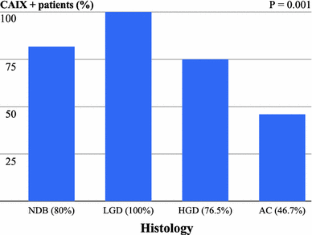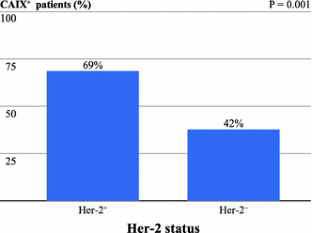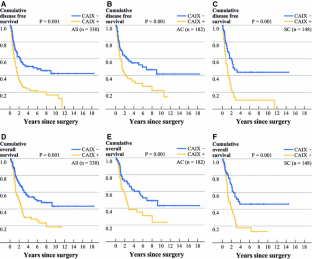 References
1.

Ku GY, Ilson DH. Esophagogastric cancer: targeted agents. Cancer Treat Rev. 2010;36:235–48.

2.

Blancher C, Harris AL. The molecular basis of the hypoxia response pathway: tumour hypoxia as a therapy target. Cancer Metastasis Rev. 1998;17:187–94.

3.

Alterio V, Hilvo M, Di Fiore A, et al. Crystal structure of the catalytic domain of the tumor-associated human carbonic anhydrase IX. Proc Natl Acad Sci U S A. 2009;106:16233–8.

4.

Opavsky R, Pastorekova S, Zelnik V, et al. Human MN/CA9 gene, a novel member of the carbonic anhydrase family: structure and exon to protein domain relationships. Genomics. 1996;33:480–7.

5.

Supuran CT. Carbonic anhydrases: novel therapeutic applications for inhibitors and activators. Nat Rev Drug Discov. 2008;7:168–81.

6.

Paul SA, Simons JW, Mabjeesh NJ. HIF at the crossroads between ischemia and carcinogenesis. J Cell Physiol. 2004;200:20–30.

7.

McKiernan JM, Buttyan R, Bander NH, et al. Expression of the tumor-associated gene MN: a potential biomarker for human renal cell carcinoma. Cancer Res. 1997;57:2362–5.

8.

Vermylen P, Roufosse C, Burny A, et al. Carbonic anhydrase IX antigen differentiates between preneoplastic malignant lesions in non-small cell lung carcinoma. Eur Respir J. 1999;14:806–11.

9.

Liao SY, Brewer C, Zavada J, et al. Identification of the MN antigen as a diagnostic biomarker of cervical intraepithelial squamous and glandular neoplasia and cervical carcinomas. Am J Pathol. 1994;145:598–609.

10.

Pastorek J, Pastorekova S, Callebaut I, et al. Cloning and characterization of MN, a human tumor-associated protein with a domain homologous to carbonic anhydrase and a putative helix-loop-helix DNA binding segment. Oncogene. 1994;9:2877–88.

11.

Lurje G, Lenz HJ. EGFR signaling and drug discovery. Oncology. 2009;77:400–10.

12.

Dragowska WH, Warburton C, Yapp DT, et al. HER-2/neu overexpression increases the viable hypoxic cell population within solid tumors without causing changes in tumor vascularization. Mol Cancer Res. 2004;2:606–19.

13.

Laughner E, Taghavi P, Chiles K, Mahon PC, Semenza GL. HER2 (neu) signaling increases the rate of hypoxia-inducible factor 1alpha (HIF-1alpha) synthesis: novel mechanism for HIF-1-mediated vascular endothelial growth factor expression. Mol Cell Biol. 2001;21:3995–4004.

14.

Li YM, Zhou BP, Deng J, Pan Y, Hay N, Hung MC. A hypoxia-independent hypoxia-inducible factor-1 activation pathway induced by phosphatidylinositol-3 kinase/Akt in HER2 overexpressing cells. Cancer Res. 2005;65:3257–63.

15.

Hardee ME, Dewhirst MW, Agarwal N, Sorg BS. Novel imaging provides new insights into mechanisms of oxygen transport in tumors. Curr Mol Med. 2009;9:435–41.

16.

Hardee ME, Eapen RJ, Rabbani ZN, Dreher MR, Marks J, Blackwell KL, Dewhirst MW. Her2/neu signaling blockade improves tumor oxygenation in a multifactorial fashion in Her2/neu+ tumors. Cancer Chemother Pharmacol. 2009;63:219–28.

17.

Tanaka N, Kato H, Inose T, et al. Expression of carbonic anhydrase 9, a potential intrinsic marker of hypoxia, is associated with poor prognosis in oesophageal squamous cell carcinoma. Br J Cancer. 2008;99:1468–75.

18.

Driessen A, Landuyt W, Pastorekova S, et al. Expression of carbonic anhydrase IX (CA IX), a hypoxia-related protein, rather than vascular-endothelial growth factor (VEGF), a pro-angiogenic factor, correlates with an extremely poor prognosis in esophageal and gastric adenocarcinomas. Ann Surg. 2006;243:334–40.

19.

Hofmann M, Stoss O, Shi D, et al. Assessment of a HER2 scoring system for gastric cancer: results from a validation study. Histopathology. 2008;52:797–805.

20.

Olive PL, Aquino-Parsons C, MacPhail SH, Liao SY, Raleigh JA, Lerman MI, Stanbridge EJ. Carbonic anhydrase 9 as an endogenous marker for hypoxic cells in cervical cancer. Cancer Res. 2001;61:8924–9.

21.

Wykoff CC, Beasley NJ, Watson PH, et al. Hypoxia-inducible expression of tumor-associated carbonic anhydrases. Cancer Res. 2000;60:7075–83.

22.

Kato Y, Yashiro M, Noda S, et al. Expression of a hypoxia-associated protein, carbonic anhydrase-9, correlates with malignant phenotypes of gastric carcinoma. Digestion. 82:246–51.

23.

Hutchison GJ, Valentine HR, Loncaster JA, et al. Hypoxia-inducible factor 1alpha expression as an intrinsic marker of hypoxia: correlation with tumor oxygen, pimonidazole measurements, and outcome in locally advanced carcinoma of the cervix. Clin Cancer Res. 2004;10:8405–12.

24.

Nordsmark M, Eriksen JG, Gebski V, Alsner J, Horsman MR, Overgaard J. Differential risk assessments from five hypoxia specific assays: The basis for biologically adapted individualized radiotherapy in advanced head and neck cancer patients. Radiother Oncol. 2007;83:389–97.

25.

Korkolopoulou P, Patsouris E, Konstantinidou AE, et al. Hypoxia-inducible factor 1alpha/vascular endothelial growth factor axis in astrocytomas. Associations with microvessel morphometry, proliferation and prognosis. Neuropathol Appl Neurobiol. 2004;30:267–78.

26.

Winter SC, Shah KA, Han C, et al. The relation between hypoxia-inducible factor (HIF)-1alpha and HIF-2alpha expression with anemia and outcome in surgically treated head and neck cancer. Cancer. 2006;107:757–66.

27.

Kappler M, Taubert H, Holzhausen HJ, et al. Immunohistochemical detection of HIF-1alpha and CAIX in advanced head-and-neck cancer. Prognostic role and correlation with tumor markers and tumor oxygenation parameters. Strahlenther Onkol. 2008;184:393–9.

28.

Jewell UR, Kvietikova I, Scheid A, Bauer C, Wenger RH, Gassmann M. Induction of HIF-1alpha in response to hypoxia is instantaneous. FASEB J. 2001;15:1312–4.

29.

Vordermark D, Brown JM. Endogenous markers of tumor hypoxia predictors of clinical radiation resistance? Strahlenther Onkol. 2003;179:801–11.

30.

Mayer A, Hockel M, Vaupel P. Endogenous hypoxia markers: case not proven! Adv Exp Med Biol. 2008;614:127–36.

31.

Giatromanolaki A, Koukourakis MI, Sivridis E, Pastorek J, Wykoff CC, Gatter KC, Harris AL. Expression of hypoxia-inducible carbonic anhydrase-9 relates to angiogenic pathways and independently to poor outcome in non-small cell lung cancer. Cancer Res. 2001;61:7992–8.

32.

Bartosova M, Parkkila S, Pohlodek K, et al. Expression of carbonic anhydrase IX in breast is associated with malignant tissues and is related to overexpression of c-erbB2. J Pathol. 2002;197:314–21.

33.

Petit AM, Rak J, Hung MC, Rockwell P, Goldstein N, Fendly B, Kerbel RS. Neutralizing antibodies against epidermal growth factor and ErbB-2/neu receptor tyrosine kinases down-regulate vascular endothelial growth factor production by tumor cells in vitro and in vivo: angiogenic implications for signal transduction therapy of solid tumors. Am J Pathol. 1997;151:1523–30.

34.

Pastorekova S, Parkkila S, Parkkila AK, Opavsky R, Zelnik V, Saarnio J, Pastorek J. Carbonic anhydrase IX, MN/CA IX: analysis of stomach complementary DNA sequence and expression in human and rat alimentary tracts. Gastroenterology. 1997;112:398–408.

35.

Rajaganeshan R, Prasad R, Guillou PJ, Scott N, Poston G, Jayne DG. Expression patterns of hypoxic markers at the invasive margin of colorectal cancers and liver metastases. Eur J Surg Oncol. 2009;35:1286–94.

36.

Hill R, Wu H. PTEN, stem cells, and cancer stem cells. J Biol Chem. 2009;284:11755–9.

37.

Ebbesen P, Pettersen EO, Gorr TA, et al. Taking advantage of tumor cell adaptations to hypoxia for developing new tumor markers and treatment strategies. J Enzyme Inhib Med Chem. 2009;24(Suppl 1):1–39.

38.

Cianchi F, Vinci MC, Supuran CT, et al. Selective inhibition of carbonic anhydrase IX decreases cell proliferation and induces ceramide-mediated apoptosis in human cancer cells. J Pharmacol Exp Ther. 2010;334:710–9.

39.

De Simone G, Supuran CT. Carbonic anhydrase IX: biochemical and crystallographic characterization of a novel antitumor target. Biochim Biophys Acta. 2010;1804:404–9.
About this article
Cite this article
Birner, P., Jesch, B., Friedrich, J. et al. Carbonic Anhydrase IX Overexpression is Associated with Diminished Prognosis in Esophageal Cancer and Correlates with Her-2 Expression. Ann Surg Oncol 18, 3330 (2011). https://doi.org/10.1245/s10434-011-1730-3
Keywords
Squamous Cell Carcinoma

Esophageal Cancer

Correspond Lymph Node

CAIX Expression

Local Lymph Node Metastasis