Abstract
Background
The surgical peritoneal cancer index (sPCI) is calculated based on a subjective evaluation of the extent of peritoneal disease during surgery. The pathologic PCI (pPCI) may be a more accurate and objective method for determining the PCI. This study aimed to compare the sPCI and pPCI and to study the potential pitfalls and clinical implications of using the pPCI.
Methods
This prospective study (July to December 2018) included all patients undergoing cytoreductive surgery (CRS). The pPCI was calculated for each patient and compared with the sPCI. The impact of potential confounding factors on the difference between pPCI and sPCI was evaluated.
Results
Among 191 patients undergoing CRS at four centers, the pPCI and sPCI were concordant for 37 patients (19.3%). The pPCI was lower than the sPCI for 125 patients (65.4%) and higher for 29 patients (15.1%). The concordance between the two groups was maximum for gastric cancer (38.8%) and colorectal cancer (27.6%) and least for mesothelioma (6.7%) and rare primary tumors (5.6%) (p = 0.04). The difference was 0 to 3 points for 119 patients (62.3%), 4 to 5 points for 27 patients (14.1%), and more than 5 points for 45 patients (23.5%). The rate of concordance was not influenced by the use of neoadjuvant chemotherapy (NACT) (p = 0.4), but the difference was greater when NACT was used (p = 0.03).
Conclusions
The pPCI strongly differs from the sPCI for patients undergoing CRS for peritoneal disease and may provide a more accurate evaluation of the peritoneal disease extent. Further studies are needed to determine its prognostic value compared with sPCI, and consensus guidelines are needed for calculating it.
This is a preview of subscription content, log in to check access.
Access options
Buy single article
Instant access to the full article PDF.
US$ 39.95
Price includes VAT for USA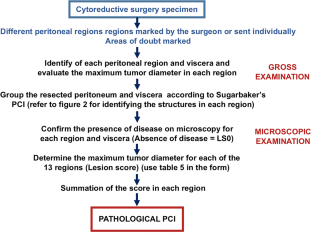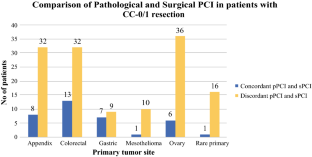 References
1.

Sugarbaker PH. Prevention and treatment of peritoneal metastases: a comprehensive review. Indian J Surg Oncol. 2019;10:3.

2.

Jacquet P, Sugarbaker PH. Clinical research methodologies in diagnosis and staging of patients with peritoneal carcinomatosis. Cancer Treat Res. 1996;82:359–74.

3.

Low RN. Preoperative and surveillance MR imaging of patients undergoing cytoreductive surgery and heated intraperitoneal chemotherapy. J Gastrointest Oncol. 2016;7:58–71. https://doi.org/10.3978/j.issn.2078-6891.2015.115.

4.

Levy AD, Shaw JC, Sobin LH. Secondary tumors and tumorlike lesions of the peritoneal cavity: imaging features with pathologic correlation. Radiographics. 2009;29:347–73. https://doi.org/10.1148/rg.292085189.

5.

Hynninen J, Lavonius M, Oksa S, Grenman S, Carpen O, Auranen A. Is perioperative visual estimation of intra-abdominal tumor spread reliable in ovarian cancer surgery after neoadjuvant chemotherapy? Gynecol Oncol. 2013;128:229–32.

6.

Sammartino P, Biacchi D, Cornali T, et al. Proactive management for gastric, colorectal, and appendiceal malignancies: preventing peritoneal metastases with hyperthermic intraperitoneal chemotherapy (HIPEC). Indian J Surg Oncol. 2016;7:215–24.

7.

Sugarbaker PH. Peritonectomy procedures. Ann Surg. 1995;221:29–42.

8.

Bhatt A, Mishra S, Parikh L, et al. Essentials for pathological evaluation of peritoneal surface malignancies and synoptic reporting of cytoreductive surgery specimens: a review and evidence-based guide. Indian J Surg Oncol. 2019. https://doi.org/10.1007/s13193-019-00897-7.

9.

Villeneuve L, Thivolet A, Bakrin N, et al. A new Internet tool to report peritoneal malignancy extent: PeRitOneal malignancy stage evaluation (PROMISE) application. Eur J Surg Oncol. 2016;42:877–82.

10.

Carr NJ, Cecil TD, Mohamed F, et al A consensus for classification and pathologic reporting of pseudomyxoma peritonei and associated appendiceal neoplasia: the results of the peritoneal surface oncology group international (PSOGI) modified Delphi process. Am J Surg Pathol. 2016;40:14–26.

11.

Lim S-B, Hong S-M, Yu CS, et al. Prevalence and clinical significance of acellular mucin in locally advanced rectal cancer patients showing pathologic complete response to preoperative chemoradiotherapy. Am J Surg Pathol. 2013;37:47–52.

12.

Solass W, Sempoux C, Detlefsen S, Carr NJ, Bibeau F. Peritoneal sampling and histological assessment of therapeutic response in peritoneal metastasis: proposal of the Peritoneal Regression Grading Score (PRGS). Pleura Peritoneum. 2016;1:99–107. https://doi.org/10.1515/pp-2016-0011.

13.

Goéré D, Souadka A, Faron M, Cloutier AS, Viana B, Honoré C, et al. Extent of colorectal peritoneal carcinomatosis: attempt to define a threshold above which HIPEC does not offer survival benefit: a comparative study. Ann Surg Oncol. 2015;22:2958–64.

14.

Glehen O, Gilly FN, Arvieux C, et al. Peritoneal carcinomatosis from gastric cancer: a multi-institutional study of 159 patients treated by cytoreductive surgery combined with perioperative intraperitoneal chemotherapy. Ann Surg Oncol. 2010;17:2370–7.

15.

Yonemura Y, Canbay E, Ishibashi H. Prognostic factors of peritoneal metastases from colorectal cancer following cytoreductive surgery and perioperative chemotherapy. Sci World J. 2013;2013:978394.

16.

da Silva RG, Sugarbaker PH. Analysis of prognostic factors in seventy patients having a complete cytoreduction plus perioperative intraperitoneal chemotherapy for carcinomatosis from colorectal cancer. J Am Coll Surg. 2006;203:878–86.

17.

Simkens GA, van Oudheusden TR, Nieboer D, et al. Development of a prognostic nomogram for patients with peritoneally metastasized colorectal cancer treated with cytoreductive surgery and HIPEC. Ann Surg Oncol. 2016;23:4214–21.

18.

Llueca A, Escrig J; MUAPOS (Multidisciplinary Unit of Abdominal Pelvic Oncology Surgery) working group. Prognostic value of peritoneal cancer index in primary advanced ovarian cancer. Eur J Surg Oncol. 2018;44:163–9.

19.

Elzarkaa AA, Shaalan W, Elemam D, et al. Peritoneal cancer index as a predictor of survival in advanced-stage serous epithelial ovarian cancer: a prospective study. J Gynecol Oncol. 2018;29:e47. https://doi.org/10.3802/jgo.2018.29.e47.

20.

Bakrin N, Bereder JM, Decullier E, Classe JM, Msika S, Lorimier G, et al. Peritoneal carcinomatosis treated with cytoreductive surgery and hyperthermic intraperitoneal chemotherapy (HIPEC) for advanced ovarian carcinoma: a French multicentre retrospective cohort study of 566 patients. Eur J Surg Oncol. 2013;39:1435–43.

21.

Votanopoulos KI, Bartlett D, Moran B, et al. PCI is not predictive of survival after complete CRS/HIPEC in peritoneal dissemination from high-grade appendiceal primaries. Ann Surg Oncol. 2017;25:674–8. https://doi.org/10.1245/s10434-017-6315-3.

22.

Kusamura S, Torres Mesa PA, Cabras A, Baratti D, Deraco M. The role of Ki-67 and pre-cytoreduction parameters in selecting diffuse malignant peritoneal mesothelioma (DMPM) patients for cytoreductive surgery (CRS) and hyperthermic intraperitoneal chemotherapy (HIPEC). Ann Surg Oncol. 2016;23:1468–73.

23.

Turaga KK, Deraco M, Alexander HR. Current management strategies for peritoneal mesothelioma. Int J Hyperthermia. 2017;33:579–81. https://doi.org/10.1080/02656736.2017.1320591.

24.

Elias D, Souadka A, Fayard F, Mauguen A, Dumont F, Honore C, et al. Variation in the peritoneal cancer index scores between surgeons and according to when they are determined (before or after cytoreductive surgery). Eur J Surg Oncol. 2012;38:503–08.
Ethics declarations
Conflict of interest
Olivier Glehen has received honoraria from Gamida Tech. Nazim Benzerdjeb has received honoraria from MSD, Pfizer, and AMARAPE (association created by patients with two rare diseases of the peritoneum: PMP and mesothelioma). The remaining authors have no conflicts of interests
Additional information
Publisher's Note
Springer Nature remains neutral with regard to jurisdictional claims in published maps and institutional affiliations.
Electronic supplementary material
Below is the link to the electronic supplementary material.
About this article
Cite this article
Bhatt, A., Yonemura, Y., Mehta, S. et al. The Pathologic Peritoneal Cancer Index (PCI) Strongly Differs From the Surgical PCI in Peritoneal Metastases Arising From Various Primary Tumors. Ann Surg Oncol (2020). https://doi.org/10.1245/s10434-020-08234-x