Abstract
Background
Anatomical liver resection has been reported to have oncologic benefit over nonanatomical resection in surgery for hepatocellular carcinoma (HCC). Basic concept of anatomical resection is preventing tumor spread through the portal or venous flow. Few cases have been reported for laparoscopic anatomical segment 8 resection because of its technical difficulties. This video shows operative techniques for laparoscopic anatomical resection of segment 8, exposing middle and right hepatic vein and inferior vena cava using three-dimensional video.
Methods
A 61-year-old male was diagnosed to be a hepatitis B virus carrier 6 years ago. A 6.6-cm-sized HCC lesion was detected at segment 8 by computed tomography scan. We have used a high-definition, three-dimensional laparoscope with a deflectable tip (Olympus Medical Systems Corp., Japan), a trocar inserted in the right seventh intercostal space to obtain the optimal field of view on the superior-posterior portion of the liver. Using the Glissonian pedicle approach, we isolated and clamped the branch to the segment 8 to confirm the anatomical border of the segment 8. Segmentectomy was completed exposing the middle and right hepatic vein and inferior vena cava.
Results
Operation took 420 min. Estimated blood loss was 600 mL, and no red blood cell was transfused. Final pathology was an HCC with 0.3-cm safety margin. The patient discharged on the sixth day after operation with normal liver function test results. There was no operation-related complication from the operation day to the first outpatient visit day.
Conclusions
Laparoscopic anatomical resection of segment 8 is feasible.
This is a preview of subscription content, log in to check access.
Access options
Buy single article
Instant unlimited access to the full article PDF.
US$ 39.95
Price includes VAT for USA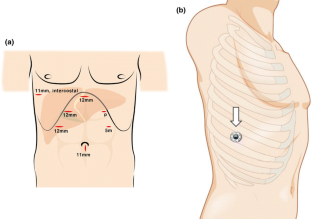 References
1.

Makuuchi M, Imamura H, Sugawara Y, Takayama T. Progress in surgical treatment of hepatocellular carcinoma. Oncology. 2002;62(Suppl 1):74–81.

2.

Matsumoto T, Kubota K, Aoki T, Iso Y, Kato M, Shimoda M. Clinical impact of anatomical liver resection for hepatocellular carcinoma with pathologically proven portal vein invasion. World J Surg. 2016;40(2):402–11.

3.

Hasegawa K, Kokudo N, Imamura H, et al. Prognostic impact of anatomic resection for hepatocellular carcinoma. Ann Surg. 2005;242(2):252–9.

4.

Munene G, Vauthey JN, Dixon E. Summary of the 2010 AHPBA/SSO/SSAT consensus Conference on HCC. Int J Hepatol. 2011;2011:565060.

5.

Lee W, Han HS, Yoon YS, Cho JY, Choi Y, Shin HK. Role of intercostal trocars on laparoscopic liver resection for tumors in segments 7 and 8. J Hepatobil Pancreat Sci. 2014;21(8):E65–8.

6.

Cheung TT, Poon RT, Yuen WK, et al. Long-term survival analysis of pure laparoscopic versus open hepatectomy for hepatocellular carcinoma in patients with cirrhosis: a single-center experience. Ann Surg. 2013;257(3):506–11.

7.

Han HS, Shehta A, Ahn S, Yoon YS, Cho JY, Choi Y. Laparoscopic versus open liver resection for hepatocellular carcinoma: case-matched study with propensity score matching. J Hepatol. 2015;63(3):643–50.

8.

Ishizawa T, Gumbs AA, Kokudo N, Gayet B. Laparoscopic segmentectomy of the liver: from segment I to VIII. Ann Surg. 2012;256(6):959–64.

9.

Buell JF, Cherqui D, Geller DA, et al. The international position on laparoscopic liver surgery: the Louisville Statement, 2008. Ann Surg. 2009;250(5):825–30.

10.

Vibert E, Perniceni T, Levard H, Denet C, Shahri NK, Gayet B. Laparoscopic liver resection. Br J Surg. 2006;93(1):67–72.

11.

Ahn KS, Han HS, Yoon YS, Cho JY, Kim JH. Laparoscopic anatomical S5 segmentectomy by the Glissonian approach. J Laparoendosc Adv Surg Tech A. 2011;21(4):345–8.
Electronic supplementary material
Below is the link to the electronic supplementary material.
Supplementary material 1 (AVI 274523 kb)
About this article
Cite this article
Jang, J.Y., Han, H., Yoon, Y.S. et al. Three-Dimensional Laparoscopic Anatomical Segment 8 Liver Resection with Glissonian Approach. Ann Surg Oncol 24, 1606–1609 (2017). https://doi.org/10.1245/s10434-017-5778-6
Received:

Published:

Issue Date:
Keywords
Inferior Vena Cava

Laparoscopic Liver Resection

Middle Hepatic Vein

Right Hepatic Vein

Nonanatomical Resection