Abstract
Background
Nipple-sparing mastectomies (NSM) have gained acceptance in the field of breast oncology. Ischemic complications involving the nipple–areolar complex (NAC) occur in 3–37 % of cases. Skin perfusion can be monitored intraoperatively using indocyanine green (IC-GREEN™, ICG) and a specialized infrared camera–computer system (SPY Elite™). The blood flow pattern to the breast skin and the NAC were evaluated and a classification scheme was developed.
Methods
Preincision baseline and postmastectomy skin perfusion studies were performed intraoperatively using 3 mL of ICG. The pattern of arterial blood inflow was classified according to whether perfusion appeared to originate predominantly from the underlying breast tissue (V1), the surrounding skin (V2), or a combination of V1 and V2 (V3). Ischemia, resection, or delayed complications of NAC were recorded.
Results
Thirty-nine breasts were interrogated. Seven (18 %) demonstrated a V1 pattern, 18 (46 %) a V2 pattern, and 14 (36 %) a V3 pattern. Seven (18 %) NACs were removed; six intraoperatively and the seventh in a delayed fashion. Notably, five of the seven resected NACs had a V1 pattern. Overall, 71 % of all V1 cases demonstrated profound ischemic changes by intraoperative clinical judgment and SPY imaging. The rates of resection of the NAC differed significantly between perfusion patterns (Fisher's exact test, p = 0.0003).
Conclusions
Three perfusion patterns for the NAC are defined. The V1 pattern had the highest rate of NAC ischemia in NSM. Imaging NAC and skin perfusion during NSMs is a useful adjunctive tool with potential to direct placement of mastectomy incisions and minimize ischemic complications.
This is a preview of subscription content, log in to check access.
Access options
Buy single article
Instant unlimited access to the full article PDF.
US$ 39.95
Price includes VAT for USA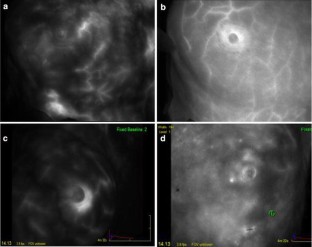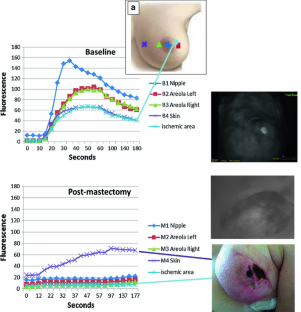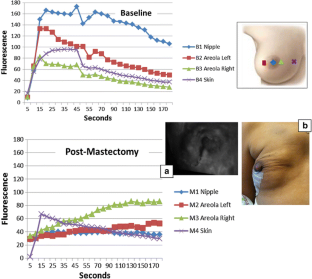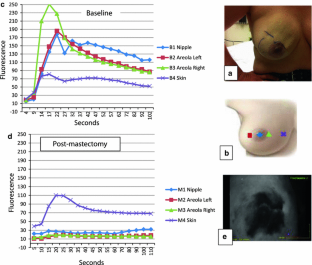 References
1.

Gerber B, Krause A, Reimer T, et al. Skin-sparing mastectomy with conservation of the nipple–areola complex and autologous reconstruction is an oncologically safe procedure. Ann Surg. 2003;238(1):120–7.

2.

Didier F, Radice D, Gandini S, et al. Does nipple preservation in mastectomy improve satisfaction with cosmetic results, psychological adjustment, body image and sexuality? Breast Cancer Res Treat. 2009;118(3):623–33.

3.

Petit JY, Veronesi U, Rey P, et al. Nipple-sparing mastectomy: risk of nipple-areolar recurrences in a series of 579 cases. Breast Cancer Res Treat. 2009;114(1):97–101.

4.

Babiera G, Simmons R. Nipple–areolar complex-sparing mastectomy: feasibility, patient selection, and technique. Ann Surg Oncol. 2010(Suppl 3):245–8.

5.

Zurrida S, Bassi F, Arnone P, et al. The changing face of mastectomy (from mutilation to aid to breast reconstruction). Int J Surg Oncol. 2011;2011:980158.

6.

Peled AW, Foster RD, Stover AC, et al. Outcomes after total skin-sparing mastectomy and immediate reconstruction in 657 Breasts. Ann Surg Oncol. 2012;19(11):3402–9.

7.

Wagner JL, Fearmonti R, Hunt KK, et al. Prospective evaluation of the nipple–areola complex sparing mastectomy for risk reduction and for early-stage breast cancer. Ann Surg Oncol. 2012;19(4):1137–44.

8.

Moyer HR, Ghazi B, Daniel JR, et al. Nipple-sparing mastectomy: technical aspects and aesthetic outcomes. Ann Plast Surg. 2012;68(5):446–50.

9.

Boneti C, Yuen J, Santiago C, et al. Oncologic safety of nipple skin-sparing or total skin-sparing mastectomies with immediate reconstruction. J Am Coll Surg. 2011;212(4):686–93; discussion 693–5.

10.

Petit JY, Veronesi U, Orecchia R, et al. Nipple sparing mastectomy with nipple areola intraoperative radiotherapy: one thousand and one cases of a five-year experience at the European Institute of Oncology of Milan (EIO). Breast Cancer Res Treat. 2009;117(2):333–8.

11.

Alander JT, Kaartinen I, Laakso A, et al. A review of indocyanine green fluorescent imaging in surgery. Int J Biomed Imaging. 2012;2012:940585.

12.

Komorowska-Timek E, Gurtner GC. Intraoperative perfusion mapping with laser-assisted indocyanine green imaging can predict and prevent complications in immediate breast reconstruction. Plast Reconstr Surg. 2010;125:1065–73.

13.

Van Deventer, PV. The blood supply to the nipple–areola complex of the human mammary gland. Aesth Plast Surg. 2004;27:393–8.

14.

Regolo L, Ballardini B, Gallarotti E, et al. Nipple sparing mastectomy: an innovative skin incision for an alternative approach. Breast. 2008;17(1):8–11.

15.

Garwood ER, Moore D, Ewing C, et al. Total skin-sparing mastectomy: complications and local recurrence rates in 2 cohorts of patients. Ann Surg. 2009;249(1):26–32.
Acknowledgment
This study was funded in part by educational and research support provided by Novadaq Technologies and LifeCell to authors Geoffrey Gurtner, Irene Wapnir, Anne Kieryn, David Kahn and Shannon Meyer.
Electronic supplementary material
Below is the link to the electronic supplementary material.
Supplementary material 2 (AVI 54491 kb)
About this article
Cite this article
Wapnir, I., Dua, M., Kieryn, A. et al. Intraoperative Imaging of Nipple Perfusion Patterns and Ischemic Complications in Nipple-Sparing Mastectomies. Ann Surg Oncol 21, 100–106 (2014). https://doi.org/10.1245/s10434-013-3214-0
Received:

Published:

Issue Date:
Keywords
Nipple

Myocutaneous Flap

Ischemic Complication

Perfusion Pattern

Skin Perfusion