Abstract
Background
Supraomohyoid neck dissection (SOND) in clinical N0 (cN0) neck of oral cavity squamous cell carcinoma (SCC) is performed by many head and neck surgeons showing improved regional control and disease-specific survival. However, disfiguring neck scars have been accepted to be unavoidable. In this study, we sought to introduce and evaluate the feasibility of our surgical technique to hide the external scar of neck dissection using the robotic system via a modified face-lift or retroauricular approach.
Methods
Twenty-six patients with cN0 oral cavity SCC were divided into two groups of robot-assisted neck dissection and conventional neck dissection via external cervical incision. The operation time, amount and duration of drainage, length of hospital stay, complications, number of retrieved lymph nodes, and satisfaction scores were compared.
Results
Mean operation time was longer in the robot-assisted group (157 ± 22 min) than the conventional group (78 ± 16 min) (P < 0.001). However, the amount and duration of drainage, hospital stay, retrieved lymph nodes, and complications were comparable. Because the postoperative scar was hidden by the auricle and hair, the satisfaction score was significantly higher in the robot-assisted group (P < 0.001).
Conclusions
Robot-assisted SOND via a modified face-lift or retroauricular approach in cN0 oral cavity SCC was feasible compared to conventional technique and showed a clear cosmetic benefit. Longer operation time remains the drawback of this procedure. However, it could be considered for patients who require SOND and prefer to avoid external neck scar.
This is a preview of subscription content, log in to check access.
Access options
Buy single article
Instant unlimited access to the full article PDF.
US$ 39.95
Price includes VAT for USA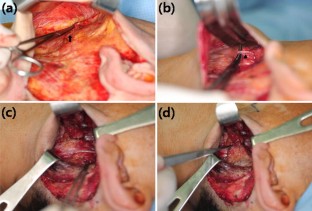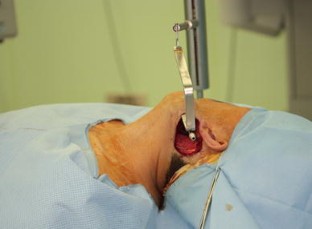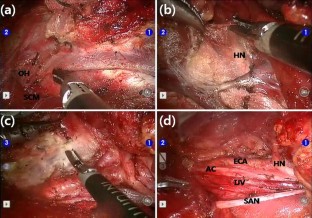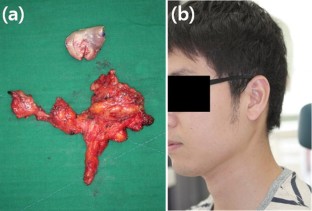 References
1.

Pitman KT. Rationale for elective neck dissection. Am J Otolaryngol. 2000;21:31–7.

2.

Bailey BJ. Selective neck dissection: the challenge of occult metastases. Arch Otolaryngol Head Neck Surg. 1998;124:353.

3.

Ferlito A, Rinaldo A, Silver CE, et al. Neck dissection for laryngeal cancer. J Am Coll Surg. 2008;207:587.

4.

Fasunla AJ, Greene BH, Timmesfeld N, et al. A meta-analysis of the randomized controlled trials on elective neck dissection versus therapeutic neck dissection in oral cavity cancers with clinically node-negative neck. Oral Oncol. 2011;47:320–4.

5.

Shiboski CH, Schmidt BL, Jordan RCK. Tongue and tonsil carcinoma. Cancer. 2005;103:1843–9.

6.

Patel SC, Carpenter WR, Tyree S, et al. Increasing incidence of oral tongue squamous cell carcinoma in young white women, age 18 to 44 years. J Clin Oncol. 2011;29:1488.

7.

Koh YW, Chung WY, Hong HJ, et al. Robot-assisted selective neck dissection via modified face-lift approach for early oral tongue cancer: a video demonstration. Ann Surg Oncol. 2012;19:1334–5.

8.

Kang SW, Lee SH, Ryu HR, et al. Initial experience with robot-assisted modified radical neck dissection for the management of thyroid carcinoma with lateral neck node metastasis. Surgery. 2010;148:1214–21.

9.

Rodrigo JP, Shah JP, Silver CE, et al. Management of the clinically negative neck in early-stage head and neck cancers after transoral resection. Head Neck. 2011;33:1210–9.

10.

Wei WI, Ferlito A, Rinaldo A, et al. Management of the N0 neck—reference or preference. Oral Oncol. 2006;42:115–22.

11.

Ferlito A, Rinaldo A, Silver CE, et al. Elective and therapeutic selective neck dissection. Oral Oncol. 2006;42:13–24.

12.

Ferlito A, Silver CE, Rinaldo A. Elective management of the neck in oral cavity squamous carcinoma: current concepts supported by prospective studies. Br J Oral Maxillofac Surg. 2009;47:5–9.

13.

Pentenero M, Gandolfo S, Carrozzo M. Importance of tumor thickness and depth of invasion in nodal involvement and prognosis of oral squamous cell carcinoma: a review of the literature. Head Neck. 2005;27:1080–91.

14.

Terris DJ, Tuffo KM, Fee WE. Modified facelift incision for parotidectomy. J Laryngol Otol. 1994;108:574–8.

15.

Terris DJ, Singer MC, Seybt MW. Robotic facelift thyroidectomy: II. Clinical feasibility and safety. Laryngoscope. 2011;121:1636–41.

16.

Song CM, Jung YH, Sung MW, Kim KH. Endoscopic resection of the submandibular gland via a hairline incision: a new surgical approach. Laryngoscope. 2010;120:970–4.

17.

Roh JL. Retroauricular hairline incision for removal of upper neck masses. Laryngoscope. 2005;115:2161–6.

18.

Kim WS, Lee HS, Kang SM, et al. Feasibility of robot-assisted neck dissections via a transaxillary and retroauricular ("TARA") approach in head and neck cancer: preliminary results. Ann Surg Oncol. 2012;19:1009–17.

19.

Civantos FJ, Stoeckli SJ, Takes RP, et al. What is the role of sentinel lymph node biopsy in the management of oral cancer in 2010? Eur Arch Otorhinolaryngol. 2010;267:839–44.
Electronic supplementary material
Below is the link to the electronic supplementary material.
Supplementary material 1 (AVI 19591 kb)
About this article
Cite this article
Lee, H.S., Kim, W.S., Hong, H.J. et al. Robot-assisted Supraomohyoid Neck Dissection via a Modified Face-lift or Retroauricular Approach in Early-stage cN0 Squamous Cell Carcinoma of the Oral Cavity: A Comparative Study with Conventional Technique. Ann Surg Oncol 19, 3871–3878 (2012) doi:10.1245/s10434-012-2423-2
Received:

Published:

Issue Date:
Keywords
Facial Nerve

Neck Dissection

Retrieve Lymph Node

Carotid Sheath

Spinal Accessory Nerve