Abstract
Background
Radical excision of a cutaneous malignancy may require skin-graft closure. The skin overlying the sentinel lymph node (SLN) basin may be procured as a full-thickness skin graft (FTSG), eliminating a problematic and painful third wound, the donor site. However, the potential for implantation of malignant cells transferred from the nodal basin to the primary site, resulting in increased perigraft recurrence rates with the FTSG technique, has not been evaluated.
Methods
We retrospectively reviewed all patients with a cutaneous malignancy who underwent SLN biopsy and skin-graft closure to evaluate the outcomes of full-thickness sentinel node basin procured skin grafts compared with partial-thickness grafts (PTSG).
Results
Fifty-seven patients underwent FTSG reconstruction, and 39 patients had PTSG placed at the time of wide excision and SLN biopsy. Eighty-five percent of patients had melanoma; median melanoma thickness for FTSG patients (N = 53) was 2.0 vs. 2.8 mm (N = 29) for the PTSG group (P = .0007). Positive sentinel nodes were identified in nine of 57 patients (16%) and 11 of 39 patients (28%) in the FTSG and PTSG groups, respectively. Perigraft recurrence rates were not significantly different (5 vs. 10%) between the two groups. Graft take rate for the FTSG group was slightly higher than the PTSG group (median = 88% vs 80%, P = .008). FTSG cosmetic results were generally excellent.
Conclusions
This FTSG closure method eliminates a painful third wound and often results in a better cosmetic outcome. Perigraft recurrences do not appear to be increased with FTSG. This technique should be in the armamentarium of surgeons who treat cutaneous malignancy.
This is a preview of subscription content, log in to check access.
Access options
Buy single article
Instant unlimited access to the full article PDF.
US$ 39.95
Price includes VAT for USA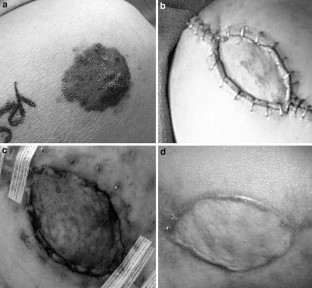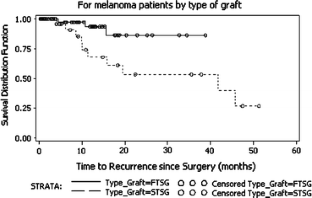 References
1.

Jemal A, Siegel R, Ward E, et al. Cancer Statistics, 2008. CA Cancer J Clin 2008;58:71–96

2.

Gershenwald JE, Thompson W, Mansfield PF, et al. Multi-institutional melanoma lymphatic mapping experience: the prognostic value of sentinel lymph node status in 612 stage I or II melanoma patients. J Clin Oncol. 1999;17:976–83

3.

Morton DL, Wen DR, Wong JH, et al. Technical details of intraoperative lymphatic mapping for early stage melanoma. Arch Surg. 1992;127:392–9

4.

Cochran AJ, Wen DR, Morton DL. Management of the regional lymph nodes in patients with cutaneous malignant melanoma. World J Surg. 1992;16:214–21

5.

Ross AS, Schmults CD. Sentinel lymph node biopsy in cutaneous squamous cell carcinoma: a systematic review of the English literature. Dermatol Surg. 2006;32:1309–21

6.

Ortin-Perez J, van Rijik MC, Valdes-Olmos RA, et al. Lymphatic mapping and sentinel node biopsy in Merkel's cell carcinoma. Eur J Surg Oncol. 2007;33:119–22

7.

Dresel A, Kuhn JA, McCarty TM. Sentinel node biopsy site used as full thickness skin graft donor for cutaneous melanoma. Am J Surg. 2002;184:176–8

8.

Chennoufi M, Guihard T, Lantieri L. The skin overlying the sentinel lymph node: a full thickness skin graft donor site after local excision for cutaneous melanoma. Ann Chir Plast Esthet. 2007;52:35–8

9.

Wrightson WR, Wong SL, Edwards MJ, et al. Complications associated with the sentinel lymph node biopsy for melanoma. Ann Surg Oncol. 2003;10:676–80

10.

Allen PJ, Bowne WB, Jaques DP, et al. Merkel cell carcinoma: prognosis and treatment of patients from a single institution. J Clin Oncol. 2005;23:2300–9

11.

Medina-Franco H, Urist MM, Fiveash J, et al. Multimodality treatment of Merkel cell carcinoma: case series and literature review of 1024 cases. Ann Surg Oncol. 2001;8:204–8
Electronic supplementary material
Below is the link to the electronic supplementary material.
About this article
Cite this article
Lewis, J.M., Zager, J.S., Yu, D. et al. Full-Thickness Grafts Procured from Skin Overlying the Sentinel Lymph Node Basin; Reconstruction of Primary Cutaneous Malignancy Excision Defects. Ann Surg Oncol 15, 1733–1740 (2008) doi:10.1245/s10434-008-9887-0
Received:

Revised:

Accepted:

Published:

Issue Date:
Key Words
Skin graft

Melanoma

Merkel cell carcinoma

Sentinel lymph node biopsy