Abstract
The aim of present research work was to design, fabricate, optimize, and evaluate allopurinol (ALLO)-loaded bovine serum albumin nanoparticles (ABNPs) for kidney targeting of the drug and exploring the potential of fabricated ABNPs for management of hyperuricemia-related nephrolithiasis. ABNP formulation was prepared by employing desolvation technique, and its optimization was conducted by 2-factor-3-level central composite design (CCD) in order to achieve minimum particle size (PSA) and polydispersity index (PDI), maximum entrapment efficiency (EE), and zeta potential (ZP). Further, the optimized formulation (ABNPsopt) was also assessed for in vitro drug release study, TEM, DSC, XRD analysis, FTIR spectroscopy, and in vivo animal study. The in vivo study revealed that after 2 h of ABNPsopt administration, a significant concentration of ALLO was present in kidney (21.26-fold) as compared with serum while in case of standard pure drug group; no drug was seen in mice kidney and serum post 2 h administration, which indicates successful targeting of ALLO by formulating its albumin nanoparticles. Also, uric acid and pH levels were measured in serum and urine samples of mice which showed significant (P < 0.01) efficacy of ABNPsopt formulation in management of hyperuricemia-related nephrolithiasis. Histological studies on kidney samples also confirmed these outcomes. Findings of present study indicate higher kidney uptake of allopurinol from formulated ABNPsopt, which could be due to the specificity of albumin polymer for cubilin and megalin receptors, and it also serves as effective strategy in management of hyperuricemic-related nephrolithiasis.
This is a preview of subscription content, log in to check access.
Access options
Buy single article
Instant access to the full article PDF.
US$ 39.95
Price includes VAT for USA
Subscribe to journal
Immediate online access to all issues from 2019. Subscription will auto renew annually.
US$ 99
This is the net price. Taxes to be calculated in checkout.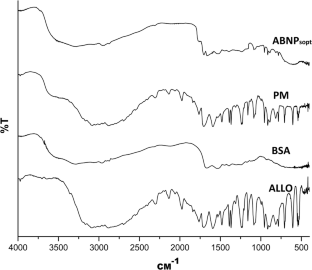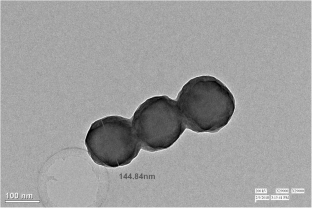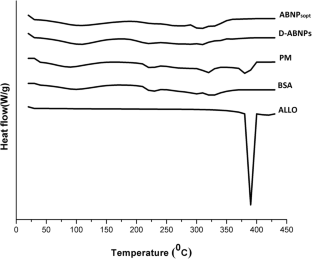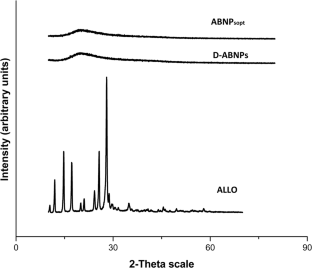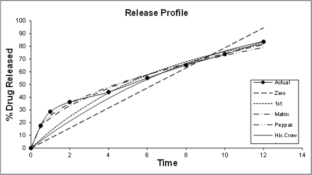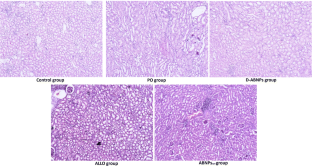 Abbreviations
ABNPs:

Allopurinol (ALLO)-loaded bovine serum albumin nanoparticles

ABNPsopt :

Optimized batch of ABNPs

ALLO:

Allopurinol

BSA:

Bovine serum albumin

CCD:

Central composite design

D-ABNPs:

Bovine serum albumin nanoparticles (without drug)

DLS:

Dynamic light scattering technique

DSC:

Differential scanning calorimetry

EE:

Entrapment efficiency

FTIR:

Fourier transform infrared

HPLC:

High-performance liquid chromatography

PBS:

Phosphate buffer solution

PDI:

Polydispersity index

PM:

Physical mixture of ALLO and BSA

PO:

Potassium oxonate

PSA:

Particle size

RSM:

Response surface methodology

TEM:

Transmission electron microscopy

UA:

Uric acid

XRD:

X-ray diffraction

ZP:

Zeta potential
References
1.

Zhou P, Sun X, Zhang Z. Kidney–targeted drug delivery systems. Acta Pharm Sin B. 2014;4(1):37–42.

2.

Ngo TC, Assimos DG. Uric acid nephrolithiasis: recent progress and future directions. Rev Urol. 2007;9(1):17.

3.

Abou-Elela A. Epidemiology, pathophysiology, and management of uric acid urolithiasis: a narrative review. J Adv Res. 2017;8(5):513–27.

4.

Zuckerman JE, Davis ME. Targeting therapeutics to the glomerulus with nanoparticles. Adv Chronic Kidney Dis. 2013;20(6):500–7.

5.

Dolman ME, Harmsen S, Storm G, Hennink WE, Kok RJ. Drug targeting to the kidney: advances in the active targeting of therapeutics to proximal tubular cells. Adv Drug Deliv Rev. 2010;62(14):1344–57.

6.

Bronze-Uhle ES, Costa BC, Ximenes VF, Lisboa-Filho PN. Synthetic nanoparticles of bovine serum albumin with entrapped salicylic acid. Nanotechnol Sci Appl. 2017;10:11.

7.

Kandav G, Singh SK. Review of nanoemulsion formulation and characterization techniques. Indian J Pharm Sci. 2018;80:781–9.

8.

Hou PY, Mi C, He Y, Zhang J, Wang SQ, Yu F, et al. Pallidifloside D from Smilax riparia enhanced allopurinol effects in hyperuricemia mice. Fitoterapia. 2015;105:43–8.

9.

Meng X, Mao Z, Li X, Zhong D, Li M, Jia Y, et al. Baicalein decreases uric acid and prevents hyperuricemic nephropathy in mice. Oncotarget. 2017;8(25):40305–17.

10.

Sangameshwar, Chandramouli HM, Medikeri SS, Hiremath SG. Evaluation of antihyperuricemic activity of shodhita shilajatu on potassium oxonate induced hyperuricemic rat model. Int J Res Ayurveda Pharm. 2017;8:53–8.

11.

Zhao Y, Yang X, Lu W, Liao H, Liao F. Uricase based methods for determination of uric acid in serum. Microchim Acta. 2009;164(1–2):1–6.

12.

Degroodt JM, Bukanski BW, Srebrnik S. Multiresidue analysis of tetracyclines in kidney by HPLC and photodiode array detection. J Liq Chromatogr Relat Technol. 1993;16(16):3515–29.

13.

Nagpal K, Singh SK, Mishra DN. Formulation, optimization, in vivo pharmacokinetic, behavioral and biochemical estimations of minocycline loaded chitosan nanoparticles for enhanced brain uptake. Chem Pharm Bull. 2013;61(3):258–72.

14.

Tada H, Fujisaki A, Itoh K, Suzuki T. Facile and rapid high-performance liquid chromatography method for simultaneous determination of allopurinol and oxypurinol in human serum. J Clin Pharm Ther. 2003;28(3):229–34.

15.

Reinders MK, Nijdam LC, van Roon EN, Movig KL, Tim LT, van de Laar MA, et al. A simple method for quantification of allopurinol and oxipurinol in human serum by high-performance liquid chromatography with UV-detection. J Pharm Biomed Anal. 2007;45(2):312–7.

16.

Kandav G, Bhatt DC, Jindal DK. Validation of HPLC method for the quantification of allopurinol in serum and kidney homogenates of mice. Res J Pharm Technol. 2020;13(1):373–6.

17.

Kandav G, Bhatt DC, Jindal DK. Formulation and evaluation of allopurinol loaded chitosan nanoparticles. Int J Appl Pharm. 2019;11:49–52.

18.

Kandav G, Bhatt DC, Jindal DK. Targeting kidneys by superparamagnetic allopurinol loaded chitosan coated nanoparticles for the treatment of hyperuricemic nephrolithiasis. DARU J Pharm Sci. 2019;27(2):661–71.
Acknowledgments
The authors wish to thank late Dr. Shailendra Kumar Singh, Department of Pharmaceutical Sciences (G.J. US&T, Hisar), for his extensive help throughout the study. Authors acknowledge coordinator, DST-FIST, Department of Pharmaceutical Sciences (G.J. US&T, Hisar) for providing HPLC and particle size analysis.
Funding
The authors received financial assistance from UGC (New Delhi) by providing the Rajiv Gandhi National Fellowship.
Ethics declarations
Conflict of Interest
The authors declare that they have no conflict of interest.
Additional information
Publisher's Note
Springer Nature remains neutral with regard to jurisdictional claims in published maps and institutional affiliations.
About this article
Cite this article
Kandav, G., Bhatt, D.C., Jindal, D.K. et al. Formulation, Optimization, and Evaluation of Allopurinol-Loaded Bovine Serum Albumin Nanoparticles for Targeting Kidney in Management of Hyperuricemic Nephrolithiasis. AAPS PharmSciTech 21, 164 (2020). https://doi.org/10.1208/s12249-020-01695-z
Received:

Accepted:

Published:
Key words
albumin nanoparticles

central composite design

allopurinol

kidney targeting

nephropathy

sustained release