Abstract
Gene therapy involving p11 cDNA has been thought to be a futuristic approach for the effective management of depression as the existing treatment regimen presents many issues regarding late onset of action, patient withdrawal and their side effects. For the effective transfection of p11 gene intracellularly, two cationic lipids based on phospholipid DOPE conjugated to basic amino acids histidine and arginine were synthesised, used for liposome formulation and evaluated for their ability as gene delivery vectors. They were further converted using IGF-II mAb into immunoliposomes for CNS targeting and mAb conjugation to liposomes were characterised by SDS-PAGE. They were further analysed by in vitro characterisation studies that include erythrocyte aggregation study, electrolyte-induced study, heparin compatibility study and serum stability studies. SHSY5Y cells were used for conducting cytotoxicity of synthesised lipids and live imaging of cell uptake for 25 min. Finally, the brain distribution studies and western blot were carried out in animals to evaluate them for their BBB permeation ability and effects on p11 protein which is believed to be a culprit. These formulated liposomes from synthesised lipids offer a promising approach for the treatment of depression.
This is a preview of subscription content, log in to check access.
Access options
Buy single article
Instant access to the full article PDF.
US$ 39.95
Price includes VAT for USA
Subscribe to journal
Immediate online access to all issues from 2019. Subscription will auto renew annually.
US$ 99
This is the net price. Taxes to be calculated in checkout.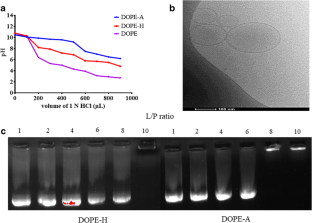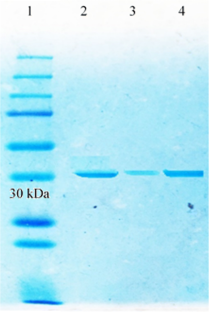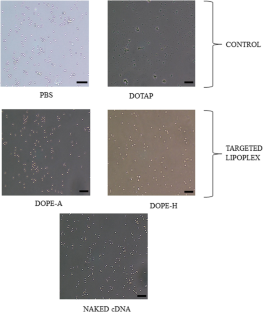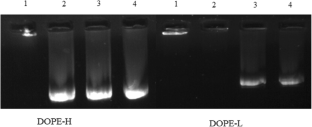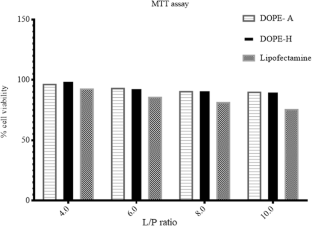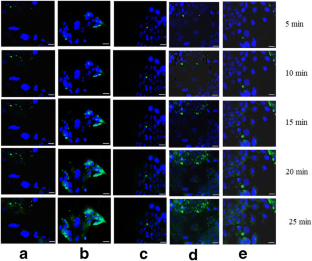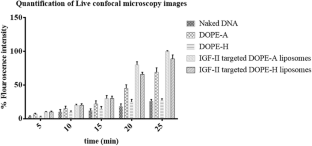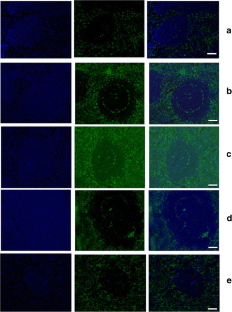 References
1.

Svenningsson P, Kim Y, Warner-Schmidt J, Oh Y-S, Greengard P. p11 and its role in depression and therapeutic responses to antidepressants. Nat Rev Neurosci. 2013;14(10):673–80.

2.

Warner-Schmidt JL, Vanover KE, Chen EY, Marshall JJ, Greengard P. Antidepressant effects of selective serotonin reuptake inhibitors (SSRIs) are attenuated by antiinflammatory drugs in mice and humans. Proc Natl Acad Sci. 2011;108(22):9262–7.

3.

Lalani R, Misra A, Amrutiya J, Patel H, Bhatt P, Patil SK. Approaches and recent trends in gene delivery for treatment of atherosclerosis. Recent Pat Drug Deliv Formul. 2016;10(2):141–55.

4.

Lalani RA, Bhatt P, Rathi M, Misra A. Abstract 2063: improved sensitivity and in vitro efficacy of RGD grafted PEGylated gemcitabine liposomes in RRM1 siRNA pretreated cancer cells. Cancer Research. 2016;76(14 Supplement):2063. https://doi.org/10.1158/1538-7445.am2016-2063.

5.

Rehman Z, Zuhorn IS, Hoekstra D. How cationic lipids transfer nucleic acids into cells and across cellular membranes: recent advances. J Control Release. 2013;166(1):46–56.

6.

Fitzsimmons R. Novel polymer and lipid-based nanocarriers for gene delivery. 2011.

7.

Tsuji A, Tamai I. Blood-brain barrier function of P-glycoprotein. Adv Drug Deliv Rev. 1997;25(2–3):287–98.

8.

Bremner JB, Samosorn S, Ambrus JI. N-Acylation of 5-substituted indoles with carboxylic acids via DCC coupling. Synthesis. 2004;2004(16):2653–8.

9.

Vhora I, Lalani R, Bhatt P, Patil S, Patel H, Patel V, et al. Colloidally stable small unilamellar stearyl amine lipoplexes for effective BMP-9 gene delivery to stem cells for osteogenic differentiation. AAPS PharmSciTech. 2018. https://doi.org/10.1208/s12249-018-1161-6.

10.

Sasaki Y, Coy DH. Solid phase synthesis of peptides containing the CH2NH peptide bond isostere. Peptides. 1987;8(1):119–21.

11.

Patil S, Bhatt P, Lalani R, Amrutiya J, Vhora I, Kolte A, et al. Low molecular weight chitosan–protamine conjugate for siRNA delivery with enhanced stability and transfection efficiency. RSC Adv. 2016;6(112):110951–63. https://doi.org/10.1039/C6RA24058E.

12.

Zhang Q-F, Yang W-H, Yi W-J, Zhang J, Ren J, Luo T-Y, et al. TACN-containing cationic lipids with ester bond: preparation and application in gene delivery. Bioorg Med Chem Lett. 2011;21(23):7045–9.

13.

Bhatt P, Lalani R, Vhora I, Patil S, Amrutiya J, Misra A, et al. Liposomes encapsulating native and cyclodextrin enclosed paclitaxel: enhanced loading efficiency and its pharmacokinetic evaluation. Int J Pharm. 2018;536(1):95–107. https://doi.org/10.1016/j.ijpharm.2017.11.048.

14.

Zensi A, Begley D, Pontikis C, Legros C, Mihoreanu L, Wagner S, et al. Albumin nanoparticles targeted with Apo E enter the CNS by transcytosis and are delivered to neurones. J Control Release. 2009;137(1):78–86.

15.

Bhatt P, Lalani R, Mashru R, Misra A. Abstract 2065: anti-FSHR antibody Fab' fragment conjugated immunoliposomes loaded with cyclodextrin-paclitaxel complex for improved <em>in vitro</em> efficacy on ovarian cancer cells. Cancer Res. 2016;76(14 Supplement):2065. https://doi.org/10.1158/1538-7445.am2016-2065.

16.

Perrier T, Saulnier P, Benoît JP. Methods for the functionalisation of nanoparticles: new insights and perspectives. Chem Eur J. 2010;16(38):11516–29.

17.

Yewale C, Baradia D, Patil S, Bhatt P, Amrutiya J, Gandhi R, et al. Docetaxel loaded immunonanoparticles delivery in EGFR overexpressed breast carcinoma cells. Journal of Drug Delivery Science and Technology. 2018;45:334–45. https://doi.org/10.1016/j.jddst.2018.03.027.

18.

Sölch S. Effects of the GTPase Rab31 on breast cancer cell proliferation, adhesion, and expression of other tumor-associated genes. Munich: Technische Universität München; 2014.

19.

Sasse J, Gallagher SR. Staining proteins in gels. Curr Protoc Mol Biol. 2009;10:6. 1–6. 27.

20.

Stebelska K, Dubielecka PM, Sikorski AF. The effect of PS content on the ability of natural membranes to fuse with positively charged liposomes and lipoplexes. J Membr Biol. 2005;206(3):203–14.

21.

Lee S-Y, Huh MS, Lee S, Lee SJ, Chung H, Park JH, et al. Stability and cellular uptake of polymerized siRNA (poly-siRNA)/polyethylenimine (PEI) complexes for efficient gene silencing. J Control Release. 2010;141(3):339–46.

22.

Bhatt P, Khatri N, Kumar M, Baradia D, Misra A. Microbeads mediated oral plasmid DNA delivery using polymethacrylate vectors: an effectual groundwork for colorectal cancer. Drug Deliv. 2015;22(6):849–61. https://doi.org/10.3109/10717544.2014.898348.

23.

Nguyen LT, Atobe K, Barichello JM, Ishida T, Kiwada H. Complex formation with plasmid DNA increases the cytotoxicity of cationic liposomes. Biol Pharm Bull. 2007;30(4):751–7.

24.

Katsarou K, Lavdas AΑ, Tsitoura P, Serti E, Markoulatos P, Mavromara P, et al. Endocytosis of hepatitis C virus non-enveloped capsid-like particles induces MAPK–ERK1/2 signaling events. Cell Mol Life Sci. 2010;67(14):2491–506.

25.

MacKay JA, Deen DF, Szoka FC Jr. Distribution in brain of liposomes after convection enhanced delivery; modulation by particle charge, particle diameter, and presence of steric coating. Brain Res. 2005;1035(2):139–53.

26.

Walsh DM, Klyubin I, Fadeeva JV, Cullen WK, Anwyl R, Wolfe MS, et al. Naturally secreted oligomers of amyloid β protein potently inhibit hippocampal long-term potentiation in vivo. Nature. 2002;416(6880):535–9.

27.

Poceva Panovska A, Acevska J, Stefkov G, Brezovska K, Petkovska R, Dimitrovska A. Optimization of HS-GC–FID–MS method for residual solvent profiling in active pharmaceutical ingredients using DoE. J Chromatogr Sci. 2015;54(2):103–11.

28.

Dhillon S, Von Burg R. Methylene chloride. J Appl Toxicol. 1995;15(4):329–35.

29.

Brown M, Schätzlein A, Brownlie A, Jack V, Wang W, Tetley L, et al. Preliminary characterization of novel amino acid based polymeric vesicles as gene and drug delivery agents. Bioconjug Chem. 2000;11(6):880–91.

30.

Pouton CW, Seymour LW. Key issues in non-viral gene delivery1. Adv Drug Deliv Rev. 2001;46(1–3):187–203.

31.

Bhatt P, Vhora I, Patil S, Amrutiya J, Bhattacharya C, Misra A, et al. Role of antibodies in diagnosis and treatment of ovarian cancer: basic approach and clinical status. J Control Release. 2016;226:148–67. https://doi.org/10.1016/j.jconrel.2016.02.008.

32.

Koren E, Apte A, Jani A, Torchilin VP. Multifunctional PEGylated 2C5-immunoliposomes containing pH-sensitive bonds and TAT peptide for enhanced tumor cell internalization and cytotoxicity. J Control Release. 2012;160(2):264–73.

33.

Knežević-Jugović ZD, Bezbradica DI, Mijin DŽ, Antov MG. The immobilization of enzyme on Eupergit® supports by covalent attachment. Enzyme Stabilization and Immobilization. Berlin: Springer; 2011. p. 99–111.

34.

Tandel H, Bhatt P, Jain K, Shahiwala A, Misra A. In-vitro and in-vivo tools in emerging drug delivery scenario: challenges and updates. In: Misra ASA, editor. In-vitro and in-vivo tools in drug delivery research for optimum clinical outcomes. Boca Raton: CRC Press; 2018.

35.

Asnis GM, De La Garza R. Interferon-induced depression in chronic hepatitis C: a review of its prevalence, risk factors, biology, and treatment approaches. J Clin Gastroenterol. 2006;40(4):322–35.
Acknowledgments
The authors would like to thank the Department of Chemistry and Biochemistry, The Maharaja Sayajirao University of Baroda, Vadodara, for the help in carrying out lipid synthesis and plasmid isolation respectively.
Ethics declarations
The protocol for the study was duly approved by Institutional Animal Ethics Committee, Faculty of Pharmacy, The M. S. University of Baroda, Vadodara, vide protocol approval no: MSU/IAEC/2016-17/1631.
Conflict of Interest
The authors declare that they have no conflict of interest.
Additional information
Publisher's Note
Springer Nature remains neutral with regard to jurisdictional claims in published maps and institutional affiliations.
Guest Editors: Mahavir Bhupal Chougule, Vijaykumar B. Sutariya and Sudip K. Das
Electronic Supplementary Material
About this article
Cite this article
Gandhi, M., Bhatt, P., Chauhan, G. et al. IGF-II-Conjugated Nanocarrier for Brain-Targeted Delivery of p11 Gene for Depression. AAPS PharmSciTech 20, 50 (2019). https://doi.org/10.1208/s12249-018-1206-x
Received:

Accepted:

Published:
KEY WORDS
gene therapy

depression

CNS targeting

liposomes

p11 gene