Abstract
Vardenafil hydrochloride is commonly used for the curing of erectile dysfunction. VAR suffers certain limitations: (i) short elimination half-life (4–5 h), (ii) low aqueous solubility (0.11 mg/mL), (iii) susceptibility to extensive first-pass metabolism and drug efflux transporters (p-glycoprotein), and (iv) limited (15%) oral bioavailability. The current study focused on the development of VAR lipomers as promising modified release systems able to enhance oral bioavailability. VAR-lipomers (lipid-polymer complexes) were successfully developed by a modified precipitation technique employing a lipid (polyglyceryl-6-distearate or glyceryl tristearate) and an amphiphilic polymer (Gantrez®). Three VAR:lipid ratios [1:1, 1:2, and 1:3] and three VAR:Gantrez® ratios [4:1, 2:1, and 1:1] were investigated. Solid-state characterization studies involved differential scanning calorimetry (DSC), X-ray diffraction (XRD), and Fourier-transform infrared (FT-IR) spectroscopy. The systems were assessed for particle size, polydispersity index (PDI), zeta-potential, VAR entrapment-efficiency (EE%), morphology, and VAR released % after 2 h (Q2h) and 8 h (Q8h). The best-achieved system (the highest desirability) was promoted for pharmacokinetic studies in fasted rabbits. Statistical analysis of data revealed that L9 system (PGDS, VAR, and Gantrez®; 3:1:1, respectively) had the highest desirability (0.85) with respect to spherical particle size (622.15 nm), PDI (0.11), zeta-potential (−27.90 mV), EE% (62.80%), Q2h (43.45%), and Q8h (77.40%). With respect to Levitra® tablets, the significantly higher relative bioavailability (170%), delayed Tmax, and extended MRT(0–∞) clarified the dual ability of L9 system. Lipomers are emerging systems capable of modifying the rate of VAR release and promoting its oral bioavailability.
This is a preview of subscription content, log in to check access.
Access options
Buy single article
Instant access to the full article PDF.
US$ 39.95
Price includes VAT for USA
Subscribe to journal
Immediate online access to all issues from 2019. Subscription will auto renew annually.
US$ 99
This is the net price. Taxes to be calculated in checkout.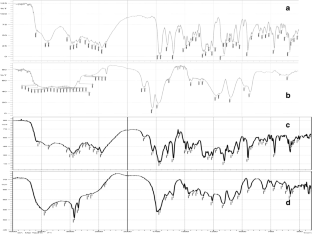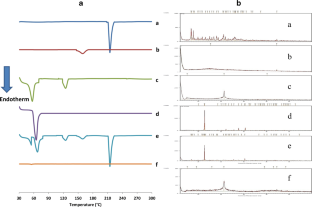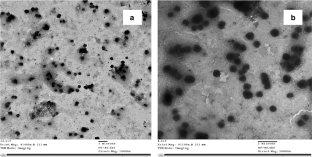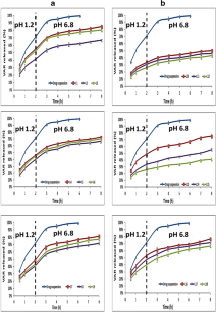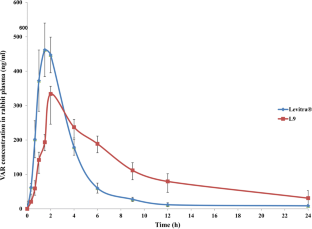 References
1.

Ashour AE, Motiur Rahman AFM, Kassem MG. Vardenafil dihydrochloride. In: Brittain HG, editor. Profiles of drug substances, excipients and related methodology. San Diego: Academic Press; 2014. p. 515–44.

2.

Keating GM, Scott LJ. Vardenafil: a review of its use in erectile dysfunction. Drugs. 2003;63(23):2673–703.

3.

Choi MK, Song IS. Characterization of efflux transport of the PDE5 inhibitors, vardenafil and sildenafil. J Pharm Pharmacol. 2012;64(8):1074–83.

4.

Moffat AC, Osselton MD, Widdop B. Clarke's analysis of drugs and poisons. 4th ed. London: The Pharmaceutical Press; 2011.

5.

Sanford M. Vardenafil orodispersible tablet. Drugs. 2012;72(1):87–98.

6.

Fahmy U. Nanoethosomal transdermal delivery of vardenafil for treatment of erectile dysfunction: optimization, characterization, and in vivo evaluation. Drug Des Devel Ther. 2015;9:6129–37.

7.

Berry B, Altman P, Rowe J, Vaisman J. Comparison of pharmacokinetics of vardenafil administered using an ultrasonic nebulizer for inhalation vs a single 10-mg oral tablet. J Sex Med. 2016;13(7):1111–8.

8.

Tawfik MA, Tadros MI, Mohamed MI. Polyamidoamine (PAMAM) dendrimers as potential release modulators and oral bioavailability enhancers of vardenafil hydrochloride. Pharm Dev Technol. 2018;21:1–10.

9.

Wu XY. Strategies for optimizing polymer-lipid hybrid nanoparticle-mediated drug delivery. Expert Opin Drug Deliv. 2016;13(5):609–12.

10.

Benival DM, Devarajan PV. Lipomer of doxorubicin hydrochloride for enhanced oral bioavailability. Int J Pharm. 2012;423(2):554–61.

11.

Li Y, Taulier N, Rauth AM, Wu XY. Screening of lipid carriers and characterization of drug-polymer-lipid interactions for the rational design of polymer-lipid hybrid nanoparticles (PLN). Pharm Res. 2006;23(8):1877–87.

12.

Guhagarkar SA, Gaikwad RV, Samad A, Malshe VC, Devarajan PV. Polyethylene sebacate-doxorubicin nanoparticles for hepatic targeting. Int J Pharm. 2010;401(1–2):113–22.

13.

Wong HL, Bendayan R, Rauth AM, Wu XY. Development of solid lipid nanoparticles containing ionically complexed chemotherapeutic drugs and chemosensitizers. J Pharm Sci. 2004;93(8):1993–2004.

14.

Mieszawska AJ, Gianella A, Cormode DP, Zhao Y, Meijerink A, Langer R, et al. Engineering of lipid-coated PLGA nanoparticles with a tunable payload of diagnostically active nanocrystals for medical imaging. Chem Commun (Camb). 2012;48(47):5835–7.

15.

Moon JJ, Suh H, Polhemus ME, Ockenhouse CF, Yadava A, Irvine DJ. Antigen-displaying lipid-enveloped PLGA nanoparticles as delivery agents for a plasmodium vivax malaria vaccine. PLoS One. 2012;7(2):e31472.

16.

Li J, He Y, Li W, Shen Y, Li Y, Wang Y. A novel polymer-lipid hybrid nanoparticle for efficient nonviral gene delivery. Acta Pharmacol Sin. 2010;31(4):509–14.

17.

Wong HL, Rauth AM, Bendayan R, Manias JL, Ramaswamy M, Liu Z, et al. A new polymer-lipid hybrid nanoparticle system increases cytotoxicity of doxorubicin against multidrug-resistant human breast cancer cells. Pharm Res. 2006;23(7):1574–85.

18.

Wong HL, Rauth AM, Bendayan R, Wu XY. In vivo evaluation of a new polymer-lipid hybrid nanoparticle (PLN) formulation of doxorubicin in a murine solid tumor model. Eur J Pharm Biopharm. 2007;65(3):300–8.

19.

Wong HL, Bendayan R, Rauth AM, Xue HY, Babakhanian K, Wu XY. A mechanistic study of enhanced doxorubicin uptake and retention in multidrug resistant breast cancer cells using a polymer-lipid hybrid nanoparticle system. J Pharmacol Exp Ther. 2006;317(3):1372–81.

20.

Devarajan PV, Jindal AB, Patil RR, Mulla F, Gaikwad RV, Samad A. Particle shape: a new design parameter for passive targeting in splenotropic drug delivery. Int J Pharm. 2010;99(6):2576–81.

21.

Patil RR, Guhagarkar SA, Devarajan PV. Engineered nanocarriers of doxorubicin: a current update. Crit Rev Ther Drug Carrier Syst. 2008;25(1):1–61.

22.

Patil RR, Gaikwad RV, Samad A, Devarajan PV. Role of lipids in enhancing splenic uptake of polymer-lipid (LIPOMER) nanoparticles. J Biomed Nanotechnol. 2008;4(3):359–66.

23.

Salman HH, Gamazo C, De Smidt PC, Russell-Jones G, Irache JM. Evaluation of bioadhesive capacity and immunoadjuvant properties of vitamin B12-Gantrez nanoparticles. Pharm Res. 2008;25(12):2859–68.

24.

Salman HH, Gamazo C, Campanero MA, Irache JM. Salmonella-like bioadhesive nanoparticles. J Control Release. 2005;106:1–2):1–13.

25.

Salman HH, Gamazo C, Campanero MA, Irache JM. Bioadhesive mannosylated nanoparticles for oral drug delivery. J Nanosci Nanotechnol. 2006;6(9–10):3203–9.

26.

Bargoni A, Cavalli R, Zara GP, Fundarò A, Caputo O, Gasco MR. Transmucosal transport of tobramycin incorporated in solid lipid nanoparticles (SLN) after duodenal administration to rats. Part II-tissue distribution. Pharmacol Res. 2001;43(5):497–502.

27.

Eldridge JH, Hammond CJ, Meulbroek JA, Staas JK, Gilley RM, Tice TR. Controlled vaccine release in the gut-associated lymphoid tissues. I. Orally administered biodegradable microspheres target the peyer's patches. J Control Release. 1990;11(1–3):205–14.

28.

Vandamme TF, Ngombo Mukendi JF. Controlled release of levamisole from poly-(ε-caprolactone) matrices II. Effects of water-soluble polymer and iron powder incorporated into the matrices. Int J Pharm. 1996;132:153–63.

29.

Tayel SA, El-Nabarawi MA, Tadros MI, Abd-Elsalam WH. Duodenum-triggered delivery of pravastatin sodium: II. Design, appraisal and pharmacokinetic assessments of enteric surface-decorated nanocubosomal dispersions. Drug Deliv. 2016;23(9):3266–78.

30.

Abd-Elbary A, Tadros MI, Alaa-Eldin AA. Sucrose stearate-enriched lipid matrix tablets of etodolac: modulation of drug release, diffusional modeling and structure elucidation studies. AAPS PharmSciTech. 2013;14(2):656–68.

31.

Dragicevic-Curic N, Scheglmann D, Albrecht V, Fahr A. Development of different temoporfin-loaded invasomes-novel nanocarriers of temoporfin: characterization, stability and in vitro skin penetration studies. Colloids Surf B Biointerfaces. 2009;70(2):198–206.

32.

Lee HM, Kim CS, Jang YM, Kwon SW, Lee BJ. Separation and structural elucidation of a novel analogue of vardenafil included as an adulterant in a dietary supplement by liquid chromatography-electrospray ionization mass spectrometry, infrared spectroscopy and nuclear magnetic resonance spectroscopy. J Pharm Biomed Anal. 2011;54(3):491–6.

33.

The United States Pharmacopeial Convention. United States Pharmacopeia (USP 36) and National Formulary (NF 31) (Omeprazole delayed release capsules). Rockville, MD; 2013.

34.

Bischoff E, Niewoehner U, Haning H, Es Sayed M, Schenke T, Schlemmer KH. The oral efficacy of vardenafil hydrochloride for inducing penile erection in a conscious rabbit model. J Urol. 2001;165(4):1316–8.

35.

Hosny KM, Aljaeid BM. Sildenafil citrate as oral solid lipid nanoparticles: a novel formula with higher bioavailability and sustained action for treatment of erectile dysfunction. Expert Opin Drug Deliv. 2014;11(7):1015–22.

36.

Lake ST, Altman PM, Vaisman J, Addison RS. Validated LC-MS/MS assay for the quantitative determination of vardenafil in human plasma and its application to a pharmacokinetic study. Biomed Chromatogr. 2010;24(8):846–51.

37.

Johnson RD, Lewis RJ, Angier MK. The LC/MS quantitation of vardenafil (Levitra®) in postmortem biological specimens. Federal Aviation Administration (FAA) Civil Aerospace Medical Institute; technical report documentation no. DOT/FAA/AM-06/17. 2006.

38.

Abd-Elbary A, Tadros MI, Alaa-Eldin AA. Development and in vitro/in vivo evaluation of etodolac controlled porosity osmotic pump tablets. AAPS PharmSciTech. 2011;12(2):485–95.

39.

Layre AM, Couvreur P, Chacun H, Aymes-Chodur C, Ghermani NE, Poupaert J, et al. Busulfan loading into poly (alkyl cyanoacrylate) nanoparticles: physico-chemistry and molecular modeling. J Biomed Mater Res B Appl Biomater. 2006;79((2):254–62.

40.

Sweetman S. Martindale: the complete drug reference. 36th ed. London: Pharmaceutical Press; 2009.

41.

Cachile M, Cazabat AM, Bardon S, Valignat MP, Vandenbrouck F. Spontaneous spreading of surfactant solutions on hydrophilic surfaces. Colloids Surf A Physicochem Eng Asp. 1999;159(1):47–56.

42.

Tadros MI, Al-Mahallawi AM. Long-circulating lipoprotein-mimic nanoparticles for smart intravenous delivery of a practically-insoluble antineoplastic drug: development, preliminary safety evaluations and preclinical pharmacokinetic studies. Int J Pharm. 2015;493(1–2):439–50.

43.

Garanti T, Stasik A, Burrow AJ, Alhnan MA, Wan KW. Anti-glioma activity and the mechanism of cellular uptake of Asiatic acid-loaded solid lipid nanoparticles. Int J Pharm. 2016;500(1–2):305–15.

44.

Liu Y, Pan J, Feng SS. Nanoparticles of lipid monolayer shell and biodegradable polymer core for controlled release of paclitaxel: effects of surfactants on particles size, characteristics and in vitro performance. Int J Pharm. 2010;395(1–2):243–50.

45.

Muller RH, Mader K, Gohla S. Solid lipid nanoparticles (SLN) for controlled drug delivery: a review of the state of the art. Eur J Pharm Biopharm. 2000;50(1):161–77.

46.

Li Y, Wong HL, Shuhendler AJ, Rauth AM, Wu XY. Molecular interactions, internal structure and drug release kinetics of rationally developed polymer-lipid hybrid nanoparticles. J Control Release. 2008;128(1):60–70.
Ethics declarations
Conflict of Interest
The authors declare that they have no conflict of interest.
Additional information
Guest Editor: Sanyog Jain
About this article
Cite this article
Tawfik, M.A., Tadros, M.I. & Mohamed, M.I. Lipomers (Lipid-polymer Hybrid Particles) of Vardenafil Hydrochloride: a Promising Dual Platform for Modifying the Drug Release Rate and Enhancing Its Oral Bioavailability. AAPS PharmSciTech 19, 3650–3660 (2018). https://doi.org/10.1208/s12249-018-1191-0
Received:

Accepted:

Published:

Issue Date:
KEY WORDS
vardenafil hydrochloride

lipid polymer hybrid particles

ionic interaction

modified release

enhanced oral bioavailability