Abstract
Honokiol is a natural phenolic anti-cancer compound isolated from an extract of seed cones from Magnolia grandiflora. This study investigated the transdermal delivery of honokiol using various enhancement methods and to explore the potential of honokiol to treat breast cancer directly via delivery through mammary papilla. Poration of dermatomed human skin with microneedles significantly increased the delivery of honokiol by nearly 3-fold (97.81 ± 18.96 μg/cm2) compared with passive delivery (32.56 ± 5.67 μg/cm2). Oleic acid was found to be the best chemical penetration enhancer, increasing the delivery almost 27-fold (868.06 ± 100.91 μg/cm2). Addition of oleic acid also resulted in better retention of drug in the porcine mammary papilla (965.41 ± 80.26 μg/cm2) compared with breast skin (294.16 ± 8.49 μg/cm2). Anti-cancer effect of honokiol was demonstrated with the decrease in the release of cytokine IL-6 and further suppression of Ki-67 proliferative protein. In addition, the topical honokiol formulation investigated was found to be safe and non-irritant. In summary, both microneedles and chemical enhancers can improve the absorption of honokiol through skin. Directly applying honokiol on mammary papilla is a potential administration route which can increase localized delivery into breast tissue.
This is a preview of subscription content, log in to check access.
Access options
Buy single article
Instant access to the full article PDF.
US$ 39.95
Price includes VAT for USA
Subscribe to journal
Immediate online access to all issues from 2019. Subscription will auto renew annually.
US$ 99
This is the net price. Taxes to be calculated in checkout.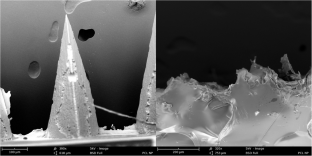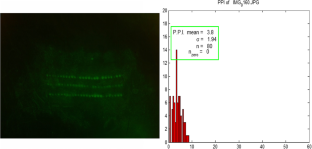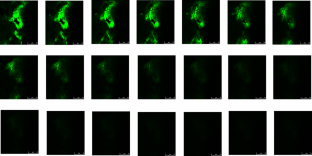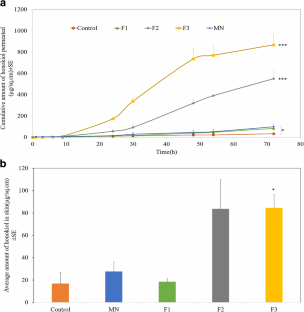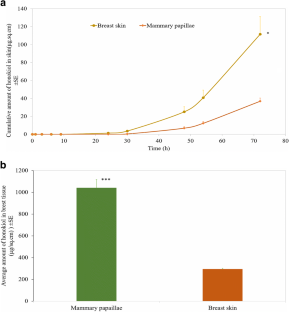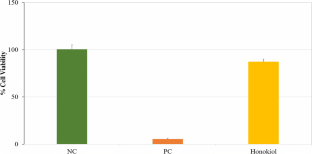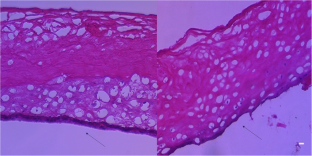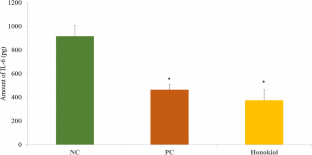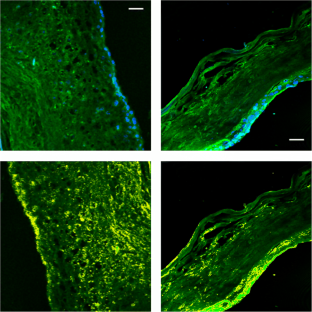 References
1.

American Cancer Society. (2015) Cancer facts and figures 2015.

2.

American Cancer Society. (2017) How common is breast cancer? [Internet]. Available at: https://www.cancer.org/cancer/breast-cancer/about/how-common-is-breast-cancer.html. Accessed 23 May 2017

3.

Breastcancer.org (2017) U.S. breast cancer statics. [Internet]. Available at: http://www.breastcancer.org/symptoms/understand_bc/statistics. Accessed 23 May 2017

4.

Love SM, Barsky SH. Anatomy of the nipple and breast ducts revisited. Cancer. 2004;101:1947–57.

5.

Lee LM, Davison Z, Heard CM. In vitro delivery of anti-breast cancer agents directly via the mammary papillae (nipple). Int J Pharm. 2010;387(1–2):161–6.

6.

Lee Y-J, Lee YM, Lee C-K, Jung JK, Han SB, Hong JT. Therapeutic applications of compounds in the Magnolia family. Pharmacol Ther. 2011;130(2):157–76.

7.

Watanabe K, Watanabe H, Goto Y, Yamaguchi M, Yamamoto N, Hagino K. Pharmacological properties of magnolol and honokiol extracted from Magnolia officinalis: central depressant effects. Planta Med. 1983;49:103–8.

8.

Nagalingam A, Arbiser JL, Bonner MY, Saxena NK, Sharma D. Honokiol activates AMP-activated protein kinase in breast cancer cells via an LKB1-dependent pathway and inhibits breast carcinogenesis. Breast Cancer Res. 2012;14:R35.

9.

Shigemura K, Arbiser JL, Sun SY, Zayzafoon M, Johnstone PA, Fujisawa M, et al. Honokiol, a natural plant product, inhibits the bone metastatic growth of human prostate cancer cells. Cancer. 2007;109:1279–89.

10.

Deng J, Qian Y, Geng L, Chen J, Wang X, Xie H, et al. Involvement of p38 mitogen-activated protein kinase pathway in honokiol-induced apoptosis in a human hepatoma cell line (hepG2). Liver Int. 2008;28:1458–64.

11.

Tsai TH, Chou CJ, Lee TF, Wang LCH, Chen CF. Pharmacokinetic and pharmacodynamic studies of magnolol after oral administration in rats. Pharmaceut Sci. 1996;2:191–3.

12.

Bronaugh RL, Maibach HI. Percutaneous absorption. 4th ed. New York: Marcel Dekker; 2005.

13.

Prausnitz MR, Mitragotri S, Langer R. Current status and future potential of transdermal drug delivery. Nat Rev Drug Discov. 2004;3:115–24.

14.

Banga AK. Transdermal and intradermal delivery of therapeutic agents: application of physical technologies. New York: CRC Press; 2011. p. 1–285.

15.

Banga AK. Microporation applications for enhancing drug delivery. Expert Opin Drug Deliv. 2009;6:343–54.

16.

William AC, Barry BW. Penetration enhancer. Adv Drug Deliv. 2004;56:603–18.

17.

Barry BW. Lipid–protein-partititioning theory of skin penetration enhancement. J Control Release. 1991;15:237–48.

18.

Medical College of Georgia at Augusta University. (2017) Cancer therapy shows promise for psoriasis treatment. [Internet] ScienceDaily. Available at: www.sciencedaily.com/releases/2017/05/170531110758.htm. Accessed 31 May 2017

19.

Dong HR, Liu XQ. HPLC analysis of magnolol and honokiol in magnoliae cortex after solvent sublation. Acta Chromatographica. 2008;20:147–56.

20.

MatTek Corporation (2017) In vitro EpiDerm TM skin irritation test (EPI-200-SIT) [Internet]. Available at: https://www.mattek.com/wp-content/uploads/Skin-Irritation-Test-Protocol.pdf. Accessed 12 April 2017

21.

Rusby JE, Brachtel EF, Michaelson JS, Koerner FC, Smith BL. Breast duct anatomy in the human nipple: Threedimensional patterns and clinical implications. Breast Cancer Res Treat. 2007;106:171–9.

22.

Murata S, Kominsky SL, Vali M, Zhang Z, Garrett-Mayer E, Korz D, et al. Ductal access for prevention and therapy of mammary tumours. Cancer Res. 2006;66:638–45.

23.

Dave K, Averineni R, Sahdev P, Perumal O. Transpapillaery drug delivery to the breastPLoS One. 2014;9(12):e115712.

24.

Li Z, Liu Y, Zhao X, Pan X, Yin R, Huang C, et al. Honokiol, a natural therapeutic candidate, induces apoptosis and inhibits angiogenesis of ovarian tumor cells. Eur J Obstet Gynecol Reprod Biol. 2008;140:95–102.

25.

Garcia A, Zheng Y, Zhao C, Toschi A, Fan J, Shraibman N, et al. Honokiol suppresses survival signals mediated by Ras-dependent phospholipase D activity in human cancer cells. Clin Cancer Res. 2008;14:4267–74.

26.

Zheng X, Wang X, Gou M, Zhang J, Men K, Chen L, et al. A novel transdermal honokiol formulation based on Pluronic F127 copolymer. Drug Deliv. 2010;17(3):138–44.

27.

Wang XH, Cai LL, Zhang XY, Deng LY, Zheng H, Deng CY, et al. Improved solubility and pharmacokinetics of PEGylated liposomal honokiol and human plasma protein binding ability of honokiol. Int J Pharm. 2011;410:169–74.

28.

Mortazavi SA, Aboofazeli R. An investigation into the effect of various penetration enhancers on percutaneous absorption of piroxicam. Iran J Pharm Res. 2003;2:135–40.

29.

Wen Z, Fang L, He Z. Effect of chemical enhancers on percutaneous absorption of daphnetin in isopropyl myristate vehicle across rat skin in vitro. Drug Deliv. 2009;16(4):214–23.

30.

Vaddi HK, Wang LZ, Ho PC, Chan SY. Effect of some enhancers on the permeation of haloperidol through rat skin in vitro. Int J Pharm. 2001;212(2):247–55.

31.

Mura S, Manconi M, Sinico C, Valenti D, Fadda AM. Penetration enhancercontaining vesicles (PEVs) as carriers for cutaneous delivery of minoxidil. Int J Pharm. 2009;380(1–2):72–9.

32.

Sato A, Friend O, Nagai I. Effect and mode of action of aliphatic esters. Int J Pharm. 1988;43:31–40.

33.

Suomela S, Elomaa O, Skoog T, Ala-aho R, Jeskanen L, Pärssinen J, et al. CCHCR1 is up-regulated in skin cancer and associated with EGFR expression. PLoS One. 2009;4(6):e6030. Available from: http://www.ncbi.nlm.nih.gov/pmc/articles/PMC2696036/. Accessed 11 Aug 2017

34.

Arora S, Singh S, Piazza GA, Contreras CM, Panyam J, Singh AP. Honokiol: a novel natural agent for cancer prevention and therapy. Curr Mol Med. 2012 Dec;12(10):1244–52.
Additional information
Guest Editor: S. Narasimha Murthy
About this article
Cite this article
Gao, X., Patel, M.G., Bakshi, P. et al. Enhancement in the Transdermal and Localized Delivery of Honokiol Through Breast Tissue. AAPS PharmSciTech 19, 3501–3511 (2018). https://doi.org/10.1208/s12249-018-1158-1
Received:

Accepted:

Published:

Issue Date:
KEY WORDS
honokiol

breast cancer

transdermal drug delivery

microneedle

chemical enhancer