Abstract
The study mainly aimed to improve the solubility of honokiol (HK) by preparing honokiol nanosuspensions (HNS). In this study, HNS were obtained using Kolliphor®P407 (P407) as a stabilizer through melting method combined with high pressure homogenization (HPH). The crystalline state of HNS was confirmed through differential scanning calorimetry (DSC) and X-ray Diffraction (XRD). In vitro, the dissolution rate of HNS was significantly improved than that of pure HK. In vivo, higher anti-inflammatory activity was achieved after free HK had been made into HNS. There was no significant difference between the degree of edema (DE) of HNS group and that of aspirin group. Consequently, melting method combined with HPH was a potent technique to prepare HNS. Furthermore, nanosuspension was a valid formulation that could be utilized to enhance the anti-inflammatory effect of HK.
This is a preview of subscription content, log in to check access.
Access options
Buy single article
Instant unlimited access to the full article PDF.
US$ 39.95
Price includes VAT for USA
Subscribe to journal
Immediate online access to all issues from 2019. Subscription will auto renew annually.
US$ 99
This is the net price. Taxes to be calculated in checkout.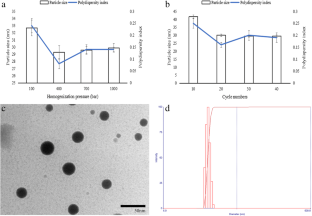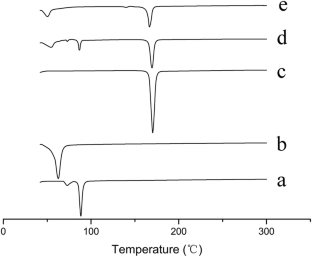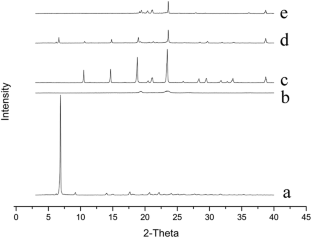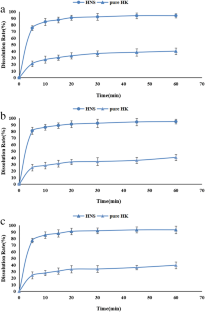 References
1.

Fujita M, Itokawa H, Sashida Y. Honokiol, a new phenolic compound isolated from the bark of Magnolia obovata Thunb. Chem Pharm Bull. 1972;20:212–3.

2.

Huang DB, Yu ZF. Effects of honokiol and magnolol on beta-endorphin in relieving morphine withdrawal symptoms in rats. Chin J Clin Rehabil. 2005;2(9):831–2.

3.

Liou KT, Shen YC, Chen CF, Tsao CM, Tsai SK. The anti-inflammatory effect of honokiol on neutrophils: mechanisms in the inhibition of reactive oxygen species production. Eur J Pharmacol. 2003;475(1):19–27.

4.

Kuribara H, Stavinoha WB, Maruyama Y. Behavioural pharmacological characteristics of honokiol, an anxiolytic agent present in extracts of Magnolia bark, evaluated by an elevated plus-maze test in mice. J Pharm Pharmacol. 2011;50(7):819–26.

5.

Shen J-L, Man K-M, Huang P-H, Chen W-C, Chen D-C, Cheng Y-W, et al. Honokiol and magnolol as multifunctional antioxidative molecules for dermatologic disorders. Molecules. 2010;15(9):6452–65.

6.

Rauf A, Patel S, Imran M, Maalik A, Arshad MU, Saeed F, et al. Honokiol: an anticancer lignan. Biomed Pharmacother. 2018;107:555–62.

7.

Jongsung L, Eunsun J, Junho P, Kwangseon J, Sangyeop L, Sungtaek H, et al. Anti-inflammatory effects of magnolol and honokiol are mediated through inhibition of the downstream pathway of MEKK-1 in NF-kappaB activation signaling. Planta Med. 2005;71(04):338–43.

8.

Guo Y, Zhao Y, Wang T, Shuang Z, Qiu H, Han M, et al. Honokiol nanoparticles stabilized by oligoethylene glycols codendrimer: in vitro and in vivo investigation. J Mater Chem B. 2016;5(4):697–706.

9.

Wang N, Wang Z, Nie S, Song L, He T, Yang S, et al. Biodegradable polymeric micelles coencapsulating paclitaxel and honokiol: a strategy for breast cancer therapy in vitro and in vivo. Int J Nanomedicine. 2017;12:1499–514.

10.

Han M, Yu X, Guo Y, Wang Y, Kuang H, Wang X. Honokiol nanosuspensions: preparation, increased oral bioavailability and dramatically enhanced biodistribution in the cardio-cerebrovascular system. Colloids Surf B: Biointerfaces. 2014;116(2):114–20.

11.

Jiang Q, Fan L, Yang G, Guo WH, Hou W, Chen L, et al. Improved therapeutic effectiveness by combining liposomal honokiol with cisplatin in lung cancer model. BMC Cancer. 2008;8(1):242.

12.

Gao L, Zhang D, Chen M. Drug nanocrystals for the formulation of poorly soluble drugs and its application as a potential drug delivery system. J Nanopart Res. 2008;10(5):845–62.

13.

Müller RH, Gohla S, Keckacd CM. State of the art of nanocrystals – special features, production, nanotoxicology aspects and intracellular delivery. Eur J Pharm Biopharm. 2011;78(1):1–9.

14.

Junghanns JUAH, Müller RH. Nanocrystal technology, drug delivery and clinical applications. Int J Nanomedicine. 2008;3(3):295–310.

15.

Lai F, Pini E, Corrias F, Perricci J, Manconi M, Fadda AM, et al. Formulation strategy and evaluation of nanocrystal piroxicam orally disintegrating tablets manufacturing by freeze -drying. Int J Pharm. 2014;467(1–2):27–33.

16.

Lin Z, Gao W, Hu H, Ma K, He B, Dai W, et al. Novel thermo-sensitive hydrogel system with paclitaxel nanocrystals: high drug-loading, sustained drug release and extended local retention guaranteeing better efficacy and lower toxicity. J Control Release. 2014;174(1):161–70.

17.

Möschwitzer J, Müller RH. Spray coated pellets as carrier system for mucoadhesive drug nanocrystals. Eur J Pharm Biopharm. 2006;62(3):282–7.

18.

Chan HK, Kwok PCL. Production methods for nanodrug particles using the bottom-up approach. Adv Drug Deliv Rev. 2011;63(6):406–16.

19.

Biswadip S, Müller RH, MöSchwitzer JP. Bottom-up approaches for preparing drug nanocrystals: formulations and factors affecting particle size. Int J Pharm. 2013;453(1):126–41.

20.

Elaine M-L, Gary GL, Eugene RC. Nanosizing: a formulation approach for poorly-water-soluble compounds. Eur J Pharm Sci. 2003;18(2):113–20.

21.

Chin WWL, Johannes P, Michael W, En Hui T, Rajeev G. A brief literature and patent review of nanosuspensions to a final drug product. J Pharm Sci. 2015;103(10):2980–99.

22.

Federica L, Roberta C. Drug nanosuspensions: a ZIP tool between traditional and innovative pharmaceutical formulations. Expert Opin Drug Deliv. 2015;12(10):1607–25.

23.

Ji Y, Zhou X, Guo R, Nie F, Wang X. Honokiol nanosuspensions: preparation, in vitro and in vivo evaluation. Acta Pharm Sin. 2018;29(1):133–40.

24.

Zheng H, Yu X, Li Z. Preparation of honokiol nanoparticles with high drug-loading and their premilinary antitumor efficacy. Drug Eval Res. 2015;38(3):292–6.

25.

Wu W, Wang L, Wang L, Zu Y, Wang S, Liu P, et al. Preparation of honokiol nanoparticles by liquid antisolvent precipitation technique, characterization, pharmacokinetics, and evaluation of inhibitory effect on HepG2 cells. Int J Nanomedicine. 2018;13:5469–83.

26.

Wang Z, Li X, Wang D, Zou Y, Qu X, He C, et al. Concurrently suppressing multidrug resistance and metastasis of breast cancer by co-delivery of paclitaxel and honokiol with pH-sensitive polymeric micelles. Acta Biomater. 2017;62(15):144–56.

27.

Deng F, Hu W, Chen H, Tang Y, Zhang L. Development of a chitosan-based nanoparticle formulation for ophthalmic delivery of honokiol. Current Drug Delivery. 2018;15(4):594–600.

28.

Müller RH, Jacobs C, Kayser O. Nanosuspensions as particulate drug formulations in therapy. Rationale for development and what we can expect for the future. Adv Drug Deliv Rev. 2001;47(1):3–19.

29.

Teeranachaideekul V, Junyaprasert VB, Souto EB, Müller RH. Development of ascorbyl palmitate nanocrystals applying the nanosuspension technology. Int J Pharm. 2008;354(1):227–34.

30.

Wenju WU. NANCOLLAS, G. H. a new understanding of the relationship between solubility and particle size. J Solut Chem. 1998;27(6):521–31.

31.

Noyes AA, Whitney WR. The rate of solution of solid substances in their own solutions. J Am Chem Soc. 1897;19(12):930–4.

32.

Kumawat R, Sharma S, Vasudeva N, Kumar S. In vivo anti-inflammatory potential of various extracts of Sida tiagii Bhandari. Asian Pac J Trop Biomed. 2012;2(2):S947–S52.

33.

Sowemimo A, Samuel F, Fageyinbo MS. Anti-inflammatory activity of Markhamia tomentosa (Benth.) K. Schum. Ex Engl. ethanolic leaf extract. J Ethnopharmacol. 2013;149(1):191–4.

34.

Levy G, Giacomini KM. Rational aspirin dosage regimens. Clin Pharmacol Ther. 1978;23(3):247–52.

35.

Bernstein BH, Singsen BH, King KK, Hanson V. Aspirin-induced hepatotoxicity and its effect on juvenile rheumatoid arthritis. Am J Dis Child. 1960;131(6):659–63.

36.

Byung Hun K, Jae YC. Anti-inflammatory effect of honokiol is mediated by PI3K/Akt pathway suppression 1. Acta Pharmacol Sin. 2010;29(1):113–22.

37.

Li J, Shao X, Wu L, Feng T, Jin C, Fang M, et al. Honokiol: an effective inhibitor of tumor necrosis factor-α-induced up-regulation of inflammatory cytokine and chemokine production in human synovial fibroblasts. Acta Biochim Biophys Sin. 2011;43(5):380–6.
Additional information
Publisher's Note
Springer Nature remains neutral with regard to jurisdictional claims in published maps and institutional affiliations.
About this article
Cite this article
Lu, X., Lu, X., Zhang, Z. et al. Preparation and Characterization of Honokiol Nanosuspensions and Preliminary Evaluation of Anti-Inflammatory Effect. AAPS PharmSciTech 21, 62 (2020). https://doi.org/10.1208/s12249-019-1602-x
Received:

Accepted:

Published:
KEY WORDS
honokiol nanosuspensions

melting method

high pressure homogenization

anti-inflammatory activity