Abstract
Olaparib (OLA) is a poly ADP ribose polymerase (PARP) inhibitor approved for germline BRCA-mutated (gBRCAm) advanced ovarian cancer and breast cancer. Low oral bioavailability of this drug requires increase in the dose and frequency causing haematological toxicity in the patients. The purpose of this study is to prepare different nano-formulations of OLA lipospheres (LP) by melt dispersion and nano-suspensions (NSP) by solvent evaporation (SE) and wet milling (WM) techniques and compare oral bioavailability of these formulations. Size of the nano-formulations OLA-LP, OLA-NSPSE and OLA-NSPWM were found to be 126.71 ± 4.54, 128.6 ± 2.34 and 531.1 ± 5.34 nm with polydispersity index below 0.3. In vitro release studies were performed by dialysis bag method where the sustained drug release was observed from nano-formulations until 9 h with Higuchi for OLA suspended in 2.5% w/v sodium carboxy methyl cellulose (OLA-SP), OLA-LP and OLA-NSPWM and Peppas for OLA-NSPSE-based drug release kinetics. In vivo pharmacokinetic studies, haematological toxicity and distribution studies were performed on rats. Results showed that there was an improvement in Cmax, AUCtotal, t1/2 and MRT by OLA nano-formulations when compared with OLA-SP. OLA-SP has shown reduction in WBC, platelets and lymphocytes at 12 and 36 h time points; however, no reduction in cell count was observed with OLA nano-formulations. Distribution studies proved FITC nano-formulations were most rapidly absorbed and distributed when compared with FITC-loaded suspension. From the above results, it was concluded that OLA nano-formulations can be an alternative to enhance the oral bioavailability and to reduce the haematological toxicity of OLA.
This is a preview of subscription content, log in to check access.
Access options
Buy single article
Instant unlimited access to the full article PDF.
US$ 39.95
Price includes VAT for USA
Subscribe to journal
Immediate online access to all issues from 2019. Subscription will auto renew annually.
US$ 99
This is the net price. Taxes to be calculated in checkout.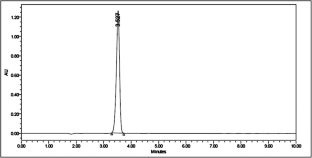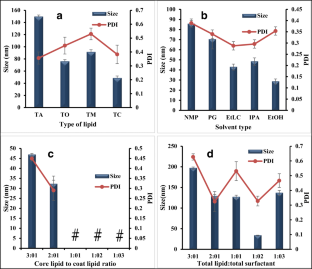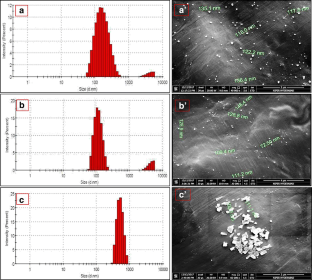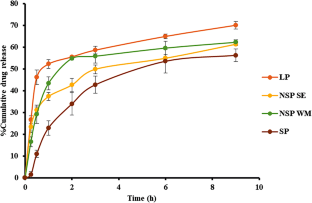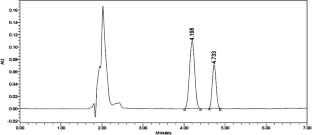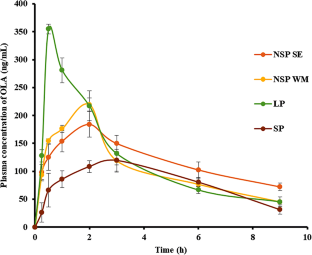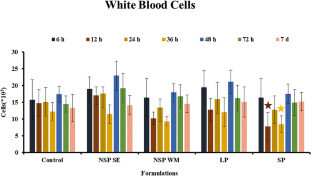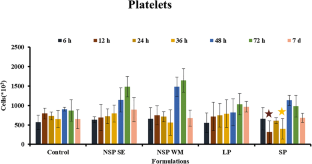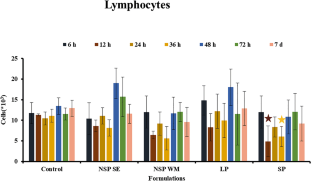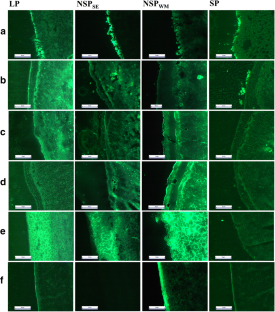 Abbreviations
OLA:

Olaparib

PARP:

Polyadenosine 5′diphosphoribose polymerase

TC:

Tricaprin

NMP:

N-methylpyrrolidone

HPLC:

High-performance liquid chromatography

LP:

Lipospheres

NSPWM :

Nano-suspension by wet milling

NSPSE :

Nano-suspension by solvent evaporation

SP:

Suspension

DLS:

Dynamic light scattering

PDI:

Poly dispersity index

FITC:

Fluorescein isothiocyanate

TM:

Trimyristin

TA:

Triacetin

TO:

Triolein
References
1.

Races A. SEER cancer statistics review 1973–1999. Bethesda: National Cancer Institute; 2002.

2.

Welcsh PL, King M-C. BRCA1 and BRCA2 and the genetics of breast and ovarian cancer. Hum Mol Genet. 2001;10(7):705–13.

3.

Tutt A, Robson M, Garber JE, Domchek SM, Audeh MW, Weitzel JN, et al. Oral poly (ADP-ribose) polymerase inhibitor olaparib in patients with BRCA1 or BRCA2 mutations and advanced breast cancer: a proof-of-concept trial. Lancet. 2010;376(9737):235–44.

4.

Antoniou A, Pharoah PD, Narod S, Risch HA, Eyfjord JE, Hopper JL, et al. Average risks of breast and ovarian cancer associated with BRCA1 or BRCA2 mutations detected in case series unselected for family history: a combined analysis of 22 studies. Am J Hum Genet. 2003;72(5):1117–30.

5.

Narod SA. Modifiers of risk of hereditary breast and ovarian cancer. Nat Rev Cancer. 2002;2(2):113–23.

6.

Venkitaraman AR. Cancer susceptibility and the functions of BRCA1 and BRCA2. Cell. 2002;108(2):171–82.

7.

Ford D, Easton D, Stratton M, Narod S, Goldgar D, Devilee P, et al. Genetic heterogeneity and penetrance analysis of the BRCA1 and BRCA2 genes in breast cancer families. Am J Hum Genet. 1998;62(3):676–89.

8.

Foulkes WD, Stefansson IM, Chappuis PO, Bégin LR, Goffin JR, Wong N, et al. Germline BRCA1 mutations and a basal epithelial phenotype in breast cancer. JNCI: J Natl Cancer Inst. 2003;95(19):1482–5.

9.

Ricks TK, Chiu H-J, Ison G, Kim G, McKee AE, Kluetz P, et al. Successes and challenges of PARP inhibitors in cancer therapy. Front Oncol. 2015;5:222.

10.

Deeks ED. Olaparib: first global approval. Drugs. 2015;75(2):231–40.

11.

Plummer R, Swaisland H, Leunen K, van Herpen CM, Jerusalem G, De Grève J, et al. Olaparib tablet formulation: effect of food on the pharmacokinetics after oral dosing in patients with advanced solid tumours. Cancer Chemother Pharmacol. 2015;76(4):723–9.

12.

Friedlander M, Banerjee S, Mileshkin L, Scott C, Shannon C, Goh J. Practical guidance on the use of olaparib capsules as maintenance therapy for women with BRCA mutations and platinum-sensitive recurrent ovarian cancer. Asia Pac J Clin Oncol. 2016;12(4):323–31.

13.

Butler T, Maravent S, Boisselle J, Valdes J, Fellner C. A review of 2014 cancer drug approvals, with a look at 2015 and beyond. Pharm Ther. 2015;40(3):191–205.

14.

Pujade-Lauraine E, Ledermann JA, Selle F, Gebski V, Penson RT, Oza AM, et al. Olaparib tablets as maintenance therapy in patients with platinum-sensitive, relapsed ovarian cancer and a BRCA1/2 mutation (SOLO2/ENGOT-Ov21): a double-blind, randomised, placebo-controlled, phase 3 trial. Lancet Oncol. 2017;18(9):1274–84.

15.

Robert M, Patsouris A, Frenel J-S, Gourmelon C, Augereau P, Campone M. Emerging PARP inhibitors for treating breast cancer. Expert Opin Emerg Drugs. 2018;23(3):211–21.

16.

Johannes JW, Almeida L, Daly K, Ferguson AD, Grosskurth SE, Guan H, et al. Discovery of AZ0108, an orally bioavailable phthalazinone PARP inhibitor that blocks centrosome clustering. Bioorg Med Chem Lett. 2015;25(24):5743–7.

17.

Pandi P, Jain A, Kommineni N, Ionov M, Bryszewska M, Khan W. Dendrimer as a new potential carrier for topical delivery of siRNA: a comparative study of dendriplex vs. lipoplex for delivery of TNF-α siRNA. Int J Pharm. 2018;550(1–2):240–50.

18.

Das S, Chaudhury A. Recent advances in lipid nanoparticle formulations with solid matrix for oral drug delivery. AAPS PharmSciTech. 2011;12(1):62–76.

19.

Agrawal U, Sharma R, Gupta M, Vyas SP. Is nanotechnology a boon for oral drug delivery? Drug Discov Today. 2014;19(10):1530–46.

20.

Elgart A, Cherniakov I, Aldouby Y, Domb AJ, Hoffman A. Lipospheres and pro-nano lipospheres for delivery of poorly water soluble compounds. Chem Phys Lipids. 2012;165(4):438–53.

21.

Junyaprasert VB, Morakul B. Nanocrystals for enhancement of oral bioavailability of poorly water-soluble drugs. Asian J Pharm Sci. 2015;10(1):13–23.

22.

Shegokar R, Müller RH. Nanocrystals: industrially feasible multifunctional formulation technology for poorly soluble actives. Int J Pharm. 2010;399(1–2):129–39.

23.

Junghanns J-UA, Müller RH. Nanocrystal technology, drug delivery and clinical applications. Int J Nanomedicine. 2008;3(3):295–309.

24.

Thummar M, Kuswah BS, Samanthula G, Bulbake U, Gour J, Khan W. Validated stability indicating assay method of olaparib: LC-ESI-Q-TOF-MS/MS and NMR studies for characterization of its new hydrolytic and oxidative forced degradation products. J Pharm Biomed Anal. 2018;160:89–98.

25.

Khan W, Aldouby YH, Avramoff A, Domb AJ. Cyclosporin nanosphere formulation for ophthalmic administration. Int J Pharm. 2012;437(1–2):275–6.

26.

Jain A, Pooladanda V, Bulbake U, Doppalapudi S, Rafeeqi TA, Godugu C, et al. Liposphere mediated topical delivery of thymoquinone in the treatment of psoriasis. Nanomedicine. 2017;13(7):2251–62.

27.

Kommineni N, Saka R, Bulbake U, Khan W. Cabazitaxel and thymoquinone co-loaded lipospheres as a synergistic combination for breast cancer. Chem Phys Lipids. 2018.

28.

Dong Y, Ng WK, Shen S, Kim S, Tan RB. Preparation and characterization of spironolactone nanoparticles by antisolvent precipitation. Int J Pharm. 2009;375(1–2):84–8.

29.

Gera S, Talluri S, Rangaraj N, Sampathi S. Formulation and evaluation of naringenin nanosuspensions for bioavailability enhancement. AAPS PharmSciTech. 2017;18(8):3151–62.

30.

Ghosh I, Schenck D, Bose S, Ruegger C. Optimization of formulation and process parameters for the production of nanosuspension by wet media milling technique: effect of vitamin E TPGS and nanocrystal particle size on oral absorption. Eur J Pharm Sci. 2012;47(4):718–28.

31.

Doppalapudi S, Jain A, Chopra DK, Khan W. Psoralen loaded liposomal nanocarriers for improved skin penetration and efficacy of topical PUVA in psoriasis. Eur J Pharm Sci. 2017;96:515–29.

32.

Mahira S, Kommineni N, Husain GM, Khan W. Cabazitaxel and silibinin co-encapsulated cationic liposomes for CD44 targeted delivery: a new insight into nanomedicine based combinational chemotherapy for prostate cancer. Biomed Pharmacother. 2019;110:803–17.

33.

Doppalapudi S, Mahira S, Khan W. Development and in vitro assessment of psoralen and resveratrol co-loaded ultradeformable liposomes for the treatment of vitiligo. J Photochem Photobiol B Biol. 2017;174:44–57.

34.

Mahira S, Kommineni N, Doppalapudi S, Khan W. Edge activated ultradeformable cationic liposomes of psoralen and its derivatives: development and comparative evaluation for vitiligo therapy. J Drug Deliv Sci Technol. 2019;52:83–95. https://doi.org/10.1016/j.jddst.2019.02.033.

35.

Dash S, Murthy PN, Nath L, Chowdhury P. Kinetic modeling on drug release from controlled drug delivery systems. Acta Pol Pharm. 2010;67(3):217–23.

36.

Sharma AK, Keservani RK, Kesharwani RK. Nanobiomaterials: applications in drug delivery: CRC Press; 2018.

37.

SH P. A phase 3 study of gemtuzumab ozogamicin during induction and post-consolidation therapy inryoimger patients with acute myeloid leukemia. Blood. 2013;121:4854–60.

38.

Kommineni N, Mahira S, Domb AJ, Khan W. Cabazitaxel-loaded nanocarriers for cancer therapy with reduced side effects. Pharmaceutics. 2019;11(3):141.

39.

Korkmaz-Icöz S, Szczesny B, Marcatti M, Li S, Ruppert M, Lasitschka F, et al. Olaparib protects cardiomyocytes against oxidative stress and improves graft contractility during the early phase after heart transplantation in rats. Br J Pharmacol. 2018;175(2):246–61.

40.

Harris N, Jou JM, Devoto G, Lotz J, Pappas J, Wranovics D, et al. Performance evaluation of the ADVIA 2120 hematology analyzer: an international multicenter clinical trial. Lab Hematol. 2005;11(1):62–70.

41.

Liu M, Zhong X, Yang Z. Chitosan functionalized nanocochleates for enhanced oral absorption of cyclosporine A. Sci Rep. 2017;7:41322.

42.

Jain A, Doppalapudi S, Domb AJ, Khan W. Tacrolimus and curcumin co-loaded liposphere gel: synergistic combination towards management of psoriasis. J Control Release. 2016;243:132–45.

43.

Sawant KK, Patel MH, Patel K. Cefdinir nanosuspension for improved oral bioavailability by media milling technique: formulation, characterization and in vitro–in vivo evaluations. Drug Dev Ind Pharm. 2016;42(5):758–68.

44.

D'Souza S. A review of in vitro drug release test methods for nano-sized dosage forms. Adv Pharm. 2014;2014.

45.

Li S-D, Huang L. Pharmacokinetics and biodistribution of nanoparticles. Mol Pharm. 2008;5(4):496–504.

46.

Desai PP, Date AA, Patravale VB. Overcoming poor oral bioavailability using nanoparticle formulations–opportunities and limitations. Drug Discov Today Technol. 2012;9(2):e87–95.

47.

Bulbake U, Doppalapudi S, Kommineni N, Khan W. Liposomal formulations in clinical use: an updated review. Pharmaceutics. 2017;9(2):12.

48.

Muntimadugu E, Kommineni N, Khan W. Exploring the potential of nanotherapeutics in targeting tumor microenvironment for cancer therapy. Pharmacol Res. 2017;126:109–22.

49.

Müller R, Jacobs C, Kayser O. Nanosuspensions as particulate drug formulations in therapy: rationale for development and what we can expect for the future. Adv Drug Deliv Rev. 2001;47(1):3–19.
Acknowledgements
Authors are thankful to Director, NIPER-Hyderabad for providing required facilities, support and encouragement throughout the project.
Funding Information
Financial assistance for this work was provided by Ministry of Chemicals & Fertilizers, Govt. of India.
Ethics declarations
Complying with Ethics of Experimentation
The animal protocol was approved by Institutional Animal Ethics Committee (IAEC) of National Institute of Pharmaceutical Education and Research (NIPER) Hyderabad, India. Animal experiments were carried out in accordance with the guidelines of CPCSEA, India.
Conflict of Interest
The authors declare that they have no conflict of interest.
Additional information
Publisher's Note
Springer Nature remains neutral with regard to jurisdictional claims in published maps and institutional affiliations.
About this article
Cite this article
Pathade, A.D., Kommineni, N., Bulbake, U. et al. Preparation and Comparison of Oral Bioavailability for Different Nano-formulations of Olaparib. AAPS PharmSciTech 20, 276 (2019) doi:10.1208/s12249-019-1468-y
Received:

Accepted:

Published:
KEY WORDS
Olaparib

PARP inhibitor

Nano-formulations

Bioavailability