Novel Drug Delivery Approach via Self-Microemulsifying Drug Delivery System for Enhancing Oral Bioavailability of Asenapine Maleate: Optimization, Characterization, Cell Uptake, and In Vivo Pharmacokinetic Studies
Abstract
Asenapine maleate (AM)-loaded self-microemulsifying drug delivery system (AM-SMEDDS) was prepared to increase its oral bioavailability. AM-SMEDDS was developed using Capryol 90, Cremophor EL, and Transcutol HP as oil, surfactant, and cosurfactant, respectively, by spontaneous emulsification method. Pseudoternary diagram showed maximum region at 3:1 ratio of Cremophor EL/Transcutol HP. The AM-SMEDDS showed globule size and zeta potential of 21.1 ± 1.2 nm and − 19.3 ± 1.8 mV, respectively. Globules were found to be of spherical shape and uniformly distributed by transmission electron microscopy. In vitro drug release study showed 99.2 ± 3.3% of drug release at the end of 8 h in phosphate buffer pH 6.8. Ex vivo drug release study showed only 15% of drug diffusion through stomach and ~ 85% drug was diffused through intestinal membrane. Confocal and flow cytometry study showed that cellular uptake of coumarin-6 loaded SMEDDS was significantly enhanced by Caco-2 cells as that of coumarin-6 solution. The relative bioavailability of AM-SMEDDS was found to be 23.53 times greater than AM suspension. Intestinal lymphatic transport study using Cycloheximide (CHX) showed that the AUCtotal of AM-SMEDDS reduced about 35.67% compared with that without the treatment of CHX indicating involvement of lymphatic system in intestinal absorption of AM-loaded SMEDDS. These findings demonstrated the potential of SMEDDS for oral bioavailability improvement of AM via lymphatic uptake.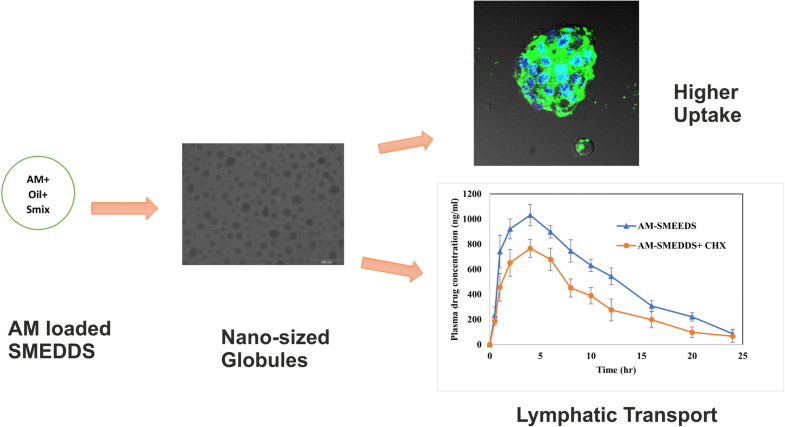 KEY WORDS
Asenapine maleate 
Self-microemulsifying drug delivery system (SMEDDS) 
Cell uptake 
Bioavailability enhancement 
Notes
Acknowledgements
Mitali Patel thanks the Department of Science and Technology (DST), New Delhi, India for award of "Innovation in Science Pursuit for Inspired Research (INSPIRE)" Fellowship. Authors thank excipient companies—BASF India, Gattefosse India, HiMedia, and Sigma-Aldrich—for providing excipients and Alembic Pharmaceuticals Ltd, India for providing Asenapine maleate.
Copyright information
© American Association of Pharmaceutical Scientists 2019