Lipid Architectonics for Superior Oral Bioavailability of Nelfinavir Mesylate: Comparative in vitro and in vivo Assessment
Research Article Theme: Lipid-Based Drug Delivery Strategies for Oral Drug Delivery
Part of the following topical collections:
Abstract
Nelfinavir mesylate (NFV), a human immunodeficiency virus (HIV) protease inhibitor, is an integral component of highly active anti retro viral therapy (HAART) for management of AIDS. NFV possesses pH-dependent solubility and has low and variable bioavailability hampering its use in therapeutics. Lipid-based particulates have shown to improve solubility of poorly water soluble drugs and oral absorption, thereby aiding in improved bioavailability. The current study compares potential of vesicular and solid lipid nanocarriers of NFV with drug nanocrystallites and microvesicular systems like cochleates in improving bioavailability of NFV. The paper outlines investigation of systems using in vitro models like in vitro lipolysis, in vitro release, and permeation through cell lines to predict the in vivo potential of nanocarriers. Finally, in vivo pharmacokinetic study is reported which provided proof of concept in sync with results from in vitro studies.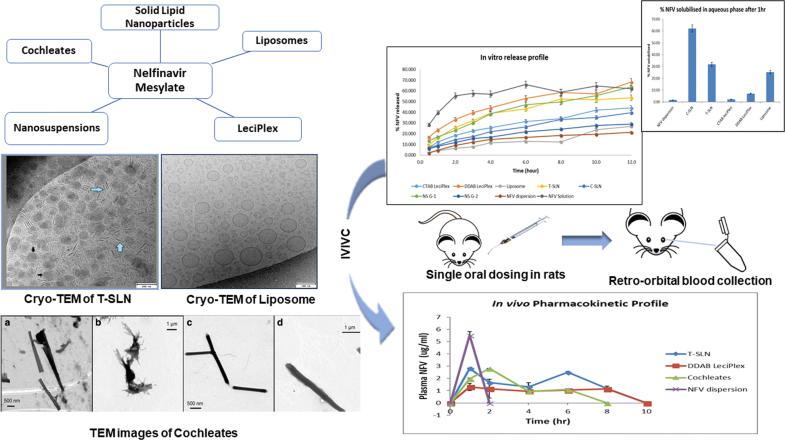 KEY WORDS
SLN 
LeciPlex® 
liposomes 
nanosuspension 
cochleates 
molecular dynamic simulation 
Caco-2:HT29-MTX co-culture 
Notes
Acknowledgements
Authors thank Macleods Pharmaceuticals from providing the gift sample of Nelfinavir Mesylate, Lipoid GmBH, Germany, for providing gift sample of Lecithin. We are grateful to Frank Steiniger for his assistance in Cryo-TEM imaging and Nilesh Kulkarni, Tata Institute of Fundamental Research for X-Ray Diffraction studies.
Funding Information
Tejashree Belubbi, Sukhada Shevade, Vivek Dhawan, Mangal S. Nagarsenker, Kalpa Nagarsenker, and Alfred Fahr are thankful to Indian Council of Medical Research (ICMR), New Delhi, India (Project No: 50/12/2013/BMS) and BundesministeriumfürBildung und Forschung (BMBF), Bonn, Germany, for financial assistance, travel, and accommodation.
Copyright information
© American Association of Pharmaceutical Scientists 2018