Abstract
This study elucidates the physical properties of sono-crystallised micro/nano-sized acetaminophen/paracetamol (PMOL) and monitors its possible transformation from polymorphic form I (monoclinic) to form II (orthorhombic). Hydrophilic Plasdone® S630 copovidone (S630), N-vinyl-2-pyrrolidone and vinyl acetate copolymer, and methacrylate-based cationic copolymer, Eudragit® EPO (EPO), were used as polymeric carriers to prepare drug/polymer binary mixtures. Commercially available PMOL was crystallised under ultra sound sonication to produce micro/nano-sized (0.2–10 microns) crystals in monoclinic form. Homogeneous binary blends of drug-polymer mixtures at various drug concentrations were obtained via a thorough mixing. The analysis conducted via the single X-ray crystallography determined the detailed structure of the crystallised PMOL in its monoclinic form. The solid state and the morphology analyses of the PMOL in the binary blends evaluated via differential scanning calorimetry (DSC), modulated temperature DSC (MTDSC), scanning electron microscopy (SEM) and hot stage microscopy (HSM) revealed the crystalline existence of the drug within the amorphous polymeric matrices. The application of temperature controlled X-ray diffraction (VTXRPD) to study the polymorphism of PMOL showed that the most stable form I (monoclinic) was altered to its less stable form II (orthorhombic) at high temperature (>112°C) in the binary blends regardless of the drug amount. Thus, VTXRD was used as a useful tool to monitor polymorphic transformations of crystalline drug (e.g. PMOL) to assess their thermal stability in terms of pharmaceutical product development and research.
This is a preview of subscription content, log in to check access.
Access options
Buy single article
Instant access to the full article PDF.
US$ 39.95
Price includes VAT for USA
Subscribe to journal
Immediate online access to all issues from 2019. Subscription will auto renew annually.
US$ 99
This is the net price. Taxes to be calculated in checkout.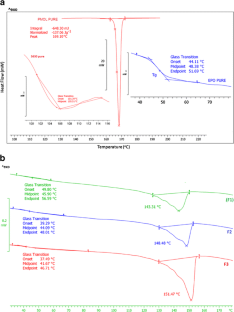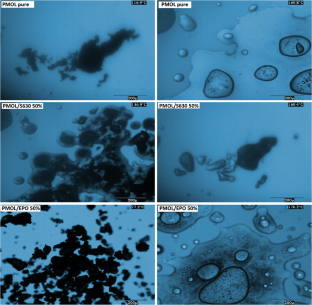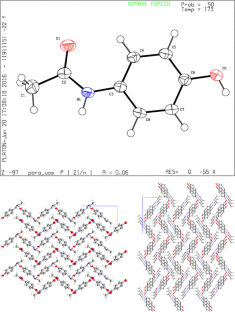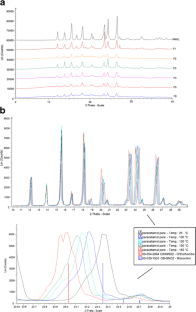 REFERENCES
1.

Hancock BC, Shalaev EY, Shamblin SL. Polyamorphism: a pharmaceutical science perspective. J Pharm Pharmacol. 2002;54:1151–2.

2.

Maniruzzaman M, Islam MT, Moradiya HG, Halsey S, Chowdhry BZ, Snowden MJ, et al. Prediction of polymorphic transformation of paracetamol in solid disersions. J Pharm Sci. 2014;103:1819–28.

3.

Sander JRG, Bucˇar DK, Baltrusaitis J, MacGillivray LR. Organic nanocrystals of the resorcinarene hexamer via sonochemistry: evidence of reversed crystal growth involving hollow morphologies. J Am Chem Soc. 2012;134:6900–3.

4.

Sinha B, Miller RH, Mçschwitzer JP. Bottom-up approaches for preparing drug nanocrystals: formulations and factors affecting particle size. Int J Pharm. 2013;453:126–41.

5.

Merisko-Liversidge EM, Liversidge GG. Drug nanoparticles: formulating poorly water-soluble compounds. Toxicol Pathol. 2008;36:43–8.

6.

Wang M, Rutledge GC, Myerson AS, Trout BL. Production and characterization of carbamazepine nanocrystals by electrospraying for continuous pharmaceutical manufacturing. J Pharm Sci. 2012;101:1178–88.

7.

de Castro MD L, Priego-Capote F. Ultrasound-assisted crystallization (sonocrystallization). Ultrason Sonochem. 2007;14:717–24.

8.

Sander JRG, Zeiger BW, Suslick KS. Sonocrystallization and sonofragmentation. Ultrason Sonochem. 2014;21:1908–15.

9.

Suslick KS. Sonochemistry. Science. 1990;247:1439–45.

10.

Maniruzzaman M, Boateng JS, Bonnefille M, Aranyos A, Mitchell JC, Douroumis D. Taste masking of paracetamol by hot-melt extrusion: an in vitro and in vivo evaluation. Eur J Pharm Biopharm. 2012;80(2):433–42.

11.

Qi S, Avalle P, Saklatvala R, Craig DQM. An investigation into the effects of thermal history on the crystallisation behaviour of amorphous paracetamol. Eur J Pharm Biopharm. 2008;69:364–71.

12.

Qi S, Gryczke A, Belton P, Craig DQM. Characterisation of solid dispersions of paracetamol and Eudragit® E prepared by hot-melt extrusion using thermal, microthermal and spectroscopic analysis. Int J Pharm. 2008;354:158–67.

13.

Rastogi SK, Zakrzewski M, Suryanarayanan R. Investigation of solid-state reactions using variable temperature X-ray powder diffractrometry I. Aspartame hemihydrates. Pharm Res. 2001;18:267–73.

14.

Rastogi SK, Zakrzewski M, Suryanarayanan R. Investigation of solid-state reactions using variable temperature X-ray powder diffractometry II. Aminophylline monohydrate. Pharm Res. 2002;19:1265–73.

15.

Maniruzzaman M, Islam MT, Moradiya HG, Halsey SA, Slipper IJ, Chowdhry BZ, et al. Prediction of polymorphic transformations of paracetamol in solid dispersions. J Pharm Sci. 2014;103(6):1819–28.

16.

Hansen CM. The universality of the solubility parameter. Ind Eng Chem Res Dev. 1969;8:2–11.

17.

Hoftyzer PJ, Krevelen DWV. Properties of polymers. Amsterdam: Elsevier; 1976.

18.

PDF-2 Release in Kabekkodu SN. International Centre for Diffraction Data: Newtown Square, PA, 2008.

19.

Maniruzzaman M, Pang J, Morgan DJ, Douroumis D. Molecular modelling as a predictive tool for the development of solid dispersions. Mol Pharm. 2015;12(4):1040–9.

20.

Zheng X, Yang R, Tang X, Zheng L. Part I characterization of solid dispersions of nimodipine prepared by Hot-melt extrusion. Drug Dev Ind Pharm. 2007;33:791–802.

21.

Bucˇar D-K, Elliott JA, Eddleston MD, Cockcroft JK, Jones W. Sonocrystallization Yields Monoclinic Paracetamol with Significantly Improved Compaction Behavior

22.

Barton JM. Dependence of polymer glass transition temperatures on heating rate. Polymer. 1969;10:151–4.

23.

Hancock B, Dalton C, Pikal M, Shamblin S. A pragmatic test of a simple calorimetric method for determining the fragility of some amorphous pharmaceutical materials. Pharm Res. 1998;15:762–7.

24.

Martino PD, Conflant P, Drache M, Huvenne JP, Guyot- Hermann AM. Preparation and physical characterization of forms II and III of paracetamol. J Therm Anal Calorim. 1997;48(3):447–58.

25.

De Villiers MM, Terblanche RJ, Liebenberg W, Swanepoel E, Dekker TG, Mingna S. Variable-temperature X-ray powder diffraction analysis of the crystal transformation of the pharmaceutically preferred polymorph C of mebendazole. J Pharm Biomed Anal. 2005;38:435–41.
Additional information
The Editors have retracted this article because:
• The top left panel of Figure 1a appears to be the same as Figure 1(ii) of [2]
• The bottom right panel of Figure 1a appears to be the same as Figure 1(iv) of [2]
The scanning electron microscopy data reported in this article are therefore unreliable. Mohammed Maniruzzaman, Ali Nokhodchi and Matthew Lam agree with this retraction. Carlos Molina has not responded to any correspondence from the Editors/publisher about this retraction.
Guest Editors: Dr. Z Ahmad and Prof. M Edirisinghe
Rights and permissions
Open Access This article is distributed under the terms of the Creative Commons Attribution 4.0 International License (http://creativecommons.org/licenses/by/4.0/), which permits unrestricted use, distribution, and reproduction in any medium, provided you give appropriate credit to the original author(s) and the source, provide a link to the Creative Commons license, and indicate if changes were made.
About this article
Cite this article
Maniruzzaman, M., Lam, M., Molina, C. et al. RETRACTED ARTICLE: Study of the Transformations of Micro/Nano-crystalline Acetaminophen Polymorphs in Drug-Polymer Binary Mixtures. AAPS PharmSciTech 18, 1428–1437 (2017). https://doi.org/10.1208/s12249-016-0596-x
Received:

Accepted:

Published:

Issue Date:
KEY WORDS
monoclinic

nano-sized crystals

orthorhombic

sono-crystallisation

variable temperature XRPD