Application of transcranial direct current stimulation to psychiatric disorders: trends and perspectives
Abstract
Background
Growing attention is paid to transcranial direct current stimulation (tDCS) as a novel neuromodulation method in the treatment of psychiatric illnesses. In spite of its simple procedure, electrophysiological influence of tDCS is complex and not fully understood. Therefore, its procedure and clinical application is yet to be established. To address this issue, we reviewed and summarized reports currently available, and proposed future directions.
Methods
We searched PubMed for the literature of tDCS, targeting depression, cognitive enhancement or schizophrenia, sham-controlled, and repeated stimulation sessions.
Results
Among psychiatric conditions, depression is most associated with positive effects of tDCS, based on the recent systematic review, due to homogeneity in methodology adopted in randomized sham-controlled trials. For cognitive enhancement and/or treatment of schizophrenia, results are less consistent, and the methods are more heterogeneous.
Conclusion
Large-scale well-designed trials are needed to more accurately evaluate the efficacy of tDCS. In this article, considerations of optimal stimulation conditions are also provided.
Keywords
Transcranial direct current stimulation 
Neuromodulation 
Depression 
Dementia 
Cognitive function 
Schizophrenia 
Abbreviations
AD

Alzheimer's Disease

AE

Adverse Event

CT

Cognitive Training

DLPFC

Dorso Lateral Prefrontal Cortex

ECT

Electroconvulsive Therapy

HD-tDCS

High-Definition Transcranial Direct Current Stimulation

PANSS

Positive and Negative Symptom Scale

RCT

Randomized Controlled Trial

SANS

the Scale for the Negative Symptoms

tACS

transcranial Alternating Current Stimulation

tDCS

transcranial Direct Current Stimulation

tRNS

transcranial Random Noise Stimulation
Introduction
Growing attention is paid to transcranial direct current stimulation (tDCS) as a novel neuromodulation method in the treatment of psychiatric illnesses. Its basic concept is simple; applying a weak current (no more than 2 mA) over a period of time (usually no more than 30 min) to the brain via two or more electrodes, of which at least one is put over the scalp. The history of tDCS can be traced back to the 19th century. In 1930s, tDCS was once disregarded as a treatment tool with the advent of electroconvulsive therapy. The reasons for its abandonment may also have included inconsistent results, unknown mode of action, and the lack of reliable and reproducible methods and verification processes (Steinberg
2013
). However, the recent progress in methodology, reproducibility, and positive results under some conditions has facilitated the renaissance of tDCS. Among the neuromodulation devices currently available, e.g. electroconvulsive therapy (ECT), vagus nerve stimulation, and transcranial magnetic stimulation (TMS) (Table 
1
), we will provide a brief overview of tDCS. Considerations will be given to the difference from other modalities of stimulation methods, as well as challenges to promote its clinical applications.
Table 1
Psychiatric neuromodulation methods compared with tDCS (adapted from (George et al. 2011))
 

ECT

VNS

TMS

DBS

tDCS

Clinical Approval By FDA

Depression

Epilepsy

TRD

PD

None approved

Schizophrenia etc.

TRD

Migraine

TRD

 
 
 

OCD

Anesthesia

General

General

No

General

No

Possible Risks

Amnesia

Hoarseness

Headache

Stroke

Skin redness

Delirium

Cough

Dizziness

Infection

Scalp discomfort

 
 

Scalp discomfort

Seizure

 

Number of sessions for depression

8 to 12 sessions

NA

20 to 30 sessions

NA

5 to 15 sessions

2 to 3 sessions a week

 

3–5 sessions a week

 

3–5 sessions a week

General cost in the U.S.

$800 to $1000 per session

$5,000 to $30,000

$300 per session

$130,000 (Stroupe et al. 2014)

No more than TMS per session
The most common type of tDCS is the 1x1 paradigm, which uses two (one anode and one cathode) rubber electrodes covered by saline-soaked sponges (usually 20 to 35 cm2).
Figure 
1
shows an example of how applying tDCS to a subject looks like. In terms of safety, recent tDCS studies largely adapt the protocol including the use of sponges of 25 – 35 cm
2
in size and currents of 1 – 2 mA applied for up to 30 min. Similar to the case with ECT, the mechanism of action of tDCS is not fully understood yet. There has been a concept that the electrical current through the brain is believed to evoke depolarization of neurons and increasing excitability of the cortical region below the anodal electrode, with opposite effects on the cathodal electrode (Stagg et al.
2013
). However, controversy exists on this view (Lopez-Alonso et al.
2014
; Wiethoff et al.
2014
). Its excitatory effect remains up to 90 min (Nitsche and Paulus
2001
), and daily repetitive stimulations elicit prolonged influences (Alonzo et al.
2012
). Besides the effect on resting membrane potentials, tDCS has been suggested to modify synaptic transmissions linked to glutamatergic and GABAergic activities (Mondino et al.
2014
; Stagg and Nitsche
2011
). Specifically, the after-effects of tDCS have been demonstrated to depend on modifications of NMDA-receptor efficacy (Stagg and Nitsche
2011
). The tDCS-induced excitability change is modulated by agonists or antagonists at catecholamine, acetylcholine or serotonin receptors (Stagg and Nitsche
2011
; Medeiros et al.
2012
).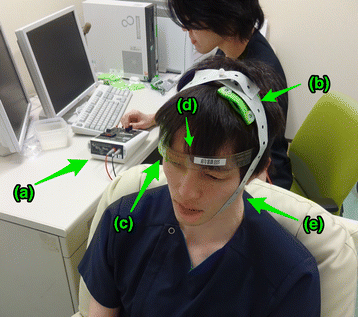 Contrary to its simple procedure, current flows during tDCS seem complex. Compared to TMS, electric fields caused by tDCS tend to be more diffused and non-focal (Russell et al. 2013), and interpersonal anatomical difference may affect its clinical outcome along with change in its electrical field (Kim et al. 2014). In a computer model experiment, the electric field is influenced by geometry of sulci and gyri between electrodes (Miranda et al. 2013). Another report suggests thicknesses of the cerebrospinal fluid and the skull, the gyral depth, and the distance to the anode and cathode affect electric field, accounting for up to 50 % of the spatial variation (Opitz et al. 2015). Moreover, even a slight (about 5 %) drift of electrodes during stimulation can cause significant change in electric field.(Woods et al. 2014) Therefore, current flows may vary substantially, which may cause inconsistent effects between individuals (Horvath et al. 2014). The variations of current flow may also be associated with paradoxical stimulation effects, as represented by "cathodal stimulation" and suppressing performance by either anodal or cathodal stimulation (Filmer et al. 2013). Moreover, a couple of recent reports suggest around half of healthy subjects do not show an expected excitatory effect on anodal tDCS (Lopez-Alonso et al. 2014; Wiethoff et al. 2014). Further, no persistent excitability changes during anodal, cathodal or sham stimulation have been reported, while polarity-independent after-effect was present (Santarnecchi et al. 2014).
Recently, high-definition tDCS (HD-tDCS), using an array of small electrodes (as small as those for electroencephalogram), has been investigated in the context of increasing the focality (Edwards et al. 2013) to reduce interpersonal variations (Miranda et al. 2013; Datta et al. 2012). To the best of our knowledge, clinical benefits of HD-tDCS in psychiatric conditions has not yet been reported. Also, novel approaches with regard to types of electric currents have been studied, suggesting unique effects on neurons. Transcranial alternating current stimulation (tACS) uses fluctuating and alternating polarity of current with a certain frequency, instead of direct current, and is suggested to produce brain oscillations (Helfrich et al. 2014). Transcranial random noise stimulation (tRNS) is a special form of tACS, with a frequency spectrum characteristic of white noise (Terney et al. 2008). Head-to-head comparison of tDCS, tACS and tRNS for tinnitus suggests tRNS elicits the largest suppressive effect on its loudness (Vanneste et al. 2013).
In this review, we will focus on the current status of applications of the 1x1 tDCS method to psychiatric conditions.
Notes
Acknowledgements
This work is supported by grants Japan Society for the Promotion of Science Grant-in-Aid for Scientific Research (No. 26461761 and 26860958), Health and Labour Sciences Research Grants for Comprehensive Research on Disability, Health, and Welfare (H26-Seishin-Ippan-011), and Intramural Research Grant for Neurological and Psychiatric Disorders of NCNP (27–1).
The authors thank Dr. Mitsutoshi Okazaki for fruitful discussions.
Copyright information
© Yokoi and Sumiyoshi. 2015
This is an Open Access article distributed under the terms of the Creative Commons Attribution License (http://creativecommons.org/licenses/by/4.0), which permits unrestricted use, distribution, and reproduction in any medium, provided the original work is properly credited. The Creative Commons Public Domain Dedication waiver (http://creativecommons.org/publicdomain/zero/1.0/) applies to the data made available in this article, unless otherwise stated.