Development of stem cell-based therapy for Parkinson's disease
Abstract
Parkinson's disease (PD) is one of the most common neurodegenerative disorders of aging, characterized by the degeneration of dopamine neurons (DA neurons) in the substantial nigra, leading to the advent of both motor symptoms and non-motor symptoms. Current treatments include electrical stimulation of the affected brain areas and dopamine replacement therapy. Even though both categories are effective in treating PD patients, the disease progression cannot be stopped. The research advance into cell therapies provides exciting potential for the treatment of PD. Current cell sources include neural stem cells (NSCs) from fetal brain tissues, human embryonic stem cells (hESCs), induced pluripotent stem cells (iPSCs) and directly induced dopamine neurons (iDA neurons). Here, we evaluate the research progress in different cell sources with a focus on using iPSCs as a valuable source and propose key challenges for developing cells suitable for large-scale clinical applications in the treatment of PD.
Keywords
Parkinson's disease 
Dopamine neuron 
Neural stem cell 
Human embryonic stem cells 
Induced pluripotent stem cell 
Induced dopamine neuron 
Introduction
Parkinson's disease (PD) is one of the most common neurodegenerative disorders of aging, affecting about 1 % of the population aged 60 years and older and 3–5 % of the population above the age of 85 [1].
Clinically, patients with PD are characterized with both motor and non-motor symptoms. Motor symptoms, being far more noticeable, have typically been used in clinical diagnosis. The various disruptions in motor control include muscle rigidity, resting tremors, bradykinesia (slowness of movement), and postural instability, and typically appear when 60–80 % of dopamine (DA) neurons in the substantia nigra are degenerated [2]. The reliable identification of non-motor symptoms is important as many non-motor symptoms, including depression, cognitive dysfuction, pain, and sleep disorders, precede the motor dysfunctions; not only is management of these symptoms important for quality of life, but early diagnosis of PD could also be key for effective treatment [3].
Because DA neurons degenerate to cause a drop in dopamine release, current treatments for PD include dopamine replacement drugs such as levodopa to increase dopamine levels, dopamine inhibitor carbidopa to reduce dopamine degradation in the peripheral blood [4, 5], and deep brain stimulation (DBS) to the nucleus subthalamicus [6]. Even though dopamine replacement drugs and DBS are effective in improving the symptoms of the patients, they cannot stop the disease progression. Moreover, current medications can cause the development of dyskinesia (involuntary muscle movements), effectively "overshooting" the clinical symptoms of PD. Recent research progress has provided treatment potential through replacing lost DA neurons using neural stem cells (NSCs) or fully differentiated DA neurons from fetal brain tissue, embryonic stem cells (ESCs), mesenchymal stem cells (MSCs) sourced from adults or fetuses, and induced pluripotent stem cells (iPSCs) reprogrammed from patients' somatic fibroblasts or blood cells. Much work has been done to adapt cells from various sources to potential clinical applications to improve treatments for neurodegenerative diseases including PD [7, 8].
Etiology and pathological mechanisms
The causes of PD can be characterized as genetically susceptible genes and environmental toxic factors such as the pesticide rotenone and heavy metal manganese, which implicate oxidative damage and mitochondrial impairment leading to degeneration of dopamine neurons in PD [9, 10, 11, 12, 13]. The majority of PD cases are sporadic or idiopathic with unknown aetiology (80–90 % of PD cases), but a minority of cases (with estimates ranging from 10 to 20 % of PD cases) are familial and can be linked to a particular monogenic mutation or associated to PD related genes. The twin studies have suggested that this finding can be explained by the fact that genetic factors do not play a major role in causing typical PD, particularly with regards to disease incidence after 50 years of age [14]. They suggested that genetic factors are only an important factor when the disease begins at or before the age of 50, a relatively rare occurrence. The most well-characterized mutation loci for early-onset autosomal recessive PD are PARK2(Parkin) , PINK1, and PARK7, ATP13A2 whereas those for the autosomal dominant form of PD are SCNA and LRRK2. The susceptible genes associated with PD are Tau, Nurr1 and GBA. SCNA, which codes for alpha-synuclein, has been particularly well-studied; triplication of the locus has been associated with an aggressive form of PD that advances into cognitive impairment [15, 16]. There is ongoing debate as to the exact balance between the genetic and environmental factors mainly because the accuracy of clinical diagnosis of idiopathic PD has been disputed [17]. Some other reasons of the difficulties associated with assessing the disease etiology may be the result of inconsistent diagnostic criteria among heterogeneous populations of PD patients for study.
Pathologically, PD is involved in the degeneration and loss of dopamine (DA) neurons located in the substantia nigra of the the midbrain [18]. These DA neurons project to the basal ganglia (the striatum), which is heavily involved in motor control and function [19]. The loss of DA neurons is accompanied by lewy bodies and lewy neurites, which are mainly formed by insoluble aggregates of alpha-synuclein (coded by SCNA) and Tau protein and might hamper the survival and dendritic development of newborn neurons [20, 21]. The spread of lewy bodies in the brain causes motor symptoms accompanied by an intensification of the disease, including cognitive impairment that encompasses hallucinations, dementia, and speech difficulties [22, 23].
Stem cell sources for the treatment of PD
Several stem cell sources for the treatment of PD have been studied in the past decades and summarized in Fig. 
1
. Some studies used adult bone marrow-derived mesenchymal stem cells (BM-MSC) and olfactory ensheathing cells (OEC) [
24
,
25
,
26
], but these cells have limited ability to differentiate to dopamine neurons. Currently neural stem cells (NSCs) and dopamine neurons from fetal brain tissue, embryonic stem cells (ESCs), induced pluripotent stem cells (iPSCs) and directly induced dopamine neurons (iDA neuron) reprogrammed from autologous somatic cells have been widely studied to move these cells into bedside [
27
,
28
,
29
].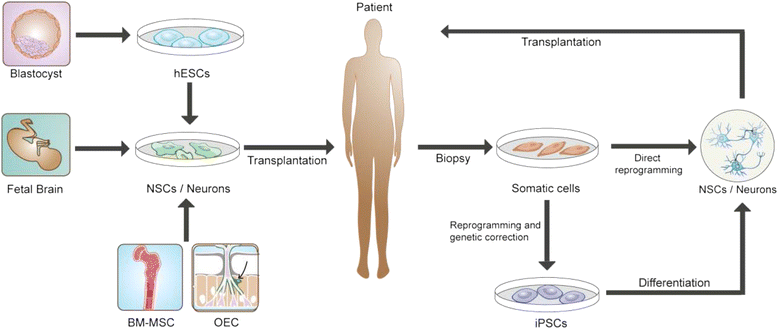 Future aspects and challenges for cell-based therapy of PD
As we discussed above, the NSCs and DA neurons from fetal brain and hESCs are not suitable for clinical use because of their immune-rejections and ethical issues. The availability of iPSCs and iDA neurons paved the road for autologous cell-based therapy of PD. A clinical trial to use iPSCs for the treatment of eye disorders has been initiated in Japan. However, several aspects of iPSCs need to be resolved before they go to clinical use. These include low yields of DA neurons, genetic and epigenetic abnormalities, and the safety of iPSC-derived cells.
Low yield
Though low yields of fully reprogrammed cells are a recurring problem, this is by no means an inherent property of iPSC generation, and there will continue to be yield improvements in the future. The original yields of 0.05 % have been increased by various factors, such as the addition of VPA and other chemicals in generating iPSCs [127]. Yamanaka et al. proposes the stochastic model, under which most or all differentiated cells have the potential to become iPSCs. Indeed, though iPSCs are typically generated from fibroblast cells, they have been generated from a wide array of cells from all three cell lines (mesodermal, endodermal, and ectodermal). Stadtfeld et al. [101] used liver cells; Aoi et al. [128] used stomach and liver cells; Aasen et al. [129] used human hair cells, indicating that cells can theoretically be sourced from virtually anywhere on the adult human, with varying yields across experiments. In fact, Aasen et al. found that keratinocyte-derived iPSCs from adult human hairs were indistinguishable from ESCs and generated with a 100-fold increase in efficiency compared to human fibroblast reprogramming [129]. In any case, future avenues must include comparisons between method efficiencies, with the goal of optimizing protocols for maximum cell yield of iPS cells.
Genetic and epigenetic abnormalities
There remain concerns regarding epigenetic memory in iPSCs and iDA neurons towards a cell fate related to their donor source and otherwise maintaining a reprogramming signature after differentiation [130, 131]. The lentivirus or retrovirus-mediated reprogramming methods should be replaced by non-integrating vectors to express the reprogramming genes or combine with small molecules for the generation of clinical applicable iPS cells [132]. Some iPSCs from PD patients may also contain gene mutations such as point mutations, chromosomal structure variations, gene duplications, and deletions in the genes of SNCA, Parkin, LRRK2, GBA or others [103, 133, 134, 135, 136, 137]. The cells derived from iPSCs with genetic mutations are not suitable for direct transplantation as the functions of cells are affected by the genetic mutations. Several protocols have been developed to correct the mutation in PD patient-derived iPSCs. It was reported that the SNCA mutation (A53T) in iPSCs could be repaired by a zinc-finger nuclease (ZFN)-mediated nuclease approach and the ability to differentiate into dopaminergic neurons was not affected by genetic correction of the A53T mutation in the patient-derived iPSCs. PCR genotyping and sequencing analysis confirmed the correctly repaired patient-derived iPSC lines [137]. A recent study showed that the LRRK2 G2019S mutation in iPSCs was corrected and the LRRK2 mutation correction produced phenotype rescue in differentiated neurons [103].
Safety and purity
To obtain iPSC-derived NSCs or DA neurons for the treatment of PD, it is required that the residues of undifferentiated iPSCs should be less than 1 % to avoid teratoma formation after transplantation. Approaches have been developed to sort the iPSC-derived cells with FACS or other non-invasive magnetic selection. In addition, the cell culture should be carried in feeder-free conditions to avoid the contamination of animal sources. Currently, murine-derived feeder cells are widely used to maintain hESCs and hiPSCs. Also, culture medium containing fetal bovine serum (FBS) is normally used for the culture of these feeder cells. This will cause the allogenic cell contamination of the iPSC-derived cells. A recent study developed a feeder-free system to culture the hESCs and iPSCs in the StemFit™ medium, taking a big step toward making clinically-applicable GMP-standard cells [138].
Onwards to the clinic: conclusion
Cell replacement therapy is a promising avenue for the treatment of PD and other neurodegenerative disorders. The use of all cell sources derived – fetal NSCs, ESCs , iPSCs and iDA neurons – is fraught with ethical, logistical, and safety concerns. However, scientific research is making great progress in the development and characterization of iPSC derived cells for PD. iPSCs and their derivatives injected into animal models have shown promise in treatment of disorders such as PD; however, iPSCs have not been used in clinical trials for PD. There are some limitations/disadvantages associated with iPSCs. A relevant therapeutic progenitor or mature cell type may be identified and grafted in such treatments; in the case of PD, the options are, of course, iPSC-derived NSCs and iPSC-derived DA neurons. Theoretically, these two should act just like their non-iPSC derived counterparts –in actuality, because of the concerns mentioned above, the unique iPSC heritage of such cells sometimes poses its own unique set of problems.
Pre-clinical studies on viability might also be necessary to establish the scope of the treatment. iPSCs would not be moved to clinical trials at least until iPSCs are better understood and efficient and safe methods for reprogramming and gene correction are developed. The pace of progress will no doubt continue to speed along in the years to come, and it is therefore quite likely that within our lifetime we will witness the jump from dish to clinic.
Notes
Acknowledgements
This work was supported by National Natural Science Foundation of China (NSFC 81271251) and The Science and Technology Developmental Fund of Shandong Province, China (2012GGA15049).
Copyright information
© Han et al. 2015
Open AccessThis article is distributed under the terms of the Creative Commons Attribution 4.0 International License (http://creativecommons.org/licenses/by/4.0/), which permits unrestricted use, distribution, and reproduction in any medium, provided you give appropriate credit to the original author(s) and the source, provide a link to the Creative Commons license, and indicate if changes were made. The Creative Commons Public Domain Dedication waiver (http://creativecommons.org/publicdomain/zero/1.0/) applies to the data made available in this article, unless otherwise stated.