Physical activity as treatment for alcohol use disorders (FitForChange): study protocol for a randomized controlled trial
Open Access
Study protocol
Abstract
Background
Help-seeking for alcohol use disorders (AUDs) is low and traditional treatments are often perceived as stigmatizing. Physical activity has positive effects on mental and physical health which could benefit this population. We propose to compare the effects of aerobic training, yoga, and usual care for AUDs in physically inactive Swedish adults.
Methods
This is a three-group, parallel, single-blind, randomized controlled trial (RCT). In total, 210 adults (aged 18–75 years) diagnosed with an AUD will be invited to participate in a 12-week intervention. The primary study outcome is alcohol consumption measure by the Timeline Follow-back method and the Alcohol Use Disorders Identification Test (AUDIT). Secondary outcomes include: depression, anxiety, perceived stress, sleep quality, physical activity levels, fitness, self-efficacy, health-related quality of life, and cognition. Blood samples will be taken to objectively assess heavy drinking, and saliva to measure cortisol. Acute effects of exercise on the urge to drink alcohol, mood, and anxiety will also be assessed.
Discussion
The treatment potential for exercise in AUDs is substantial as many individuals with the disorder are physically inactive and have comorbid health problems. The study is the first to assess the effects of physical activity as a stand-alone treatment for AUDs. Considerable attention will be given to optimizing exercise adherence. Both the feasibility and treatment effects of exercise interventions in AUDs will be discussed. The Ethical Review Board (EPN) at Karolinska Institutet has approved the study (DNR: 2017/1380-3).
Trial registration
German Clinical Trials Register, ID: DRKS00012311. Registered on 26 September 2017.
Keywords
Alcohol dependence 
Randomized controlled trial (RCT) 
Exercise 
Physical activity 
Yoga 
Abbreviations
AUD

Alcohol use disorder

Gymnastik- och idrottshögskolan – GIH

Swedish Institute of Sport and Health Science

RCT

Randomized controlled trial

Regionala Etikprovninsnämnden – EPN

Regional Ethics Committee

SPSS

Statistical Package for the Social Sciences
Background
Alcohol use disorder (AUD) is a debilitating medical condition associated with negative health and social outcomes. Key features include an inability to control the amount of alcohol consumed, consumption that results in social or work-related problems, and tolerance or the need to drink increasing amounts of alcohol to obtain a desired effect [1]. Rates of help-seeking for AUDs are typically low and traditional treatments, such as medication and counseling, are often perceived as stigmatizing [2]. Treatment outcomes are also highly variable with many patients relapsing into the dependence syndrome following a period of abstinence [3]. Available evidence suggests that many people with an AUD are insufficiently active [4] and have impaired cardiorespiratory fitness [5]; factors contributing to a higher prevalence of cardiovascular disease, diabetes, and metabolic syndrome [6, 7]. Of particular concern, even individuals with milder forms of AUD experience an excess mortality rate twice as high than those without the disorder [8].
Physical exercise is known to benefit mental and physical health synergistically [9], and may be effective in the treatment of AUDs where multimorbidity – the presence of two or more health problems – is common. A growing body of evidence suggests that individuals with substance use disorders are interested in exercising and may derive benefits from regular exercise, both in terms of general health/fitness and dependence recovery [10]. Cross-sectional and prospective studies have consistently shown that physical activity is associated with better mental health [11, 12], and recent studies indicate that exercise may help reduce tobacco cravings and cigarette use [13].
The effects of exercise on alcohol consumption remain understudied and poorly understood. A recent meta-analysis identified 21 studies published between 1972 and 2016 examining physical activity interventions for AUDs [14]. The results indicated positive effects of exercise on depression and physical fitness, but no significant changes on measures of consumption; however, all analyses for this outcome were limited to three studies. Considerable study heterogeneity was observed, and no interventions had examined the effects of exercise alone with traditional treatments for AUDs [14]. In a recent narrative review, Giesen et al. concluded that exercise is both safe and feasible for patients with alcohol dependence, but called for larger controlled trials with comparisons of different types of exercise [10].
One issue that remains unclear is how different types of exercise influence treatment response. In mental health research, both aerobic exercise and strength training are effective in the treatment of mood disorders [15, 16], with effect sizes comparable to medication and psychological therapy [16]. However, these interventions may not be suitable for all patients with an AUD, especially those with little or no exercise experience. With its focus on flexibility, balance and posture, yoga is an increasingly popular form of exercise that could be particularly suitable for those with an AUD. Yoga meets the formal definition of "physical exercise" because it is purposeful, repetitive, and engaged in to improve fitness and/or health [17]. However, most forms of yoga include additional core elements, such as mindfulness, a focus on controlled breathing, and relaxation techniques. These features are known to have an influence on depressive symptoms and wellbeing [18]. Moreover, previous studies found significant heterogeneity in trials incorporating these mind-body approaches when compared with conventional aerobic or strength exercises [19]. For these reasons, it is important to compare the effects of yoga with conventional aerobic training.
This project builds on recently published data demonstrating the feasibility of yoga as an adjunct treatment for alcohol dependence [20]. Extending this work, we will conduct a randomized controlled trial (RCT) to examine the effects of two 12-week, supported physical activity interventions (yoga and aerobic training) on alcohol consumption in physically inactive adults with an AUD. A comparison group will receive standard treatment, described below.
Key research questions
What are the effects of yoga and aerobic exercise on alcohol consumption in AUD patients?

Does regular exercise reduce depression and anxiety, and improve self-efficacy in those with an AUD?

Does exercise reduce stress and improve sleep quality in AUDs?

Can exercise improve cognitive functioning in AUD patients?

Does regular exercise improve health-related quality of life in AUD patients?

What are the effects of exercise on cardiovascular risk factors and sedentary behavior?

What are the effects of acute exercise on the urge to drink alcohol, mood, and anxiety? (nested study)

What are participants' subjective experiences of the intervention? (qualitative study)
Methods
We adhered to the Standard Protocol Items: Recommendations for Interventional Trials (SPIRIT) guidelines in the preparation of this protocol (see Fig. 
1
and Additional file
1
for the SPIRIT Figure and Checklist, respectively)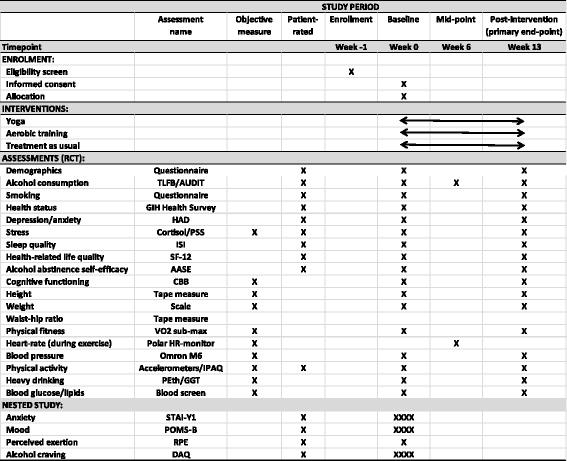 Discussion
The alcohol treatment clinic "Riddargatan 1" is currently trialing new treatment options for AUDs with an understanding that alcohol misuse is part of a spectrum of lifestyle imbalance; a notion that resonates well with many patients [3]. Viewed this way, changing one's drinking behavior and taking up regular exercise is a natural progression towards a healthier lifestyle. An added advantage of this approach is that it avoids the "complete abstinence" message and it makes treatment a more attractive and less stigmatizing option for patients. This is important, as premature termination of treatment and non-adherence are factors consistently associated with worse patient outcomes, yet both are common problems in alcohol treatment regimes. A meta-analysis of alcohol treatment outcome studies found that average short-term abstinence rates were 21% for untreated individuals, compared to 43% for treated individuals, suggesting that current therapies are more effective than no treatment, but there is considerable opportunity for improvement [40, 41].
Also relevant is that around 75% of those diagnosed with an AUD report mild-to-moderate drinking problems (two to five DSM-5 criteria fullfilled), with a much smaller proportion having severe problems [42, 43]. A Swedish study found that the majority of people who met the DSM-IV criteria for alcohol dependence did not drink at the highest consumption levels, were not living alone, and were not unemployed [43]. Most of those surveyed had few diagnostic criteria fulfilled and few social problems. This large majority with "moderate" alcohol dependence are also an under-treated group that is less inclined to seek professional help [43]. Currently, the individuals ultimately treated in specialist clinics tend to have more severe drinking problems, and reach out for help as a last resort, in part due to the perceived stigma of specialist clinics and the treatments currently offered.
Recent studies show that people with AUDs are interested and willing to engage in exercise interventions [10]. We suggest that broadening the array of effective, non-stigmatizing treatment options for AUDs could increase help-seeking, particularly among the majority with less severe drinking problems, and potentially reduce treatment non-adherence and dropout. The high prevalence of comorbid somatic and psychiatric problems in this population is another area where prescribed physical exercise could be of value. Previous reviews indicate that exercise is feasible for those with AUDs and will likely have positive effects on physical fitness and depression [14]. A potential source of bias – one that exists in many RCTs – is that the trial may attract a disproportionate number of people with positive expectations about physical activity. Where possible, characteristics of those who decline to participate will be compared to the active participants. However, the results will be generalizable to adults seeking treatment for alcohol-related problems through primary healthcare settings.
Our meta-analysis of exercise interventions for AUD suggests that participant attrition (dropout) may be high. Indeed, non-compliance with new exercise regimens is common in the general population. To minimize the risk of treatment non-adherence, all participants will be offered three free sessions with a qualified personal trainer who will be instructed to help participants identify and overcome obstacles to regular exercise. In addition, participants will meet with a research assistant half way through the study (week 6) to give out heart-rate monitors, and to briefly discuss their progress. All exercise sessions will be monitored electronically, and those who do not attend any sessions for 1 week will be contacted by their assigned trainer and encouraged to continue. We provide all training facilities free of charge, and those who complete the post-treatment assessment will receive feedback on changes in their test scores (e.g., fitness and cognition).
This large community-based trial will add clinically relevant information about the effects of acute exercise on mood, anxiety, and alcohol craving, and the effects of two popular physical activities (yoga and aerobic training) on alcohol consumption and health-related outcomes. Of importance, the trial will be one of the first to explore the effects of physical activity as standalone treatment for AUD. Policy and treatment implications of the findings will be discussed in future papers.
Notes
Acknowledgements
Nil
Funding
Swedish Research Council for Health, Working-life, and Welfare (FORTE).
Availability of data and materials
During the trial, all patient data will be kept in a secure room accessible only by the research group, following standard protocols recommended by the Karolinska Institutet.
Authors' contributions
MH conceived the study and wrote the first draft of the protocol. SA and MH will lead the project. MH and VA (MSN, registered nurse and clinician) will analyze project data and lead scientific articles. ÖE, senior lecturer, will coordinate exercise testing, training, and assist in the interpretation of physical activity data. All authors have read and approved the final version of this protocol.
Ethics approval and consent to participate
The trial has been approved by the Regional Ethics Committee (Regionala Etikprovninsnämnden, EPN), Stockholm; DNR: 2017/1380-31, and prospectively registered with German Clinical Trials Register on 14 July 2017: DRKS00012311 (www.drks.de). Informed consent will be obtained from all participants prior to inclusion. All patients must agree to participate voluntarily and will be free to withdraw from the study at any time. Patients randomized to exercise who wish to withdraw will be removed from the trial and offered usual care by a clinician. All participant data will be kept in a secure room accessible only by research personnel. The study protocol is publicly available via the institution's website: (http://ki.se/en/phs/epidemiology-and-public-health-intervention-research-ephir)
Trial status: the trial is due to commence in January 2018.
Protocol version 1, 28 November 2017.
Consent for publication
No individual-level participant data will be presented in scientific papers.
Competing interests
The authors declare that they have no competing interests.
Publisher's Note
Springer Nature remains neutral with regard to jurisdictional claims in published maps and institutional affiliations.
Copyright information
© The Author(s). 2018
Open AccessThis article is distributed under the terms of the Creative Commons Attribution 4.0 International License (http://creativecommons.org/licenses/by/4.0/), which permits unrestricted use, distribution, and reproduction in any medium, provided you give appropriate credit to the original author(s) and the source, provide a link to the Creative Commons license, and indicate if changes were made. The Creative Commons Public Domain Dedication waiver (http://creativecommons.org/publicdomain/zero/1.0/) applies to the data made available in this article, unless otherwise stated.