Toward better benchmarking: challenge-based methods assessment in cancer genomics
Part of the following topical collections:
Abstract
Rapid technological development has created an urgent need for improved evaluation of algorithms for the analysis of cancer genomics data. We outline how challenge-based assessment may help fill this gap by leveraging crowd-sourcing to distribute effort and reduce bias.
Keywords
Cancer Genomic 
Protein Structure Prediction 
Rapid Technological Development 
Cancer Genomic Data 
Protein Structure Prediction Method 
These keywords were added by machine and not by the authors. This process is experimental and the keywords may be updated as the learning algorithm improves.
Abbreviations
CASP

Critical Assessment of Protein Structure Prediction

GCRMA

GC Robust Multi-Array

PHI

Personal health information

NGS

Next-generation sequencing

SMC

Somatic Mutation Calling
Computational biology comprises three inter-connected activities: algorithm development, validation through benchmarking, and application. In the biomedical sciences, benchmarking occupies a central and indispensable role as it maps algorithms from the space of theoretical possibilities to the realm of practical value. Critically, this process attributes specific probabilities to an algorithm's discovery of biologically relevant knowledge (measured by the sensitivity of the algorithm) while not overwhelming the researcher with incorrect predictions (quantified by the algorithm specificity). Benchmarking is, however, a complex task, requiring the creation of comprehensive gold standards and the design of sophisticated validation strategies that may require additional experimental data. Indeed, as the use of computational methods in biomedical research becomes widespread, the need for appropriate benchmarking projects, especially those involving community participation, is substantially growing (Table
1
). In particular, the rapidly increasing size of whole-genome molecular profile datasets from large sample repositories underscores the importance of benchmarking; it has become virtually impossible to validate algorithmic predictions that are based on such large datasets systematically.
Table 1
Non-comprehensive list of important and current challenge efforts and platforms
| Challenge | Scope | Assessment type | Organizers | Website |
| --- | --- | --- | --- | --- |
| Assemblathon1&2 | Sequence assembly | Objective scoring | UC Davis Genome Center | |
| CAFA | Protein function prediction | Objective scoring | Community collaboration | |
| CAGI | Systems biology | Objective scoring | UC Berkley/University of Maryland | |
| CAPRI | Protein docking | Objective scoring | Community collaboration | |
| CASP | Structure prediction | Objective scoring | Community collaboration | |
| ChaLearn | Machine learning | Objective scoring | ChaLearn Organization (non-for profit) | |
| CLARITY | Clinical genome interpretation | Objective scoring and evaluation by judges | Boston Children's Hospital | http://www.childrenshospital.org/research-and-innovation/research-initiatives/clarity-challenge |
| DREAM | Network inference and systems biology | Objective scoring | Community collaboration & Sage Bionetworks | |
| FlowCAP | Flow cytometry analysis | Objective scoring | Community collaboration | |
| IGCG-TCGA DREAM Somatic Mutation Calling | Sequence analysis | Objective evaluation | Community collaboration & Sage Bionetworks | |
| IMPROVER | Systems biology | Objective evaluation and crowd-verification | Phillip Morris International | |
| Innocentive | Topics in various industries | Objective scoring and evaluation by judges | Commercial platform | |
| Kaggle | Topics in various industries | Objective scoring and evaluation by judges | Commercial platform | |
| RGASP | RNA-seq analyses | Objective scoring | European Bioinformatics Institute | |
| Sequence Squeeze | Sequence compression | Objective scoring and evaluation by judges | Pistoia Alliance | |
| X-Prize | Technology | Evaluation by judges | X-Prize Organization (non-for-profit) | |
Benchmarking is not a matter of simply running a few algorithms on a few datasets and comparing the results. Drawing generalizable conclusions from the exercise requires significant care in design and execution. The maturity of bioinformatics as a discipline has been greatly advanced by the adoption of key principles that guide robust method evaluation, including evaluator objectiveness (lack of bias), clearly defined scoring metrics that align with real-world goals, and the public release of gold-standard datasets and of the results and code of prediction algorithms. Challenge-based (also known as `competition-based') method assessment is an increasingly popular mechanism for benchmarking [
1
],[
2
]. In this type of study an impartial group of scientists organizes a `challenge' that is based on a carefully curated dataset. This dataset is typically split into a training dataset, a validation dataset (which might be used in real-time leaderboards, typically implemented as a table that reports the comparative performance of the methods under development), and a gold standard (or test) dataset that is withheld from challenge participants and used for final evaluation (Figure
1
). Following algorithm development on the training dataset and real-time feedback to participants based on the validation dataset and reported in the leaderboard, the challenge organizers can objectively evaluate the quality of final submitted predictions using a gold-standard dataset. Such a design closely reflects the actual difficulties faced by real-world users trying to determine whether an algorithm generalizes to unseen cases.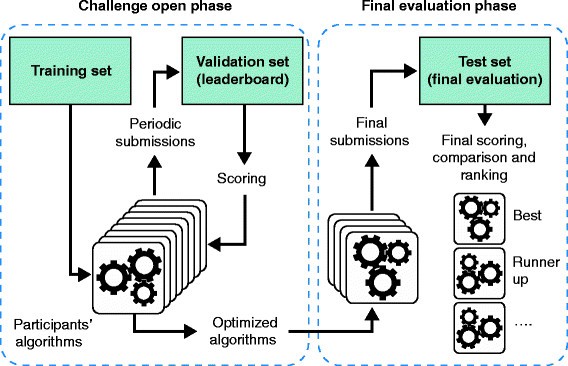 When flawed, benchmarking can lead to the emergence of suboptimal standards that may be applied to many large datasets, imposing an immense cost to the community and creating misleading results. Conversely, the acceptance of knowledge without robust benchmarking can lead to the adoption of inaccurate conventions. For example, during the 1990s, it was generally accepted that the number of loci coding for proteins in the human genome was 100,000, a number that was based on unverified hypotheses [3]. When the human genome was finally sequenced in 2000, the total number of coding loci was found to be a factor of 5 lower. Similarly, a design error in the early implementation of the GC Robust Multi-Array (GCRMA) algorithm, which was revealed by systematic benchmarking of network reconstruction analyses, may have led to the publication of thousands of papers that contain incorrect mRNA abundance profiles before the error was detected and corrected [4]. As a third example, in 2006, a group of Duke University researchers published a pair of high-impact papers claiming accurate prediction of the prognosis of lung cancer patients and of chemotherapy-sensitivity in lung, breast and ovarian cancers. Attempts to reproduce those claims ensued almost immediately, with most of the results falling short of replication because of a combination of programming and data-entry errors, and possible fraud [5]. Proper objective benchmarking by a neutral third-party on private validation data helps to resolve quickly or to detect many of the issues associated with these kinds of studies.
One concern in algorithm benchmarking and validation is that computational biology algorithms are often developed and evaluated by the same researchers. This creates an inherent conflict of interest, where objective assessment of accuracy is polluted by the fact that the developers become simultaneously judge, jury and executioner of the validity of their own work. This can result in biases in study design and over-optimistic performance estimates, whether intentional or unintentional [6]. For instance, the use of non-blinded data in the evaluation by methods developers of their own protein structure prediction methods led, in the early' 80s, to the false belief that protein structure prediction was essentially a solved problem. Not until 1994, when double-blinded data were used in the first Workshop on the Critical Assessment of Protein Structure Prediction (CASP), was a very different picture revealed [7].
Challenge-based benchmarking efforts, such as CASP [8]-[10], CAFA [11] and DREAM [12],[13], among others (Table 1), offer a robust framework for algorithm evaluation. These efforts have proven the value of engaging both active challenge leaders and motivated algorithm developers to improve their work in a forum that has high visibility and rapid feedback.
We believe that challenge-based methods assessment will play an increasingly important role in standardizing and optimizing the analysis of cancer genomics data, and its broader adoption will drive progress in both algorithm development and biological discovery. Conversely, failing to exploit challenge-benchmarking as a fundamental validation methodology for cancer genomics algorithms may result in lost opportunities to translate results derived from best-in-class methods into patient care.
Here, we provide our perspective on the growing use of challenge-based methods to benchmark algorithms in cancer genomics. We outline the different types of problems faced and some of the key considerations that need to be explored to determine whether a challenge might be successful, and to provide suggestions for challenge organization and execution. Finally, we look to the future and consider how challenge-based assessment may change in the coming decade.
Notes
Acknowledgements
We are indebted to the DREAM community for teaching us how to run challenges, and to Sage Bionetworks for their contributions in organizing DREAM challenges. This study was conducted with the support of the Ontario Institute for Cancer Research through funding provided by the Government of Ontario (to PCB). This work was supported by Prostate Cancer Canada and is proudly funded by the Movember Foundation (Grant #RS2014-01). Dr Boutros was supported by a Terry Fox Research Institute New Investigator Award and a CIHR New Investigator Award. This project was supported by Genome Canada through a Large-Scale Applied Project contract. This work was also supported by the Discovery Frontiers: Advancing Big Data Science in Genomics Research program, which is jointly funded by the Natural Sciences and Engineering Research Council (NSERC) of Canada, the Canadian Institutes of Health Research (CIHR), Genome Canada, and the Canada Foundation for Innovation (CFI). NIH grants R01 CA180778 (JMS) and U24-CA143858 (JMS) supported this work.
Copyright information
© Boutros et al.; licensee BioMed Central Ltd. 2014
This article is published under license to BioMed Central Ltd. The licensee has exclusive rights to distribute this article, in any medium, for 12 months following its publication. After this time, the article is available under the terms of the Creative Commons Attribution License (http://creativecommons.org/licenses/by/4.0), which permits unrestricted use, distribution, and reproduction in any medium, provided the original work is properly credited. The Creative Commons Public Domain Dedication waiver (http://creativecommons.org/publicdomain/zero/1.0/) applies to the data made available in this article, unless otherwise stated.