Applying the model of diffusion of innovations to understand facilitators for the implementation of maternal and neonatal health programmes in rural Uganda
Part of the following topical collections:
Abstract
In Uganda, more than 336 out of every 100,000 women die annually during childbirth. Pregnant women, particularly in rural areas, often lack the financial resources and means to access health facilities in a timely manner for quality antenatal, delivery, and post-natal services. For nearly the past decade, the Makerere University School of Public Health researchers, through various projects, have been spearheading innovative interventions, embedded in implementation research, to reduce barriers to access to care. In this paper, we describe two of projects that were initially conceived to tackle the financial barriers to access to care – through a voucher program in the community - on the demand side - and a series of health systems strengthening activities at the district and facility level - on the supply side. Over time, the projects diverged in the content of the intervention and the modality in which they were implemented, providing an opportunity for reflection on innovation and scaling up. In this short report, we used an adaptation of Greenhalgh's Model of Diffusion to reflect on these projects' approaches to implementing innovative interventions, with the ultimate goal of reducing maternal and neonatal mortality in rural Uganda. We found that the adapted model of diffusion of innovations facilitated the emergence of insights on barriers and facilitators to the implementation of health systems interventions. Health systems research projects would benefit from analyses beyond the implementation period, in order to better understand how adoption and diffusion happen, or not, over time, after the external catalyst departs.
Keywords
Uganda 
Innovation 
Maternal health 
Health systems research 
Vouchers 
Diffusion 
Abbreviations
DFID

Department for international development

FHS

Future health systems research partner consortium

MakSPH

Makerere university school of public health

MANEST

Maternal and newborn care practices study

MANIFEST

Maternal and neonatal implementation for equitable systems

PAR

Participatory action research

UNEST

Uganda newborn study

VHT

Village health teams

WHO

World Health Organization
Background
Maternal and newborn mortality is an important issue in Uganda. Though it remains high, maternal mortality decreased by a quarter between 2011 and 2017, from 438 to 336 women per 100,000 live births [1, 2]. In contrast, newborn mortality, of 27 newborns per 1000 live births dying annually, has been stagnant for the last decade, and has been especially persistent in rural areas [1, 2]. Low coverage of skilled birth attendance and emergency obstetric care, inadequate birth spacing and poor postnatal care represent the principal underlying factors responsible for the high mortality figs. [3, 4, 5]. For example, one in four pregnant women does not deliver under the care of a skilled birth attendant [1, 2]. Demand side barriers include the cost of services from informal fees or supplies that patients have to buy on their own, cost of transport, difficult terrains, lack of knowledge about obstetric danger signs, and misconceptions about pregnancy, birth, and newborn care rooted in cultural beliefs [4, 5, 6, 7, 8]. The cost of services is an issue despite the fact that, in Uganda, maternal and newborn health services are supposed to be provided for free in all health facilities, with the exception of hospital private wings [9]. Supply side barriers include inadequate numbers of skilled health workers, poor health worker attitudes due to low motivation and remuneration, poor performance management and inadequate supplies and equipment required for service delivery [5, 7, 10, 11]. In response to the above challenges, Uganda sharpened its priorities for reproductive, maternal, newborn, and child health in order to achieve the maximum and quickest gains for mothers and children [12] According to this plan, Uganda is undertaking several strategic shifts with increased focus on increasing access to services in underserved geographical areas and to populations with a high burden, scaling up and measuring coverage of high impact interventions, strengthening health system functionality and promoting mutual accountability [12].
Researchers from the Makerere University School of Public Health (MakSPH) have also been testing various packages of interventions to tackle these barriers. A series of projects that MakSPH researchers have implemented in the past decade are of particular interest to this short report. Specifically, we focus on the Maternal and Neonatal Implementation for Equitable Systems' (MANIFEST) and the Maternal and Newborn Care Practices Study's (MANEST) projects, which were implemented in rural Uganda. At the time they were introduced, they represented unique combinations of supply and demand-side interventions, which sought to use implementation research to overcome financial and non-financial barriers to health service utilization that have previously hampered the institutionalization of evidence-based maternal and newborn health interventions into local systems.
While many refer to innovations as products (i.e. drugs, diagnostics, new technologies), we apply the concept to "projects to overcome resource constraints" [13], in this case to overcome persistent barriers to access to services and care for mothers and newborns. Therefore, for the purpose of this short report, we consider the two projects and the implementation of their packages of interventions as the innovations of interest. Examining the implementation of the two projects allows us to reflect on lessons learned from introducing new interventions into a system and understanding barriers and facilitators to implementation and implications for diffusion and scale-up.
In this short report, we aim to reflect on the lessons learnt from these two projects, particularly focusing on the MANEST and MANIFEST implementation processes, by adopting an adaptation of the Greenhalgh's Model of Diffusion of Innovation [14]. We are not able to discuss whether or not the innovations were diffused, but rather we consider the barriers and facilitators for diffusion, which are broadly important in the management of complex issues, such as increasing access to quality maternal and newborn care in resource limited settings. We conclude with reflections on the potential of the project's diffusion and the role of understanding innovation for health systems research implementation. While the main research findings from the MANEST and MANIFEST projects are published elsewhere [15, 16, 17, 18], this short report describes the teams' reflections on barriers and facilitators to the implementation of the interventions, including a descriptive analysis framework for conceptualizing the projects as innovations.
History and structure of the MANEST and MANIFEST projects
In 2012, MakSPH obtained additional funding from FHS and Comic Relief, as well as the World Health Organization to build on the Safe Deliveries and UNEST programs and catalyze further gains in access to quality maternal and newborn health services in rural Uganda. From 2012 to 2015 they used this funding to implement the MANEST and MANIFEST projects.
MakSPH had implemented the Safe Deliveries [19] and the Uganda Newborn Study (UNEST) [20] projects between 2009 and 2011. Both projects aimed to increase access to quality maternal and newborn health service delivery in rural areas, but which had slightly different intervention packages and implementation strategies. Safe Deliveries, funded by the UK Department for International Development through the Future Health Systems Research Programme Consortium (FHS RPC), provided free transport and service vouchers to pregnant women to reduce the cost of seeking care, as well as to enhance antenatal care, delivery and postnatal care service uptake. UNEST, funded by Saving Newborn Lives of Save the Children USA/Uganda through a grant from the Bill & Melinda Gates Foundation, supported community health workers to provide health education during home visits to improve maternal and newborn care practices, as well as basic equipment and supplies to participating facilities. Both projects strengthened facility capacity by conducting refresher trainings for health workers on maternal and newborn health topics and by providing basic equipment and supplies, as well as supportive supervision to the participating facilities. At the end of the implementation period, these projects achieved increased utilization of maternal and newborn services and improvements in some newborn care practices within the areas of intervention [21]. However, common to pilot projects, neither of them had the financial resources, from the government of Uganda or otherwise, necessary to scale up the projects immediately. The funding from WHO, Comic relief and FHS therefore provided an opportunity for the Makerere team to continue implementation through the MANIFEST and MANEST projects.
Although MANEST and MANIFEST were implemented separately, the research team initially designed them as one project. This project intended covering 6 districts and spearheading the implementation of the Ministry of Health's Village Health Team strategy, strengthening the health system through health worker training, support supervision, and performance bonuses, as well as providing mothers with transport vouchers for safe delivery. While the World Health Organization (WHO) and FHS provided funding to start this project, a third funder – Comic Relief made some additional amendments during the design phase, emphasizing that they would not be able to support transport vouchers or performance bonuses directly. In order to meet Comic Relief's amendments, the project was split into two independent arms. MANEST, supported by WHO and FHS, kept the initial design and was launched first, starting with a formative research phase. MANIFEST, supported by FHS and Comic Relief was developed based on formative research which included broad consultations with communities, district authorities, health workers, policy makers, and the requirement by the funder Comic Relief to design a project which was embedded in existing structures and driven by communities in order to enhance sustainability [22]. Both MANEST and MANIFEST shared research team members. EEK, GN, AM, and PW were a part of both MANEST and MANIFEST. CM, RKM, MT, and SNK were only a part of the MANIFEST project. Sharing research team members facilitated learning and sharing between the two projects. LP was not directly involved in the design or implementation of either project, but backstopped the Uganda FHS team during the second half of the Future Health Systems project.
Table 
1
summarizes the structural elements of the two projects, highlighting the main differences and similarities. For example, MANEST had a much smaller budget than MANIFEST, limiting the flexibility of MANEST's design and the ability to incorporate participatory elements, such as district meetings. MANIFEST was implemented on a slightly larger scale than MANEST – MANIFEST worked in 3 health sub-districts, while MANEST worked in 2 health sub-districts and a demographic surveillance site. With the additional funding, MANIFEST adopted a participatory action research (PAR) approach, meaning that the community and other key stakeholders were engaged and consulted throughout the project implementation. [
23
,
24
,
25
].
Table 1
Summary of key project characteristics
Project characteristics

MANEST

MANIFEST

Budget

$700,000

$2,000,000

Duration

3 years

3 years

Funding sources

FHS/DFID – for implementation

WHO – for implementation

Comic Relief – for implementation

FHS/DFID for technical support

Study design

Quasi-experimental design

Quasi-experimental design + Participatory Action Research

Area of intervention

2 intervention health sub-districts

1 control health sub district

3 intervention health sub-districts

3 control health sub districts

Population

1.0 Million

1.07 Million

Model of diffusion

Closed, replication, not scale-up

Open, flexibility in design; but not scale-up per se
Both MANEST and MANIFEST included support supervision and mentorship, training for health workers, sensitizing transporters, and some level of community engagement. However, they used slightly different implementation strategies. For example, for support supervision of community health workers, MANEST used Super Village Health Teams (VHTs) (an Super VHT is the leader of all Village Health Teams' in the parish) for support supervision of community health workers, whereas the MANIFEST team used directly observed supervision by health workers. On community mobilization, MANIFEST implemented community dialogues, which were initially intended as a PAR component, but later also served as an important sensitization approach. MANEST, did not hold regular community meetings for sensitization beyond the launch of the project, but trained community health workers to engage with the community during regular events, such as burials and church-events.
Some of the intervention components were unique to each project. Per the donor requirements mentioned in the background, only MANEST featured transport vouchers and performance bonuses for health staff, while only MANIFEST featured a community mobilization component as part of the intervention. MANIFEST aimed to promote a saving culture within the community for households to prepare for future pregnancy, and birth-related needs, including local transport and buying medical supplies, and other health emergencies [
26
]. This, the project did, though encouraging households and women to join either already existing savings associations or to form their own saving groups to save money [
26
]. Table 
2
synthesizes the similarities and differences between the two projects in terms of the intervention components that they adopted.
Table 2
Summary of similarities and differences among intervention components
Intervention components

Manest

Manifest

Support supervision and mentorship

Yes

Yes, different implementation strategy

Quarterly support supervision with district health team and quarterly mentoring with external and internal mentors.

Performance incentives

Financial incentives

Health worker and facility performance recognition and other non-financial incentives

Sensitization of transporters

Yes

Yes

HW Training

Yes

Yes

Transport vouchers

Yes, in 1 district out of 3

No transport vouchers

Saving groups

No

Yes

Community health worker engagement strategy

Encouraging VHT to use any opportunity they have when they meet people to do sensitization such as at burrials and churches.

House to house registration and visits

Community dialogue meetings

House to house registration and visits
Conceptual framework
To aid our reflection, we adapted Greenhalgh's framework for the diffusion of innovations [14]. The framework was developed over a series of reflection meetings (May 2015, June 2015, and September 2016) during which the authors, who also participated in the implementation of the research projects, identified the innovation concepts most relevant to understanding the two projects and how they evolved over time, as well as key project documents to be reviewed.
Greenhalgh and colleagues intended the Model of Diffusion as a "memory aide" to facilitate and guide a process of critical thinking about the complex aspects of the innovation and the system in which it is introduced, and how these might interact as adoption occurs [
14
]. For the purpose of this paper, the authors selected the subset of Model of Diffusion concepts that would best describe aspects of MANEST and MANIFEST implementation (see Fig. 
1
). Specifically, the teams selected the concepts that related to either the stated intent of the projects or to themes that emerged through the implementation and the reflection processes. The figure understates the non-linear nature of the processes of implementation discussed here, but the dotted arrows begin to address this and feedback between the various concepts is elaborated further.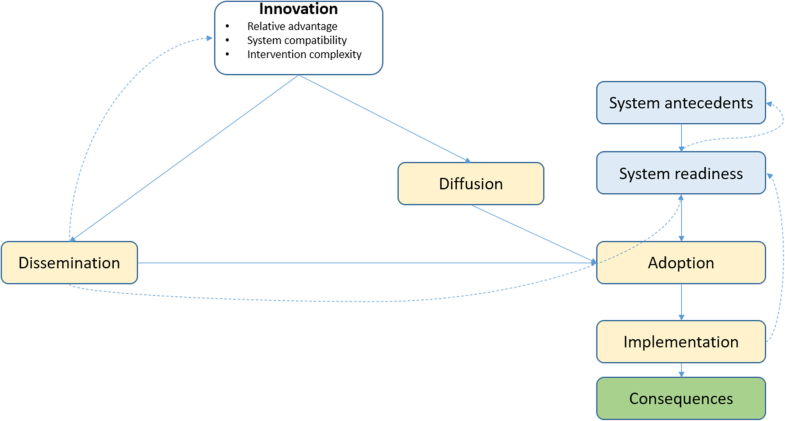 The innovation itself is represented in the top part of the framework. MANEST and MANIFEST, the two innovations of interest, will be compared and contrasted along the following: relative advantage, compatibility, complexity, reinvention, risk, task issues, and knowledge required to use it [14]. On the right hand side of the conceptual framework, we highlight the factors related to the adoption of the innovation by individuals, which are likely to be very similar between the two projects. On the left hand side, we highlight the system components which facilitate the spread of innovation – both in terms of the system antecedents (i.e. structural factors that had to be in place), as well as system readiness factors (i.e. existing tension or pressure for change, the innovation-system fit, and dedicated time and resources).
Framing the two projects in terms of these characteristics will also facilitate the reflection upon the pathways through which the innovations could be adopted. Greenhalgh et al. suggest that "the various influences that help spread the innovation can be thought of as lying on a continuum between pure diffusion ([ …] unplanned, informal, decentralized, and largely horizontal and mediated by peers) and active dissemination ([ …] planned, formal, often centralized, and likely to occur through more vertical hierarchies)" [14]. Our framework does not fully elaborate the proposed continuum, but presumes that an innovation can be adopted through either dissemination or diffusion, or both. By design, MANEST and MANIFEST intended scale-up or adoption of the project components to happen primarily through dissemination – strengthening, on the one hand, the capacity of local structures and, on the other, especially for MANIFEST, local leader and community engagement. While the existing data does not allow us to examine scale-up and adoption in practice, nevertheless, we thought it would be useful to explore factors that could facilitate diffusion as well.
Finally, the framework recognizes the importance of implementation processes in the spread of innovations, acknowledging that different implementation factors and approaches may have different consequences. It is beyond the scope of this paper to speculate about the performance of the two projects and whether different project approaches led to different outcomes. Nevertheless, the framework includes a discussion of consequences, to highlight that different strategies for spreading interventions might have different outcomes, which are worth evaluating when possible.
The information from which the reflections below arise was collected based on a review of project documents and publications, as well as a couple of reflection meetings and authors' contributions to the first draft of the manuscript. In order to facilitate brainstorming sessions on the details related to project design and implementation, EEK walked the team through a semi-structured guide, which was developed based on the framework described above (See Additional file 1). Additionally, LP used the proposed framework to guide the review and data extraction of information from project proposals and work plans relevant to the MANEST and MANIFEST projects. The extracted information was discussed during a final reflection meeting, facilitated by EEK in September 2016. The reflections shared below represent the two project team's perceptions, as we did not have the opportunity to triangulate these with any related stakeholders. Reflections on MANEST and MANIFEST projects as innovations.
Key lessons learned from the design and implementation of MANEST and MANIFEST
As we conclude, we summarize the key lessons learned from the design and implementation of the MANEST and MANIFEST projects and the characteristics that could facilitate spread – both in terms of adoption and diffusion.
Several projects' characteristics that would be conducive to diffusion came through the teams' reflections. Both project teams appreciated the PAR design through which MANIFEST was implemented, which allowed for the active engagement of district officers and other stakeholders throughout implementation. Both project teams also appreciated the importance of on-going active monitoring and dissemination of the findings to various actors in the system (at national, districts, sub-county levels, as well as through community meetings and various events hosted by the project – e.g. health worker symposia, regular stakeholder meetings) in order to ensure and maintain stakeholder buy-in. The engagement of community members facilitated changing their perceptions about the role of mobilizing community resources and led to more community members focusing and contributing their resources towards key health events. This was evident through savings groups – through which community resources, rather than project resources were invested in ensuring timely care for pregnant women and newborns. Furthermore, for both MANEST and MANIFEST, the greater the relevance of the intervention to the community, the easier it was to facilitate its adoption.
One of the core strengths of the two projects was the strong alignment and compatibility between the characteristics of the interventions they introduced and system antecedents and readiness. In both projects, the interventions were designed to be rolled out through existing processes, making them more compatible with the existing system. The PAR design employed by MANIFEST allowed stakeholder engagement before the start of implementation and on an on-going basis, giving the project an opportunity to be responsive to changes in the environment and to emerging phenomena. In practice, both projects teams remained with unanswered questions about the importance of compatibility – as they found that in some cases deeply entrenched social norms and customs in all of their communities as well as dysfunctional systems posed barriers to implementation, adoption, and diffusion despite the intervention itself being compatible with the expected system standards. The compatibility of the projects in practice was not evaluated directly, but would be a helpful addition to similar project evaluations. Although, in our conceptual framework, we specified the project or intervention characteristics as separate from the system antecedents and readiness, our analysis of the two projects presented in this paper highlights the importance of the innovation having embedded linkages with the system.
Finally, local leadership was key for implementing the intervention and, especially the MANIFEST project team, recognized the importance of strong leadership in the potential adaptation and scale up of the various activities implemented. Early and constant involvement of leaders at all levels, through both active engagement in decision-making about the project and dissemination of project findings was critical. Fostering relationships with key stakeholders and reaching the point of facilitating adoption does seem to benefit from long-term engagement. Any changes in this leadership can compromise the outcomes of the intervention due to the loss of champions. The Makerere University School of Public Health teams had been working in this area for many years, first through the UNEST and Safe Deliveries Projects, and then through MANEST and MANIFEST. The long-term engagement was necessary for cultivating trust and for allowing the research teams to fully understand the implementation context in which their activities would be implemented. Furthermore, it provided them with frequent opportunities to engage with stakeholders at multiple levels, to develop their capacity, and to develop the team's internal capacity to understand the different intervention designs and their inherent benefits and challenges, opportunities and facilitators of future adoption, scale-up and sustainability. Nevertheless, the extent to which the intervention has been scaled-up or diffused is not well known. Further collaboration with private sector and non-state actors and implementing partners (such as NGOs) would be worthwhile, as they might have resources available in the short term to advance some of these interventions.
Overall, the findings in this report suggest that more research should be carried out to systematically understand the influence of funding arrangements and stipulations on research design, how to facilitate collaboration and sharing across related projects if they are implemented by the same team, and carrying out post-hoc evaluations to understand whether and how project elements diffuse or scale-up over time. Further knowledge on any of these would help implementers and researchers adapt their programmatic strategies so as to encourage the diffusion of innovations in dynamic health systems. In the case of MANIFEST, more flexible funding allowed for greater stakeholder engagement and adaptation of the intervention over time. The MakSPH research team's long term engagement in maternal and newborn health and implementation research in the rural districts where the MANEST and MANIFEST projects were located helped to better understand system readiness in relation to introducing various intervention components. It also created an environment through which the two project teams extensively shared project information. These considerations could be relevant in how to organize local research and implementation responses in order to stimulate progress towards the Sustainable Development Goals, particularly as related to health and well-being.
Our lessons learned are limited by the fact that the implementation of the two research projects has recently ended, and therefore it is difficult to draw final conclusions about scale-up, spread, and diffusion of innovations. Building on the work of their predecessor projects, MANEST and MANIFEST have catalyzed the adoption of certain interventions, which the community, district, and national level stakeholders found acceptable. By examining the projects retrospectively, we can draw some lessons about the historic and contextual factors that facilitated the inception and implementation of the MANEST and MANIFEST projects. We are limited in any future-looking/prospective analysis, as the diffusion of the current interventions is yet to reach its full potential.
Future research should explore what happens in the implementation areas in the short and medium term, in order to determine which of the intervention components have been adopted and spread beyond intervention period and areas. Post-hoc evaluations are not the norm in health systems research – nor in Uganda, nor globally. However, in environments where activities are time-limited by nature and funding, learning from post-hoc evaluations would further build the evidence base about whether and how projects or specific interventions are disseminated, diffused, and/or adopted in the areas of implementation and beyond. This type of analysis would explore the stakeholders that have been involved in carrying out any of these activities, including other implementing partners, beyond the public sector stakeholders who were primarily involved in the MANEST and MANIFEST projects. Future projects should actively consider how the intervention might be adopted and/or diffused from the intervention design phase. Research should also explore the extent to which health workers or leaders transfer to other locales are able to diffuse these interventions within their new contexts. Finally, cross—project collaboration probably happens often, though probably only informally in many institutions. More learning about benefits and drawbacks of intra-institutional cross-project collaborations, as well as the benefits and drawbacks of having similar concurrent projects should be further studied, exploring synergies as well as risks for duplication. More broadly, the reflection summarized in this paper draws attention to the value of using implementation research to understand complex projects, which introduce multiple innovative interventions or practices in a particular area. The development of a heuristic, possibly based on an adapted model of diffusion could facilitate learning and synthesis for advancing insights into factors the facilitate diffusion and implementation of complex interventions, as well as cross-project collaboration. In the MANEST and MANIFEST case, the collaboration seemed to have promoted information sharing and synergies, but in less collaborative or open settings, it could have also risked duplication of efforts.
Conclusions
Our short report highlights the added value of adapting the model of diffusion of innovations for understanding barriers and facilitators to implementing health systems interventions, such as the ones implemented by the MANEST and MANIFEST projects. Implementing interventions through a PAR approach facilitates stakeholder engagement and feeding back of monitoring and evaluation information throughout the implementation period. Furthermore, this approach facilitated the support for strong local leadership through both dissemination and active decision-making about the project, building on the relationships that the teams had developed locally over many years. Designing interventions to support existing processes enhance the likelihood that they will be compatible with the system, though entrenched social norms and customs at the community level need to be understood and appreciated early in the process as they might pose barriers to future adoption and diffusion. Health systems research projects would benefit from analyses beyond the implementation period, in order to better understand how adoption and diffusion happen, or not, over time, after the external catalyst departs. Finally, blending innovations and implementation research adds value and further reflection on the frameworks, tools, and processes needed to facilitate the synthesis of findings and their feedback into decision-making around scaling up key health interventions would be useful.
Notes
Acknowledgements
The authors would like to acknowledge the helpful feedback provided by Annie Wilkinson and Gerry Bloom in the development of this short report
Authors' contributions
All authors contributed to the collation of documents used to inform this paper, as well as to at least one reflection meeting. LP drafted the initial report and edited based on the inputs received from the author team. EEK provided overall guidance and support for the paper, as well as detailed comments on all drafts. GN participated in reflection meetings, contributed to the collation of literature and project documents and provided edits and comments on all drafts. MT participated in reflection meetings and provided edits and comments on all drafts. CM participated in most reflection meetings and contributed to the drafts. RMK participated in one reflection meeting and contributed to intermediate drafts. SK participated in one reflection meeting and provided comments on the initial draft. PW contributed to the collation of literature and project documents and provided comments on all drafts. AM participated in one reflection meeting and contributed to the initial draft. All authors read and approved the final version of the manuscript.
Funding
This work, including publication costs, is funded by the Future Health Systems Consortium (http://www.futurehealthsystems.org). Future Health Systems is funded by UK Aid from the UK Government.
Ethics approval and consent to participate
Not applicable.
Consent for publication
Not applicable.
Competing interests
The authors affiliated with Makerere University School of Public Health were directly involved in the implementation of the grants described and discussed in this article. LP has been a researcher with the Future Health Systems Research consortium, but not directly involved in any of the implementation.
Copyright information
© The Author(s). 2019
Open AccessThis article is distributed under the terms of the Creative Commons Attribution 4.0 International License (http://creativecommons.org/licenses/by/4.0/), which permits unrestricted use, distribution, and reproduction in any medium, provided you give appropriate credit to the original author(s) and the source, provide a link to the Creative Commons license, and indicate if changes were made. The Creative Commons Public Domain Dedication waiver (http://creativecommons.org/publicdomain/zero/1.0/) applies to the data made available in this article, unless otherwise stated.