Evaluation of oxidative stress biomarkers in idiopathic pulmonary fibrosis and therapeutic applications: a systematic review
Abstract
Introduction
Idiopathic pulmonary fibrosis (IPF), a fatal lung disease of unknown origin, is characterized by chronic and progressive fibrosing interstitial pneumonia which progressively impairs lung function. Oxidative stress is one of the main pathogenic pathways in IPF. The aim of this systematic review was to describe the type of markers of oxidative stress identified in different biological specimens and the effects of antioxidant therapies in patients with IPF.
Methods
We conducted a systematic search of publications listed in electronic databases (Pubmed, Web of Science, Scopus and Google Scholar) from inception to October 2017. Two investigators independently reviewed all identified articles to determine eligibility.
Results
After a substantial proportion of the initially identified articles (n = 554) was excluded because they were duplicates, abstracts, irrelevant, or did not meet the selection criteria, we identified 30 studies. In each study, we critically appraised the type, site (systemic vs. local, e.g. breath, sputum, expired breath condensate, epithelial lining fluid, bronchoalveolar lavage, and lung tissue specimens), and method used for measuring the identified oxidative stress biomarkers. Furthermore, the current knowledge on antioxidant therapies in IPF was summarized.
Conclusions
A number of markers of oxidative stress, with individual advantages and limitations, have been described in patients with IPF. Nevertheless, trials of antioxidant treatments have been unable to demonstrate consistent benefits, barring recent pharmacogenomics data suggesting different results in specific genotype subgroups of patients with IPF.
Keywords
Lung 
Idiopathic pulmonary fibrosis 
Oxidative stress 
Oxidant 
Antioxidant 
Abbreviations
3-NT

3-nitrosotyrosine

6 min-WTD

6 min walking test distance

8-isoPGF2α

8-iso prostaglandln-F2α

8-oxodG

8-oxo-7,8-dihydro-2′-deoxyguanosine

ATS

American thoracic society

BALF

Bronchoalveolar lavage fluid

CAT

Catalase

Cl−

Chloride anion

CO

Carbon monoxide

COPD

Chronic obstructive pulmonary disease

DLCO

Diffusing capacity of carbon monoxide

d-ROMs

Derivative ROMs

EBC

Expired breath condensate

ECSOD

Extracellular SOD

ELF

Epithelial lining fluid

ERS

European respiratory society

FEV1

Forced Expiratory Volume in the 1st second

FF

Fibroblastic foci

fNSIP

Fibrotic non-specific interstitial pneumonia

FVC

Forced vital capacity

GSH

Glutathione

GSH-Px

Glutathione peroxidase

GSSG

Oxidize glutathione

GST

Glutathione-S-transferase

H2O2

Hydrogen peroxide

HOCl

Hypochlorous acid

IIP

Idiopathic interstitial pneumonia

IL-1b

Interleukin 1 beta

IL-8

Interleukin 8

ILD

Interstitial lung disease

iNOS

Inducible nitric oxide synthase

IPF

Idiopathic pulmonary fibrosis

KEAP1

Kelch-like ECH-associated protein-1

LAP3

Leucine aminopeptidase

MDA

Malondialdehyde

MPO

Myeloperoxidase

MRC

Medical Research Council

NAC

N-acetylcysteine

NADPH

Nicotinamide adenine dinucleotide phosphate

NO

Nitric oxide

Nrf2

Nuclear factor erythroid-derived 2-like2 protein

NSIP

Non-specific interstitial pneumonia

O2−

Superoxide anion

OH−

Hydroxyl radical

OSI

Oxidative stress index

PDGF

Platelet-derived growth factor

PON1

Paraoxonase 1

PPIA

Peptidylprolyl isomerase A

PRDX6

Peroxiredoxin 6

Prx

Peroxiredoxin

RNS

Reactive nitrogen species

ROCK

Rho-associated coiled-coil containing protein kinase

ROMs

Reactive oxygen metabolites

ROS

Reactive oxygen species

SOD

Superoxide dismutase

SRX1

Sulfiredoxin-1

TAC

Total antioxidant capacity

TAS

Total antioxidant status

TBA

Thiobarbituric acid

TBARS

Thiobarbituric acid reactive substances

TEAC

Trolox Equivalent Antioxidant Capacity

TLC

Total lung capacity

TNF-α

Tumor necrosis factor alpha

TOS

Total oxidative status

TPxB

Thioredoxin peroxidase B

UCarr

Carratelli units

UIP

Usual interstitial pneumonia

VC

Vital capacity
Background
Idiopathic pulmonary fibrosis (IPF) is a fatal lung disease of unknown cause that is characterized by chronic and progressive fibrosing interstitial pneumonia with worsening dyspnea and lung function [1, 2]. Though IPF is relatively rare it is the most common and severe form of idiopathic interstitial pneumonia (IIP) [3]. Histologically, IPF is characterized as usual interstitial pneumonia (UIP), a form of disease with progressive fibrosis of the lungs [4, 5].
Risk factors for IPF include cigarette smoking, environmental factors, microbial agents, and gastroesophageal reflux [1, 2, 6]; recent studies also support the role of gene expression and epigenetic alterations [7, 8]. Most of these factors are also involved in other lung pathologies such as lung cancer [9, 10]. IPF symptoms include dry cough, dyspnoea, and digital clubbing [11]. Pulmonary function tests identify restrictive features (reduced total lung capacity) and abnormal gas exchange (reduced capacity for carbon monoxide diffusion) [1]. Diagnosis often requires a multidisciplinary approach and, in some cases, a lung biopsy [1, 12].
Although IPF has long been considered a chronic inflammatory disorder, this concept has been revisited following the negative results of interventional studies with anti-inflammatory therapies [13]. IPF is now widely accepted as a consequence of multiple interacting genetic and environmental risk factors, which cause repetitive local micro-injuries to ageing alveolar epithelium [11]. This triggers aberrant epithelial–fibroblast communication, induction of matrix-producing myofibroblasts, remodelling of the interstitium, and dysregulated repair of the injured lung [11].
There is growing evidence that oxidative stress plays a significant role in IPF [14, 15]. Oxidative stress is defined as an imbalance between oxidant production and antioxidant defence in favour of oxidants, that leads to cellular dysfunction and tissue damage. Due to its exposure to relatively higher oxygen tensions than other tissues, the lung is particularly sensitive to oxidative stress. Exogenous oxidants and pollutants further increase oxidant production and activate inflammatory cells to generate free radicals. Cigarette smoke, asbestos fibers, drugs and radiations, are well-known to favour fibrotic interstitial lung reactions [14]. Furthermore, they have been shown to trigger the production of the reactive oxygen species (ROS) hydroxyl radical, hydrogen peroxide, and superoxide radical. In the human lung, several pathways can generate ROS, including nicotinamide adenine dinucleotide phosphate oxidases, myeloperoxidase, eosinophil peroxidase, mitochondrial electron transport chain, and xanthine oxidase [16, 17]. In addition, superoxide may react with nitric oxide (NO) to form various reactive nitrogen species (RNS), such as peroxynitrite. NO is principally produced by the inducible form of nitric oxide synthase (iNOS, NOS2) in the lung, in particular during inflammation. Moreover, human lung cells widely express also the constitutive forms of NOS, that further contribute to NO production. In general, a complex variety of oxidants are produced in response to injuries leading to pulmonary fibrosis. These oxidants can activate several genes related to cell growth, cell death, and fibroblast proliferation [1].
Normal pulmonary homeostasis requires an appropriate balance between intracellular and extracellular oxidants and antioxidants. Lung protection against oxidants is guaranteed by protective antioxidants and antioxidant enzymes that include (i) small-molecular-weight antioxidants (e.g., glutathione, vitamins, uric acid), (ii) mucins, (iii) metal-binding proteins (transferrin, lactoferrin, metallothionein, etc.), (iv) intracellular and extracellular superoxide dismutases (SODs), (v) enzymes to reduce H2O2 (several glutathione-associated enzymes and catalase), (vi) detoxification enzyme systems (e.g., glutathione-S-transferases), and (vii) other redox regulatory thiol proteins (e.g., thioredoxin-peroxiredoxin system and glutaredoxins) [16, 17, 18, 19].
These majority of these enzymes, localized in bronchial and alveolar epithelial cells, alveolar macrophages, and the extracellular milieu, are regulated by the nuclear factor erythroid-derived 2-like2 protein (Nrf2), which controls the expression of several antioxidant pulmonary proteins. The importance of Nrf2 in IPF has been demonstrated through experiments in mice in which deficiency of this transcription factor significantly enhanced bleomycin-induced pulmonary fibrosis [
20
]. It is likely that the induction of antioxidant enzymes and related proteins after exposure to insults may protect the lung and promote damage repair. Conversely, reduced induction or inactivation of antioxidant enzymes may result in a continuous redox imbalance, that may contribute to the progression of pulmonary fibrosis (Fig. 
1
).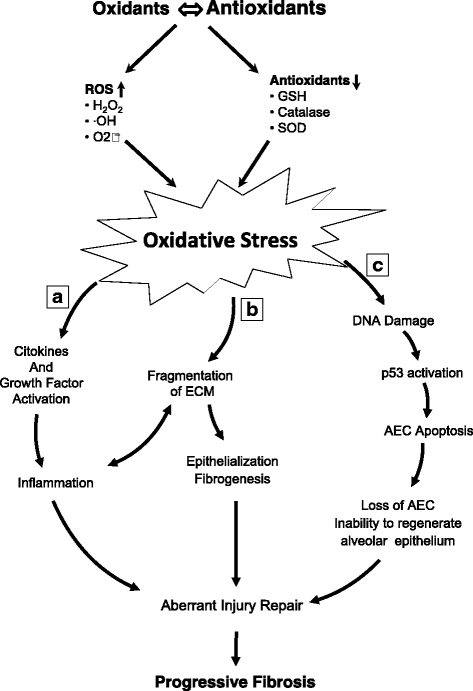 Given the accepted role of oxidative stress in IPF, the aim of the present systematic review was to critically assess published studies investigating the type of oxidative stress markers in different biological specimens, the advantages and limitations of the methods used for their measurement, and potential therapeutic implications in this patient group.
Search strategy and study selection
A systematic search of publications listed in electronic databases (Pubmed, Web of Science, Scopus and Google Scholar) from inception to October 2017, was conducted using the following terms: "oxidative stress", "IPF", "idiopathic pulmonary fibrosis" as well as combinations of these terms. Two investigators independently reviewed the identified articles to determine their eligibility. Studies were considered eligible if they met the following criteria: (1) assessment of oxidative stress (OS) biomarkers in any type of biological specimens from IPF patients; and (2) English language full-text publications involving humans in peer reviewed journals. Abstracts were screened independently and, if relevant, full articles were obtained and reviewed. References in the retrieved articles were also reviewed to identify additional studies. A flow chart showing the study selection is presented in Fig. 
2
.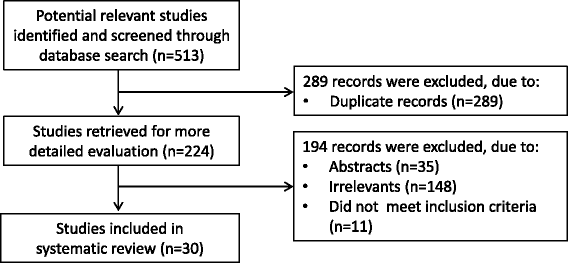 From a total of 513 initially identified studies, 289 were excluded after the first screening, mainly because they were duplicates. The majority of the remaining 224 studies were also excluded, mainly because they were either in abstract format, irrelevant, or did not met the selection criteria. A total of 30 studies were included in the systematic review.
Biomarkers of oxidative stress in IPF
The identification of oxidative stress biomarkers in IPF patients was performed in different biological specimens, primarily blood and serum (
n
 = 10 studies), bronchoalveolar lavage fluid (BALF,
n
 = 10), and lung tissue (
n
 = 9), with relatively few studies using sputum (
n
 = 1), breath (
n
 = 1), epithelial lining fluid (ELF) (
n
 = 4), and expired breath condensate (EBC) (
n
 = 4), (Table 
1
).
Table 1
Summary of the oxidative stress biomarkers studied in different specimens of IPF patients
Biological specimens

Comparison (n)

Oxidative stress biomarkers

Ref.

Plasma

IPF (36) vs Ctrl (31)

TEAC↓; PSH↔; MDA↑

21

Plasma

IPF/UIP (10) vs Ctrl (10)

Hydroperoxides↑

22

Plasma and urine

IPF (29) vs Ctrl (6)

Pl-isoprostanes↑; Ur-H2O2↔

24

Plasma and urine

IPF at rest (29) vs IPF after

physical exercise (29)

Pl-isoprostanes↔; Pl-TAC↓;

Ur-isoprostanes↑; Ur-H2O2↔

24

Serum

IPF (16) vs Ctrl (17)

8-Isoprostane↑

25

Blood

IPF (22) vs Ctrl (29)

GSH↓; GSSG↑; GSH/GSSG↓

26

Serum

IPF (43) vs Ctrl (30)

Hydroperoxides↑

27

Serum

AE-IPF (13) vs IPF (30)

Hydroperoxides↑

27

Plasma

IIP (31-9IPF) vs Ctrl (33)

TOS↑; OSI↑; TAS↔

28

Blood and plasma

IPF (10) vs Ctrl (9)

Bl-GSH↓;Bl-GSSG↔; Bl-Vitamin C↔

Pl-Uric acid↔; Pl-TEAC↓

29

Breath

ILD (34-13IPF) vs Ctrl (9)

Ethane ↑

30

Sputum

IPF (16) vs Ctrl (15)

GSH↓

31

EBC

IPF (16) vs Ctrl (15)

H2O2↑; 8-isoprostane↑

33

EBC

IPF (38) vs Ctrl (14)

MDA↔

34

EBC

IPF (20) vs Ctrl (20)

3NT↑; NOx↔; Proteins↑;

8-isoprostane↑;H2O2↔;

35

EBC

IPF (6) vs lung cancer (6)

8-isoPGF2α↑

36

ELF

IPF (44) vs Ctrl (11)

MPO↑

42

ELF

IPF (15) vs Ctrl (19)

tGSH↓; GSH/(GSH + GSSG) ↔

46

ELF

IPF (10) vs Ctrl (10)

tGSH↓; rGSH↓

49

ELF

IPF (17) vs Ctrl (14)

tGSH↓

50

BALF

IPF smokers (8) vs Ctrl smokers (6)

Protein carbonyls↔

52

BALF

IPF nonsmokers (9) vs

Ctrl nonsmokers (14)

Protein carbonyls↑

52

BALF

IPF (9) vs Ctrl (5)

Protein carbonyls↑

54

BALF

IPF (13) vs Ctrl (5)

Protein carbonyls↑

55

BALF

IPF (15) vs Ctrl (8)

Protein carbonyls↑

56

BALF

s-IPF (17) vs f-IPF (10)

isocitrate dehydrogenase↓; peroxiredoxin 1↓; antithrombin III↓; complement factor B↓

57

BALF

IPF (17) vs Ctrl (14)

tGSH↔

50

BALF

IPF (36) vs Ctrl (31)

TEAC↓; GSH↓; GSSG↔; PSH↓; MDA↑

21

BALF

IPF (17) vs Ctrl (27)

GSH↔; Uric Acid↑; Ascorbic Acid↑;

α-tocopherol↑; retinol↑; GSSG↑; F2-isoprostanes↔

58

BALF

IPF (16) vs Sarcoidosis (55)

8-isoprostane↓

25

Lung tissue

IPF (10) vs Ctrl (10)

ECSOD↔

59

Lung tissue

IPF fibrotic areas vs

IPF normal areas

ECSOD↓

59

Lung tissue

IPF (10) vs Ctrl (10)

PrxII ↔

60

Lung tissue

IPF fibrotic areas vs

IPF normal areas

PrxII↓; 3-NT↓

60

Lung tissue

IPF (7) vs Ctrl (7)

NRF2↔; SRX1↑

61

Lung tissue

IPF hyperplastic epithelium vs IPF normal epithelium

NRF2↑; KEAP1↑

61

Lung tissue

IPF (14) vs Ctrl (10)

GST ↓; Hp↓

63

Lung tissue

IPF (14) vs fNSIP (8)

PRDX6↓; TPxB↓;

63

Lung tissue

IPF (13) vs Ctrl (15)

Cys↑; Gly↑; Glu↑

64
Antioxidants for the treatment of IPF
Considering that oxidative stress is widely recognized as a central feature of IPF, antioxidant therapy has been proposed for many years. In particular, N-acetylcysteine has been widely used in IPF as antioxidant and antifibrotic agent since it is relatively inexpensive, well-tolerated, and easy to administer orally. However, scientific data were often conflictual or inconclusive, mainly due to the lack of placebo arm and the low statistical power.
Two recent papers reported meta-analyses of trials investigating the efficacy of antioxidant therapy in IPF. Sun et al. [65] included 5 trials, with a total of 564 patients, to evaluate the efficacy of NAC in the treatment of IPF. N-Acetylcysteine was found to have a significant beneficial effect on predicted VC and 6 min walking test distance (6 min-WTD), but not on FVC, DLCO, rates of adverse events and mortality. In another meta-analysis, Kandhare et al. [66] identified twelve studies (n = 1062) investigating the antioxidants NAC and lecithinized SOD, alone or in combination with other drugs such as pirfenidone, azathioprine, prednisone, to treat IPF. There was no evidence that antioxidant monotherapy had any beneficial effects on changes in predicted DLCO. Combined antioxidant therapy was more effective than monotherapy on VC and DLCO, however this did not translate into differences in death rates or adverse events.
These meta-analyses included the most relevant clinical trials, such as the IFIGENIA and PANORAMA studies [67, 68], which used different methods, control groups, and clinical or functional criteria (rather than biomarkers of OS) in evaluating NAC in IPF. Their findings are in contrast with the results of the PANORAMA study [68], which showed that the NAC plus pirfenidone group had an increased incidence of photosensitivity compared to pirfenidone alone, and a more rapid disease progression, measured as FVC change. This has been discussed by Wijsenbeek and Collard [69] in their comment on the PANORAMA study results, underlying that acetylcysteine therapy cannot be currently recommended to patients with IPF.
Although the 2015 updated treatment guidelines for IPF recommended against NAC [70] NAC monotherapy has been shown to be associated with improved walk distance and mental wellbeing in patients with IPF in other reports [71]. In addition, recent evidence indicates that the response to NAC therapy may be different on the basis of TOLLIP genotype [72]. The gene TOLLIP play important roles in the lung host defence, an immune process influenced by oxidative signalling. In particular, it has been found that NAC may be an effective therapy for individuals with IPF with TOLLIP TT genotype but was associated with a trend toward harm in those with CC genotype. Overall, the therapeutic potential of NAC for patients with IPF remains undefined, and future pharmacogenomic trials must be done to confirm the findings of this study.
Conclusions
It is currently accepted that IPF pathogenesis depends on repetitive chronic cell injury, which triggers fibrosis and oxidative imbalance within the lung. Causes of oxidative stress include, but are not limited to, cell injury itself, transition metal exposure, inflammation, or drugs that participate in reduction–oxidation reactions. The importance of oxidative modifications to the extracellular matrix, and how they alter cellular responses in human IPF, remains to be elucidated. Since 1987, when the first evidence of an imbalanced oxidant/antioxidant system was described in IPF ELF, several researchers have investigated oxidative stress biomarkers in this pathology. This review summarizes their work on oxidative stress indicators in IPF using different biological sample sources (lung tissue, BALF, EBC, breath, sputum or blood). Although interventional trials failed to demonstrate significant effects of antioxidant treatments (particularly NAC) recent evidence suggest the potential role of pharmacogenomics in predicting efficacy.
Notes
Acknowledgements
A Visiting Professorship granted to Professor Mangoni by the Department of Biomedical Sciences, University of Sassari (Italy), facilitated this work.
Availability of data and materials
Not applicable.
Authors' contributions
AZ designed the project of this review. AZ, PaPa, AGF performed literature search and was responsible for data extraction. EZ, PiPi, CC, SS, AAM contributed to the drafting of the manuscript. All authors read and approved the final manuscript.
Ethics approval and consent to participate
Not applicable.
Consent for publication
Not applicable.
Competing interests
The authors declare that they have no competing interests.
Publisher's Note
Springer Nature remains neutral with regard to jurisdictional claims in published maps and institutional affiliations.
Copyright information
© The Author(s). 2018
Open AccessThis article is distributed under the terms of the Creative Commons Attribution 4.0 International License (http://creativecommons.org/licenses/by/4.0/), which permits unrestricted use, distribution, and reproduction in any medium, provided you give appropriate credit to the original author(s) and the source, provide a link to the Creative Commons license, and indicate if changes were made. The Creative Commons Public Domain Dedication waiver (http://creativecommons.org/publicdomain/zero/1.0/) applies to the data made available in this article, unless otherwise stated.